In an era where speed and connectivity reign supreme, Intel takes a quantum leap forward with the introduction of Thunderbolt™ 5, the latest iteration of the Thunderbolt series. This groundbreaking connectivity solution promises to redefine the way we experience computing, offering up to three times more bandwidth than its predecessor, Thunderbolt 4. In this blog post, we'll delve into the exciting world of Thunderbolt 5, exploring its capabilities, implications, and what it means for the future of PC users.
What's New in Thunderbolt 5?
Intel's announcement today marks a significant milestone in the world of connectivity. Thunderbolt 5, dubbed the "next generation of Thunderbolt," was unveiled alongside a prototype laptop and dock that showcased its immense potential. But what exactly does Thunderbolt 5 bring to the table?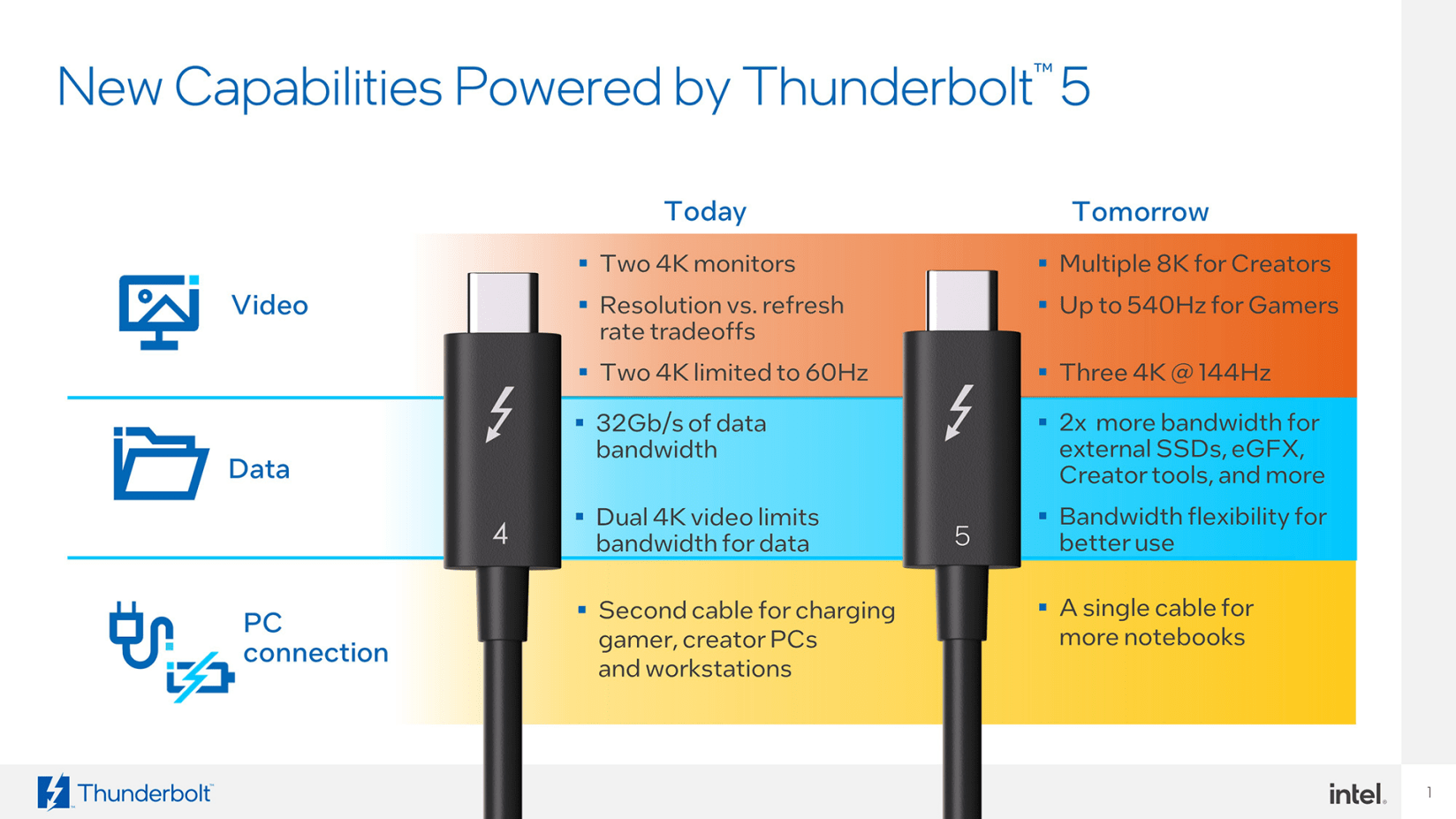 At its core, Thunderbolt 5 boasts an astounding 80 gigabits per second (Gbps) of bi-directional bandwidth. However, with the introduction of Bandwidth Boost, this figure skyrockets to an impressive 120 Gbps, ushering in a new era of display and data connectivity. This leap forward in bandwidth represents a threefold increase compared to existing solutions, catering to the ever-growing demands of content creators, gamers, and professionals.
What's more, Thunderbolt 5 adheres to industry standards, including USB4 V2, ensuring compatibility with previous Thunderbolt versions and USB standards. This seamless integration means that Thunderbolt 5 can effortlessly bridge the gap between legacy and cutting-edge technology.
Why Thunderbolt 5 Matters
In today's digital landscape, the need for high-quality visuals, low-latency performance, and seamless handling of large video and data files has never been greater. Thunderbolt 5 has been meticulously designed to meet these demands head-on. Its enhanced connectivity speed and bandwidth ensure that modern PC users can indulge in the highest-quality visuals and immersive experiences for years to come.
Ian LeGrow, Corporate Vice President of Core OS Product Management at Microsoft Corp., highlights the significance of this development, stating, "Thunderbolt 5 is fully USB 80Gbps standard compliant to support the next generation of high-performance displays, storage, and connectivity." This collaboration between Intel and Microsoft exemplifies the industry-wide excitement surrounding Thunderbolt 5.
Building on Thunderbolt 4
Thunderbolt 5 builds upon the foundation laid by its predecessor, Thunderbolt 4, in several key ways:
Twice the Total Bi-Directional Bandwidth: Thunderbolt 5 doubles the bi-directional bandwidth, and with Bandwidth Boost, it achieves up to three times the throughput for video-intensive applications, reaching up to 120 Gbps.
Double PCI Express Data Throughput: Thunderbolt 5 offers double the PCI Express data throughput, ensuring faster storage and external graphics performance.
Industry Standards and Compatibility: It leverages industry standards like USB4 V2, DisplayPort 2.1, and PCI Express Gen 4, maintaining full compatibility with previous Thunderbolt versions.
Enhanced Thunderbolt Networking: Thunderbolt 5 delivers double the bandwidth for Thunderbolt Networking, enabling high-speed PC-to-PC connections.
Advanced Signaling Technology: Utilizing PAM-3 signaling technology, Thunderbolt 5 achieves these remarkable performance boosts while remaining compatible with existing printed circuit boards, connectors, and passive cables up to 1 meter in length.
What Intel Has to Say
Jason Ziller, General Manager of the Client Connectivity Division at Intel, emphasizes the game-changing nature of Thunderbolt 5, stating, "Thunderbolt 5 will provide industry-leading performance and capability for connecting computers to monitors, docks, storage, and more. Intel is excited to continue our tradition of leadership for wired connectivity solutions."
Thunderbolt's Impact on the PC Market
Thunderbolt has evolved from a niche technology to a mainstream standard embraced by leading PC accessory vendors worldwide. Thunderbolt 5 will build upon this foundation, simplifying the PC experience by offering a single USB-C port and cable that can handle it all. This not only enhances user convenience but also ensures the highest quality and performance.
Intel's announcement of Thunderbolt 5 marks another significant milestone in the company's rich history of I/O innovation. By working closely with PC manufacturers, accessory vendors, and cable partners, Intel strives to deliver the most advanced and complete wired connectivity solutions through dedicated enabling and testing programs.
All Thunderbolt products undergo rigorous certification testing, guaranteeing optimal performance for the PC industry. This commitment to excellence has made Thunderbolt a globally recognized symbol of top-tier wired connectivity solutions for PCs and accessories.
What's Next?
The future is fast approaching. Computers and accessories powered by Intel's Thunderbolt 5 controller, code-named Barlow Ridge, are anticipated to hit the market in 2024. Brace yourselves for a revolution in connectivity that promises to reshape the way we experience computing.