It is certainly no secret that Intel is in the midst of redesigning the very foundation of their consumer-orientated CPU's architecture. This change will be so large and promises to be so groundbreaking that Intel is actually changing the very name the models will be called. However, such a massive change from monolithic to 'compute tiles' is still not quite ready for primetime. This is indeed a shame, but this delay has given Intel's engineers the chance to let their Core-I branding go out with a bang and not a whimper. That is the key to understanding the 14th Generation Core-I series as it is not intended to be a radical departure from the past. Instead, it is meant to memorialize a series that revolutionized the CPU industry multiple times during its reign as Intel's desktop brand of CPUs.
This is why not much has changed from the Core-I 13th to 14th generation. For the i9-14900K buyers can expect to gain access to 8 'Big' p-cores running at between 5.6GHz (when all are active) to 6.0Ghz (1 or 2 active), 16 'Little' e-cores that run at (up to) 4.4GHz… and all 24cores (32 threads) having access to 36MB of L3 and 32MB of L2. Whereas the i5-14600K will net buyers 6 p-cores running at up to 5.3GHz backstopped by 8 e-cores chugging along at a peppy 4.0Ghz. With all 14 cores (20 threads) accessing 24MB L3 and 20MB L2 cache.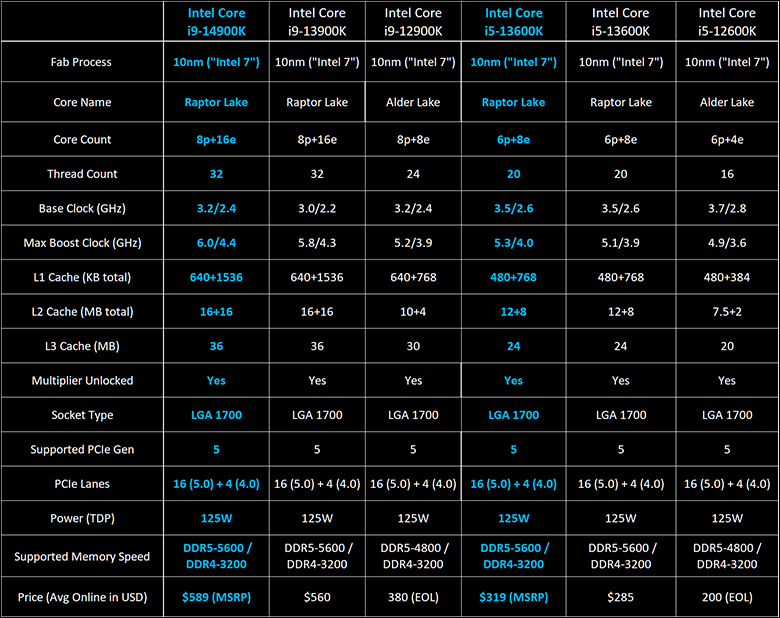 To put all that in perspective Intel engineers have taken their 13th Generation and turned the multiplier up by 2 steps on the base clock and 2 on the Thermal Velocity Boost for their BigBoi i9. On the i5 things are a bit more complicated as the base clock is the same but the 6 big cores get an extra 2 on the multiplier and the e-cores get just 1 extra. That does not sound like much… as it is not much. Especially when the same DDR5-5600 (and not the rumored DDR5-6×00) is the maximum memory frequency supported… and the same UHD770 iGPU is baked in. However, that i9 at 6GHz is God Tier silicone speeds and does so at stock 'out of the box' configurations. This means that buyers of this generation will get more performance without increasing heat production. Put another way buyers get 'KS' performance without KS heat and KS costs.
That may be a wee bit of a tough sell to most buyers who do not care about the history of a series. They just want as much power for their hard-earned buck as they can get. Thankfully, the devil is indeed in the details. Not only is Intel offering all that power at a reasonable price ($589 and $319 … or the same MSRP as what the 13th Core-I's launched at) they have once again pulled out all the stops when it comes to the Power Delivery profiles. With the 14th Gen, if one so chooses, buyers can allow their i9 to slurp down 400As (200A for the i5) of power via an Extreme Power Delivery Profile that all Z790s (and most Z690s) will be getting via a BIOS update. This in turn means this is the first time in a long time that Intel has given motherboard buyers three generations of support. So all those 12th-generation system owners have a viable inexpensive upgrade path. Now that may just be enough to make this Swan Song a 'Greatest Hit' and keep price-sensitive buyers away from Team Red and the necessary hardware upgrades that go along with the Ryzen 7000 series.