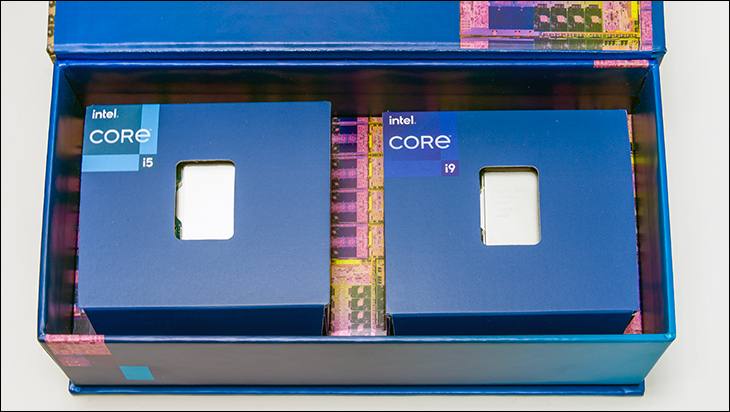 When comparing different generations of processors things are never simple. There is always nuance and complexities involved in any analysis. Which most people do not care about. As such many people can get lost in the weeds. So, let's start with an analogy.
In simplistic terms, the 12th generation's theme song was Rob Zombie's "Dragula". It may not have come out of nowhere, as it borrows heavily from previous ideas and themes, but it was a smash hit. It is iconic and for the younger generation, it will be what he is best known for… and not his earlier works with White Zombie. The same is true for Intel. They were on the ropes with memes about 14+++++ abound. Little room for overclocking, and generally speaking a "little went a long way" for system builders. Make no mistake they were still good but few were great. Then they released the 12th Generation and all that changed. However, just like Robert B. "Zombie" Cummings's music, the first gen of Intel's take on big.LITTLE was not everyone's cup of tea, nor was it a great fit for every build. AMD simply offered better overall MP performance with highly competitive single/low thread performance. All without the risk of purchasing first-generation technology… or having to upgrade to Bars on the Window… err… "Windows 11".
The 13th gen also had a theme song. Unlike the 12th generation, it could be any one of several smash hits. For us, though the 13th gen is best summed up by saying it, just like its design core, is a hybrid anthem. Mixing equal parts of Kayne West's cover/remake of "Harder, Better, Faster, Stronger" with Smash Mouth's cover/remake of "I'm A Believer". We say this as the 13th Generation is not revolutionary like the 12th Generation before it. Rather it is the logical continuation of the foundation that Intel laid in the 12th Generation.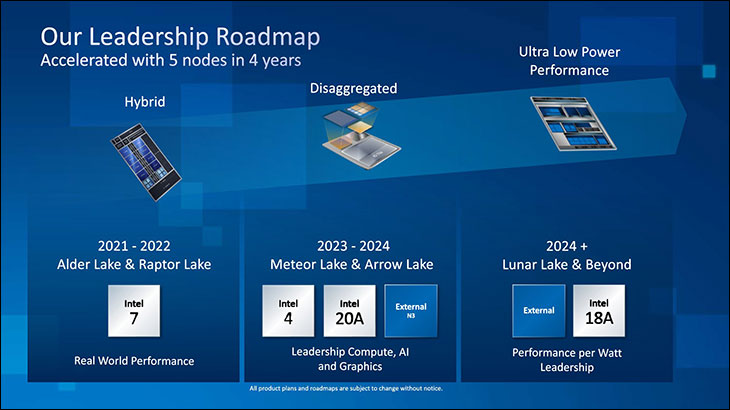 This brings us to the 14th Generation. One that was originally going to be an entirely new (super) beast. One that did away with monolithic designs and went to a more agile Compute Tile multi-part architecture. That did not happen and instead, Intel released one last generation of the Core-I monolithic architecture. In other words, this is a swan song generation. Unlike many who will think of Sinatra's "My Way", when we think of swan songs we are reminded of Otis Redding and his iconic postmortem hit "(Sittin' on) the Dock of the Bay". There is no denying it is a great song by a great artist. However, the iconic whistling at the end turned a forgettable pablum pop song into something special? Yeah, that was originally 'filler' that he was going to replace once he finished writing the song. Sadly, it was left in the final form because he was murdered by his father before he could complete it… and the whistling adds a haunting layer that transforms pure pablum into a decade-defining hit.
That would be a very good analogy for the 14Th Generation Core-I. However, we think "Då Som Nu För Alltid" (Then as Now Forever) by the highly, highly underrated band Kent is equally fitting. Specifically, the video they released for it. In the 'song,' there are no lyrics. It's a nearly three-minute drum solo with a sorrowful chorus/chant overdubbed. You either know what they were about and you mourned the fact that Kent was no more… or you listened to it thought it was 'alright' and moved on with your day. Entirely missing the nuance and the callbacks to all their greatest hits they had made over 12 freakin' albums that columnated in the Then as Now Forever album. Which is arguably perfection – if you liked Kent.
To be blunt. That is the 14th Generation in a nutshell. A generation of Core-I's that come with a 6GHz core setting? That isn't a special edition 'K(ostly)S(ilicone)'? That is the stuff dreams are made of. However, that sorrow is there… if you listen for it. One that hints at what could have been but never will be… as Big Daddy Intel already shot the Core-I brand dead and this is the Intel engineer's eulogy to the end of an era.
Make no mistake. This is the end of the monolithic era. An era that saw Intel launch a comeback after AMD's paradigm-shifting Athlon 64 X2 put a pin in the premium Pentium era. An era that saw Intel CPU engineers go from superstars to meme makers ("14nm++++++++++++"). An era that saw those selfsame Intel engineers regain their pride and help usher in a new way of looking at desktop CPU architecture. So, if one has to go out it's best to go out on a high note… and this is the kind of high note that people will remember for years to come. Even if they miss most of the nuance behind it.
The upside to this fanservice level eulogy is there is just no good reason to want to manually overclock a 14th Gen Core-I. Intel's engineers have already done 99 percent of the work for you and getting that last one percent is rarely going to be worth it. They 'Just Work' and they have handed all you could ask for on a silver platter. But if you really, really want to get all you can out of your new purchase it's going to be a fairly easy task. Even the "complexity" of overclocking two different core types at the same time is going to be a non-event. Intel makes things so simple… so bloody easy that even a novice can do it with just a few clicks.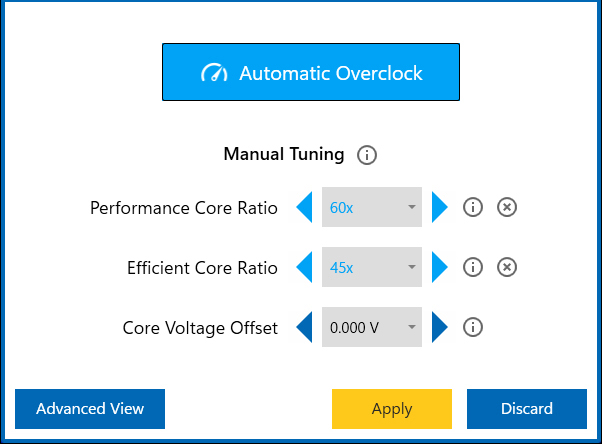 For example, 6.0GHz is phenomenal… but it is only on two of the p-cores and the rest 'merely' running at 5.6GHz. Oh, the horror. However, for a lark we unleashed the Beast Mode power profile and wanted to see if we could match all the core boost settings to be the same as the Thermal Velocity Boost. So we asked Intel's ETU 'auto overclocking' application to set the i9 to all p-core overclock of 6Ghz, with an all e-core overclock of 4.5, and rebooted. No additional voltages. No tweaking. Just a couple of clicks. The result? It worked. Seriously. It worked with just a few clicks. All with just with an increase in heat output (and thus noise). That is where most will want to stop as 6GHz is an iconoclastic setting… and it is a haunting whistle of what Intel 5 fab process would have been able to offer buyers if Core-I monolithic designs were still a 'thing' in future Intel CPUs.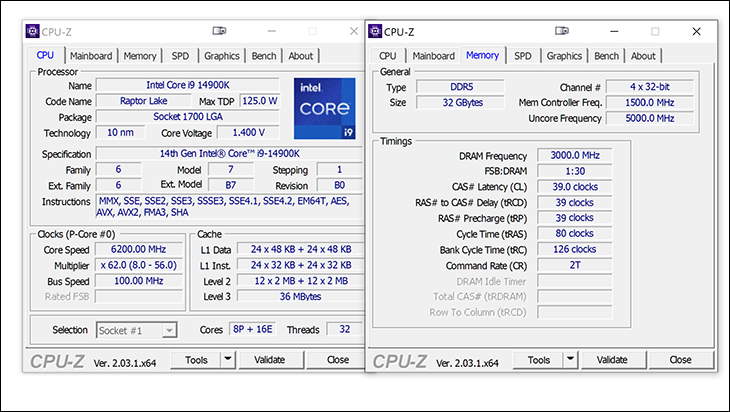 Of course, Intel XTU doesn't really 'do' (or even get the reason for why you would want to do) memory overclocking. So, we did go back and set things to stock, then uninstalled Intel's ETU… before doing the same via the BIOS. The only thing we did differently was set our DDR5-5600 to DDR5-6000 with a simple increase of 0.05v to the vdd/vddq ram voltage, and the IMC voltage; and changed LLC to be more aggressive. Bam. Truly done…ish.
With 6Ghz easily accomplished we wanted to see how much 'gas' was 'left in the tank'. After extensive testing, the answer is… not much. Even pushing the voltages sky high a mere two hundred additional Megahertz is all that we could cajole out of the i9. With that said, 6.2 GHz all-(p-)core overclock is nothing to sneeze at. It just is rarely going to be worth the additional power consumption, massive heat increase, and generally less-than-pleasant noise profile that goes along with that minor bump in speed. After all, if most people were fine with a loud and obnoxious system they would be more receptive to buying AMD!
The same ease of use, but little room for overclocking, phenomena happened when we tested the core i5-14600K. Enter the BIOS. Set our official 2 sticks of RAM ("1DPC 1R") to what we know they can do above their rated specifications, set the P cores to 5.5GHz, the e-cores to 4.3GHz (aka better than a 12900KS with just two fewer p-cores), increase voltage to ~1.385v, save, reboot. Done. Go grab a beer and start testing with overclocking. With all that said, these results are the same we were able to get with the 13600K and as such we would be less than enthusiastic about choosing a more expensive i5 14600K over a i5 13600K if overclocking was our main goal. If it was just plug-and-play ease of use… the opposite is true. The 14th gen 14600K comes with higher clocks and thus more performance 'right out of the box' so its added cost (but easier to source nature) does make it a natural progression for system builders.