$59.99
$99.99
in stock
13 new from $59.50
1 used from $54.99
as of November 29, 2023 7:32 pm
$49.99
$68.49
in stock
17 new from $49.99
1 used from $79.00
as of November 29, 2023 7:32 pm
out of stock
as of November 29, 2023 7:32 pm
Last updated on November 29, 2023 7:32 pm
Very recently we had the opportunity to put the all new MX500 500GB solid state drive under the microscope and, while it is not without controversy, we did walk away very impressed with what it could do and what Crucial has created. For those who have not read that review, Crucial was able to create a 'small' SATA solid state drive that acts like a 'big' one. This is very remarkable as the rule of thumb states the bigger the SSD's capacity the bigger the performance will be. This of course did get us wondering about how a big(ger) MX500 would perform and whether or not the new MX500 was indeed like a typical SATA SSD (in that performance scales along with capacity) or if it was more like Intel's Optane 900P series which is fast regardless of capacity used. Today we are going to answer this question for you as we will be testing the MX500 1TB.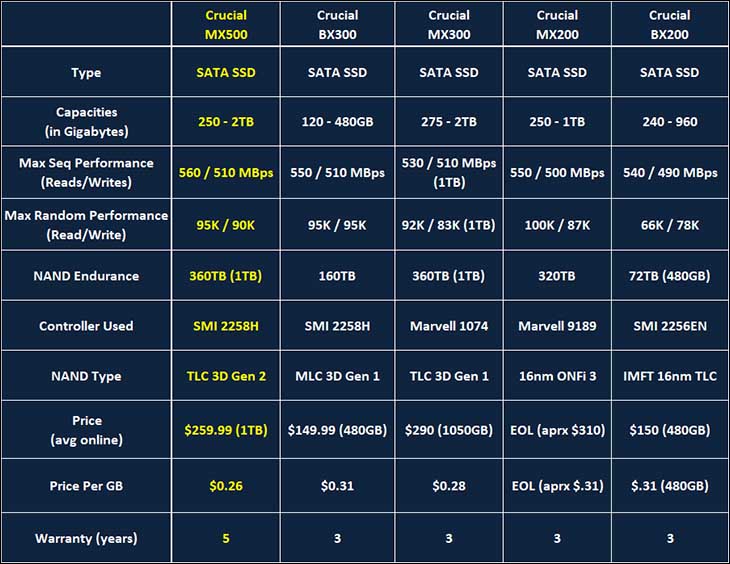 As the name suggests this capacity version offers literally twice the amount of storage space at precisely 1000GB vs 500GB. However, that is not the only change that occurs when you step up from the more value sized version and get into the 'true' mainstream capacity options. Along with this increase in the NAND amount comes a doubling of the RAM buffer. This additional RAM may, or may not, play a large role in the overall performance of the MX500 1TB but it certainly is something to be aware of. Especially when you consider the MSRP of the 1TB version is only $260 (USD) – vs $140 (USD) for the 500GB. That really is not all that much more and if it does outperform the already excellent MX500 500GB model it may indeed become the new darling of mainstream users.
To put this statement in perspective the 1TB model will set you back 26 cents per Gigabyte of space, while the MX500 500GB costs 28 cents per gigabyte. So not only will buyers potentially get a bigger and faster drive but also potentially a better value as well. That certainly is a combination that will make most people think long and hard about their budget and if the extra $120 is 'doable' or not. Don't worry by the end of this review will indeed have all the data, and excuses for your significant other, necessary on whether or not this is the case. We do have a sneaking suspicion though this is going to be the capacity version to own. After all, it is only $120 more than the 500GB version; comes with the same 5-year warranty, has twice the total drive write specification of the 500GB version; comes with twice the RAM buffer and twice the NAND-interleaving. So on paper the 1TB MX500 does indeed have a lot going for it. Let's see if theory and reality do indeed blend together to create an even better value drive.