$59.99
$99.99
in stock
13 new from $59.50
1 used from $54.99
as of November 30, 2023 7:32 pm
$49.99
$68.49
in stock
17 new from $49.99
1 used from $79.00
as of November 30, 2023 7:32 pm
out of stock
as of November 30, 2023 7:32 pm
Last updated on November 30, 2023 7:32 pm
To simplify things let's start with what is the same between the MX500 500GB and MX500 1TB… and it is a rather long list.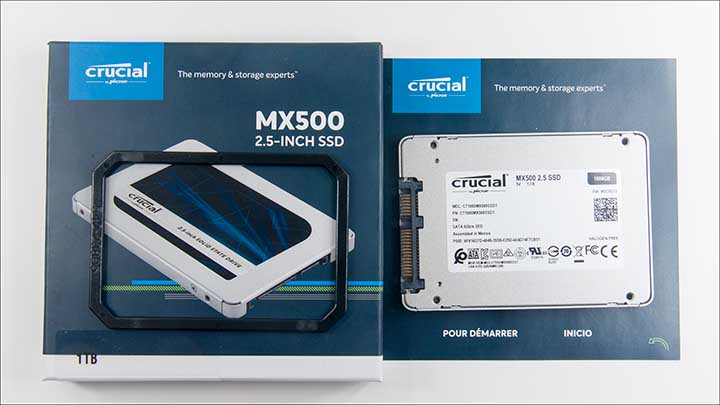 Firstly, the shipping container and included accessories is exactly the same. The only difference here will be the '500GB' label is changed to '1TB'. For those who have not read our previous review what this means is you can expect to see a classic Crucial shipping container that is choke full of information, is aesthetically pleasing (albeit in typical Crucial conservative fashion), and ensures that as long as the package is not run over by the shipping agents truck – don't laugh it has happened to us in the past – it will get to you safe and sound even if you order from across the country or across the world.
On the accessories side of the equation this means a serial number for Acronis imaging software – the HD version not the full True Image that costs a bloody fortune – and a 2.5mm plastic adapter. This adapter has double sided tape on the underside and sticks the to 7mm high MX500 chassis so as to allow it to fit properly in older laptop's and the like that were designed around the old 9.5mm z-height specification – and when newer 7mm z-height drives are used they tend to flop around… which is pretty much the epitome of 'a bad thing to happen'. Usually these adaptors cost about $10 and while they were once a de-facto standard accessory for any serious mainstream model few manufactures besides Crucial are still doing so. This is a shame as they can be a (drive) lifesaver and should still be included even if fewer people will ever need to use them. This inclusion just underscores Crucial's continuing commitment to value and consumer satisfaction.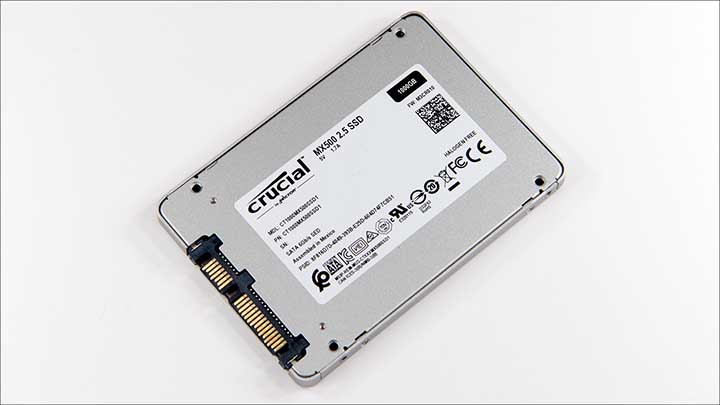 The chassis itself is also going to be the same. This means a full metal 2.5'inch 7mm z-height design that really has not changed all that much over the various M/B/MX/BX years. That is to say it pretty much is perfect. No plastic means less EMI issues, les chances of an accidental drop breaking the chassis, and allows the chassis itself to act as a heatsink for the internal components.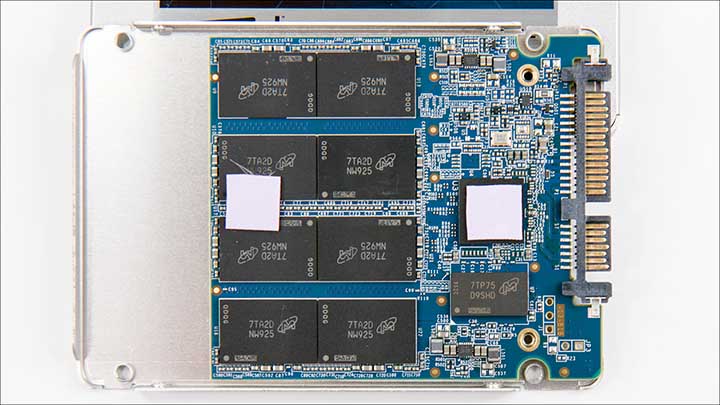 The controller, type of RAM, and PCB used inside also is the same. That is to say it is – of course – a SMI 2258 controller based unit that uses DDR3 Micron RAM, makes use of a 3/4 length PCB that has room for two RAM ICs and room for 16 NAND ICs. None of which should come as a surprise.
What may surprise some people is that the top side of the PCB looks exactly the same as the MX500 500GB model. Here you will find the SMI controller, eight dual-die IMFT second generation TLC CuA ICs and the exact same 256MB RAM IC. You will even see the same number of heatpads.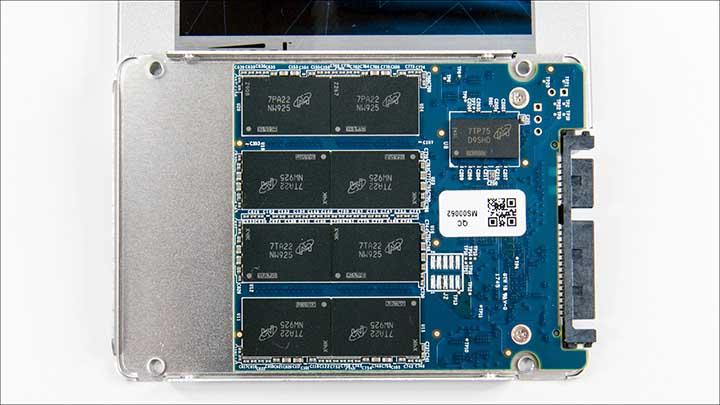 It is only when you flip it over will you see the change… and what you paid extra for. To be precise, in the 500GB capacity model the 'other side' of the PCB is blank whereas the 1TB is fully loaded with another 8 dual-die NAND ICs and a second RAM IC . This is how Crucial has doubled the capacity and is a very, very good thing. We were actually expecting to see the back side empty again and the MX500 1TB make use of eight quad-die ICs. That would have been the simplest and cheapest solution to doubling the capacity. After all, doing it that way would have still provided the same capacity, the same NAND-interleaving, and if they had doubled the single RAM IC's capacity to 512MB the end results on paper would have also been the same.
Instead they did things the correct way. The more expensive way. The way that doubles the surface area for the NAND ICs along with doubling their capacity. Remember with this new sixty four layers of NAND per die level these dual-die NAND ICs have 128 layers of NAND stacked on top of each other. If this has been doubled to four die levels that would have meant 256 layers… and that is a lot of layers to keep cool. It still is possible but it does require some thermal management which in turn can lead to random performance drops during extended periods of sustained I/O loads. This issue is why Samsung ran into problems with thermal limiting in their larger capacity 8 and 9 series solid state drives. Obviously Crucial was paying attention and while it is more expensive to build a drive this way this drive's NAND will stay as cool under extended use as the 500GB capacity will. In other words, buyers interested in the 500GB and 1000GB models will not have to trade potential performance consistency for capacity. In other words, the MX500 1TB basically is a double capacity 500GB. With twice the number of NAND ICs, twice the NAND-interleaving (a whopping 8/8/8/8 – or almost as much as the MX300 2050GB had), twice the RAM capacity (512MB) and twice the cooling potential. That is a very, very good thing indeed.