$57.29
$99.99
in stock
12 new from $57.29
2 used from $54.99
as of December 4, 2023 8:13 pm
$58.95
$68.49
in stock
20 new from $57.18
1 used from $79.00
as of December 4, 2023 8:13 pm
out of stock
as of December 4, 2023 8:13 pm
Last updated on December 4, 2023 8:13 pm
In an effort to make sorting through all the results as easy as possible we have combined the results all of all the test results into an easy to digest summary format. By comparing this drive to similar products in all the various tests you will be able to easily find the result(s) you are interested in, see the improvement and decide if this model is worth the investment.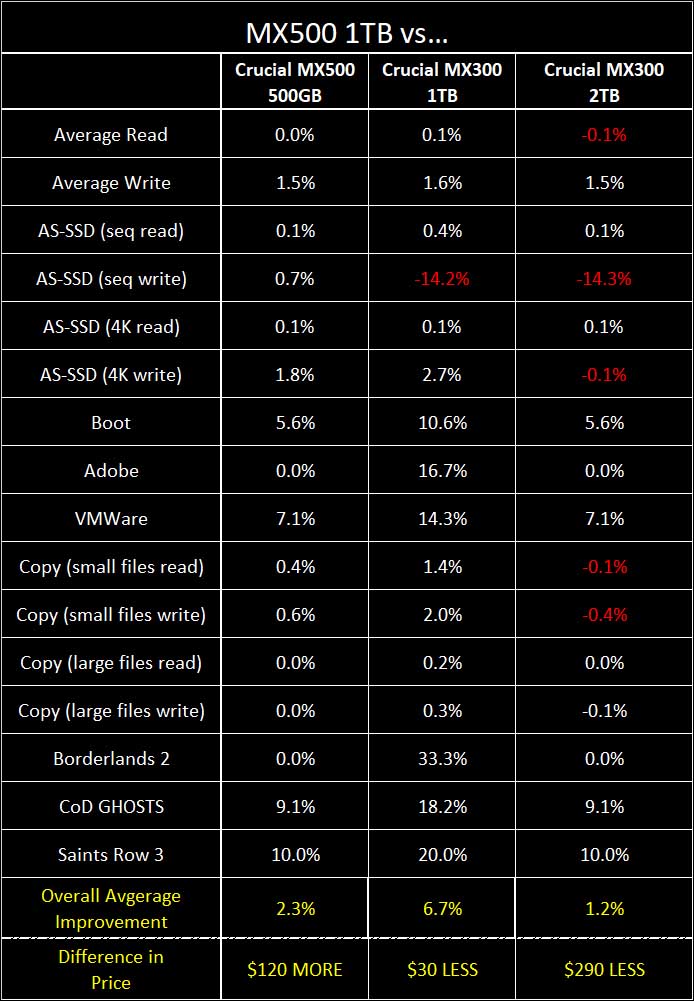 As you can see this drive destined to be a cult classic. Its performance simply outstrips any SATA based drive we have seen to date. This in conjunction with its excellent NAND layout means that this level of performance is not just an accident. Instead people need not worry about thermal throttling and instead this drive will provide, clean, stable, consistent performance from the time you turn it on until five years from now when you get bored with winning so much and replace it. TLC or not this is one brilliant model.
Score Card and Summary
Performance: 39 out of 40.
This drive did exceed our expectations and posted down right phenomenal – for SATA – performance numbers. So high that only the last generation MX300's 2050GB model can beat it… sometimes. Now that is what we call impressive.
Technological Innovation: 18 out of 20
Once again Crucial has designed a model that is choke full of innovation. Innovation that is not just change for the sake of change but actually improves upon the MX300's foundation.
Build Quality & Warranty: 18 out of 20
Just as with the MX500 500GB before it, some will be less than enthused with the use of TLC instead MLC but the MX500 is built to exacting standards – and the reliability specifications just underscore this. However, what sets this drive apart from the typical mainstream SATA drive is the warranty. Five years from one of the best in the industry really makes this drive the best MX released to date. TLC or not.
Value: 19 out of 20
The MX500 1TB did what we did not think was possible so fast and raise the already high bar for value higher. Even the MX500 500GB is not as good a value and that is saying something.
Final Score: 94 out of 100
If you are interested in a great drive at a great price the MX500 1TB is the drive for you. Its value is simply phenomenal. It is so choke full of value that it makes the MX500 500GB seem overpriced in comparison. Now that is what we call a good deal!