out of stock
as of September 29, 2023 11:25 am
$244.20
in stock
14 new from $244.20
3 used from $217.49
as of September 29, 2023 11:25 am
$569.50
$599.00
in stock
4 new from $569.50
19 used from $409.99
as of September 29, 2023 11:25 am
Last updated on September 29, 2023 11:25 am
Very recently we had the opportunity to put three radically different ASUS ZenFone 4's under the microscope and for the most part felt… underwhelmed by all but one – the 3GB RAM version of the ZenFone 4 Max. For the most part this comes down to a few simple reasons. The first is asking price. In the case of the 2GB ZenFone 4 MAX and ZenFone 4 their abilities simply could not justify their asking price in the face of such stiff competition from the likes of Samsung. In the case of the Asus ZenFone 4 Pro we hope to see this trend be stopped dead in its tracks. After all, the ZenFone 4 Pro is the best of the ZenFone 4 line and as the premium / flagship model ASUS should have pulled out all the stops.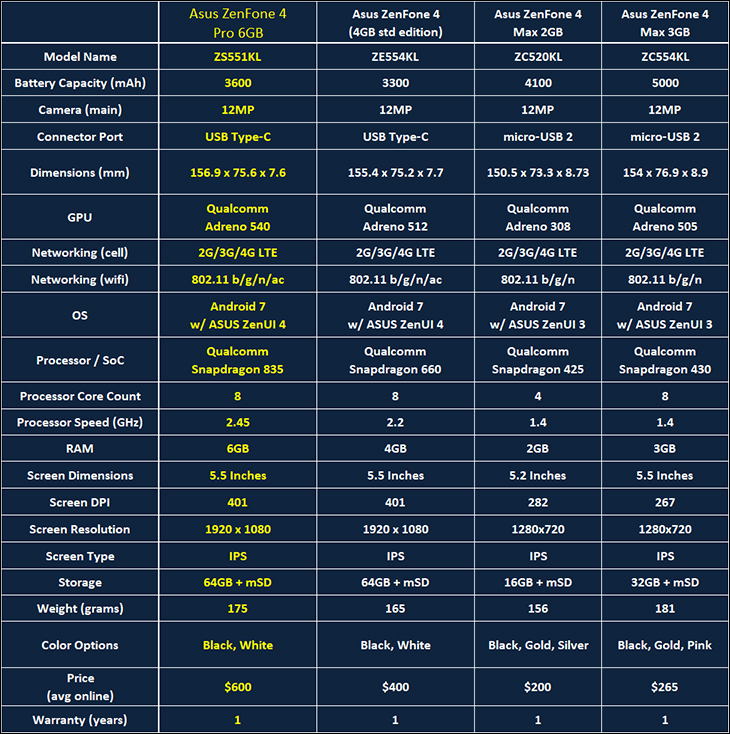 On paper the ZenFone 4 Pro certainly is an impressive looking phone. While the screen may still only be 1080P resolution the IPS screen used promises to offer stunning visuals with crisp clear text. The use of premium Dow Corning Gorilla Glass grade five means that the screen should also be as durable as it looks. The chassis also is radically different from the other ZenFone 4 line-up as gone is all that plastic fantastic material and instead ASUS has take a page from Apple and other premium phone manufactures and used only aluminum. This allows the ZenFone 4 to be both rigid and thinner than any ZenFone 4 we have looked at to date.
Internally ASUS has also appeared to pull out all the stops as this phone is not the typical SnapDragon SoC based phone, rather it uses the even more performance orientated SnapDragon 835+Adreno 540 combination. This in conjunction with 6GB of RAM and 64GB of fast internal storage means that even ASUS' 'ZenUI' design team should not be able to handicap it with lag or snail pace responsiveness.
The internal antenna array also has been given an upgrade and the most obvious difference is in the WiFi abilities of this phone. Unlike most this little bad boy comes with both 2.4GHz 802.11N and 5.0GHz 802.11AC abilities so moving massive amounts of data too and from the phone should be a breeze.
Of course, counteracting all these salivating inducing features is the price tag of $600(USD). This certainly is a good chunk of money to spend on phone but is actually fairly reasonable when compared to Samsung's S series, Apple's high-end iPhone and any other manufacturer you care to mention. More importantly for die-hard ASUS fans this is only RRR more than the underwhelming ZenFone 4 will set you back. It is for all these reasons we have such high hopes for this phone and as we will show you… it does indeed live up to expectations.