$1,029.00
in stock
1 used from $1,029.00
as of December 3, 2023 7:34 pm
$1,029.00
in stock
1 used from $1,029.00
as of December 3, 2023 7:34 pm
$219.92
$269.99
in stock
13 new from $208.00
25 used from $141.67
as of December 3, 2023 7:34 pm
Last updated on December 3, 2023 7:34 pm
In our continuing search for the hidden gems of the NVIDIA GeForce GTX 10-series we recently came across another one that is simply too good to not share with you our loyal readers. While the Zotac GeForce GTX 1070Ti Mini may be the smallest GeForce GTX 1070Ti we have reviewed to date that, so much so it makes the reasonably sized EVGA GeForce GTX 1070Ti SC BE seem porky in comparison, that is not to say it is not big on performance. Much like all NIVIDA GeForce GTX 1070Ti cards the 'stock specifications' are nothing more than mere suggestions – as sadly (and wrongly in our opinion) NVIDIA did make 'factory overclocked' GTX 1070Ti cards verboten. Much like the EVGA GeForce GTX 1070ti SC BE we reviewed previously we doubt you will ever see 1687Mhz on the 1070Ti core. Instead you can expect to see clocks in the mid 1800Mhz range, and even higher if you manually overclock it.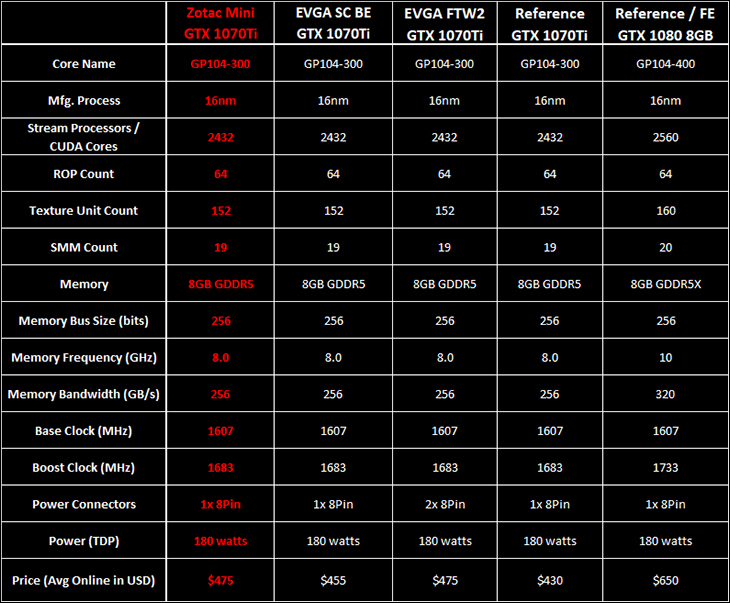 This is because this 'small' card has a level of cooling performance one can expect to find only in much larger video cards. This is all thanks to the inclusion of not one (that most compact cards use) but two rather large fans (90mm and 100mm). Mix in the fact that Zotac has included a smaller version of their legendary IceStorm cooler and unlike most small, high-performance cards core temperatures are not going to be a concern. We will go over exactly how Zotac was able to pack so much cooling performance into a mere 8.3 inches of length, but suffice to say this card will exceed your expectations and will challenge your opinion on what compact form-factored video cards can do – as it did ours to say the least.
On the aesthetics side of the equation – as looks do indeed matter for many buyers – Zotac has gone with an understated design that is LED enabled and is not covered in 'Zotac Yellow'. Basically, for those who like a classically understated color scheme the Zotac GeForce GTX 1070Ti Mini is sure to please, and yet for those who want to add a touch of personality via lighting accents, the Zotac GeForce GTX 1070Ti Mini will also be more than accommodating to your needs… as long as you like white as an accent.
So sit back, relaxed and be prepared to have your Overton window expanded… as this card is sure to challenge your expectations on what smaller cards can offer. We know it sure has changed our opinion for the better.