$59.99
$84.99
in stock
7 new from $59.99
4 used from $36.98
as of September 29, 2023 11:25 am
$299.00
in stock
as of September 29, 2023 11:25 am
$299.00
in stock
as of September 29, 2023 11:25 am
Last updated on September 29, 2023 11:25 am
Not that long ago we took a long hard look at the MX500 Solid State Drive series and walked away very impressed with Crucial was able to accomplish in a single generation. The MX500's combination of price, performance, and capacity really is as modern Siren Song for knowledgeable consumers looking for a SATA/AHCI based storage solution. At that time there was indeed many capacity options available but they all had one thing in common: the form-factor. Knowing that not every system simply do not have room for the typical SATA 2.5'' 7.5/9mm form-factor Crucial has also released this series in the M.2 2280 form-factor. Today we are going to take a long hard look at the Crucial MX500 1TB M.2 form-factored version to see if it lives up to the proud tradition of previous versions.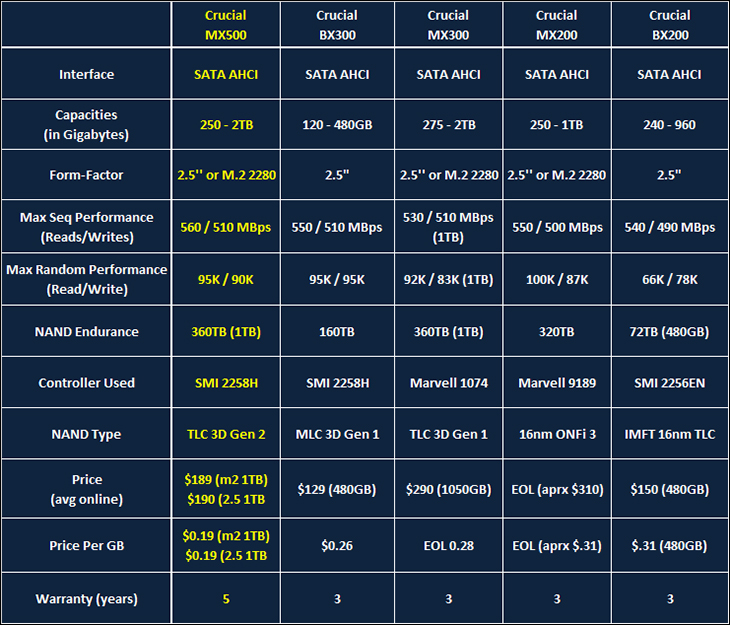 A very good argument could be made that M.2 is indeed much, much better than the older 2.5-inch form-factor as it does not require a free 'hard drive' bay, does not impeded air flow from the PC case's front fan(s) (which usually do double duty as active cooling for the SSD/HDD in the drive bay), and most importantly of all does not clutter up a system with ugly SATA data and power cables. On the flip side though is the fact that it is smaller and the solid-state drive itself is not housed inside a metal chassis. This means less cooling potential (i.e. no 'heatsink' for the NAND and controller) and thus potentially less sustained performance.
Usually this only impacts NVMe based M.2 solid state drives (and why many opt for Add In Card form-factor models when available) as their controllers are more power hungry and stress the NAND a lot more, but it can cause confusion for buyers interested in shiny new MX500 drive when they see both the 2.5-inch and M.2 options… and see that both are priced very, very similarly to each other.
This is how this review came about as we want to conclusively show one way or the other if the form-factor really matters for the MX500 series in real-world conditions. If it does make a difference we will also go over the ways in which we mitigate heat related problems with M.2 drives. As well we will make our recommendations on which version is best for what scenarios. Hopefully with all this data you will be able to make an informed decision and pick the right model for your particulars build needs; or at the very least be able to make the form-factor that is available work for you to the best of its abilities. In likelihood this is going to be a non-issue but reducing confusion and providing you our loyal readers with all the information possible really is the driving force behind why we do reviews in the first place. So we hope you enjoy this article and walk away with more knowledge than you had before.