$47.99
$99.99
in stock
17 new from $47.99
as of September 29, 2023 11:43 am
$18.99
$19.99
in stock
as of September 29, 2023 11:43 am
$199.79
in stock
6 new from $199.79
as of September 29, 2023 11:43 am
Last updated on September 29, 2023 11:43 am
In the recent past we have put almost the entire Crucial MX300 series under the microscope and have walked away very impressed with the versatility of this series. The only criticism of the reviews to date is that they have focused in on the more expensive, higher capacity versions. In some instances this drives are price well outside the range of the average consumers budget. This is to be expected as no company wants anything other than their very best reviewed. This however is an oversight that we were well aware of and today are going to correct. To be precise, we are going to put the 'small' 275GB version of the Crucial MX300 under the microscope.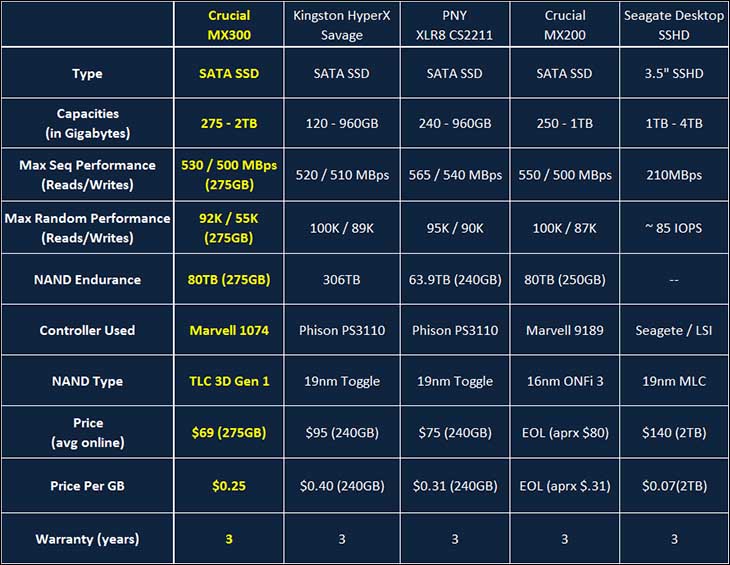 As the name suggests this MX300 offers consumers a very decent 275Gigabytes of storage capacity, and since the entire MX300 series costs a mere twenty-five cents per GB it costs under $69. As such this version is easily one of the most in demand MX300 as it is within the realm of reasonable for even the most budget constrained builds…. and yet still offers all the cutting-edge features of its bigger brothers. The same 667MT/s '3D' TLC NAND, the same controller, even the same warranty. All that has been 'right sized' is the NAND amount, the amount of onboard RAM cache, and the Total Drive Write specification – which is still very good at 80 Terabytes!
This of course does beg the question on value. Specifically where the entire lineup costs the same per Gigabyte does it make more sense to opt for more smaller capacity versions vs one larger MX300. That to we are going to answer today as we have sourced out not one, not two, but four of these wee beasties and we are going to show what a Raid 0 550GB array and a 1.1TB Raid 0 array can do. That way you can really get a good feel for what size MX300 is 'best' for you and your needs. In all likelihood it will come down to ease of installation and use versus shear performance…. as one SSD is easier to work with whereas having up to four times the controllers churning through your systems I/O demands should be one potent storage setup. So without further ado let's see what makes the MX300 275GB tick and what tricks it has up its sleeve.