$103.99
$149.99
in stock
4 new from $39.93
3 used from $39.95
as of November 30, 2023 7:52 pm
$14.96
out of stock
as of November 30, 2023 7:52 pm
$299.99
in stock
1 used from $97.04
as of November 30, 2023 7:52 pm
Last updated on November 30, 2023 7:52 pm
One of the most critical and yet overlooked part of any custom build is the wireless setup. This may sound counter intuitive but you can have the most effective, most pixel crunching Gaming PC system ever created… and yet if you cannot feed it the games you want to play it's not much good now is it? For old school user's this means a RJ45 wired connection… but that umbilical cord does tie the system down to one place and requires running unsightly wires all over hell's half-acre. This is why modern routers all offer wireless abilities. Today we are going to take a long hard look at one such example of what a router should be. Namely the D-Link DIR-880L.
On paper the D-Link DIR-880L does not sound all that exciting as it is a rather old model (first released back in 2014), and 'only' offers AC1900 performance speeds. However, with an online average asking price of only $150 (US) it does not cost an arm and a leg like some higher end models. This to us makes the DIR-880L a potentially great value. Firstly, as it has been in production quite some time now the firmware is going to razor sharp… and thoroughly 'beta-tested' by countless number of users. Thus, it should work the first time, every time… and not be glitchy like some new routers released have been.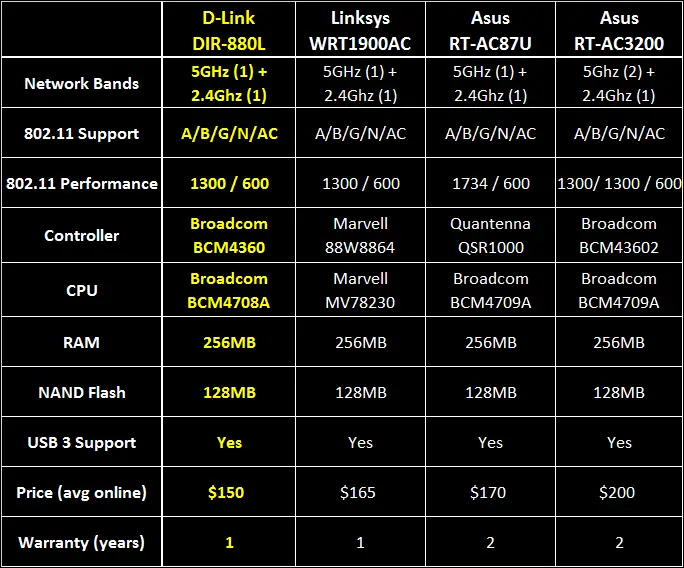 More importantly even though it 'only' offers wireless speed of 1300/600 – instead of 3200 or 5400 like more expensive models, its combination of external antennas, good enough performance backstopped by a multi-core main processor (running at 800Mhz) allows for excellent wireless coverage of the typical home… and yet still will max out the real-world abilities of most wireless NICs. Simply put unless you are interested in using two routers to talk to each other the chances of getting anything above 3×3 802.11AC 'AC1900' performance levels is highly unlikely… as wireless PCIe NICs usually max out at only 1300 unless you are talking about the extremely expensive new gen recently released… and few will want to shell out an arm and a leg for those wee beasties.
Put another way the D-Link DIR-880L appears to offer all the power and performance the average user can actually make use of without budget busting promises of insane speeds that few will ever realize. Of course, as time goes by wireless NIC's will catch up with the router industry… but that could be years away and by then the D-Link DIR-880L will have paid for itself and a future upgrade can then include a better NIC and router. Yes, this router may not sound like the fastest on the market but in return for more realistic performance levels consumers appear to be able to get one hell of a bargain compared to 'flagship' models which offer the sun and the moon… and rarely deliver on their much higher asking price promises.
The only question is if the D-Link can actually do all this and justify its reasonable price tag. Today we plan to find out as we put it through its paces to see if it indeed can live up its seemingly excellent value… or if, on the other hand, its performance is going to handicap performance turn that killer rig you just built into the modern-day equivalent of Window' Vista… and who really wants to use Vista when there are better alternatives?! So buckle up and let's take the D-Link DIR-880L for an extended test drive to see what its really made of!