$319.99
$399.99
in stock
2 used from $319.99
as of March 26, 2023 4:29 am
$190.05
$239.99
in stock
6 new from $190.05
18 used from $126.22
as of March 26, 2023 4:29 am
$254.99
$404.99
in stock
5 used from $254.99
as of March 26, 2023 4:29 am
Last updated on March 26, 2023 4:29 am
Lately we have had a lot of PC gaming enthusiast ask us why we dislike AMD cards, why we are 'ignoring' Team Red, and why we only have a seemingly token AMD card in our charts. At first this did annoy us as this could not be further from the truth – we are brand and team agnostic. We always have and always will recommend to our clients the best option for their budget, no matter what 'team' that option hales from. This question did however make us pause, and decide to change up our upcoming review list. Specifically we requested three modern AMD cards. This should help not only make the charts more balanced, but give readers a much more balanced view of what precisely their options are.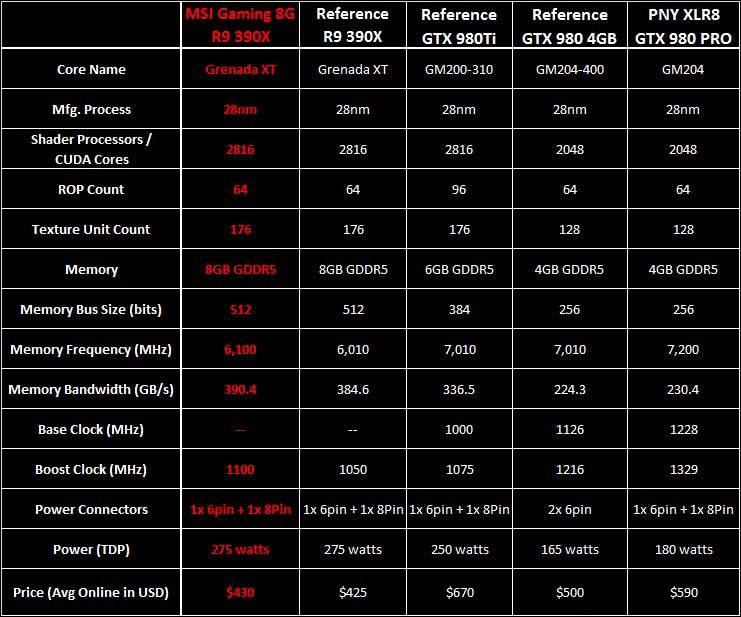 The first we are going to look at is the MSI R9 390X Gaming 8. Even though a lot of the R9 390X's launch interest was eclipsed by the NVIDIA GeForce GTX 980TI, its bigger brothers the AMD R9 Fury and the Fury X cards, the fact of the matter is the typical R9 390X is still one heck of a card. After all it has 8GB of GDDR5 RAM (at an effective frequency of 6,010MHz) on a massive 512-bit wide bus, and a Grenada XT core clocked at 1,050Mhz.
This core may 'only' be a slightly refined version of the "Hawaii XT" core used in the R9 290X, but this still means 2816 stream processors, 64 ROPs, 176 Texture Units, and generally enough processing power to laugh at modern video game 'demands'. Add in an average asking price of $425, or $75 less than a stock GeForce GTX 980, and your reference r9 390X actually has a lot going for it.
The MSI R9 390X Gaming 8 is not your typical R9 390X. This R9 390X not only sports a factory overclocked Grenada XT, but also has turned up the speed on the 8GB of RAM to 6,100Mhz. Equally important is MSI has addressed the largest negatives of the new R9 3 series. Namely they have bestowed upon this video card an up-sized version of their award winning TWIN FROZR V heatsink.
In fact it is a 2.5 slot high version and that extra mass allows it to boast one of the more unique features of the MSI NVIDIA based models: zero decibel noise levels when the card is idling. Now that is one heck of a hook, but when you add in the fact that this factory overclocked, obviously higher quality than reference, R9 390X only costs five dollars more than the typical reference R9 390X…well you can see why we wanted to start with it instead of its lesser priced siblings that we also have here waiting their turn!