$84.99
in stock
2 new from $84.99
1 used from $212.00
as of December 7, 2023 8:43 pm
$57.29
$99.99
in stock
8 new from $57.29
1 used from $54.99
as of December 7, 2023 8:43 pm
$58.90
$68.49
in stock
24 new from $57.18
1 used from $79.00
as of December 7, 2023 8:43 pm
Last updated on December 7, 2023 8:43 pm
With the announcement of their upcoming BX300 series Crucial certainly knew how to make a splash at the recent Computex IT trade show in Taipei. However, what was not announced was how fast this new 'SATA saturating' solid state drive series would be available to us the buying public. Well today, thanks to Crucial and a sample of both the 240GB ($89.99 USD) and 480GB (149.99USD) capacity versions, we can answer that question. Today is the day that the wait for Crucial to refresh their 'BX' value line is finally over.
When the MX300 series by Crucial was released over a year ago it was highly praised by nearly everyone for its groundbreaking abilities. These abilities run the gamut from introducing IMFT's 3D NAND CuA (CMOS under Array) technology to the world, to its fantastic value, to even its cavernous capacity options. The only thing that did raise a few eyebrows was the fact that for the first time Crucial had borrowed heavily from their BX line to refresh their MX line. Namely smaller channel count controller (4 channels instead of 8), and the use of TLC NAND instead of MLC NAD.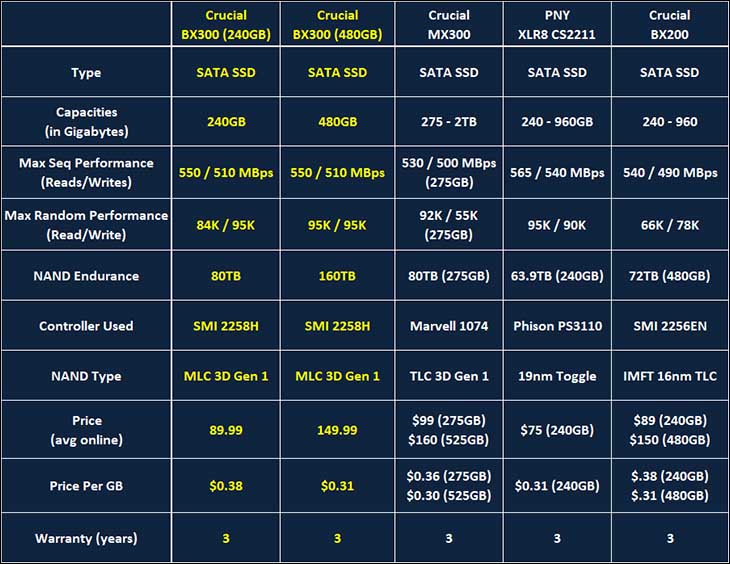 These changes were so massive that it really didn't take all that long for whispers to start about how Crucial could create BX model refresh after they had eliminated most of the distinguishing features that separate a BX from a MX. Well it appears those whispers were well founded as here we are over a year later and only now has Crucial been able to solve this self-inflicted issue. But solve it they have. So much so that on paper the BX300 may just turn things on its head and have people wondering aloud how Crucial can one-up the BX300 and create a SATA based MX400 after this release.
While there are deep, deep differences dividing this BX300 series from it older, and bigger, MX300 brother there are a few points of commonality. We will go over the differences and how they impact real world performance later in the review, but as a brief overview the new BX300 series makes use of a (different) 4-channel controller, has a cache buffer (unlike what rumors and internet pundits were claiming), makes use of IMFT's CMOS under Array 3D NAND, comes with a three-year warranty, and comes with much peppier specifications than the 200 series it replaces.
To further help quell rumors about the MX300s 'impending demise' Crucial will be limiting -for the time being at least – the capacity options buyers will have available to them. Specifically, while the MX300 tops out just north of a whopping 2TB (2050GB) the largest BX300 will be 'only' 480GB. In other words the BX300 really is tailor made with the entry level and budget constrained crowd who can only dream of justifying a 1TB let alone 2TB solid state drive. Though with cost per Gigabyte higher than the MX300 series this may not exactly work out the way Crucial hopes it will.