$219.99
$269.99
in stock
14 new from $208.00
26 used from $120.07
as of November 30, 2023 7:32 pm
$197.95
$289.99
in stock
11 new from $197.95
12 used from $157.50
as of November 30, 2023 7:32 pm
$485.00
in stock
1 used from $269.99
as of November 30, 2023 7:32 pm
Last updated on November 30, 2023 7:32 pm
Following quickly in the footsteps of the recently released NVIDIA GeForce GTX 1660Ti comes its 'little brother' the non-Ti GeForce GTX 1660. Much like the GeForce GTX 1660Ti the all new GeForce GTX 1660 is a '1600' series video card that may be built on a similar architecture to the RTX 20-series… but is more orientated towards the value end of the market. Yes value, and asking price, is just as important to many buyers as sheer performance and technological innovation. Of all the recently announced GTX 1660 cards one does stand out as being pretty much the epitome of the GTX 1600 series' philosophy. That is the Zotac GAMING GeForce GTX 1660.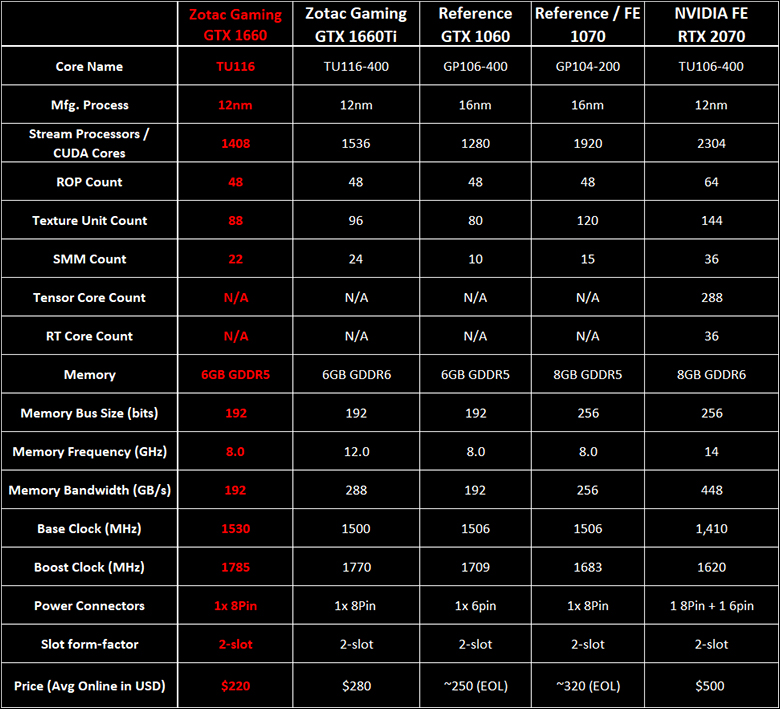 On the surface, the Zotac GAMING GeForce GTX 1660 may not seem like that great a value. After all, it does have an MSRP of $220, which is 'only' $60 less than the ZOTAC GAMING GTX 1660Ti… and yet it comes with fewer CUDA cores, slower RAM (GDDR5 vs GDDR6), and generally scaled back performance. However, that mere sixty dollars represents a whopping 21.4 percent reduction in price. That is significant in this corner of the market where price is the deciding factor for many.
Equally important, is even though it is scaled back it uses the exact same dual fan cooling solution as the GAMING GTX 1660Ti, and this cooling solution does promise some pretty interesting things on the acoustics front. Mix in a good warranty and what the Zotac GAMING GTX 1660 may lack in paper performance or specifications… it may just make up for in real-world usability and value. So without giving too much away, let us take a deep dive into what makes the Zotac GAMING GTX 1660 tick and why NVIDIA in general, and Zotac in specific, may just have the makings of a great little card on their hands.