Last updated on December 5, 2023 7:22 pm

The shipping container the TriBit FlyBuds use is both elegant and minimalistic. Much like with Apple and some Samsung products, you either know what is housed inside this black box with white 'TriBit' lettering… you do not. TriBit fully expects you to do your own homework before going to a retailer, so if you have not, this black box will certainly grab your attention but will leave you wondering what is actually inside the box.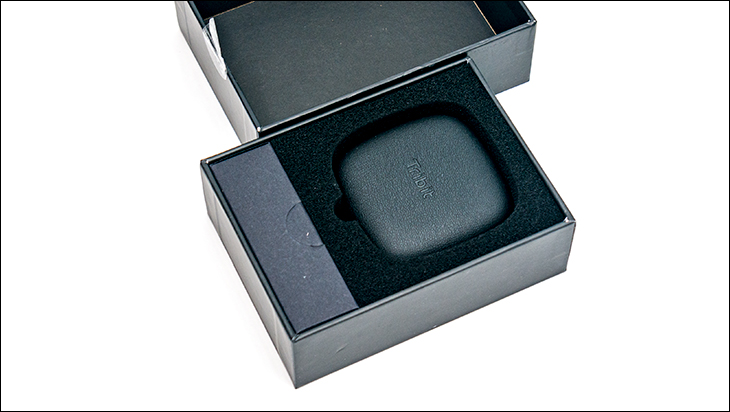 On the positive side, this cardboard box is rather robust to say the least. When you then add in that it also uses foam padding on the inside of the box with the FlyBuds coming stored inside their closed travel case and we honestly would have little worries about shipping this across town, country or even around the world. Barring a Mr. Shipper going postal and stabbing it repeatably or running it over with a fork lift they will arrive safe and sound.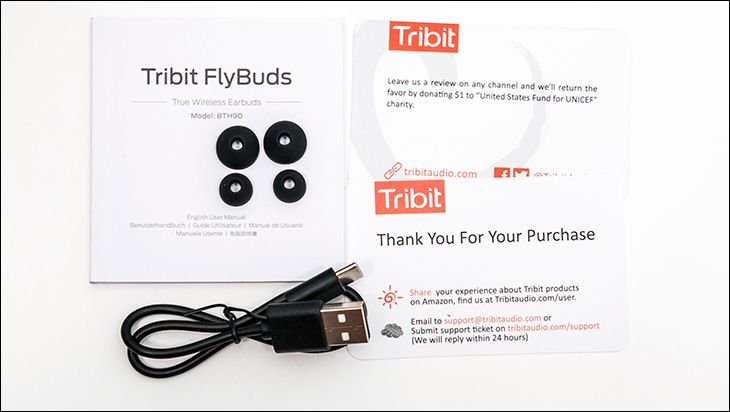 The accessories which accompany the FlyBuds come housed in their own separate little cardboard box and they too will arrive safe and sound. In grand total you should expect to find two extra pairs of single flange tips (small and large, with medium sized already preinstalled for you on the buds) as well as a short USB Type-C to Type A cable used for charging the carrying case (which in turn is used to charge the buds themselves). The upside TriBit using a Type-C interface for the carrying case is that you can easily charge it from nearly any new computer system or battery bank, and since they include a Type-A to Type-C conversion cable it can also be charged easily from older Type-A only interfaces. Basically, if you can charge your portable device now, you can charge this carrying case.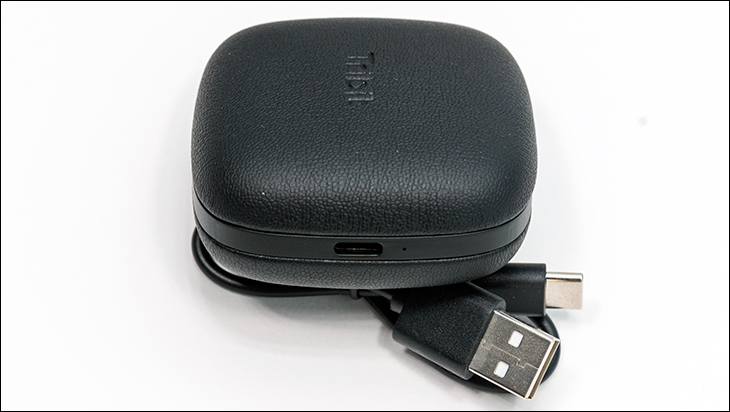 As an added bonus the Type-C port on the carrying case is also noticeably smaller than the typical Type-A's (such as on the various Silicon Power Blast Plugs we reviewed recently). Smaller ports mean less chance of damage via sharp pointy object and less chance of dust (or dust bunnies) getting past the port and into the interior of the carrying case.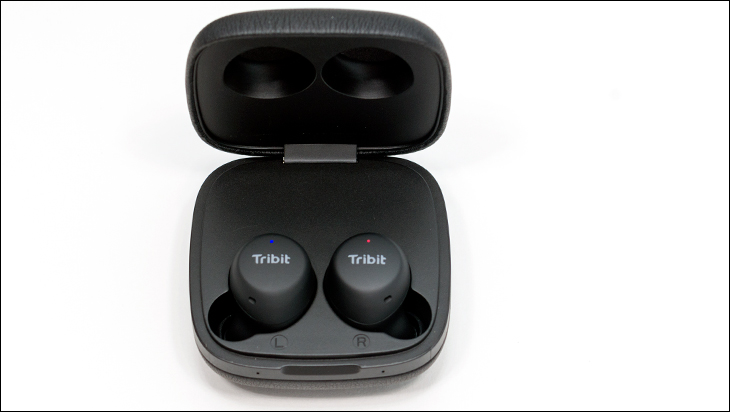 The carrying case itself is also rather noteworthy in and of itself. Unlike most wireless buds' carrying cases the FlyBuds carrying case is covered in a nice, soft pleather type material. A material that is not only attractive but also is not a lint magnet. While pretty, this case is not just a pretty face. It doubles as a charging station and with just a quick glance can tell you how much charge is left – Green mean 50% or more, Orange means 25 to 50 percent capacity, and red means you may get a charge or may not (ie under 25%). Better still, given their play time, the carrying case will safely charge both buds in 2hours or less (depending on how much power was left in them).
Though, what really impressed us on first picking them up was that it uses a simple hinge 'clamshell' configuration. One that makes it easy to insert and remove the buds from it and yet protects them nicely (thanks to integrated molding). Mix in magnets that snap the buds in place with automatic pairing on removal and you will have zero complaints about how to actually use the buds and carrying case combo.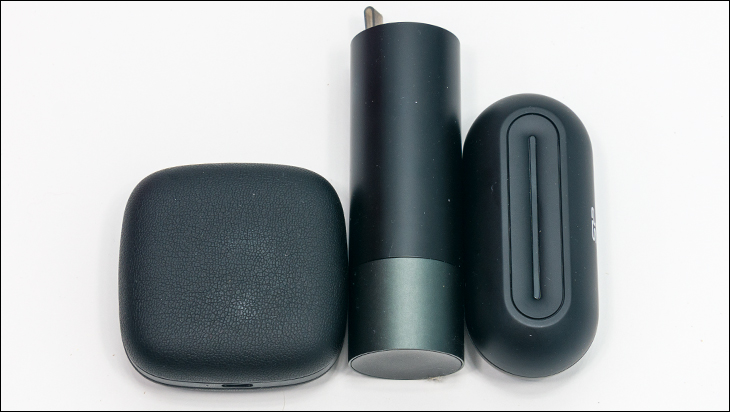 With all that said, the first and most impressive thing you will first notice with this carrying case is how small it is. Being not much larger than a wired set of buds carrying case (or only about twice as big as contact lens carrying cases) finding room in a pocket is a breeze… even skinny jean wearing hipsters will find no issue here. This also means that you are more likely to actually take them with you and not 'forget' them at home.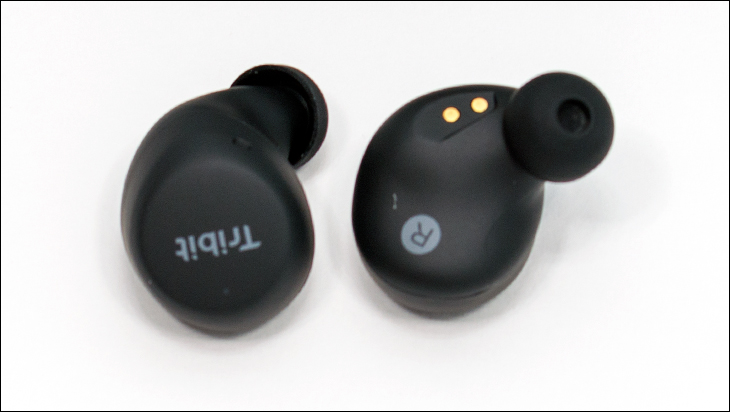 Of course, the downside to being more compact than usual is the number of charging times is a bit reduced. Instead of the typical six charges you will only be able to charge them five times. That is still darn good as each charge is good for about five to five and half (music at moderaly high levels) to six hours (audiobooks) of play time. Put another way, you may think you have to charge the carrying case more often… but in reality it will be less as you will be able to use them much, much longer between charges than most wireless BT5 earbuds.


The downside to having six hours of runtime is that the FlyBuds themselves are bit… chunky. They weigh more than Silicon Power's Blast Plug series. After picking them up for the first time our initial impression was that these were going to be uncomfortable and hard to work with as they are bigger and appear to have rather short stems (our biggest two complaints with the Silicon Power BP82s). The reality is that once you actually try and insert them, all your fears disappear. The stems are certainly not as long as say a pair of Etymotic set of buds, but the FlyBuds actually fit deeper in our ear canal than the rather small BP81s. They also are very easy to insert properly and get a good seal.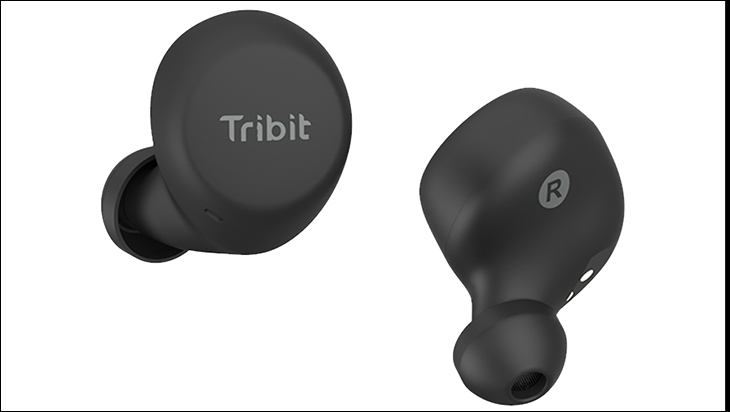 This combination is all due to actually good engineering that went into the FlyBuds design. Much like Westone UM2 or UM3 the chassis of the FlyBuds is not slab sided and rather contoured to fit your outer ear. A simple push and slight twist and you will not only have a good tight seal (though we would still recommend foamies for an optimal seal) but a pair of buds that are rather comfortable to wear. No we would not want to use them while sleeping, but for day to day tasks – including hitting the gym – the FlyBuds will stay in place and you will quickly forget you are wearing these buds… or you will if you are used to wearing big buds/IEMS. If you are only experience with earbuds is cheap, lightweight buds that came with your phone they will take a day or two to get used to. It really will be a rather quick and painless transition but give them a day or two before you make up your mind on if you like them or not.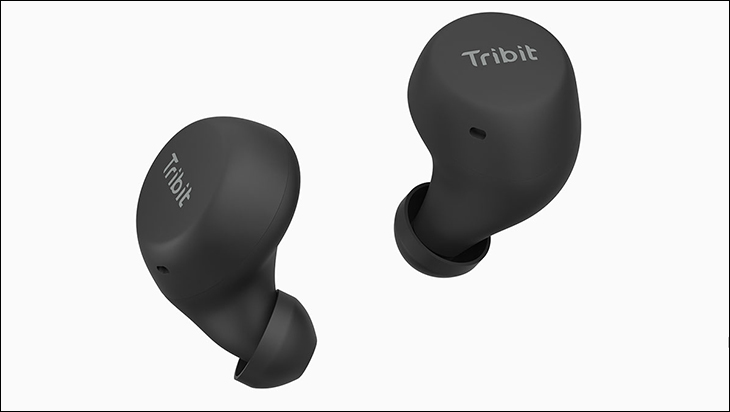 One thing you will like, is the well thought out interface and ease of use. Like all good BT5 wireless buds we have looked at, the moment you remove them from their carrying / charging case they will connect to a previously connected BT device (and they remember how to pair with to two different devices instead the typical one). However, unlike most we have looked at the touch interface actually works. It works and works well. More importantly the single touch interface per bud can do more than just one or two things. A quick double tap on either bud will play or pause the music – and if connected to a phone will answer or end a phone call. A triple tap on the right skips to the next track, a triple tap on the left goes to the previous track. A long 2second press activates the voice assistant. These extra taps to do anything may seem less optimal, but it really does all but eliminate iterant commands being sent.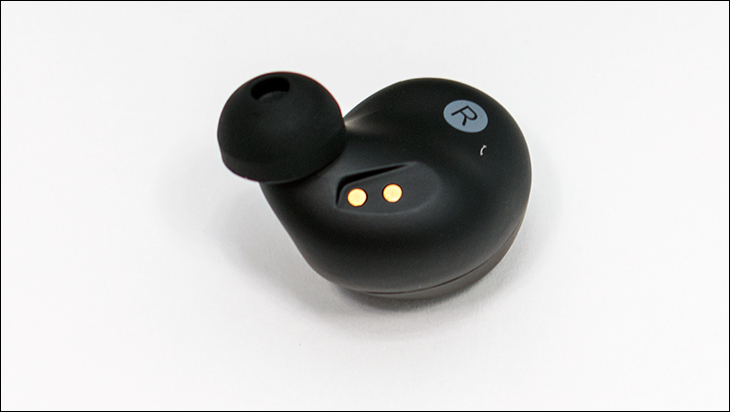 Considering these are IPX5 rated… this touch interface is bloody brilliant. For those who do not exactly know what Ingress Protection X5 rating means, it means that these are certified to withstand low pressure jets of water. So gym use is no problem. Jogging and getting caught in a rain storm is also not a problem. You can even technically run these under a running tap and not worry about them. Overall TriBit may not have made the smallest set of 6mm driver based earbuds we have seen, but they have made one of the more comfortable and easy to use set of wireless buds we have seen in a long while.