$64.99
in stock
2 new from $64.99
as of December 5, 2023 6:53 pm
$51.97
in stock
8 new from $51.97
as of December 5, 2023 6:53 pm
out of stock
as of December 5, 2023 6:53 pm
Last updated on December 5, 2023 6:53 pm
With prices of NAND plummeting and new uber high-performance NVMe controllers being released left and right it certainly is a great time to be a PC enthusiast. In these halcyon days it should come as no surprise to see even more and more companies stepping up and offering high performance M.2 based drives. Models that not only offer great performance but actually great value as well. One such company is Silicon Power and their latest pair of NVMe based M.2 solid state drives – the P34A80 and P348M85. Today we will focus in on the less expensive P34A80 which is offered in capacities ranging from 256GB to a relatively roomy 1TB. To be precise we will be looking at the 1TB capacity version of the P34A80.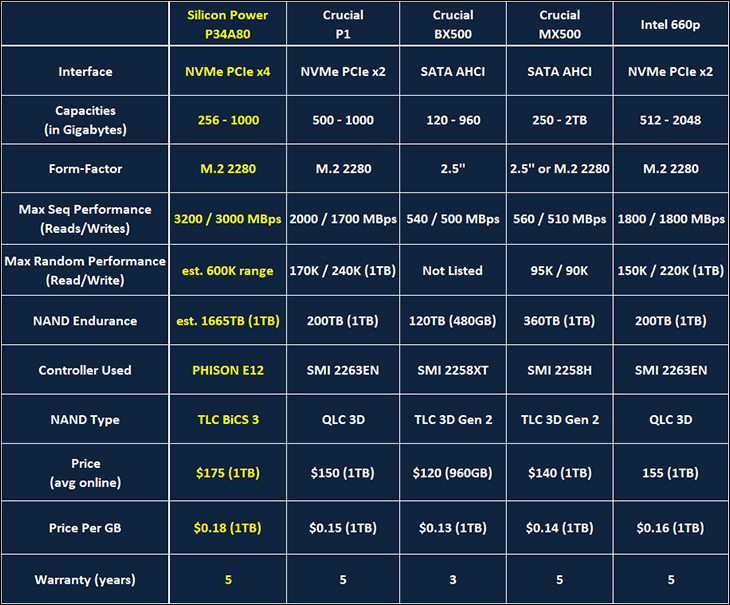 The 1TB P34A80 seemingly ticks all the right boxes. Everything from its high end four lane PCIe 3 interface – which offers upwards of 3000 to 3200 MB/s of sequential write and read performance, to the fact that it is a 22mm by 80mm long M.2 form-factor – which allows it to fit in darn near any PC. Though what really makes this drive so enticing on paper is the fact that it offers 1TB of space and yet costs only $175 (USD) – or a mere 18 cents per GB.
To put this price in perspective the Intel 660p of similar capacity goes for $155, the Crucial P1 (considered by many to be a great value) is $150, and even the similarly designed Corsiar Force MP510 960GB goes for $225. In other words, for only 25 dollars more than the great value P1 1TB buyers can get access to a truly high performance NVMe… one that is not QLC based and instead makes use of some the better TLC NAND available – Toshiba BiCS 3 TLC NAND.
Yes on paper that is a lot to like and really little to dislike… especially when buyers add in the fact that it comes with a five year warranty that does not come with a listed maximum write limitation on said warranty (and thus the 'estimated' portions of the specs listed in the chart above). So is this a really, really good deal or has Silicon Power fallen into one of the myriad of traps that all but destroyed other companies who tried to break into the enthusiast end of the SSD market in the past? Let's find out.