Last updated on December 1, 2023 7:13 pm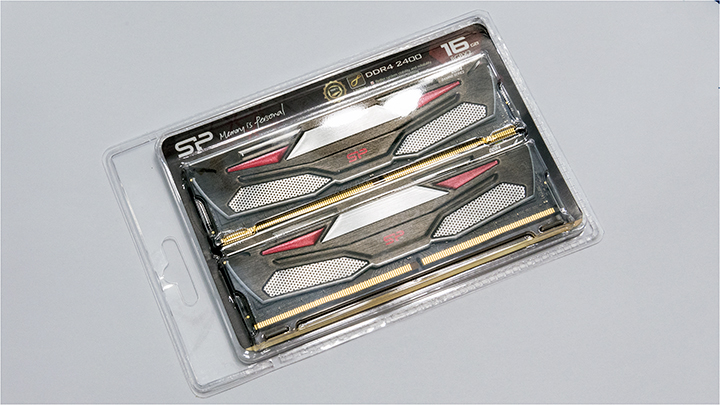 The shipping container and accessories that Silicon Power uses for their DDR4 Gaming series is their weakest link and underscores their… newness to the enthusiast end of the DDR4 memory marketplace. With previous iterations Silicon Power's clamshell protector was – and is – more than adequate. However, for more premium models a plastic clamshell is not how you want to use to make a good first impression. This is because it is a sealed clamshell and not just spot sealed – like Ballistix for instance does. What this means is that actually opening up the protective package is an endeavor all its own. If you are not careful it will cut you. Cut you like you owe it money and it has come to collect.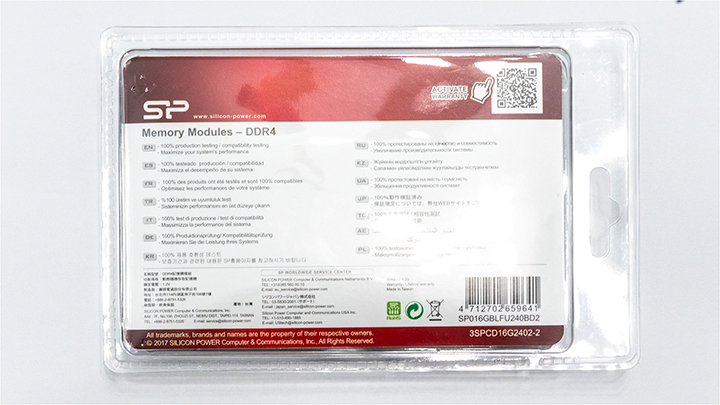 From a protection point of view, it is also a touch lacking. Once again when compared against Ballistix various lines Silicon Power's DDR4 Gaming line does come off the worse for the comparison. This is because this external plastic shell is not covering a secondary internal tray or similar protective package. Instead Silicon Power has molded the RAM sleeves directly into the exterior plastic. This too does not leave a good first impression and is sub optimal from a protection point of view – as only a single layer of thin plastic has to be pierced to damage the RAM modules. This really is a shame as the DDR4 Gaming series is better than this. It is both aesthetically pleasing as well as surprisingly versatile. So much so that it really does reward those willing to do a bit of manual overclocking!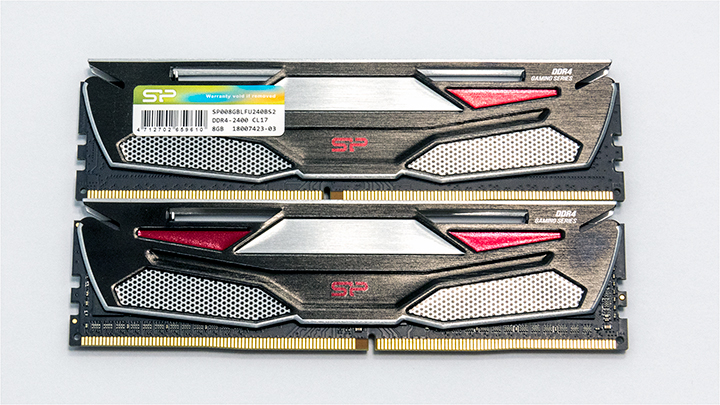 Let's start with the DDR4 Gaming sticks exterior first. As stated previously this is Silicon Power's first foray into heat spreader clad RAM territory and for the most part they did a marvelous job at balancing ease of installation with overall aesthetics. Basically, the exterior heat spreader consists of two pieces. One large and one smaller. The larger piece folds over the top and then locks into the second via small metal tabs. This results in great surface area to catch as much waste air from the CPU cooling solution as possible while also resulting in a rather sturdy metal exterior. Underneath these heat spreaders are numerous heatpads which directly connect the RAM 'chips' to said heat spreaders. This combination really does result in a fair amount of cooling potential. Of course, the heat spreaders themselves are a tad on the thin side so the amount of heat they can absorb is limited, but overall they are actually a tad above average in the passive cooling department – especially compared to most DDR4-2400 models cooling potential!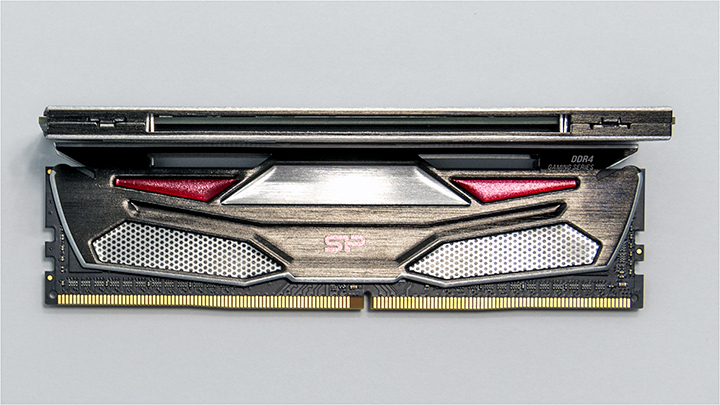 Of course, as the larger side does fold over the top of the DIMM their height is more than standard DDR4 sticks. To be precise they are about 36mm tall… which puts them right at the edge of what we consider to be the cross over between user-friendly territory and 'requires some previous planning' territory. In other words, they are tall but not so tall as to cause too many problems with various CPU cooling solutions.
As for how these heatsink clad memory modules look… well the combination of black with silver and red accents really is adaptable. Here it is on a black and silver ASUS Apex motherboard: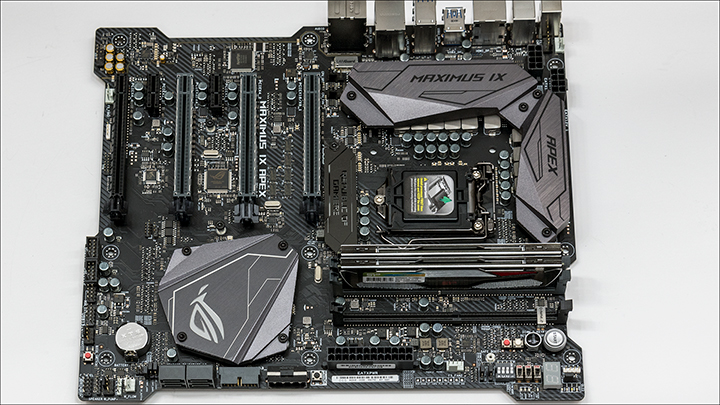 Here they are installed in an ASUS X299 TUF Gaming motherboard: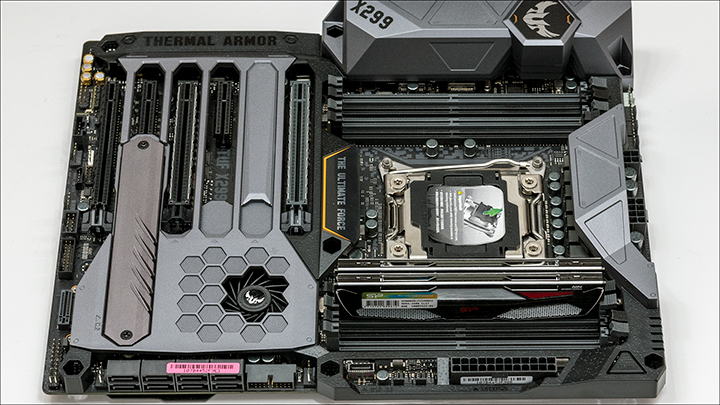 Here they are installed on an ASUS Z370 STRIX motherboard: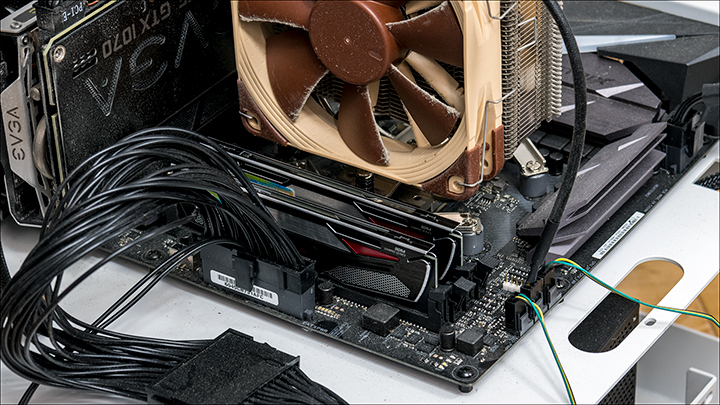 As you can see they do blindly well with a bunch of different motherboards, but they really do not have enough red highlights for a red motherboard… unless you are going to be using a horizontal 'open air testbench' that can showoff the small red accents. By the same token silver and black are two of the most common color schemes used on modern motherboards so finding a motherboard that can work with this kit of RAM is child's play.
Thanks to the wonderful Taiphoon memory reader application there is no need to peel of the heatspreader to see what Silicon Power is actually using for this series. Instead it is as simple as pressing a button and reading the results.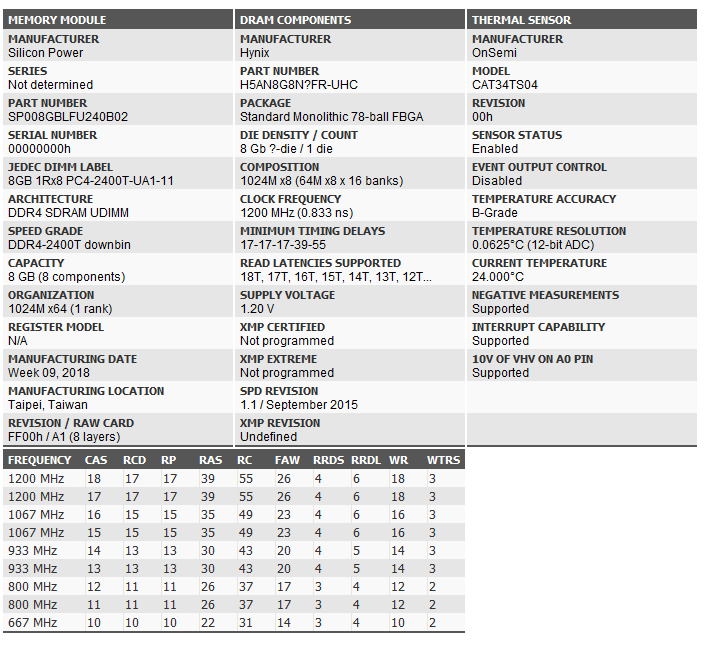 As you can see Silicon Power is using Hynix H5AN DDR4 RAM ICs. These particular memory modules are used in a lot of models – including some higher factory clock rated series – so we know that the potential is there for overclocking headroom. Of course, as they are not factory binned the headroom is going to be hit or miss compared to higher binned Hynix RAM ICs. The one downside, or positive depending on your point of view, is this kit does not come with any XMP programming. Instead the onboard SPD is filled only with JEDEC settings. The upside to this is that the motherboard itself will properly set the clock speed and timings for you. The downside is that they are rather lackluster and loose by modern standards. This too points to Silicon Power making compatibility a high priority… but also should allow for a wee bit of overclocking magic to be baked right in. It really will all depend on what grade Silicon Power purchased.