Last updated on December 5, 2023 6:52 pm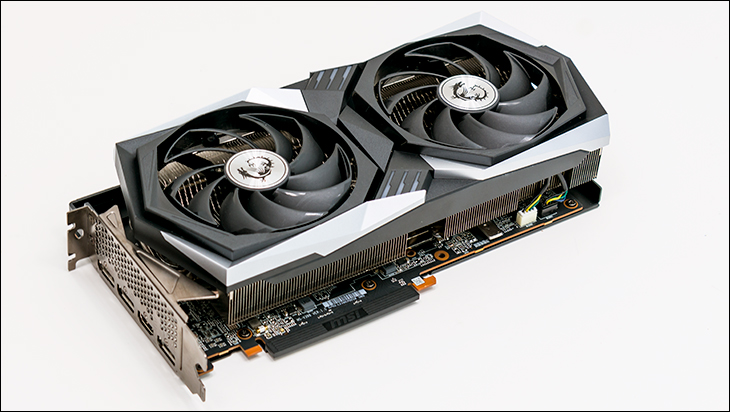 The last thing you will notice upon picking up the card for the first time is its weight. This is a hefty card… nearly 10.5 ounces heavier than an AMD reference Radeon RX 6700 XT. There Aint No Such Thing As A Free Lunch and this how MSI (and others) are able to not only offer better clock rates (especially during extended gaming sessions) but (relatively) compact form-factors compared to the various 3-fan equipped models.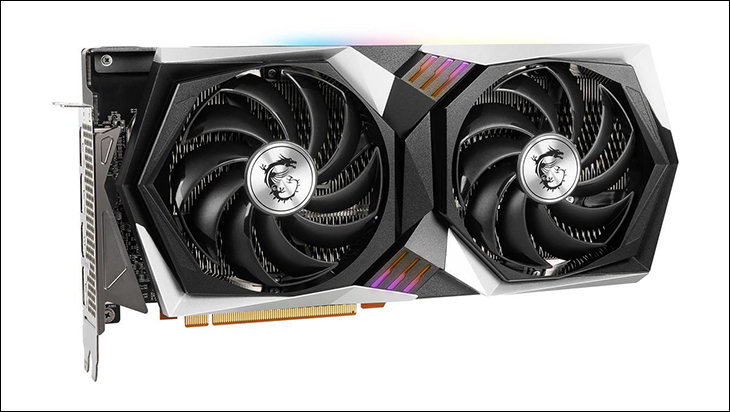 Unlike the plastic facia, this added weight has been put to very good use. Hidden underneath that plastic fascia and dual fan combination is five precision machined heatpipes in what MSI calls a 'Core Pipe' configuration. These heatpipes are in turn cooled via two rather large cooling arrays, which in turn is cooled by two "Torx Fan 4.0" 95mm fans. This combination is what MSI calls their TWIN FROZE 8 cooling system and it is impressive.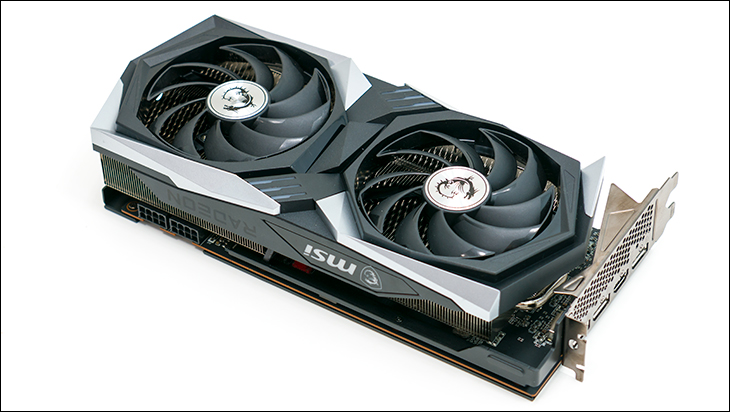 Let's start with the fans. These fans not only focus the airflow for more efficient cooling (i.e. higher static pressure at lower speeds and noise) they are also much more robust and durable than the typical ten blade design. Typically, ten blades mean each fan is thin and fragile… and eventually will catastrophically fail and smack you in the face if you are unlucky (yes this has happened with another manufacturer's earlier generation card). While that is technically true for Torx Fan 4.0 fans, MSI has clustered them into five groups of two, with the end of each fan bladed connected to the end of the other blade in its cluster. This significantly reduces flex and overall stress on the fan's plastic… and as an added bonus results in an actually quieter fan. In testing the fans will stop when the temperatures are low. Even during extended gaming sessions the default fan profile kept them in the 1250-1300 rpm range, at whisper quite noise levels… while also keeping temperatures well below 70degrees Celsius (typically in the mid 60s).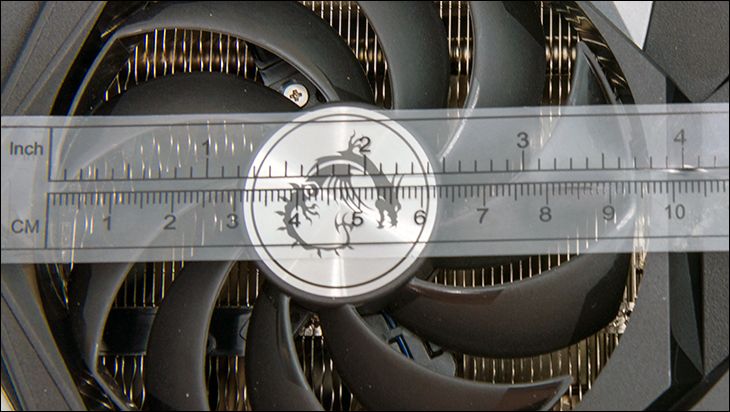 Excellent fans however are only part of the equation… and if paired with a mediocre cooling solution they would not be able to do that voodoo that they do. This is where the added width and height come into play. To help keep 'dead zones' or air high pressure eddies / zones from forming from having multiple fans MSI has cut the cooling array into two zones with about a 1-inch gap between each cooling zone.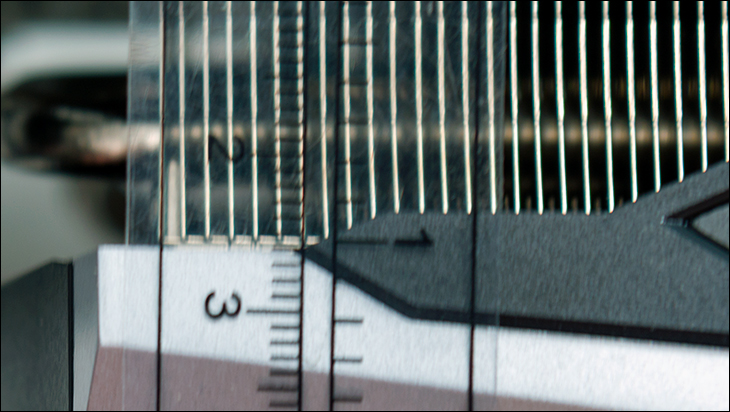 Each array is about an inch tall.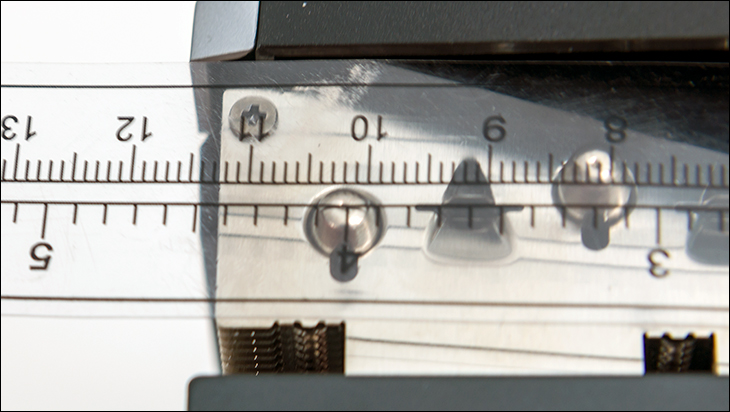 Each array is nearly 4.5inches wide.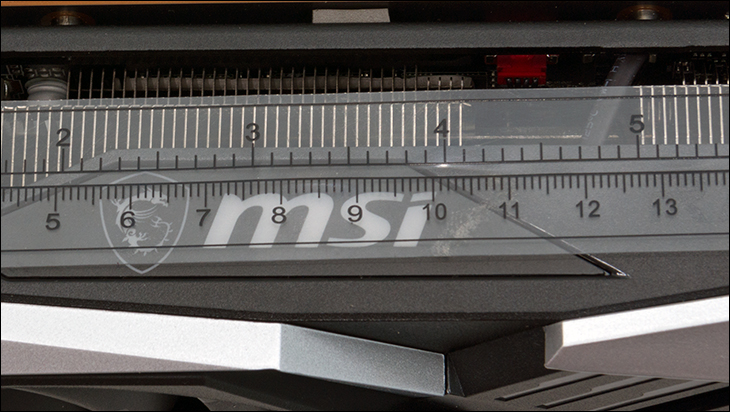 The back (nearest IO ports) array is about 4.2 inches long.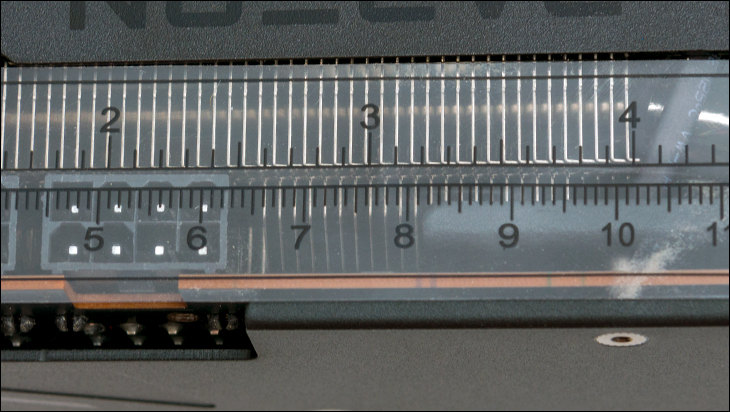 The front (nearest the dual 8-pinc PCIE power ports) is about 4.1 inches long.
With these numbers it is pretty easy to calculate a rough surface area (and extremely rough cubic area). Doing the math, we get about 37 and half square inches of surface area for cooling. To put that in perspective that is only about 7(ish) square inches less than many decent 3-fan models. Needless to say, when you mix in the fact that the heatsinks actively cool not just the NAVI 22 XT core but also the Samsung GDDR6 memory and the 8+2 all digital VRM, this 'small' MSI Gaming X 6700XT has a veritable ton of cooling potential. On a 230 watt TDP card. Now that is pretty much the classic definition of 'overkill'.