Last updated on December 5, 2023 6:24 pm
Not that long ago we took a deep dive into Gigabyte's Aorus WaterForce X All In One CPU cooling solutions via their 'X360' variant and walked away fairly impressed… as it was not "Just Another ASETEK Cooler". Instead, Gigabyte listened to user-feedback and created a rather interesting take on the Asetek blueprint. One that certainly was not without controversy but was/is still a very good AIO overall. Based on reader feedback, and support by Gigabyte, today we will be looking at their (slightly) newer 'non-X' version to see if it too is worthy of the venerable 'Aorus' name. To be precise we will be looking at the 280mm version of the Gigabyte Aorus WaterForce series – aka Gigabyte Aorus WaterForce 280 – that typically will set you back about $165 USD.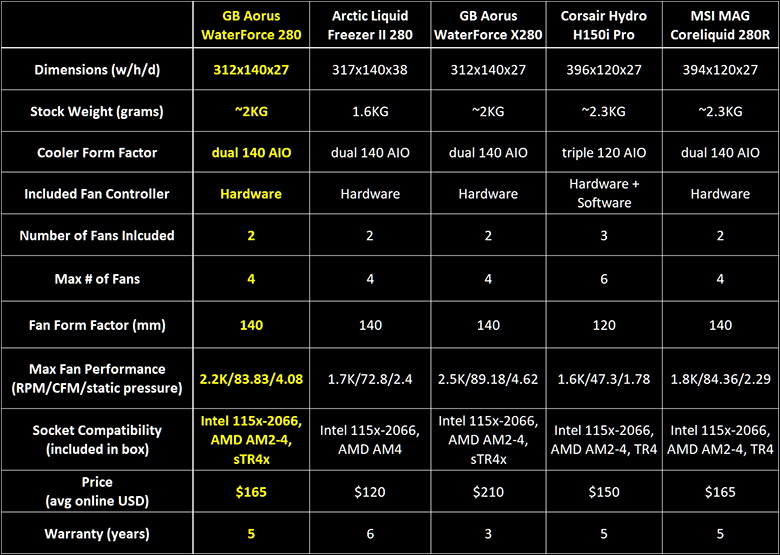 Unlike the slightly older Aorus WaterForce X series, this new series is Gigabyte's answer to the criticism over the asking price of the Aorus WaterForce X AIOs. Put bluntly, it is a more value orientated line that tries to keep the uniqueness of the X series… without the X series asking price. On paper not much has changed. You get 2 (for dual, 3 for triple bay models) fans that are as potent as they are colorful. You get the same upgraded tubing. You even get advanced features like hidden cables for a tidier result. That is a lot to like. Sadly, Gigabyte is not exactly forthcoming on what has changed. Thus, the deluge of questions asking us precisely that.
Before anyone asks, the reason we opted to deep dive the 280mm AIO variant and not the 360mm version is due to the number of questions centering around 280 vs 360mm AIOs and when one form-factor makes more sense than the other. By the end of this review, we should also be able to provide a clear(er) picture on where this demarcation line actually exists.