Last updated on May 24, 2023 1:28 pm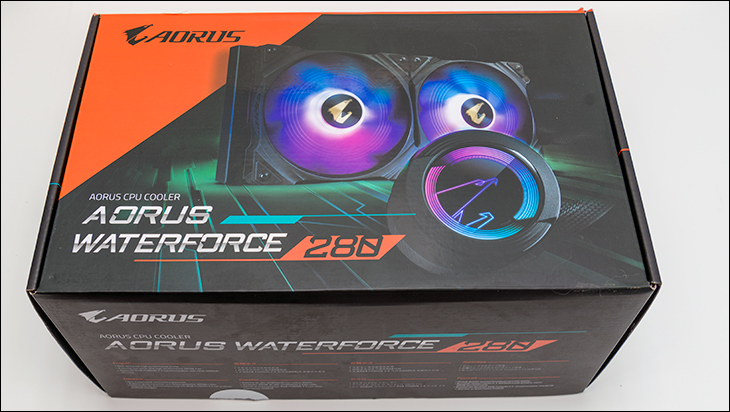 Just like the slightly earlier 2021 'X' models, the new Aorus WaterForce AIOs come housed inside orange and black shipping containers which are chockablock full of information in both written and infographic format. Quite honestly if you were to place a Aorus WaterForce 280 box alongside a Aorus WaterForce X 280 shipping container you would be hard pressed to tell the difference. They are that similar. While we prefer a more understated / conservative approach to advertising we can understand why Gigabyte take a more… 'loud' approach to styling. Simply stated, this box will stand out more effectively on retail shelves when placed in amongst a sea of muted tones.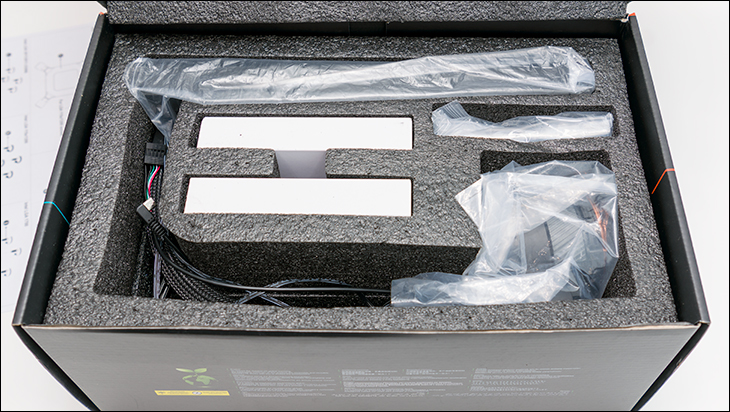 As with the outside, internally not much is different between the X and newer non-X Aorus WaterForce AIO lines. That is to say, this shipping container is just as good at protecting its precious cargo as the Aorus WaterForce X line. Color us surprised and yet impressed. After all, for many manufactures the bog-standard cardboard 'Asetek standard' is what they use, so seeing Gigabyte pay a premium for premium protection on their… "non-premium" line is indeed impressive. Needless to say, Gigabyte's design team really do have pride in workmanship, and it shows.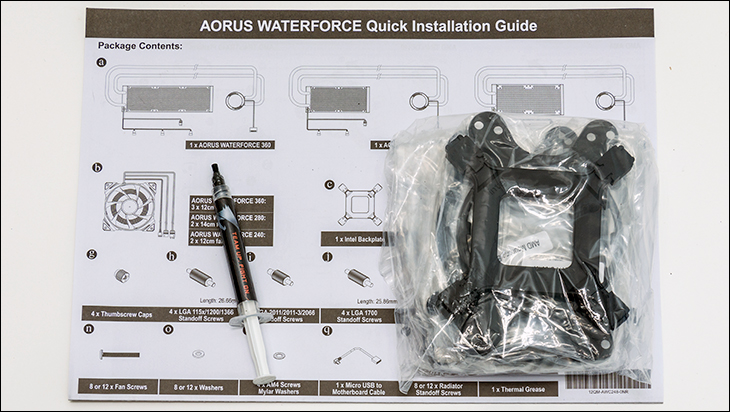 Sadly, this similarity between the lines is also true of the accessories included… as while both lines are extremely good, they are quirky. On the one hand Gigabyte includes enough Asetek mounting hardware to mount the block on to nearly any modern CPU socket. They even are one of the few to have included Intel Socket 1700 capabilities before Intel 12th gen CPUs landed. On the other, the Big G' only include enough long bolts to mount two fans to the rad. Not four like the installation pamphlet promises. Thus, if you are pushing the thermal limits of say an older Intel HEDT or have an unusually hot running 'mainstream' i9, four fans are what you want to be using. So, if you want to optimize cooling potential you will first want to pick up eight more bolts… unless we just got a dud bag of accessories (in which case… check your baggies before buying more). Either way while our sample's accessory list is nearly perfect, there still is a smidgen of room for improvement. On the positive side… the same is precisely what we said about the older X generation.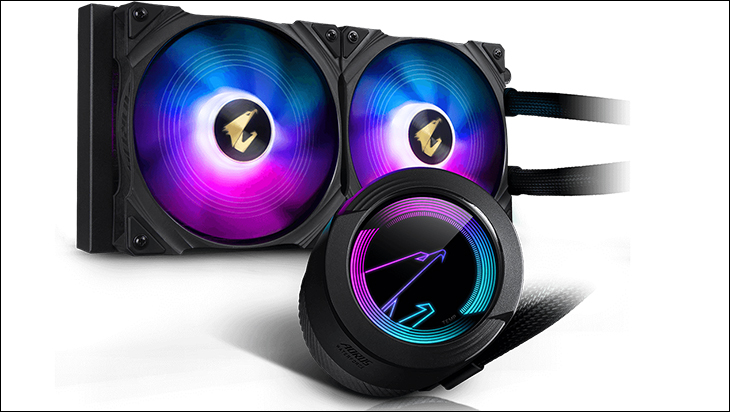 Where the majority of questions asked focused in on what has changed between the (late) 2021 Aorus WaterForce AIO series and the (early) 2021 Aorus WaterForce X series lets start there. Before we do, we do need to point out that it was only a few months between the Aorus WaterForce and the Aorus WaterForce X releases. That is not much time and certainly not enough to have done a massive overhaul. Instead, the Aorus WaterForce non-X is more of a refinement on the Aorus WaterForce X blueprint. One that emphasizes value over high tech features… albeit still with a touch of pizazz added to distinguish it from bog-standard Asetek AIOs.
So with that taken care of…the grand total of the changes is simple: the waterblock plus pump combination unit, and the fans. Though to be fair not much has changed in these areas either. Once again, please consider the Aorus WaterForce line to be the slightly less expensive version of the Aorus WaterForce X. With this in mind, let's zoom in on these critical components.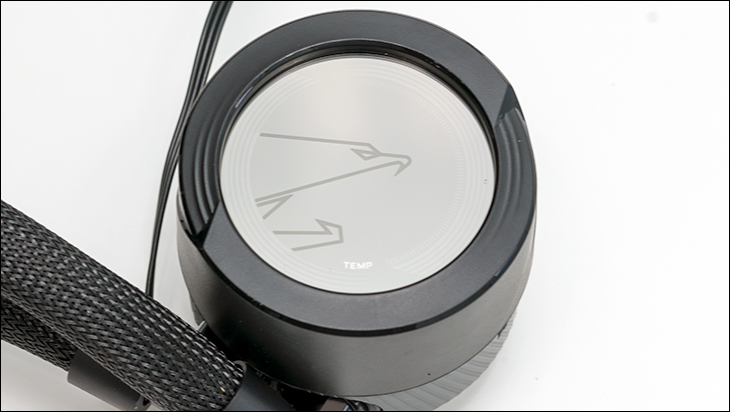 Just as with the Aorus WaterForce X the standard Aorus WaterForce makes use of a circular form-factor'ed (82x82x74mm) combination waterblock and pump… that has been 'broken' into two separate and distinct parts. While this does make it bigger than some, we consider it to be 'right sized' rather than 'oversized' compared to more typical micro-sized blocks attached to some other companies AIOs.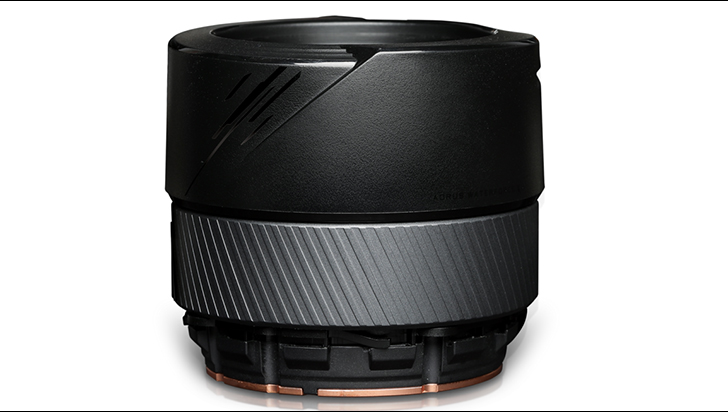 The bottom half (just as with the X line) is where things such as the mounting hardware, pump, USB header, waterblock, and inlet outlets reside. Also just as with the X AIO line the pump uses ceramic bearings for longer lifespan and lower noise. Basically… if anything has changed internally in the bottom half they are not big enough changes to warrant Gigabyte even mentioning them in their product literature.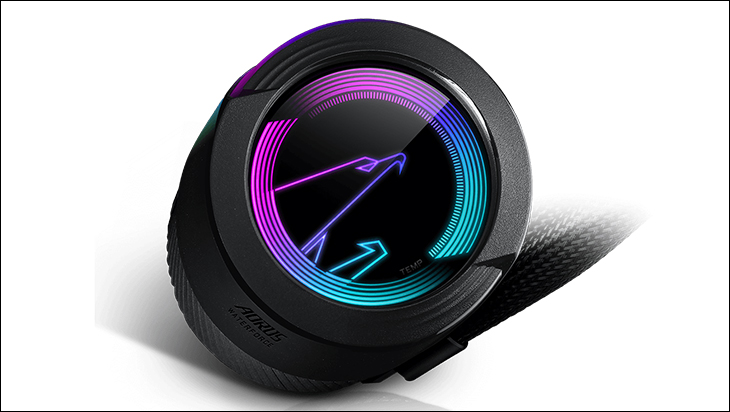 Also just as with the Aorus WaterForce X, the non-X's top half is rotatable making for extremely easy installation (as you can rotate it to make the top screen face the "right way" after it is attached to your motherboard). The top half is where the pump controller resides. It is also where the actual big difference(s) between the two series also resides. Basically, just as with the X, the standard/original Aorus WaterForce comes a circular information center on the top of its combo block. However, unlike the older X it not an LCD screen. Instead, it is best described as it is a ring of 16.7M color LEDs that glow whatever colors you wish, with more 16.7M color LEDs forming the famous Gigabyte Aorus 'eagle' in the center(ish).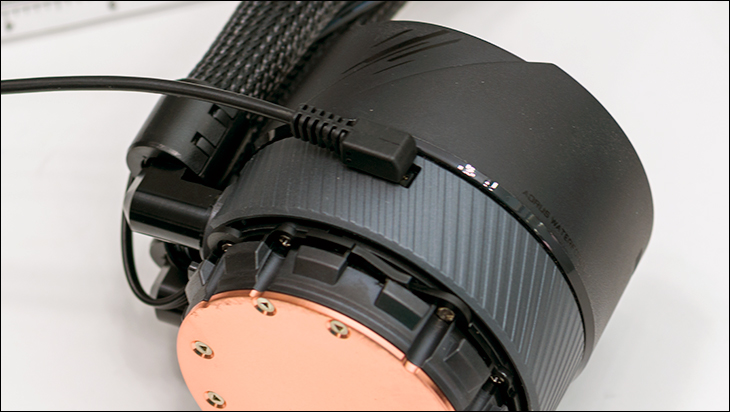 Since there is no LCD screen, there is no possibility of displaying custom graphics like with the X series. Thus no micro-SD slot is included. Basically, this top and the controller housed underneath it are not as advanced as what the X series boasts. Still advanced but you will not be able to get a precise temperature reading via it. Instead, you have to set up color codes to represent temperatures.
The finishing on the base is basically just as good as the X's. So while this copper base may not be the absolute best we have ever seen, it is right up there for Asetek units. Also just like the X lineup no TIM is pre-applied (and thus the small tube of Gigabyte branded TIM included). We actually like that there is no TIM pre-applied. The very first thing we do with any new AIO is to remove any pre-applied TIM from them and use our own known good TIM. You may feel differently… as it is an additional step you will have to complete before installing this (or the X) AIO on to your motherboard.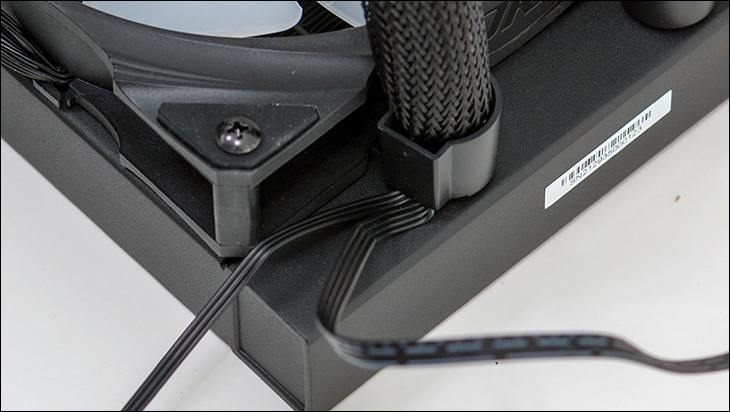 Moving on. The length of the various cables are also basically the same between the two series (assuming same form-factor is used in both for comparison). Gigabyte even went out of its way to hide as many of them as possible underneath the nice (and tight) nylon braiding covering the tubing. This was a major selling feature of the X line and we are very impressed to see a more value oriented version get such an advanced feature. We can not overstate how much easier this one tweak makes things. Yes, they are still going to be visible next to the radiator, but it is a whole order of magnitude easier to deal with than a mass of cables coming out of the water block.
Quickly going over these cables, the RGB header cable attached to each fan is about 16-17 inches long.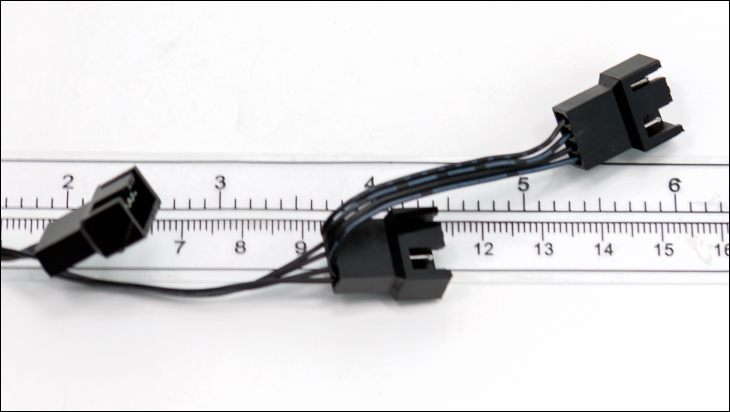 Each of the fan's 4 pin cable is also about the same.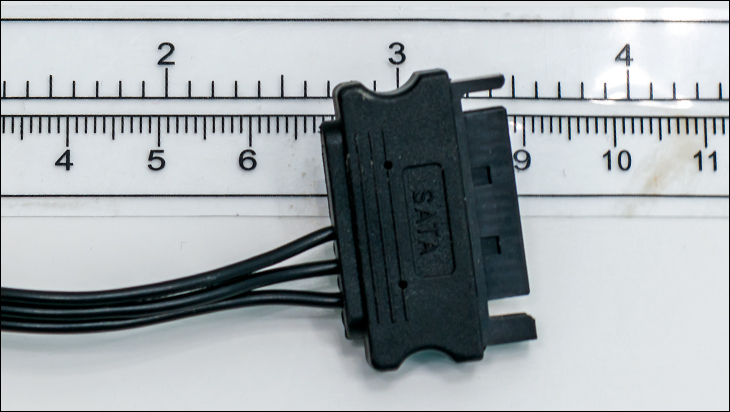 The SATA power cable through which everything on and in the Aorus WaterForce 280 is powered is about ~14-inches long.
The removable a USB cable is approximately 24-inch long.
This leads to another similarity between the two series. Quirks. The first quirk is the lack of a RGB over-ride header to tie the Aorus WaterForce 280 into your motherboard's RGB controller. Instead, Gigabyte once again expects you to control their AIO with their software and only their software. So, if you customize the fans or pump speed via the (necessary) Gigabyte software… said software will also override your motherboards RGB software settings for these fans. The end result is if you want all your LEDs on all your components to be in sync… you need to pick up a 4-pin RGB cable and not use the included header.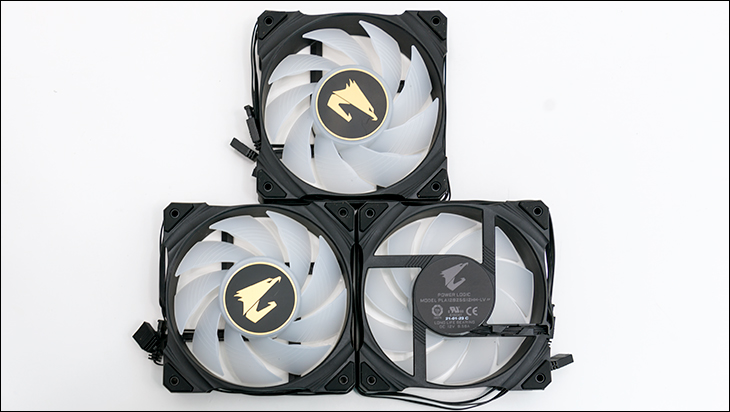 Firmly in the less-than-optimal category, is the 'quirky' lack of a simple 4-pin 'fan' cable. This missing 4-pin cable does cause a few issues. First and foremost is you are going to have to enter your system's BIOS and turn off CPU fan monitoring. Otherwise, it is going to complain on every single POST that you CPU fan has 'failed'. That is annoying but not a big deal. More concerning, to some, is the lack of a 'fan' cable options means you are going to have to use the included controller to control both the fan and pump speed profiles. This in turn means you are going to have to install and use software not your motherboard to optimally use this AIO. Thankfully you only have to do this if you want to change the LED colors, tune the fan speed profile, or water pump profile. It will happily(ish) live without any control as it is smart enough to have decent default profile to fall back on. Still rather… quirky design decision though.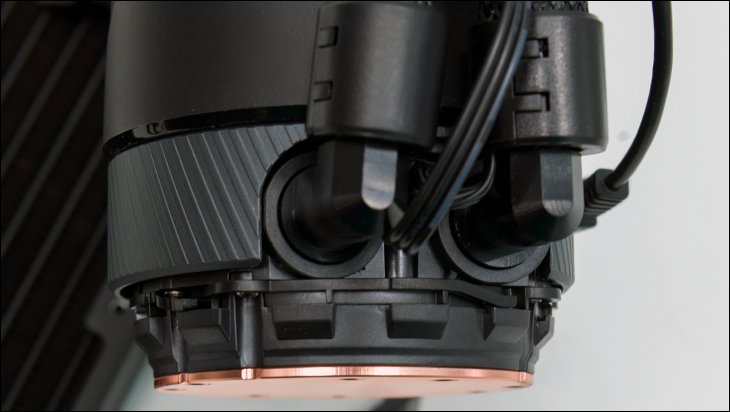 The next quirk, that both lines share, will also be the most concerning. Just as with the X the Gigabyte Aorus WaterForce series lack a 'fan' cable for the internal pump. So instead of being able to control it via hardware… you are going to have to install and use software to control it. Thankfully you only have to do this if you want to change the LED color scheme or tune the fan or water pump speed profile. This AIO will happily(ish) live without any control as it is smart enough to have decent default profile to fall back on. Still rather… quirky design decision though.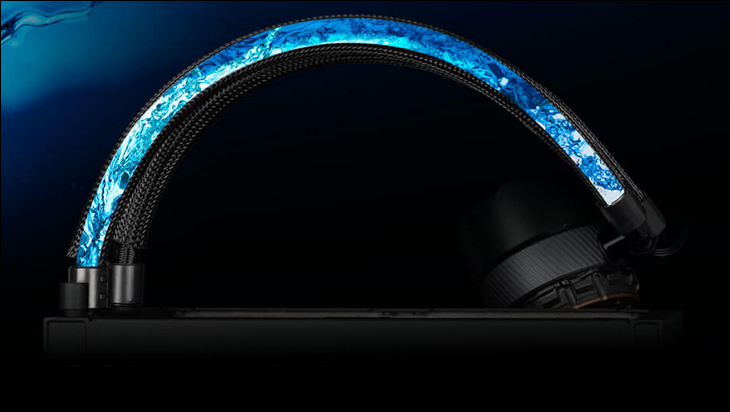 As with the older Aorus WaterForce X series, the new non-X makes use of a 27mm thick radiator. Also Known As a bog-standard 280mm 'thin 3 port' Asetek radiator. This includes the ~5.6mm standoff distance on both sides for the integrated fan shrouds (as an aside the standoff distance varied from 5.5031mm to 5.7404mm per side… which is "good enough for government work" but not exactly precision manufacturing). Thus, leaving only about 15.9mm'ish for water channels. This will put it at a distinct disadvantage compared to many 280 AIOs which use thicker rads. Thicker rads means more water and thicker water channels… which in turn means more optimal handling of high heat loads. Worse still, from a performance standpoint, is it is an aluminum cored radiator with only a moderate fin density. Which once again means less surface area for the heat in said water channels to be radiated into the air and away from your system.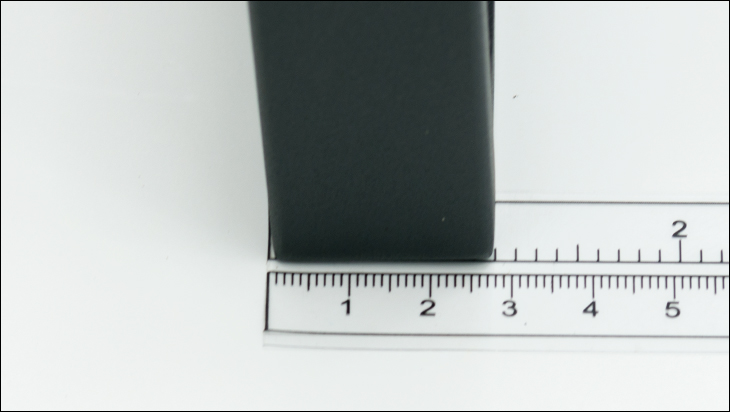 On the positive side, at only ~27 millimeters thick Aorus WaterForce 280 is a heck of a lot easier to work with inside typical cases than those 'best in class' AIO radiators (let alone ultra-thick open/custom water loop rad). If you are say using a Thermaltake WP100 or Mountain Mods "case" this is a nothing burger. If you are using an actual normal dimensioned case… millimeters matter when dealing with top or front mounted rads.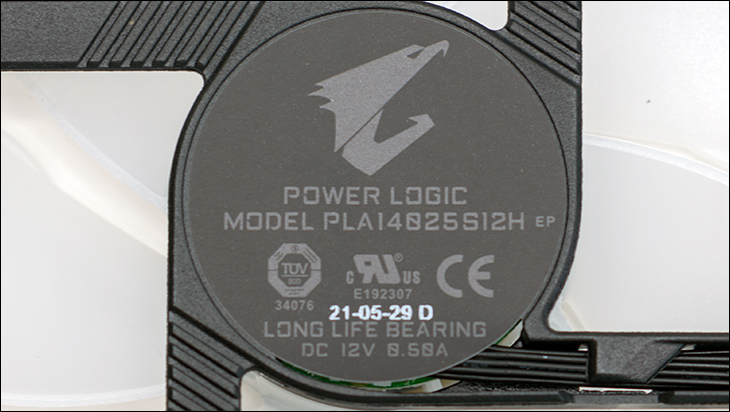 Moving on. The fans that come with the non-X Aorus WaterForce series are suspiciously similar to the X's (we cannot confirm they are exactly the same as our X is 3x120mm model). This means that Gigabyte did not further cut corners to hit a lower MSRP. Instead, they are using high end, for sleeve, fans. This is both good and a bad thing. It is good as it helps lower noise (ball bearings typically are noisier than sleeve bearings). It is bad as while ball bearing fans do not care about horizontal vs vertical… sleeves do. So, for front/side mounted orientations (aka vertical) these sleeve bearing fans will last a long, long time. So much so we fully believe their 100K hour rating. The problem is, if you take that same long-lived sleeve bearing based fan and mount them horizontally (I.E. mount the rad+fans to the top or bottom of a PC case) their lifespan is going to be dramatically decreased. Probably still last their warranty length but they are not going to last the 11+ years their rating claims they will.
In either case, they are rather powerful fans (especially for 140mm fans). They move a lot of air (83.83 CFM) and thanks to the use of complex geometry fan blades (aka "3D stripe curve" blades) have overkill levels of static pressure (4.08mm H20) for use on a thin Asetek rad. This combination means the fans are smooth, are nearly silent at all but their highest RPM range (we would keep them below 1800RPM and not let them hit 2150 all that often), and reasonably durable.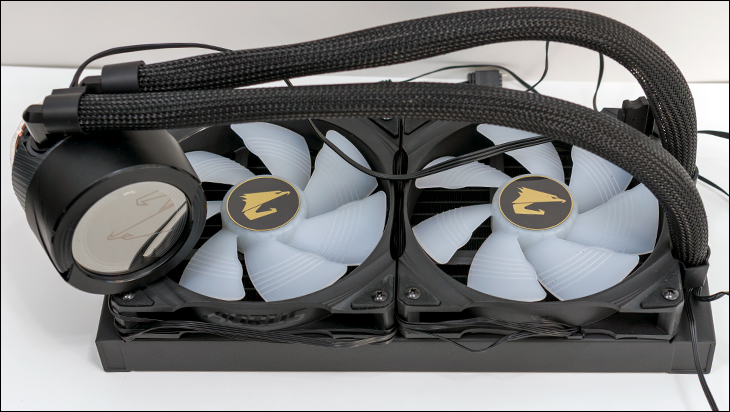 The tubing is also not that different between the two lines. Just like the X, the Aorus WaterForce AIO line use increased diameter tubing. To be precise instead of bog standard 5'ish mm Gigabyte specified the use of 7.8mm diameter EPMD (Ethylene Propylene Diene Monomer) rubber tubing. Now that is impressive considering that usually is the first corner cutting meaure many 'value line' AIO series' make.
As you can see the Aorus WaterForce series is not your typical value series. Instead, it is not only a viable alternative to the typical AIO manufacture's "premium" options… but arguably superior in many ways (or at least superior for some builds) to Gigabyte's own X line. Color us impressed.