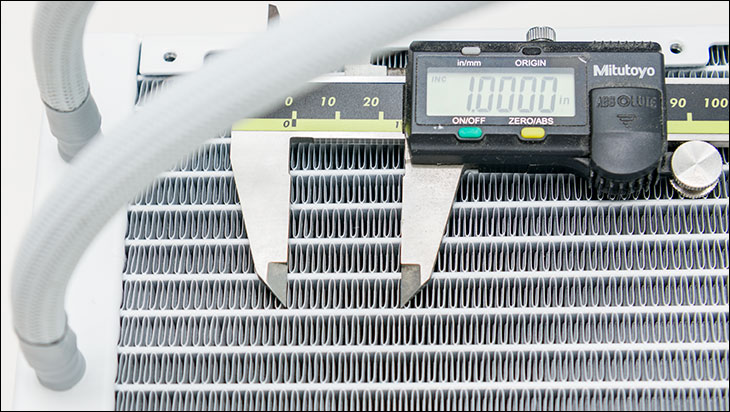 If you peruse the product page one of the main claim to fames the new MasterLiquid L Core series offers is 'expanded radiator fin surface'. A Totally New Feature ("patent pending") which promises a 25 percent increase in AIO performance. They even include a small, animated graphic for this feature. Sadly, Cooler Master does a terrible job at explaining this feature and the 'helpful' graphic is not only anything but helpful… it is downright misleading. Cooler Master did not suddenly start to use edge to edge (channel) height fins. (Basically) All modern AIOs use cooling fins that are as 'tall' as they can be… and have done so for many years. This includes Cooler Master ML V2 radiators. Nor did they suddenly make them 'oversized' and stick up and above the edges of the water channels… as they are smooth to the touch and in line with said channels.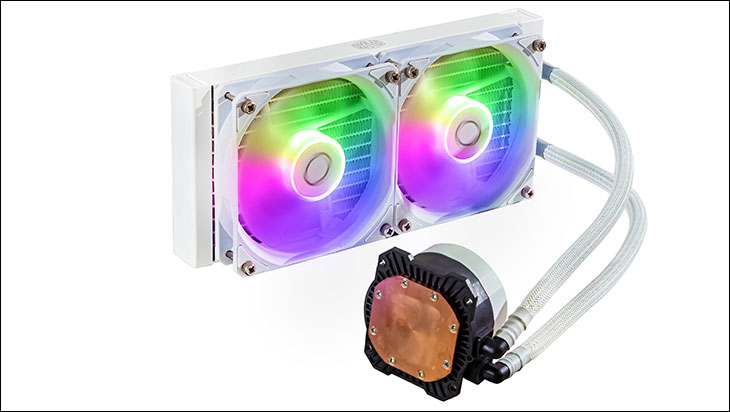 Nor did they suddenly go to a thicker radiator. The last generation 240 made use of a 27.2mm thick radiator. The new 240L Core makes use of a… 27.2mm radiator. As such that graphic is misleading. The increase is in comparison to old, old Cooler Master AIOs that did two things the 'old-school' way of doing things. That is slightly recessed fin arrays in between the radiator channels and old school folded fins. So no. There is no massive increase in performance compared to the last generation MasterLiquid 240L V2 AIO. Nor an improvement compared to the PL Flux series. With that said, Cooler Master does use a rather advanced radiator design that does not get the (full) credit it deserves. To explain, and expand upon this, a bit of history is in order.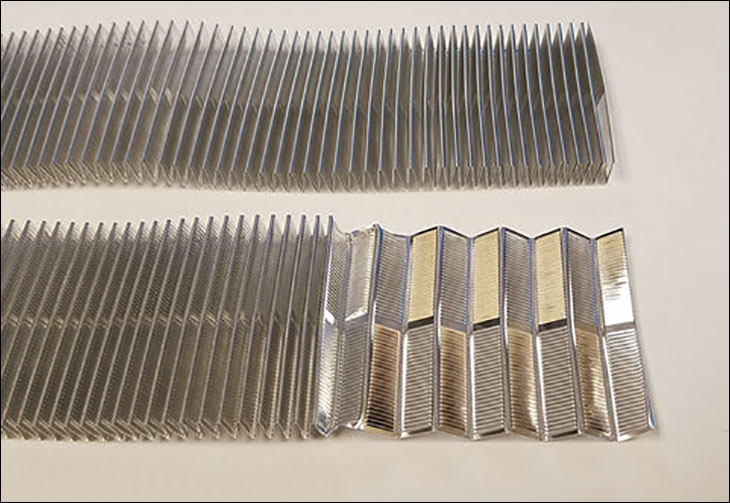 Image Courtesy of www.dewitts.com
Typical radiators use what is called a 'folded fin' cooling design. In simplistic terms what this means is the radiator manufacture takes thin 'strips' of aluminum and bend them back and forth to make a 'wave' pattern that is slightly undersized in the Z dimension (height) so that perfect alignment with the water channels is not necessary (which in turn makes building the radiator faster and easier). This folded fin structure is then tack welded in place to the radiator water channels. Which in turn allows the heat in the water a faster, and easier/efficient, way of transferring out of the water and into the aluminum fin array… and then (via fan air movement) into the air. Thus, the term 'radiator'.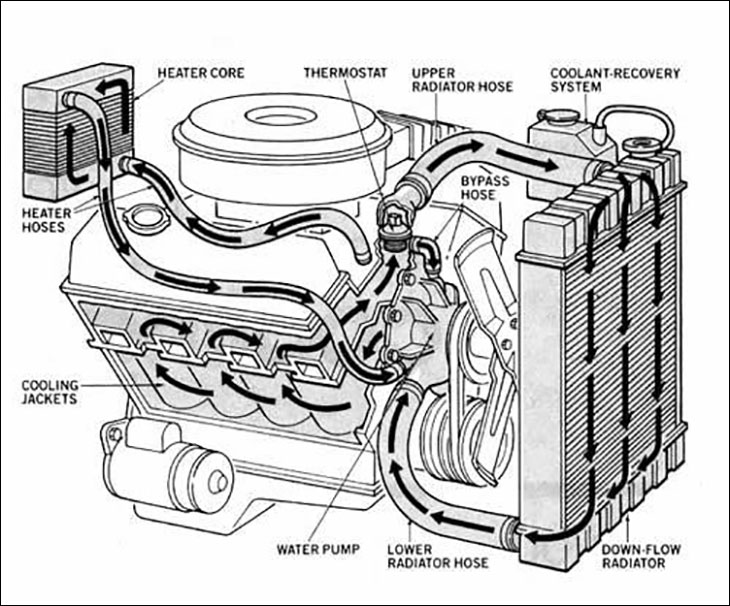 Image Courtesy of "High Efficiency Radiator Design for Advanced Coolant" by Katsuo Kurabayashi
This is the old-school way of doing things, as it has been used for well over a century in vehicle radiators… where the idea for water cooling a CPU came from. Unfortunately, while this does indeed dramatically increase surface available compared to the size of the water channels, it does have an inherent bottleneck in the fact that part of the cooling fin array that is in contact with the water channels is the small tip of the thin, minimum radius, folds. These spots are it and the rest of each fin is just there to radiate the heat into the air. To visualize this issue think of the letter 'W'. Now realize that only tip of each end is the contact area for the cooling fin.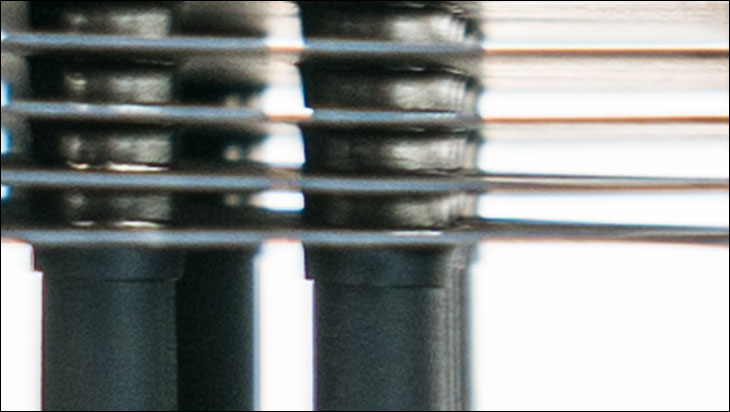 Compare and contrast this minimal contact patch with how air cooling solutions do it. To whit each fin is not only in contact with the heatpipes at the edges of each hole, but each fin has material bent down to increase the surface area in contact with the heat pipe. Huge, massive difference in total contact per fin. This increase in heat transfer efficiency to the cooling array is why (big) air-based cooling solutions can outperform some (smaller) AIOs.
This issue is well known and is one of the reasons (beyond increased water capacity and bigger fluid channels) why 'thick' radiators routinely outperform 'thin' radiators. For example, a 'thick' (for an AIO) radiator will typically be in the 35-38mm range whereas a 'thin' (aka standard thickness) will be in the 27mm range. 8 to 11mm of extra contact does not sound like much of a difference, but it does quickly add up when you think about how many folds there are in a radiator's fin array. The downside to 'thick' radiators is that they are heavier, cost more to produce, and take up more room inside a PC case. In some cases, pardon the pun, this additional thickness can make the difference between being able to fit the darn thing in a build's PC case or not. Alternatively, it can make the difference between being able to have a push pull configuration or not.
This is why 'thick' radiators are in the minority in AIOs, and (generally speaking) if one wanted better performance from an AIO cooling solution they usually opt for upsizing to a larger radiator. Which in turn 'upsizes' the number of installation issues a builder may encounter, and careful study of case selection is much, much more important. Thanks to modern manufacturing processes there is no longer any need to undersize the Z-height of the fin stacks… as robotic based alignment offers more than 'good enough' accuracy levels. This in turn allows for more total surface contact area.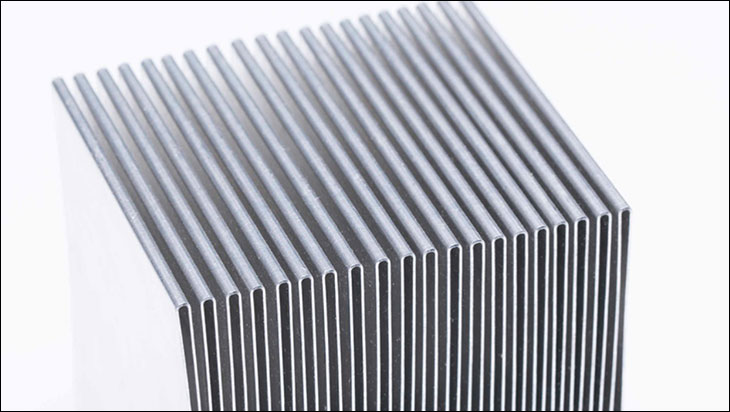 Image Courtesy of www.robfin.com
This is part of the 'how' Cooler Master was able to increase performance over the years. The other part is instead of simplistic bend at each end the bending process involves using curves or bends (aka 'semi-crest' fold). In this more advanced process, the tips are not just the peaks of a pyramid but are graceful curves. To visual this, imagine the letter 'S' instead of V or W. With this manufacturing change there is no long a tiny tip touching the fluid channel and instead is wider contact point. Yes, the contact patch is not all that much wider but it still does noticeably increase the overall surface contact. To be precise, the old method resulted in a contact patch that was narrower than the 0.5mm welding bead used to attach the fins to the water channels. In the new(er) method the contact point is more like 0.7 to 0.8mm wide.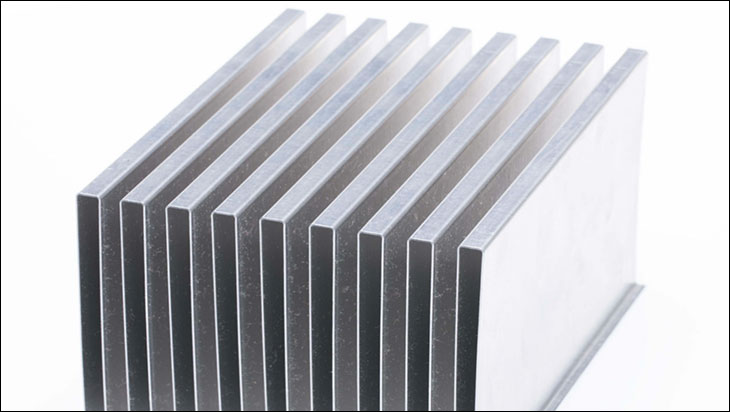 Image Courtesy of www.robfin.com
Of course, there is No Such Thing As A Free Lunch when it comes to engineering and this increased surface contact area means a decrease in the overall total number of fins… as there is less room for fins… as the total available space does not change, just how the engineers make use of said area. This is why Cooler Master is (still) using an "S" bend process instead of the even more advanced "Z" (aka Square fold)… which typically only shows up in custom loop radiators costing more than the entirety of the 240L Core AIO. In either case, this middle path approach is the folds per inch is still a very reasonable 19 fpi, and yet optimizes the overall surface area vs. contact surface of the Cooler Master radiator… as it has for many generations of C.M. radiators. Not just the new L Core series.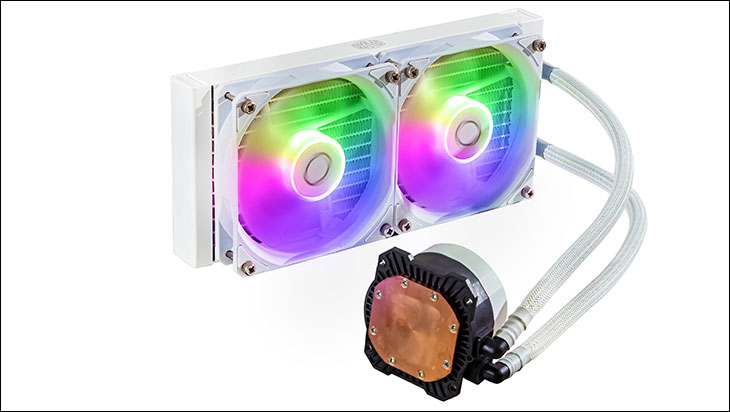 Before moving on, let's go over the other features of this radiator. The most obvious is the shear beauty of it. Yes, you can also get it in a deep, dark, and rich black… but the white edition is gorgeous. Just like the black edition this paint job is thick and rather scratch resistant – just the way we like it. Also in the net positive category is the fact that it is not a 'pure' white. Instead it is more of a thick 'Porcelain' to 'Selago' white rather than pure white (FFFEFC vs FFFEFF vs FFFFFF in hex code as per Adobe Photoshop color picker which bounced between the two depending on pixel picked). Which is actually a good thing as it will work across a broader spectrum of 'white' PC cases… all of which use slightly variants in what they consider 'white' to be.