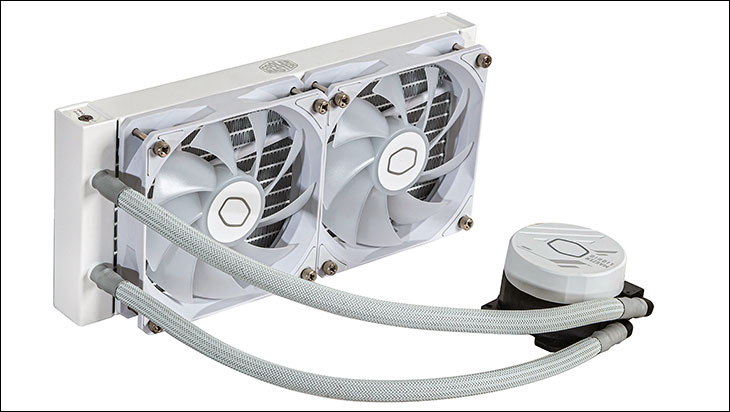 Let us start with the large elephant in the room. This AIO does not look like your typical $100 AIO. In fact, it puts the typical 'value' orientated AIO to shame and pretty much rewrites the requirements for what future up-priced models will have to surpass to justify their higher MSRP.
We say this as the 240L Core White Edition is as pretty an AIO as almost any premium priced AIO one cares to mention. The paint is thick, rich, and surprisingly scratch resistant. So much so it makes a similarly priced DeepCool (let alone cheaper Thermalright) AIOs look tawdry in comparison. You can literally place this side by side (denude of fans) and be hard pressed to tell it apart from a PL240 Flux edition… as only the low-key water block is really the only obvious difference.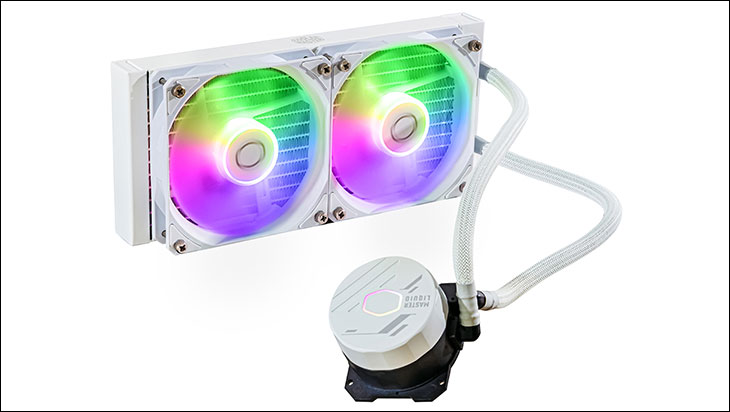 This however is getting ahead of ourselves. So, lets step back and start at the top. As we have stated many times in the past there are four, arguably five, critical areas that makes up a simple "All In One" closed loop cooling solution. These are the radiator; the waterblock+pump combination unit; the Tubing; and the fans. With the explosion of the "LEDS On Everything" philosophy one could also argue that overall aesthetics are just as important (to some) as the four (pardon the pun) Core areas of an AIO design.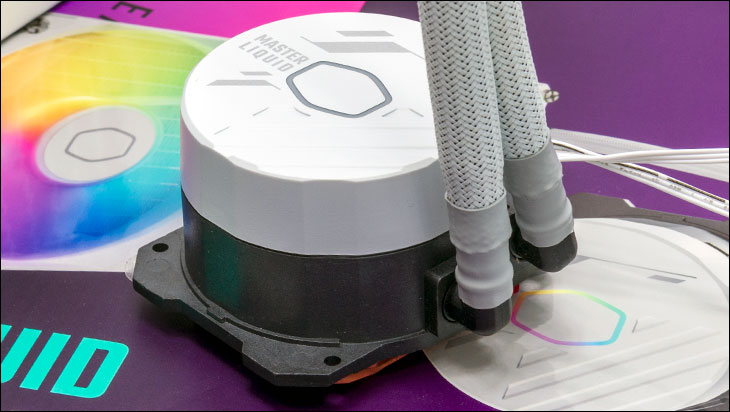 In the aesthetics department the 240L Core can hold its own… and then some. So much so that the only pet peeve we have with this 'fifth' key area is the fact that the waterblock/res combination unit is not fully white. Instead, and much like the PL360 Flux we reviewed somewhat recently, it is a two-tone affair. We have nothing against two-tone color combinations. We own plenty a 1911s that are two-tone. We however feel that making this highly advanced waterblock a two radically different colors is doing a great disservice to the L Core series. Put bluntly black just does not 'fit' the overall look the design team were obviously going for with their white edition. Instead, it looks exactly what it is: a cost cutting procedure. After all, it is a lot easier to swap out a low production run 'white' topper for the black topper the 'block usually uses than it is to make a fully white edition… and risk having too much stock on hand come 'V2' refresh time. Thankfully, on all but all-white motherboards the black bottom half of this block will not stick out like a sore thumb and rather you have to look closely to notice it.
On the positive side, we take little issue with the reduction/simplification of the LED abilities this new 'block has compared to the slightly older PL Flux series. To be blunt, we actually prefer it… as only a single, small, ring of LEDs "ruin" the clean lines of the 'block. Yes. We understand that we are in the minority and most prefer a flashier design; however to our jaded eyes this minimalistic 'Core' design exudes an understated elegance that just plain works in a wide variety of builds. Put another way, we are more Patek Phillippe instead of Richard Mille watch buyers. Only you will know which you prefer; but honestly doubt many will find this more stealth approach to the waterblock to be so affronting as to be a deal-breaker. Put another way, if we were to expand upon our watch analogy, the L Core series is much like an old-school Cartier Tank series watch. Relatively inexpensive, but "Just Works" in so many different scenarios that it is a timeless classic. Just as the L Core series is sure to be considered one in the coming years. As such our overall opinion on the aesthetics is very positive with the L Core series firmly in the 'well above average' category.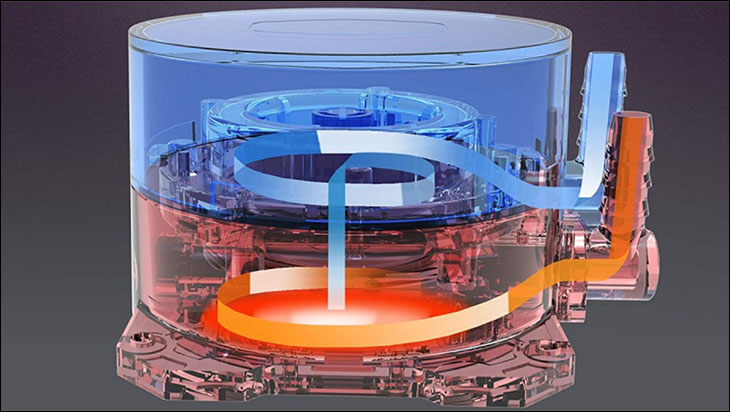 This trend of being well above average further continues when one digs into the abilities of the waterblock… as Cooler Master has taken their previous M.L. V2 'block design and improved it. Improved it in multiple ways. To be precise Cooler Master has taken their previous 'dual chamber' custom block and increased the overall efficiency and performance it offers. First up is the inclusion of their latest generation pump – that CM have dubbed the "Gen S Dual Chamber Pump".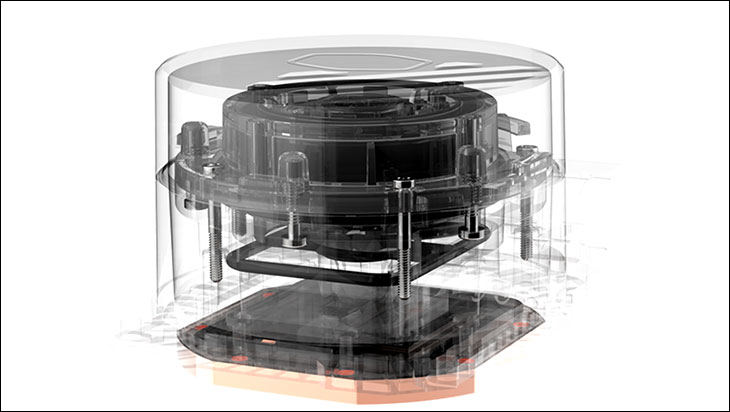 As the name suggests it builds upon the idea of full separation of incoming versus outgoing water. However, thanks to an improved impeller and internal chamber geometry (with a big dose of more Powa! via 3.96 watts vs previous ML240L v2's 2.36 watts) this pump offers increased water flow and higher head pressures than previous designs… which already offered rather decent (by AIO standards) performance. Of course, with increased power and performance does come a slight increase in noise 10dBA vs. 12dBA… but few will care about that as this is still well below ambient levels.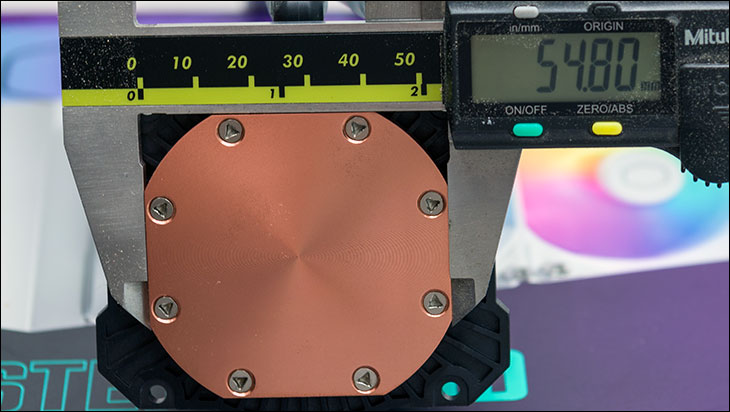 This was just the starting point for the improvements Cooler Master has baked into the Gen S. Cooler Master's engineers then took their existing all copper base increased the dimensions (slightly), increased the height of the internal micro-fins and reconfigured the channel layout all so as to be optimized for bigger latest generation CPUs. For example, an LGA 1200 series CPU was 35×35 whereas an LGA 1700 CPU is 45×35. Yes, AMD AM5 is technically the same overall dimensions as AM4 (at 40×40), but more of the IHS now has actual CPU components underneath it… and just having the waterblock cool the central section of a modern CPU just will not cut it in today's market.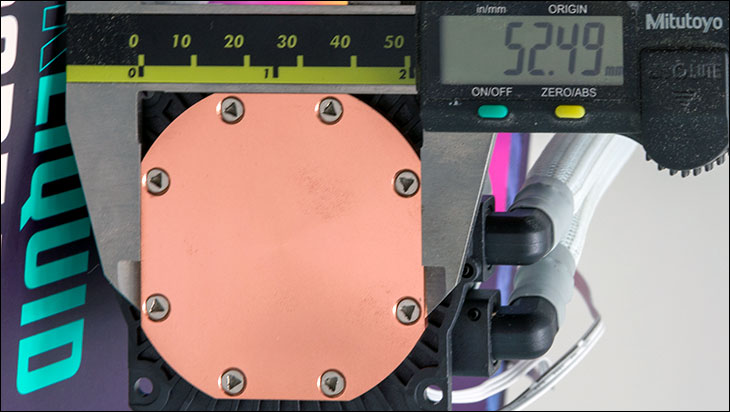 This is why the new block is a nominal 55mm by 52.5mm and can optimal cool the entirety of an LGA1700 (and upcoming LGA1800) CPU as well as any hot, hot… hot running AM5 CPU (assuming it does not catch fire that is). Mix in a nearly mirror shine finish on the base and this rather low-profile block is indeed arguably the best Cooler Master has ever released. Regardless of price. So, while we may dislike the overuse of plastic – especially the dual color combo – there is no denying that Cooler Master got the waterblock + reservoir right.