Cooler Master's air-based CPU cooling division certainly has been on a roll recently, with everything from their Hyper series (212 Halo B/W and 622 Halo B/W editions) to their MasterAir (MA824 Stealth) getting the royal 2023 upgrade treatment. Of course, not to be outdone by their fellow engineers their water 'All In One' design teams have not sat idle. Very recently Cooler Master launched their replacement to their venerable MasterLiquid 'L' v2 AIO series, and this new and improved design has been dubbed the MasterLiquid L Core series. A series which represents years and years of institutional knowledge of what separates a good AIO cooling solution from a great one. Today we will be looking at what is sure to be one of the more popular options in this new line-up: the Cooler Master MasterLiquid 240L Core White Edition.
As the name suggests this new Master(of)Liquid(Cooling) is all about core fundamentals. Of which there are basically six. A great waterblock, a great pump, easy to work with tubing, easy to work with radiator, and good fans. All wrapped up in a package that is both aesthetically pleasing and easy to blend into a custom build's color theme. Everything else is basically dross that is included to both increase the MSRP and satisfy the more… edge/niche use cases. This is why you will not find an LCD waterblock/pump/reservoir top cover on a L Core model. This is why you will not find a USB+software fan controller integrated into the custom block+reservoir. Sadly, you will also not find an integrated blower fan on/in/part of the said combo 'block either.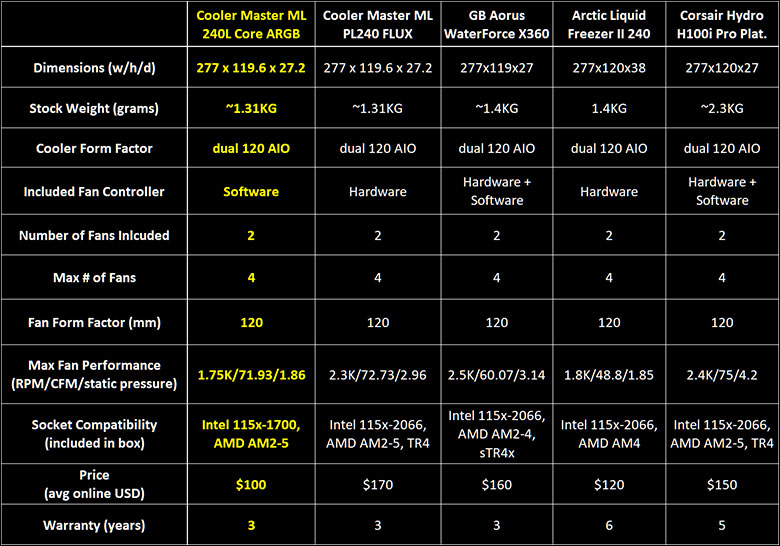 Instead of focusing in on 'nice to have' but not (really) necessary features Cooler Master's design team opted to spend their budget on building the most advanced water block a MasterLiquid AIO has boasted. It is why the Core series boasts some of the best aesthetics we seen offered by a value orientated AIO in a long time – up to and including a reasonable amount of RGB LED bling integrated into both the fans and the waterblock topper. Mix in Cooler Master's legendary ease of installation reputation and the number one question is how Cooler Master was able to offer all that at a mere 99.99 USD. Especially when most of the premium competition come in at the 130-150 USD range… or higher. Yes, the M.L. 240L Core costs more inline with what a the various (Attack of the) Chinese (clones) options… and in some cases less than what the more premium Chinese options cost. For example, a DeepCool LS520 SE will set buyers back about 110, whereas a Thermaltake Dragon 240 ARGB will only cost 90 USD.
On paper the promise of premium quality at Chinese pricing certainly sounds like a match made in heaven for both professional system builders and experienced enthusiasts looking to stretch a build's budget as far as it can go… without going down the clone rabbit hole. Of course, those selfsame groups of buyers will all be asking one question and have one main concern: performance. After all, when one sees Chinese clone pricing on a name-brand company's offering(s) it does raise serious questions on what corners were "rounded" in order to undercut the competition. So, let's find out what the Cooler Master M.L. 240L Core can and cannot offer buyers.