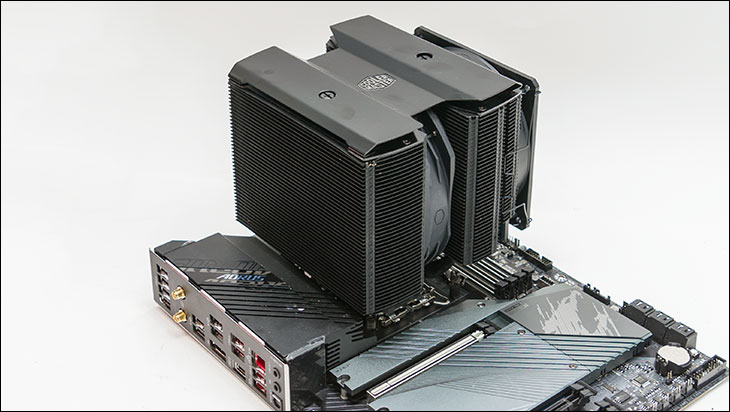 There are two separate and distinct ways to judge the installation process of the Cooler Master MasterAir MA824 Stealth. The first is to compare it against similarly sized dual towers. The other is to judge it against its smaller brethren in the Hyper lineup. To be entirely fair and impartial we will give you all the data so you can make up your mind on where it falls on the ease-of-use spectrum.
Before we do that, let us be crystal clear. For its class the MA824 is rather easy to work with. The large cutout combined with a tall starting point for the fin arrays make this a rather enjoyable experience. We would go as far as saying Cooler Master has noticeably improved upon the MA624 foundation. First and foremost of these improvements, is the fact that the dual-purpose, dual-sided backplate of the MA624 has been replaced with a dedicated Intel only backplate… and AMD users use the integrated AM4/AM5 backplate that all AMD (4/5) boards come with.
This is a good thing as compromise designs by their very nature are never going to be superior to a dedicated design. While yes, it is true that the Intel backplate is made from 'plastic' that is pretty much the same as saying that a Glock or Sig or S&W pistol are 'Tupperware pistols'. Put bluntly, it is ignorant. This is a polymer based backplate that can easily handle a piddly three and half pounds of weight. In fact, it offers less long term issues than a metal one would as it is electrically neutral and will not short out / statistic discharge your CPU at some random point in the future. With that said… yes. We would prefer to see a metal reinforced polymer hybrid backplate. Since no one has yet combined the benefits of fibre-reinforced polymer with the rigidity of metal… all backplates are less than optimal in our eyes.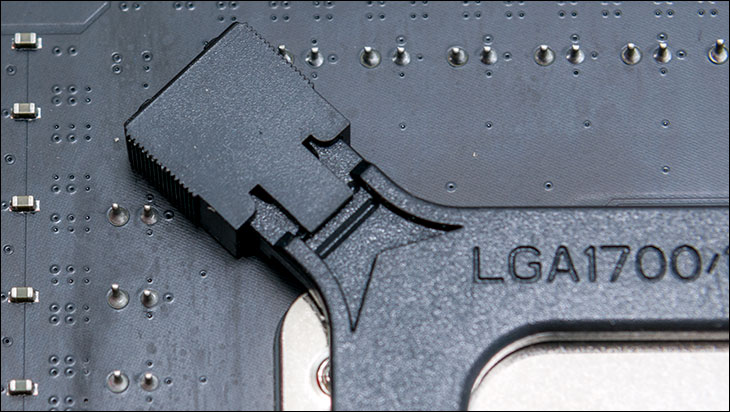 Also in the nice to see refinement category, the four posts are now factory mounted for you. Thus, all Intel owners need do is slide the four posts in/out to match their socket type (outwards for LGA 1700, inwards for the rest of the LGA 1xxx types).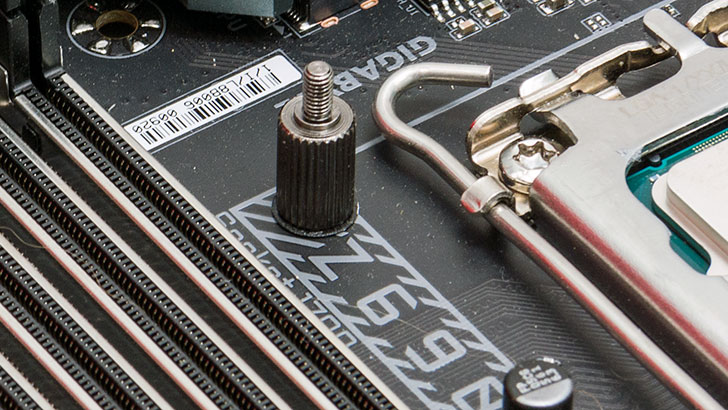 The rest of the procedure follows very similar to that of both the MA624 and newer Hyper 'Halo' models. Install the standoffs to secure the backplate in place.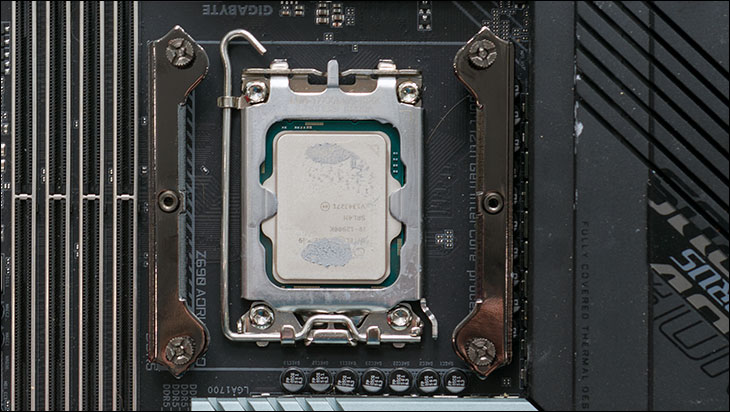 Install the two metal top brackets. Secure with the teeny-tiny nuts. Apply TIM.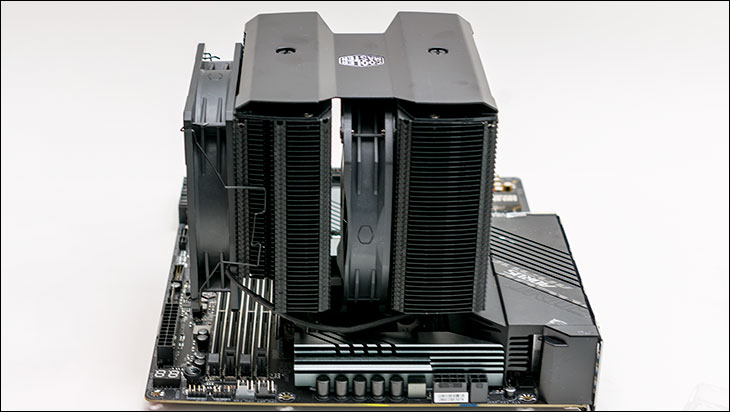 Then install your RAM (as otherwise you have to work around the MA824 and its massive overhang of the DIMM slots). Then gently lay the MA824 in place, and screw it down by turning the two bolts that are integrated in to the top of the MA824.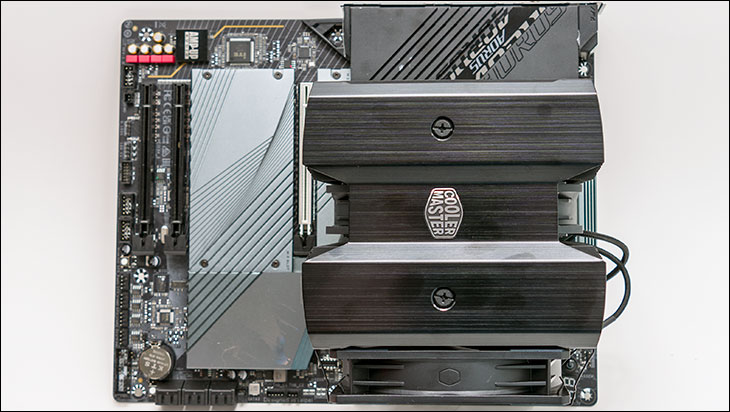 Sadly, one area where things can, and will, go off the rails is if you pick this tower up by the top fascia. Yes. Everyone will probably do this once… as that is the easiest way to grab it and place it quickly and accurately over the CPU's IHS. Be warned. If you do that… expect the top fascia to pop off under the weight of the cooler… hit your toe… break your toe… and then laugh at you and your pain. Ask us how we know. We dare you.
So no. Do. Not. Grab. It. By. The. Top. Fascia. That way leads to pain and frustration. Instead grab it by its sides and lay it in place. That is the Cooler Master Way™ of doing things. We think that is as dumb as a box of hammers, but it is what it is.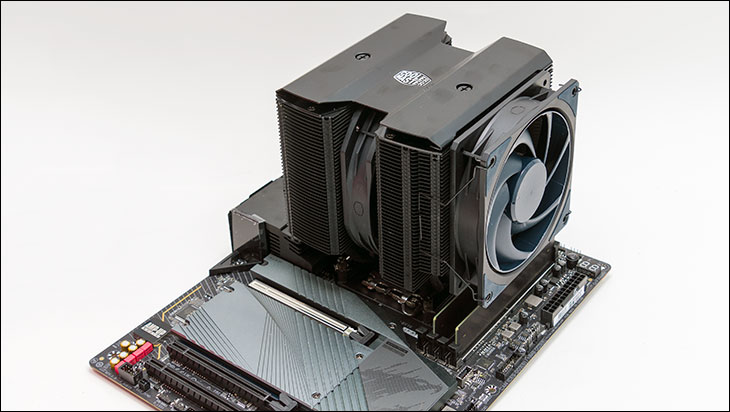 In terms of compatibility, the only major issues worth pointing out is uber high RAM (or actively cooled RAM solutions) will be a non-starter. Considering how much room above and beyond JDEC DDR5 standards you get… this is an issue that will impact few builds.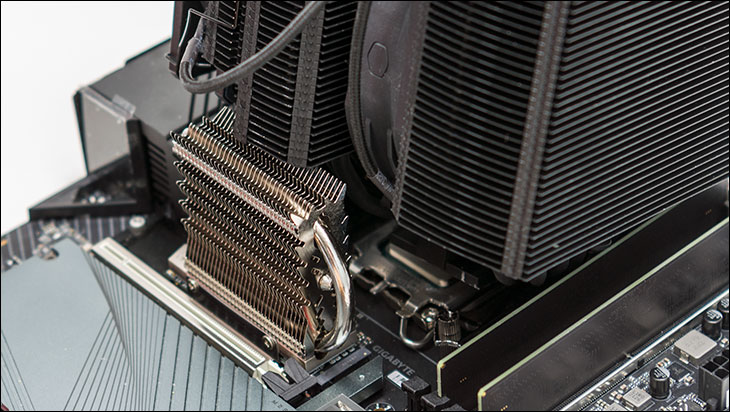 What may impact a noticeably chunk of builds is the fact that this is a 150mm wide cooling solution. As such it does invade the first PCIe slots no-go zone. As such if your first PCIe slot is your main x16 slot… no big dual tower cooling solution is going to fit. NH-D15, F.C. 140, Assassin III, the MA624, the MA824. All will give you a rough time of things. Instead the Hyper 622 is about as big as you should be thinking.
Thankfully, these days the number of motherboards that actually use the top most PCIe slot for their X16 input can be counted on one hand. Instead this is typically where a PCIe 5.0 x4 M.2 slot lives… and if not its usually a 'throwaway' PCIe x1 port. In the later, please continue to ignore it like the motherboard design team intended you to. If the later, your choice of M.2 heatsinsk is going to be somewhat limited. As you can see a top of the line ThermalRight HR-09 Pro is a no-go.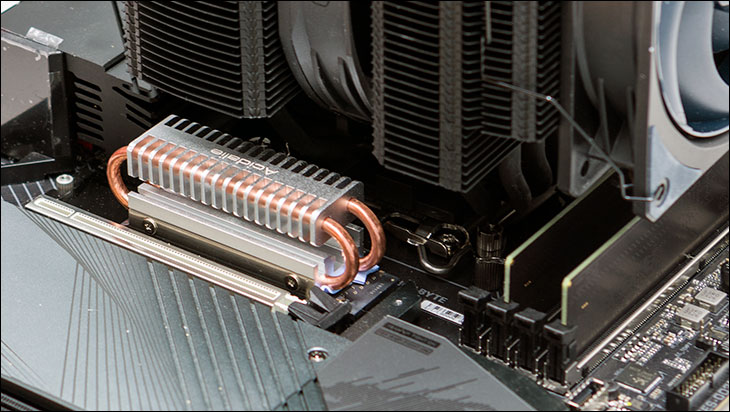 However an Acidale/elecgear/etc will work. So too will most moderate /reasonable sized M.2 heatsinks.
Overall, there are very few issues that you need to be aware of before buying this bigboi cooling solution. So much so we consider it well above average for its class – and gives Noctua a real run for their (premium) money. Just understand that "for its class" is not the same as saying it is as easy as even the Hyper 622… let alone Hyper 212's of the marketplace.