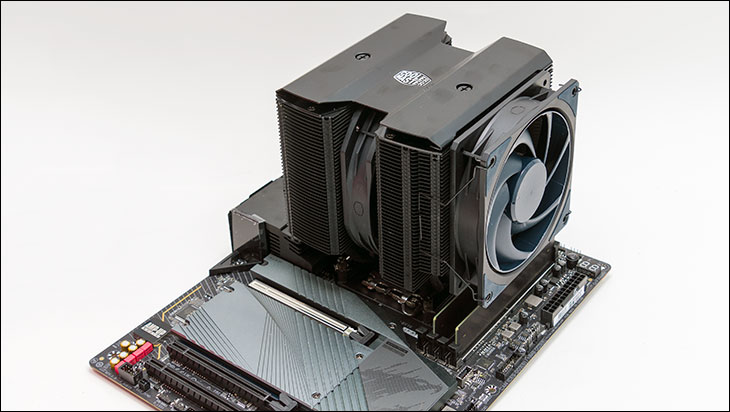 As you can see the Cooler Master MasterAir MA824 Stealth is a massive dual tower cooling solution. To be precise it tips the scales at 1.425KG, has a footprint that is 150.3×162.2mm big, and makes use of a z-height that is right at the edge of sanity (165.6mm). Now, while it is huge… it is not an eyesore. Compared to the original Big Brown NH-D15 it is downright pretty. Compared to the latest gen Chromax.Black edition from Noctua it easily holds its own… and is arguably prettier looking. When judged against the Chinese clones the thicker, ricker, deeper black paint combined with a very stylistic top covering places the MA824 in an entirely different league. Bluntly stated, Cooler Master has made a big dual tower cooling solution that is both stealthy and attractive. Color us impressed.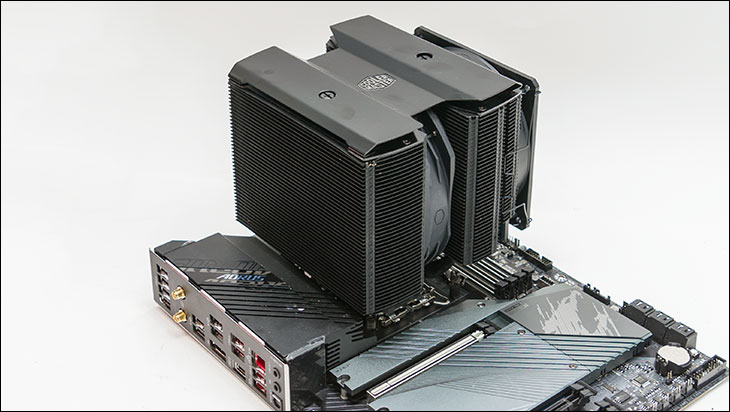 In the big dual tower CPU cooler niche there has always been a lowkey debate on the merits of using 'big' 8mm vs 'small' 6mm heat pipes. This stems from the fact that a 6mm heat pipe is typically good for 38watts and 8mm heat pipes are good for 63 (in vertical orientation). On the surface that makes a 5x 8mm heat pipe configuration superior to 8 x 6mm heat pipe configurations. This is where things get tricky as theory and reality start to diverge… as in reality more smaller heat pipes typically outperform fewer bigger heat pipes in actual use.
The reason smaller can outperform bigger is due to two reasons. IHS size and the fin array size. With 8mm heat pipe cooling solutions most designs do not crush the heat pipes down to 2.5mm (using industry standard safe maximum of 3:1 ratio). Instead, they leave them round(ish) and space them out. Even with a 1mm industry standard gap that make the base of a dual tower cooling solution massive (e.g. using industry standard 1mm gap you are talking a heat pipe base that is 8×5 plus 4mm wide… or 44mm). This is perfectly fine when dealing with ThreadRipper or Intel Xeon sized CPUs but on consumer grade CPUs the IHS are smaller. Even the largest of the large (Intel LGA 1700) boast of having an Integrated Heat Spreader that is only about 37mm long. Meaning that the two end 8mm heat pipes are barely over the IHS… leaving only three to do most of the heavy lifting.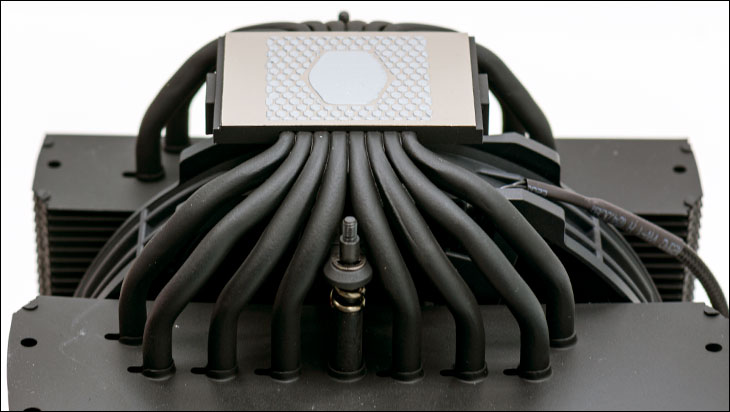 Compare and contrast that with 6mm heat pipe based units that do crush/flatten the 'pipes down to 2mm (once again using 3:1 safe crush ratio)… and you can easily get eight of them into an area that is only 23mm in size (8x2mm plus 1mm gap x 7). Yes, crushing/flattening a heat pipe reduces the safe heat carrying capacity, but with 6mm heat pipes that is a cumulative safe TDP of 264 watts. Still lower than the theoretical 315 watts of the five by 8mm design, but once again it is more a case of 63 watts multiplied by three full engaged 8mm heat pipes plus 50percent engagement on the two end ones… or about 264 vs 252 watts.
Most companies would look at theoretical 264 vs. 315 and be satisfied with knowing their design is superior in the real world. Cooler Master was not satisfied with coming in second place in anyone's mind. This is where one of the largest claim to fame the new MA824 boasts enters the equation. Specifically, the new heat pipe technology the MasterAir MA824 is using. While it is indeed true that heat pipes have been used in CPU cooling solutions for decades… not much has changed over the years. With the MasterAir MA824, and its "Superconductive Composite Heat Pipe technology" Cooler Master hopes to change the market. Change it for the better. Before we explain why these new 'pipes are so impressive a bit of background is necessary.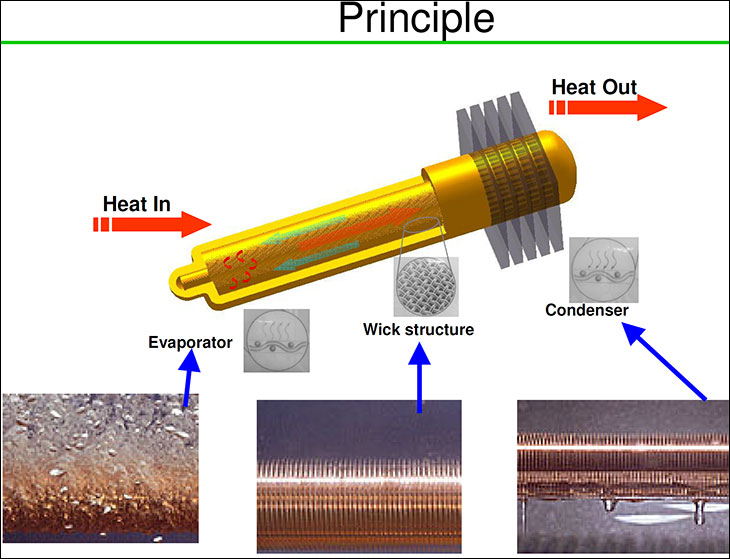 (image courtesy of SILRAM-Cor Heat Pipe Design Guide p.4)
Heat pipes are simple devices. They are thin-walled, sealed tubes of copper that have a tiny bit of fluid sealed inside them (typically pure, De-ionized Water). When heat is applied, the fluid changes from a liquid to a solid and is pushed 'up' and away from the heat source until it cools enough to become a liquid again. At which point it 'flows' back down the 'pipe… and starts the cycle all over again. The longer the heat pipe, the more fluid can be used and the more heat can be transferred in a given cycle. Also, the bigger the diameter of the heat pipe… the more heat it can handle before bursting. Regardless of size, this heating/cooling/heating cycle is highly effective at transferring heat away from the base of a CPU cooling solution to the fin array and is why modern air coolers almost invariably use heat pipes in some configuration.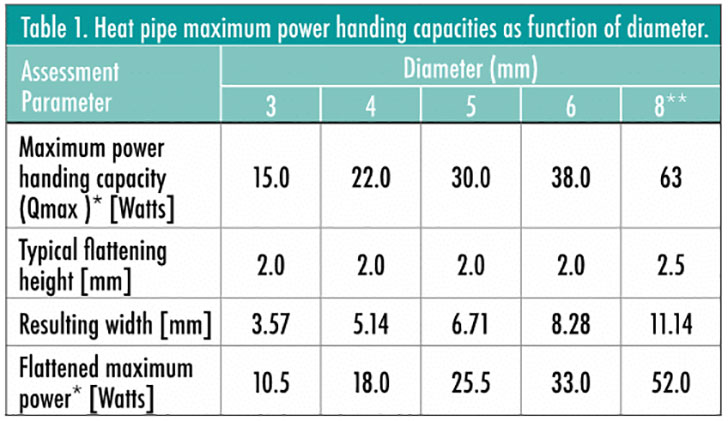 (image courtesy of celsiainc.com)
In perfect world, a simple copper tube with fluid sealed inside would be fine, but when used in modern computer system the heat source is not directly below the cooling array. Instead, the heat source (the CPU) is horizontal to the cooling array. Cool liquid really does not want to naturally move towards heat. It rather pool at the cool end. As such a wick is needed to 'suck' or 'syphon' the fluid back towards the heat source so the cycle can be complete. This necessary capillary action is typically carried out via one of three 'classic' types of wicking material. Sinter, groove, or mesh.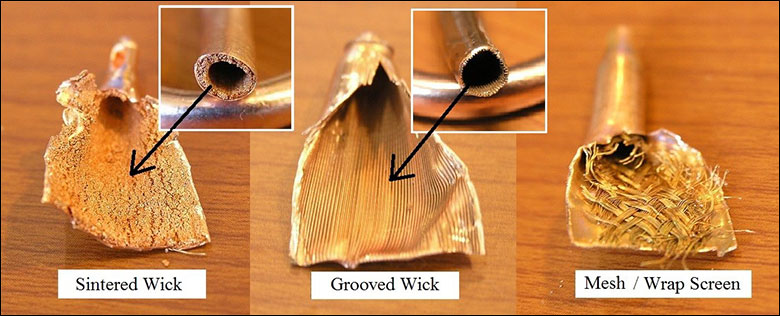 (image courtesy of Design and Development of Heat pipe Heat Exchangers M. Shrivastave p.4)
Sinter uses powdered metal sintered to the inner walls of the heat pipe. AKA has hot liquid metal dust is blown over the heat pipe where it flashed cools and attaches itself to the wall (and or previously layer of powder). For point of reference think of the result as a 'sponge' with random pathways from one end to the other of the heat pipe.
Groove, uses either simplistic grooves or more advanced spiral grooves carved into the very walls of the heat pipe to help 'suck' the liquid back to the hot part of the heat pipe. For a point of reference think of a straw with the heat being your mouth and the Shake Shack shake is the cool end of the heat pipe.
Mesh, uses a dense copper mesh/felt/strands/rope covering the inner wall to create a capillary action.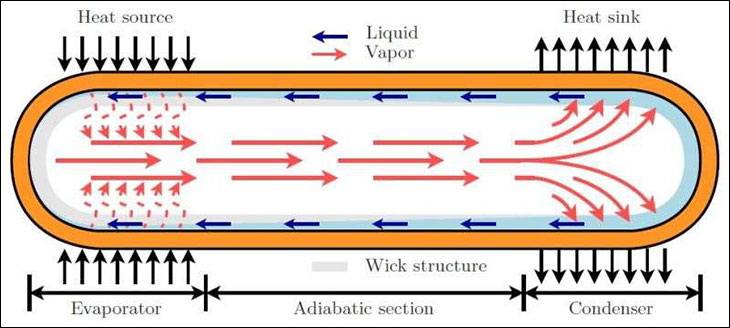 (image courtesy of IJARSE Volume 7, No.1 JM Babu p.297)
Of the three types powdered sintered metal covered walls offer the best wicking performance; whereas grooved heat pipes offer the best heat transfer performance (as they have noticeably increased internal surface area for heat transfer) and mesh are middle of the road affair with better surface area than the others but (usually) pretty mediocre wicking abilities. That is why the hybrid approach Cooler Master is taking is so impressive as it offers the best of both worlds, fast recovery of sinter, with fast heat transfer of grooves.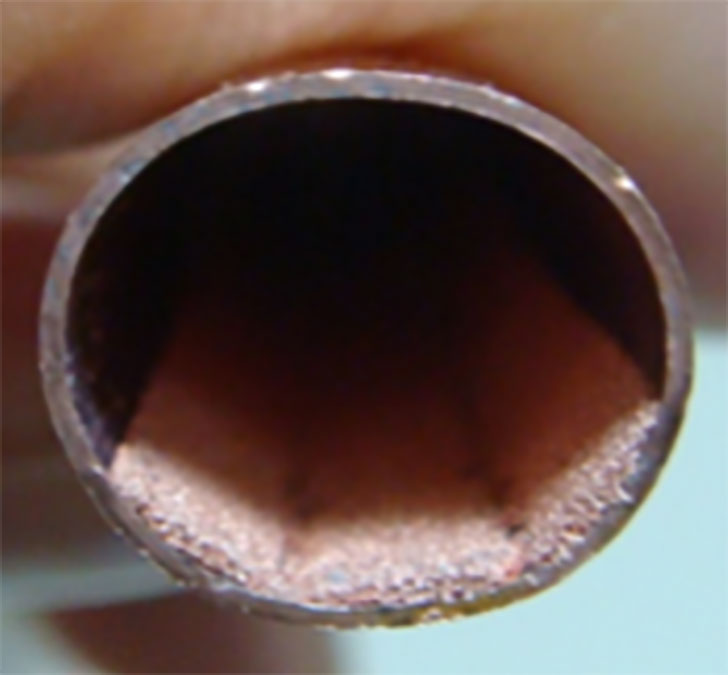 (image courtesy of celsiainc.com)
Furthermore, the variable internal width to the heat pipes is highly impressive. In heat pipe engineering there are two "hard" performance limiters. The efficiency of the wicking material to return fluid to the condenser section of the heat pipe (i.e. the part of the pipe directly over the CPU's IHS), and the amount of vapor a given heat pipe can contain. Thin wall copper is soft and cannot sustain high pressures. So the amount of fluid in a 6mm heat pipe is going to be less than that in a (thicker walled) 8mm heat pipe… as the internal volume of the 8mm is greater (and thus can have more fluid before a given pressure is reached) and the pressure levels can be (slightly) higher.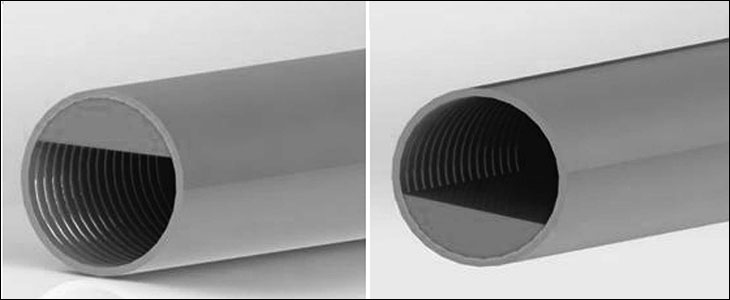 (image courtesy of Scientia Iranica 2016 p.2619)
With typical (sinter wick) 6mm heat pipes the copper pipe walls are a nominal 0.3mm with the wick material a nominal 0.4mm covering the entirety of the inner diameter of the copper pipe. Making the internal volume a theoretical ~4.6mm for vapor "production". Compare and contrast this with 8mm which typically use a nominal ~0.4mm wall thickness and 0.5mm wick thickness. Giving it a theoretical ~6.2mm internal free volume. This is why standard 6mm sintered wick heat pipes are good for about 38 watts vs. 8mm's 62 watts (when in a horizontal orientation).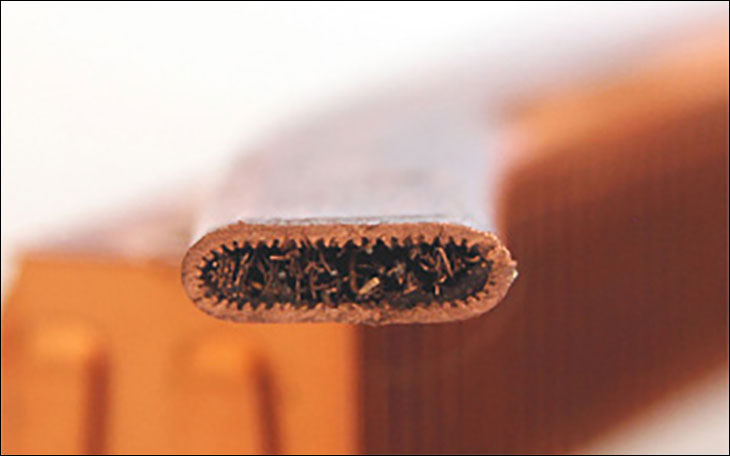 (image courtesy of quickcool-shop.de)
Up until now no one has really taken advantage (outside of niche designs) of the fact that in a CPU cooling solution heat is only applied to one 'side' of the heat pipe(s). Since maximum performance is the goal (and it always is in CPU Coolers) removing some of the wick material from the half not in contact with heat can increase vapor space without (noticeably) decreasing gravity fighting capillary action. This in turn changes the volume equation, allowing for more fluid. More fluid means a higher TDP for the heat pipe. Which in turn reduces the differences between larger 8mm and the smaller 6mm.
This improved efficiency can then be further boosted by increasing the height of the grooves on the side that are in direct contact with the heat source. After all, more internal surface area in contact with the fluid means faster transition of said fluid to a vapor. Which in turn means higher efficiency of the CPU cooler. Then this improvement on top of improvement can be further enhanced by not crushing the pipes down to their minimum safe dimensions – and why the MA824 has a 30mm wide heatpipe base housed inside the nickel plated copper IHS base of the MA824. Put another way, Cooler Master has made a hybrid wick material heat pipe that is also using a hybrid internal andexternal layout… or a hybrid of a hybrid. That is one impressive combination that brings new meaning to the phrase 'hybrid' design… and is worthy of the 'superconductive' moniker.