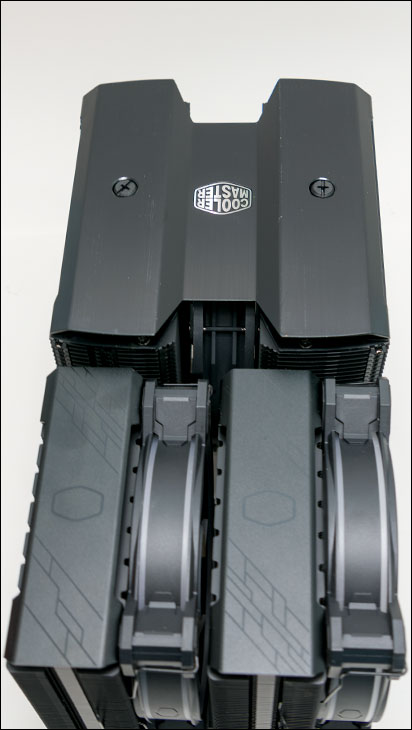 This brings us to the tear down section of this review. Typically, we do not include a tear down section for a 'simple' cooler as there is not enough parts to warrant the inclusion of it. The Cooler Master MasterAir MA824 is not your typical dual tower. Instead, it makes use of not one but two top fascia coverings. The top metal cover for aesthetics, and then a plastic one for the fan mount. To be blunt two top coverings does needlessly increase the height of this cooler, and in order to keep to a sane ~165mm z-height Cooler Master did have to peel off a fin or two off the top of each array. Which is a shame.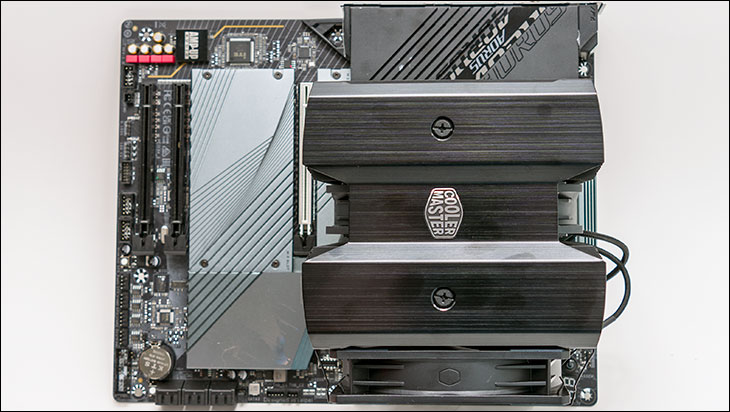 In either case, the (non-destructive) disassembly of the MA824 does consist of a couple steps, but as long as you take your time it is a relatively simple task. In fact, there are two ways of disassembly. The easy way, and the right way. The easy way is simple. Grab it by just the top fascia covering and vigorously lift upwards. The sheer weight of the cooling towers will quickly overcome the compression 'friction' tabs that hold said metal topper in place… and it will pop off. Of course, doing things the Bubba Way™ risks damaging the cooling fins… or your floor… or your foot… and certainly questions your sanity.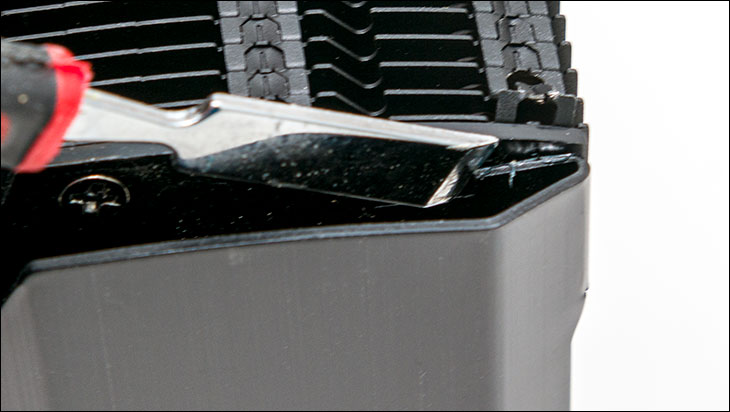 So instead of being ham-fisted about things, the proper way involves using two pry-tools / "spudger" tools. For this type of disassembly, the thick metal ones are much more optimal than the 'slim Jim' type. We say two as one will be used to release the four (one per corner) plastic "mushroom dome" friction tabs, and the other will be used directly under the topmost fin so as to keep it from bending. You can get away with only using one, but you may have to bend the corners of the fin array back in to place.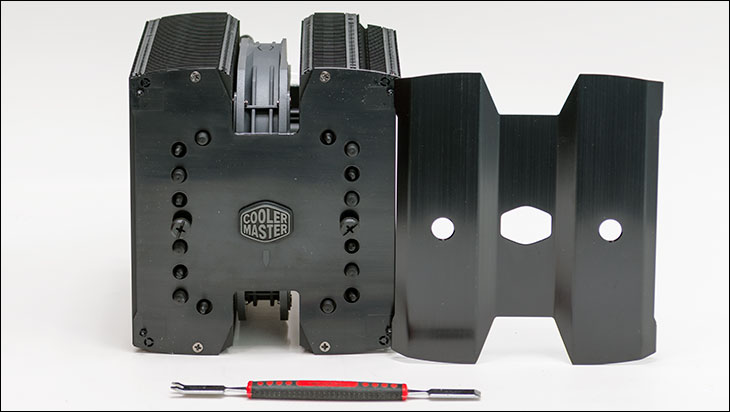 With that accomplished you now have access to the sub-fascia. This plastic frame is what holds the middle fan in position. Yes. We are disappointed about this, as this fan should be using two wire brackets. It is what it is.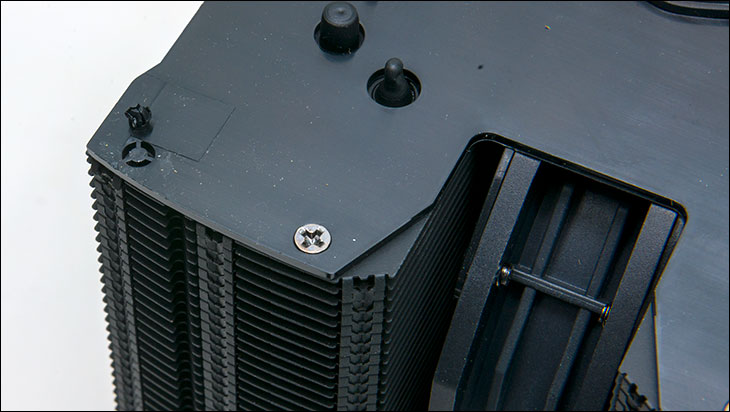 Removal of this plastic bracket is not as simple as it appears. First, you remove the four retaining screws. When done. Do. Not. Lift. The. Bracket. Up. You will damage the arrays.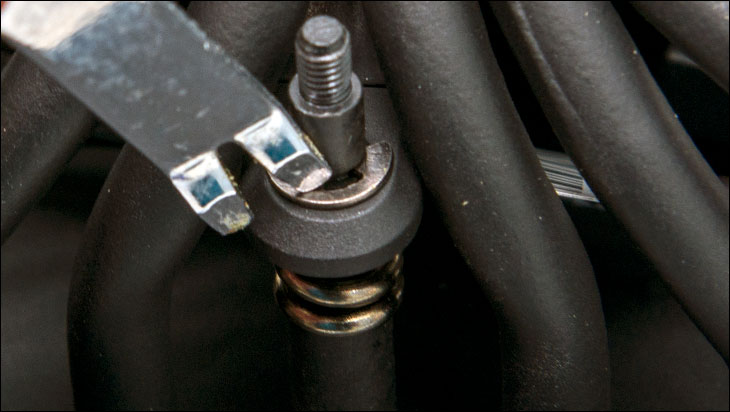 Instead, flip the MA824 over and remove the two small (denude/silver/metallic) clips that keep the two long bolts in position. These are technically called E-Style Retaining Rings, or E-Style Rotor Clips, or External E Radially Assembled Rotor Clips, or even Side-Mount External Retaining Rings (depending on what generation of mechanic is your teacher… and where s/he was taught). Everyone who has worked with them simply call them 'fly de fu… err… fly aways' as they will fly right off and disappear on you if you try and brute force them off. Assuming you do not have a pair of needle-nose pliers handy (let alone a $20 e-style retaining ring installation and removal tool… or have modded a pair of tweezers as who has room for an overpriced specialty tool in their tool box?!), simply grab your spudger and gently pry them off. If you are OCD about the black paint on the heat pipes, you can use a nylon spudger for this, but the paint is surprisingly thick and scratch resistant.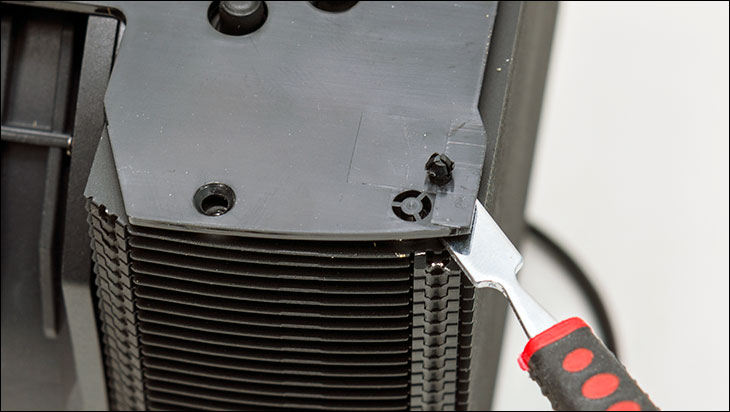 With that done. Gently flip the MA824 back into the upright position and using the dual spudger method outlines above release the four hidden friction tabs so it can come off. A word of warning. The two captured springs on the bolts will fall off as you pull the entire sub-frame off… as the bolt heads do not fit down and through their holes in said plastic frame. So be warned, and keep an eye on them as you pull upwards.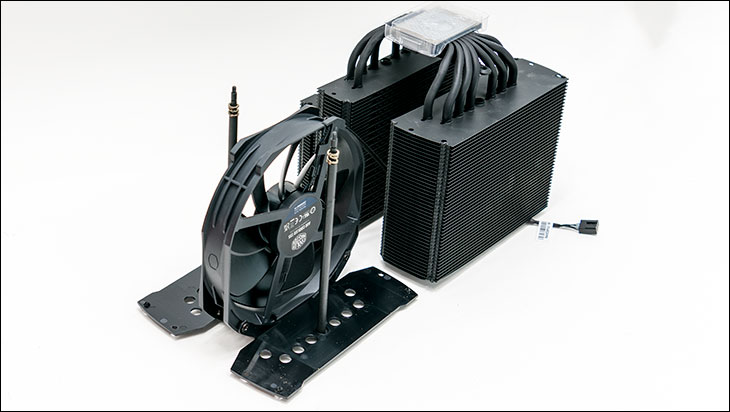 At this point, all that is left is remove the two screws holding the central '135mm' Mobius fan in place and you are done.
Overall, we think the MasterAir MA824 is an excellent upgrade to the previous MA624 series… and is (generally speaking) better than any of the Chinese Clones of the NH-D15 we have seen to date. Compared against the more expensive NH-D15 Chromax.Black we too think it is just as good, albeit goes in a different direction. One where the overall aesthetics is better, but with a few design quirks added in that the similar, dare we say 'basic', NH-D15 design lacks.