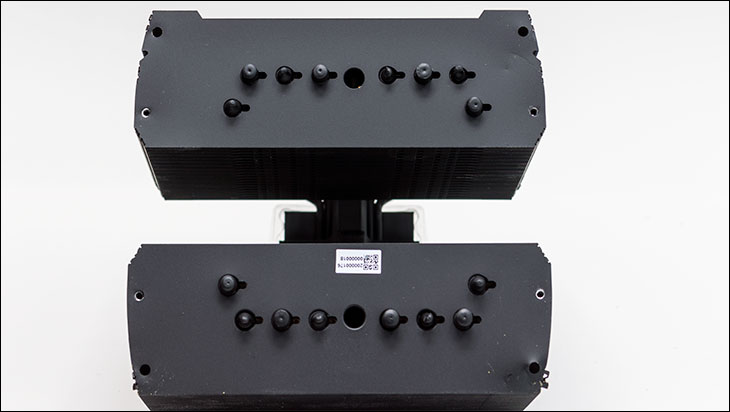 Circling back to why 6mm heat pipe designs can be superior to 8mm we come to the second real world reason: the fin array. Not all fin arrays are made the same and small changes/tweaks can have major real-world impact on performance. In most of the dual tower designs the five 8mm heat pipes are laid out in a row. Typically, closer to the (fan side) edge of the fins rather than the center. It has been done this way because Big Brown did it this way… and since the D14 is arguably the ancestor to basically all modern dual tower coolers that is how they all do (or did) it. Including the chinse clones like our personal favorite: the Frost Commander 140 by Thermalright… which does not even pretend to not be a clone (they even copy the fan performance specifications).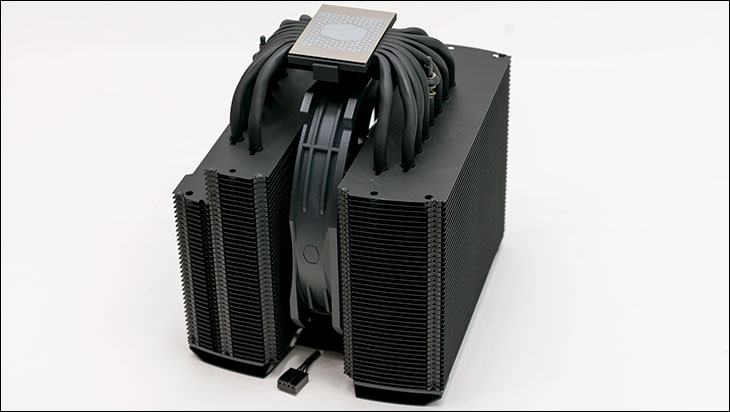 Most 6mm also use a typical 'in a row' design, but usually have them more centrally located in the fin array. Cooler Master and their new MasterAir MA824 series does things differently. Much like the heat pipes have been designed to be as efficiently as possible, so too has their layout been optimized. Yes, most (six of the eight to be precise) are centrally located 'deep' in the 50mm thick fin arrays. The outer two however are not. They are placed more like where one would expect to find 8mm heat pipes in the fin array. This hybrid layout has been done for two reasons. First and foremost, it reduces the static pressure the fan has to overcome… as the air from said fan is not slamming into a 8x6mm wall of heat pipes. It hits the outer two and gets focused in towards the center six. This increases velocity of said air and ensures more of the air does not just flow out the sides of the fin array.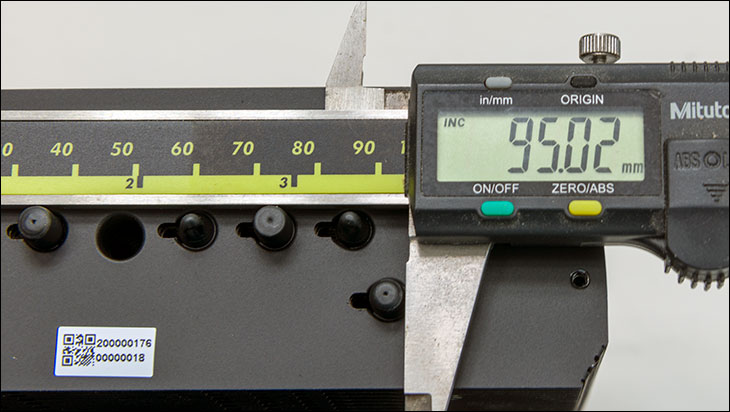 The other reason for this unusual heat pipe configuration is because Cooler Master has optimized the fin arrays with a 120mm+140 combination of fans in mind (or what Cooler Master call a 'dual staggered fan setup'). If you mic them you will see that the total distance is only a nominal 95mm. Perfect for 120mm, but undersized for 140mm. Why do this? Because most of the dualies only use 120mm fans on the outer end of the array. Why? Because it is easier to reposition a 120mm fan on a 140mm fin array without performance loss than it is a 140mm on a 150mm sized array… and these beasts always overhang the RAM.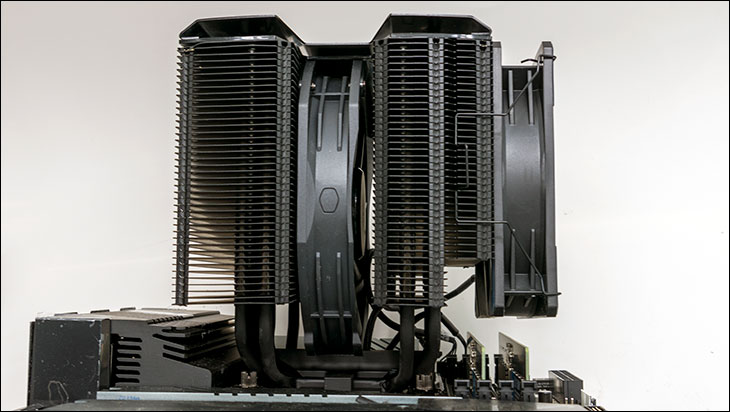 In regard to RAM compatibility, Cooler Master has gone above and beyond. First, they cut a good 19mm chunk out of the bottom of the fin array that will be nearest the RAM, and then they start the entire 110mm tall fin stack up nice and high.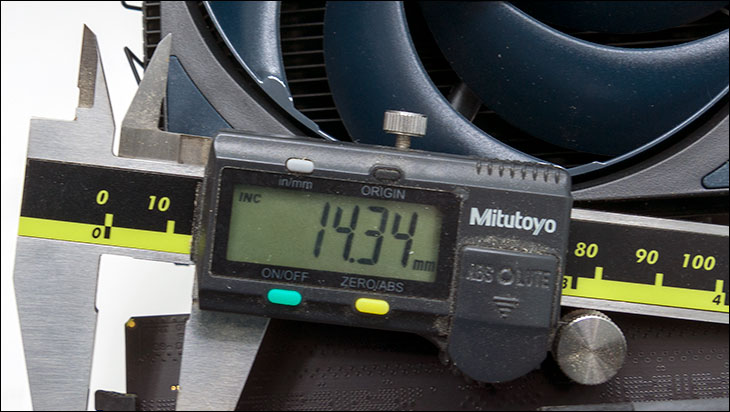 The result of these tweaks is (in the default position) there is a good 14mm gap between the fan and standard height RAM. As such, most systems will not need to reposition said fan to accommodate 'oversized' RAM sticks… but system builders can if they need to.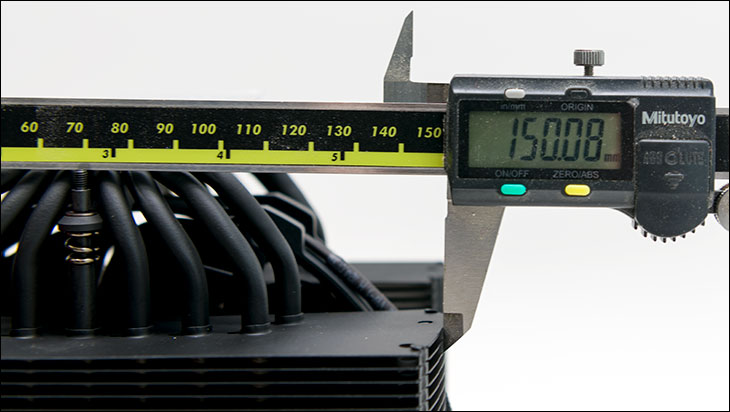 Moving on. The fin array itself also boasts noticeably more surface area than both a Noctua D15 and the newer 'inspired by' Thermalright F.C. 140. To be precise the fin arrays are a good 150mm wide…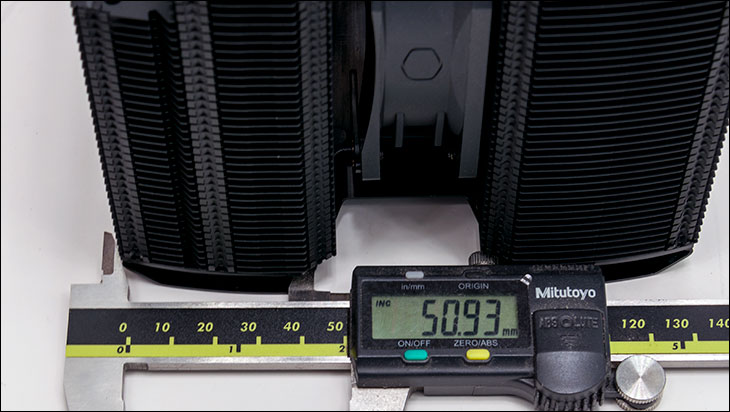 Are basically 51mm deep.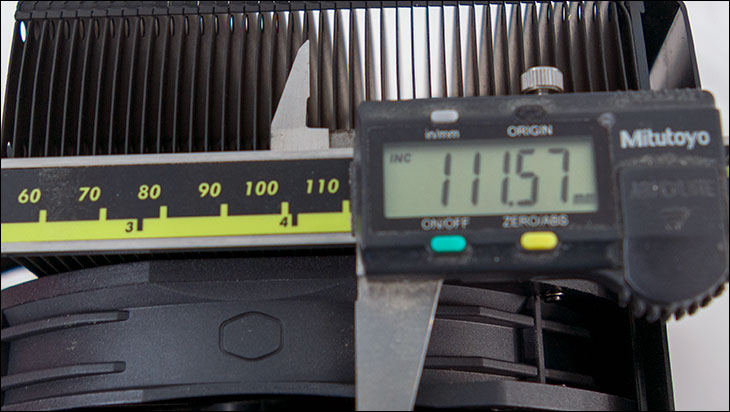 …and ~111mm high. Which is a grand total of 16,761 square millimeters of surface area per tower (which is greater than the nominal 45×150 of the Thermalright F.C. 140 / D15 / most dualies).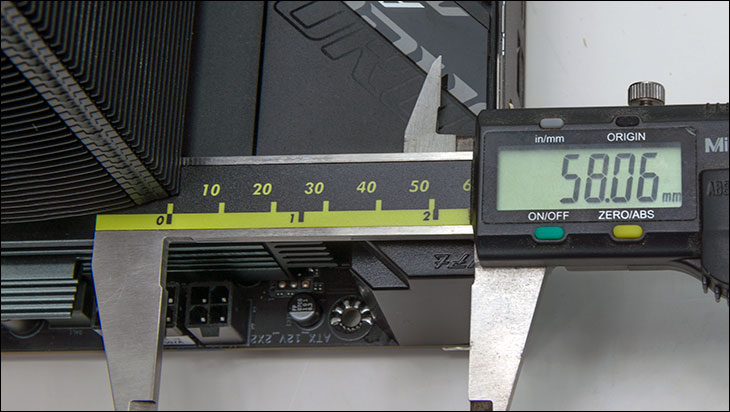 Furthermore, Cooler Master has made the controversial decision to only allow the MA824 to be able to mount two fans. Not three. This is a reasonable design choice that most will agree with… after they think about it and get over their initial kneejerk revulsion. Yes, this is indeed 'sacrilege' of the highest order; however, when installed on a motherboard in an actual case there is only 58mm of distance from the back of the rear fin array to back of the motherboard. With a standard 25mm thick exhaust fan installed, and a third theoretical fan attached to the MA824 there would only be ~8mm separating them. At that point one might as well install a fan shroud on the back of the exhaust fan and forget about mounting a third fan to the already heavy weight MA824… as the rear exhaust is not going to suck much 'free' internal case air that does not first go through the CPU fin array!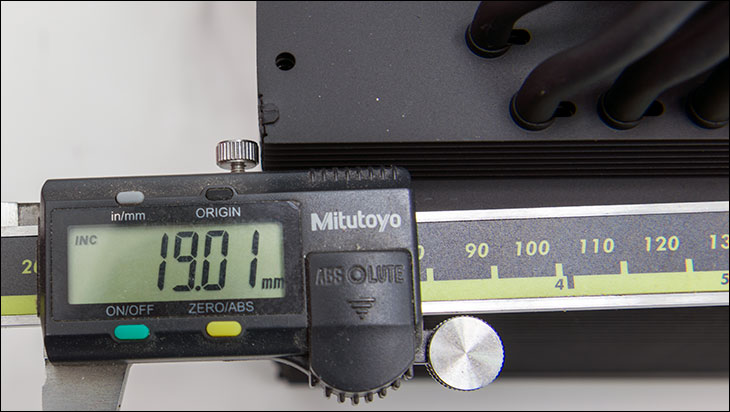 So, in return for a minor loss of performance, and arguably better internal case temperatures, Cooler Master's design team were able to 'get away' with only one RAM cutout in the fin array, and only two fan "faces" cut into the array instead of 2 cutouts + 3 (or even 4 to make manufacturing cheaper) faces. All of which adds up when thinking about surface area.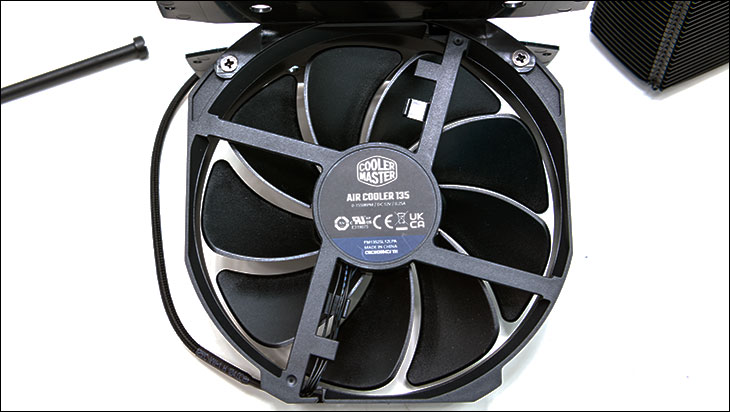 This brings us to the two fans that Cooler Master has included. To be blunt, they are every bit as good as, and arguably better than, what Noctua includes in their more expensive NH-D15 series. Yes, Cooler Master calls these "loop bearing" based fans but that is just Cooler Master trying to distinguish their premium hydrodynamic bearing-based fans from the cheap chinseium 'fluid dynamic bearings' that has marred the very reputation of FDB fans. This is why we actually believe the 200,000 MTBF rating, the static pressure rating, and the CFM ratings of these fans. Something no sane person can do when dealing with most of the Chinesium clones (especially Thermalright whose fan specifications are egregious and down right insulting).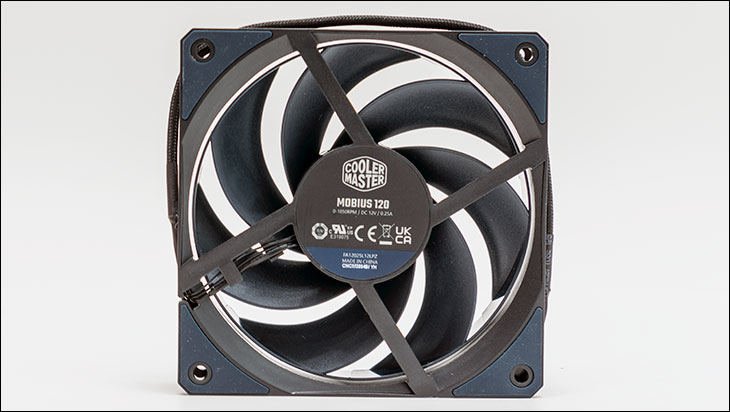 Moving on. The "Mobius" fans themselves are not just one trick ponies. Instead, Cooler Master has not just given them excellent bearings and called it a day. Instead, they also gave the 120mm a focusing ring that connects the end of all the blades. This not only increase the blades abilities to push air through a fin array (or a radiator for that matter) but also makes them much more durable. As an added bonus this 'focusing ring' (as the name suggests) allows the fan to blades to creates less 'wind' noise. The result of these tweaks is a whisper quiet fan that actually give Arctic P12 and P14s a real run for their money in our hearts and minds. Now that is what we call impressive.
With all that said there are two facts that keep them from being 'perfect'. Firstly, they have large hubs. Instead of a nominal 40mm (e.g Arctic or Noctua 120/140 fan hubs) these Mobius fans have a ~46.5mm hub. That may not sound like much, but that is a big… big dead zone in front of the fans on the fin array. Thankfully Cooler Master does include a nice face that integrates a fan standoff / shroud to eliminate this dead zone… but we would be hesitant to use these on just any cooler – especially AIOs.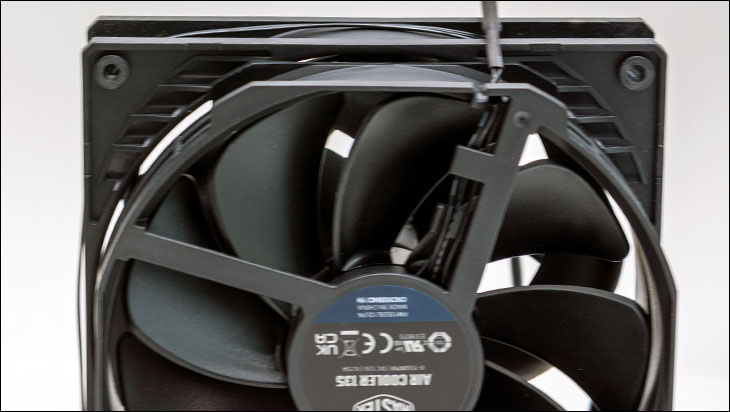 The other issue is with the '135mm' central Mobius fan. Firstly… it's a 140mm fan that uses 120mm mounting offsets. We have no issues with that as Noctua did make a similar amalgam design famous back in the day via their 'A15' fan. Instead, what we dislike is that you cannot just swap out this 14… err '135mm' fan with just any fan. Instead, you are greatly limited in the number of replacements that will mount to the top sub-fascia's custom mounting bracket. Which is a shame to say the least… as that ~31mm gap between the arrays is crying out for a 30mm thick fan upgrade.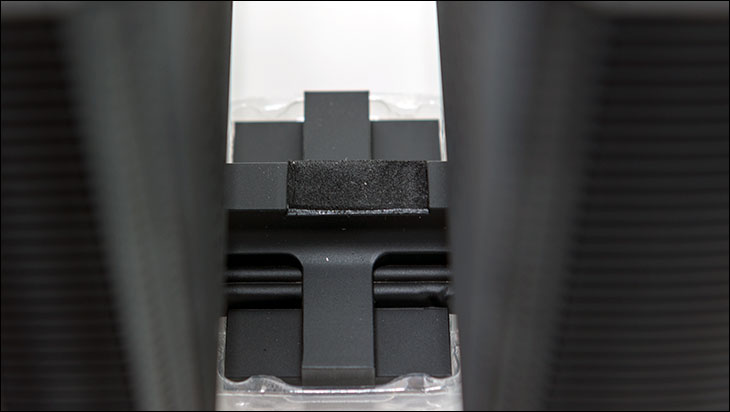 On the positive side, Cooler Master does include a 'rubber' (neoprene) vibration damper on the top of the base of the unit. This further eliminates (vibration related) noise from the central fan. So it is a bit of a toss up on whether or not this custom creation is worth the loss of ease of replacement.