Last updated on December 1, 2023 7:14 pm
In what is certainly a first for us we have to start with an all new caveat and say that this new Elite DDR4-3600 may actually be too much RAM for some people and some builds. This RAM's overclocking ability will stress your CPU's Integrated Memory Controller like few other kits can. So much so that it can, will, and did make our Intel thousand-dollar HEDT beast of a CPU look like absolute rubbish. For the first time we actually when 'wow, this thing does have limits'… as the RAM simply beat our CPUs IMC like it owed it money, then laughed at us… and then stole the CPUs girl and went to the prom with her. Yes, this new Elite RAM is an entirely new breed of high-performance RAM and careful attention to actually how good your IMC is should be the deciding factor for many buyers. This is not necessarily a bad thing, but it is something to take into consideration when deciding on your RAM upgrade.
To explain this, we have to start at the beginning. When we opted for the four stick of RAM option we had every intention of testing just on our quad memory channel X299 system. After all, this seams like a match made in heaven: uber high performance RAM on a uber wide memory bus. Sadly, this plan was quickly frog marched out the nearest airlock… as we easily pushed this kit to DDR4-3866 frequencies at factory stock(ish) timings and at only 1.37v. That indeed did impress us as this is the usual telltale for how much further you can push things before finding the 'limits' of a given RAM sample's abilities. Sadly, anything above this frequency resulted in a system that refused to POST. No matter the timings, no matter the voltage the system would just go 'nope, not happening'.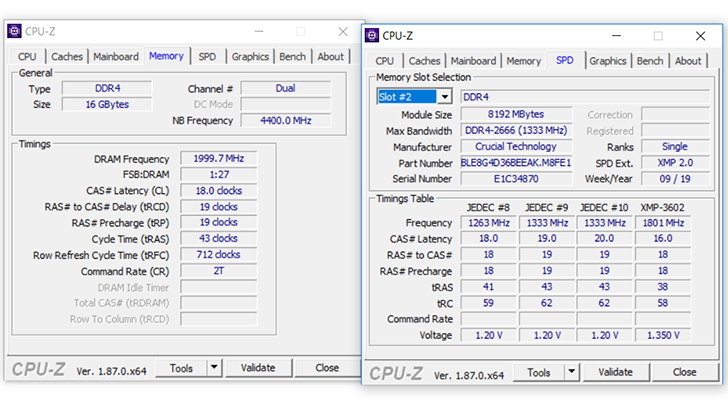 At first this too was acceptable as DDR4-3866 frequencies at DDR4-3600 prices is nothing to sneeze at, however, we knew this kit could go further and faster. So in an effort to find it, we took two of the 4-stick set and installed them into our Intel Z370 system. While this is only a dual memory controller based system, the IMC was easily able to keep up and allowed us to push to the 2000MHz zone (aka DDR4-4000). To do this we did have to push to our hard and fast limit of 1.4v, loosen timings somewhat and did have to use a 2T instead of 1T… but 2T is pretty much par for the course with DDR4-4000 frequencies these days. We still know there is more gas left in the Elite's tank… but it would have required more voltage and probably a uber-high end 'over-clocker' motherboard. For us mere mortals DDR4-4000 for DDR4-3600 prices is not a good deal, it is a great one. Just be aware that it will demand a great CPU, and a great motherboard to get the most from. Color us impressed.