Last updated on December 1, 2023 7:14 pm
Let's start with the main question we had when testing this new XPOWER Turbine RGB series. Yes, they react and respond just like the normal non-RGB enabled XPOWER Turbine series. In fact, unless we looked at the RAM being tested we would not have been able to tell the XPOWER Turbine RGB apart from the XPOWER Turbine series. This is a good thing. It means there is absolutely no real-world difference between the two series. There is no 'sacrifice' to be made by opting for the XPOWER Turbine RGB over the XPOWER Turbine series… well beyond the moderate increase in asking price that is.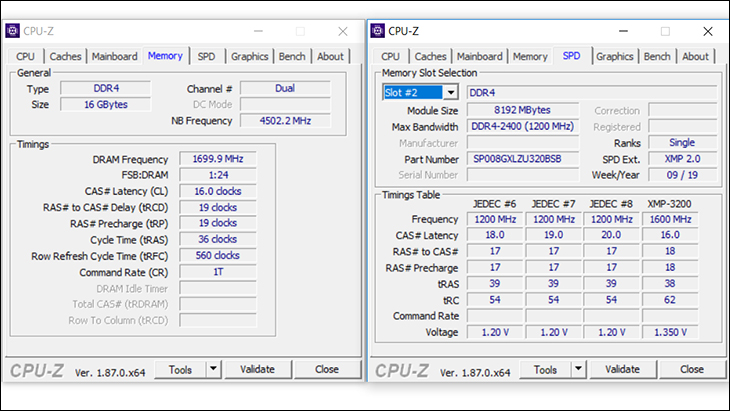 Using our trusty Intel Z370 based system we easily pushed this kit beyond the stock DDR4-3200 frequencies. The first thing we did was tightened things up from their relatively loose 16-18-18 timings via the use of a smidgen more power. With some trial and error only 1.37v was required to hit 16-16-16. This is pretty decent and can be considered 'free' performance boost as it is close enough to the 'stock' 1.35v that the is not even worth worrying about. If you so choose you can easily get this kit to DDR4-3400 speed at 16-16-16 but it will require 1.45v. If you do not mind loosening the timings you can get it up to DDR4-3400 at 16-19-19 at 1.41v.
Alternatively, you can lower the frequencies at get timings all the way down to 13-14-14… but for most people 1.37v at DDR4-3200 at 16-16-16 will be awfully tempting to say the least. The RAM will not be overly stressed (and should last a life time), is still more than what you paid for, and there does come a point of diminishing returns… or at least a point where the returns are not as great as the time, effort, and reduced lifespan.
Once again what all this does prove is that the new XPOWER Turbine RGB kit is good, flexible, and rather highly binned at the factory. So while you can expect to get a bit more performance out of them via manual overclocking… do not expect to get massive gains at even high voltages. Instead, you can tweak them to get better performance, but if you purchase this kit and want to overclock them (further), do so with your expectations properly set. Otherwise you may be a bit disappointed.