$299.00
in stock
3 new from $299.00
3 used from $169.99
as of September 30, 2023 11:33 am
$339.99
in stock
4 used from $180.43
as of September 30, 2023 11:33 am
$191.91
$269.99
in stock
13 new from $191.91
16 used from $122.44
as of September 30, 2023 11:33 am
Last updated on September 30, 2023 11:33 am
It really does seem like NVIDIA has (finally) gotten serious about the value end of the marketplace as once again they have released a new 'entry level' GTX 1600 series video card. This time around it is the replacement for the GTX 1050 series, and is aptly named the GTX 1650. Today we are going to put Zotac's factory overclocked variant – the Zotac Gaming GTX 1650 OC- under the microscope and see if this new NVIDIA GTX 1650 is a worthy successor to what was once considered an excellent card for those interested in 1080P gaming and value. With manufactures suggested asking price of only $150 USD it certainly seems like it may just be tailor made for… 'budget constrained' consumers not interested in Team Red's offerings. Offerings which (possibly up till now) have dominated this corner of the market ever since the RTX 20-series was released and the GTX 10-series was EOL'ed.
In order to offer possible buyers both performance and value, NVIDIA has once again created a newer, and even smaller, core they have dubbed the TU117. We will go over precisely what makes this new core tick, but as a brief over-view this new core offers 896 CUDA cores at up to 1665 frequencies, 14 SMUs, and 56 TUs. Put another way, it has a 40 percent increase in CUDA cores over the GTX 1050 (896 vs 640), that also is clocked noticeably higher (1665 vs 1455 MHz), and even a doubling of RAM (4GB vs 2GB). Since it is built on TSMC's 12nm architecture it can offer all this and not require any additional power connectors. Instead, it is solely powered by the PCIe header and its 75 watts maximum power draw.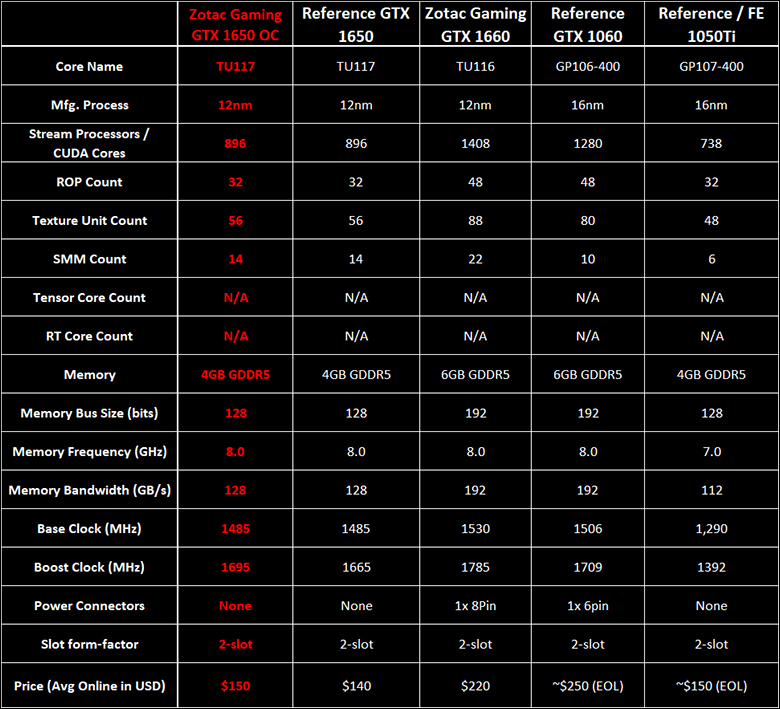 To help Zotac make their overclock version standout Zotac has combined a downright tiny form-factor with a large 90mm fan, and then somehow increased the boost clock from 1665 to 1695. Of course, the largest potential issue we can see with all NVIDIA GTX 1650's is the fact that it has a narrow 128-bit memory bus and only 4GB of GDDR5 RAM. Though, unlike the GTX 1050 it replaces, the RAM clocks in at 8.0GHz (effective / 2000MHz 'real') instead of 7.0 GHz. This does increase the memory bus from 112 to 128GB/s… but this is still rather narrow a memory bus for resolutions above 1080P.