$39.99
in stock
2 new from $39.99
22 used from $22.62
as of December 2, 2023 3:12 pm
$17.95
in stock
12 new from $16.00
4 used from $11.99
as of December 2, 2023 3:12 pm
$9.99
in stock
as of December 2, 2023 3:12 pm
Last updated on December 2, 2023 3:12 pm
AC: Unity – Intro
Hi I am Shawn Campbell a freelance game reviewer and this is my first game review for Real Hardware Reviews. This review is on the PS4 version of the game. I have divided the review into the following sections Story, Controls, Game Play, Graphics/Music,  my overall recommendation for those thinking of picking up the game themselves and lastly my conclusion. The story portion does contain slight spoilers to events that happen during the first couple hours of the game.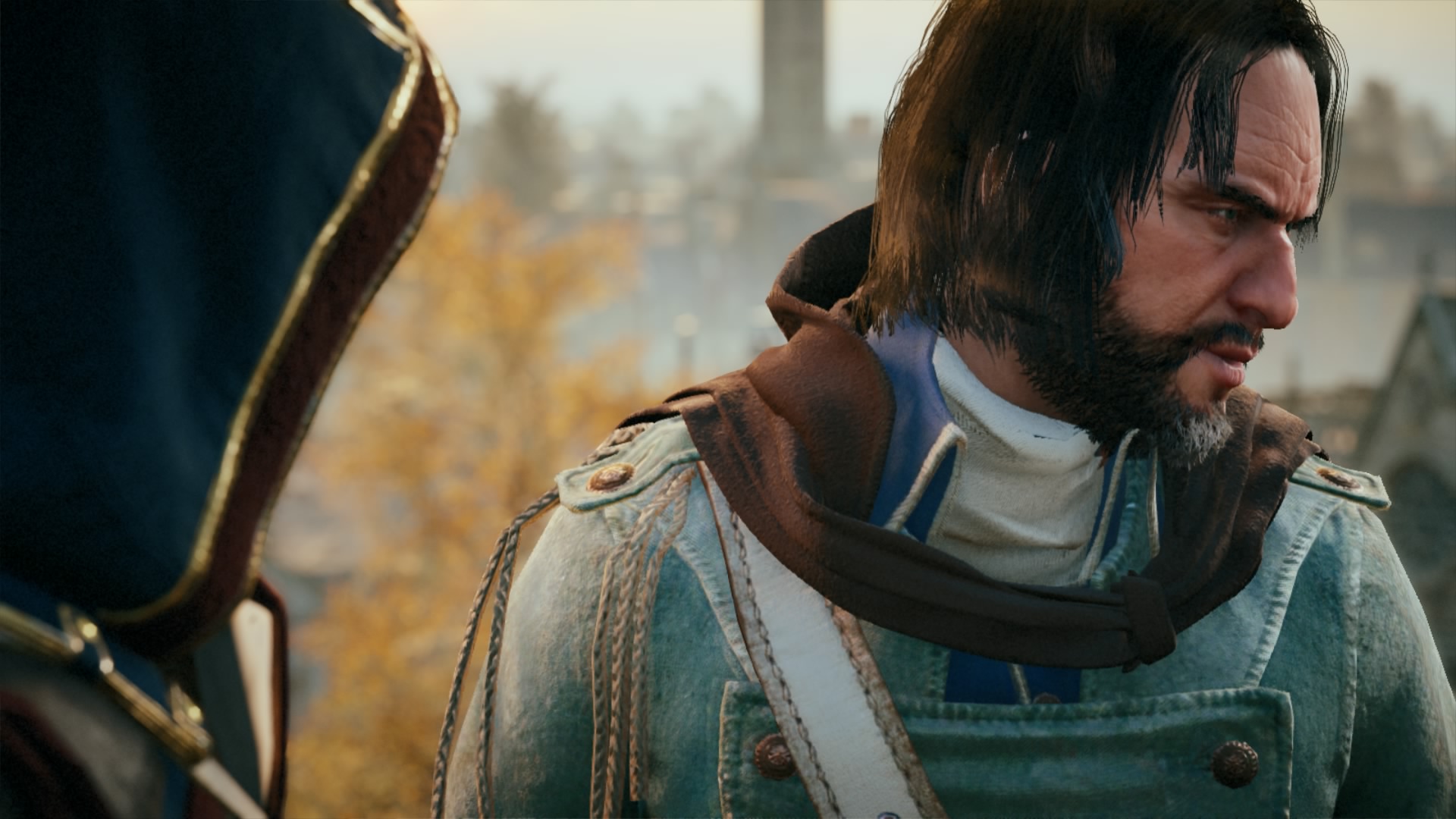 AC: Unity – Story
The game stars a new character called Arno Dorian, and starts out in France a few years before the French Revolution and continues into and throughout the revolution itself. Just like all other Assassin's Creed games prior it follows loosely around historic figures and actual events that transpired during the French Revolution. The hero this time around, Arno, starts off as a young boy who through circumstance after his father, who was an assassin, is murdered ends up being adopted by a Templar family. This Templar family seems to care well for Arno of which he falls for the daughter of his adopted father. Which does cause all manor of chaos later on and does not help paint the assassins necessarily as the good guys but kind of just there to move along the story. The assassins themselves other than doing their normal routine of killing certain Templars never actually involve themselves much with or against the events of the French Revolution. Though like all Assassin's Creed games before, the horrible events were obviously all caused by the Templars trying to gain some control but it seems a lot of what actually goes on is a war from the inside of the Templars themselves. This does seem more interesting than your typical Assassin's Creed game at first glance but in order to understand a lot of what is going on you have to do a lot of missions to see through the cracks. It is interesting how everything is pieced together but seeing as the main character himself, and the supporting characters around him, are almost completely uninteresting and the interesting things that do go on are mostly behind the scenes. Either that or seen when you assassinate a Templar in the cinematic to move along the story. Eventually you meet Napoleon and other famous figures from the revolution but outside of a few side quests they are almost completely uninteresting and don't have much involvement in the overall plot. The plot itself has very little at all to do with the French Revolution which is a big change from the previous Assassin's Creed games. Assassin's Creed 3 or 4 for example, a lot of events that transpired or legends of that time actually were a focal point of the main plot. Though you do get dragged into some of the events of the French Revolution, Arno is more of an observer. He is there but does nothing for or against the revolution itself. Though in co-op missions this is completely the opposite, where actual events of the revolution itself are the focal point and the main plot of the missions involved.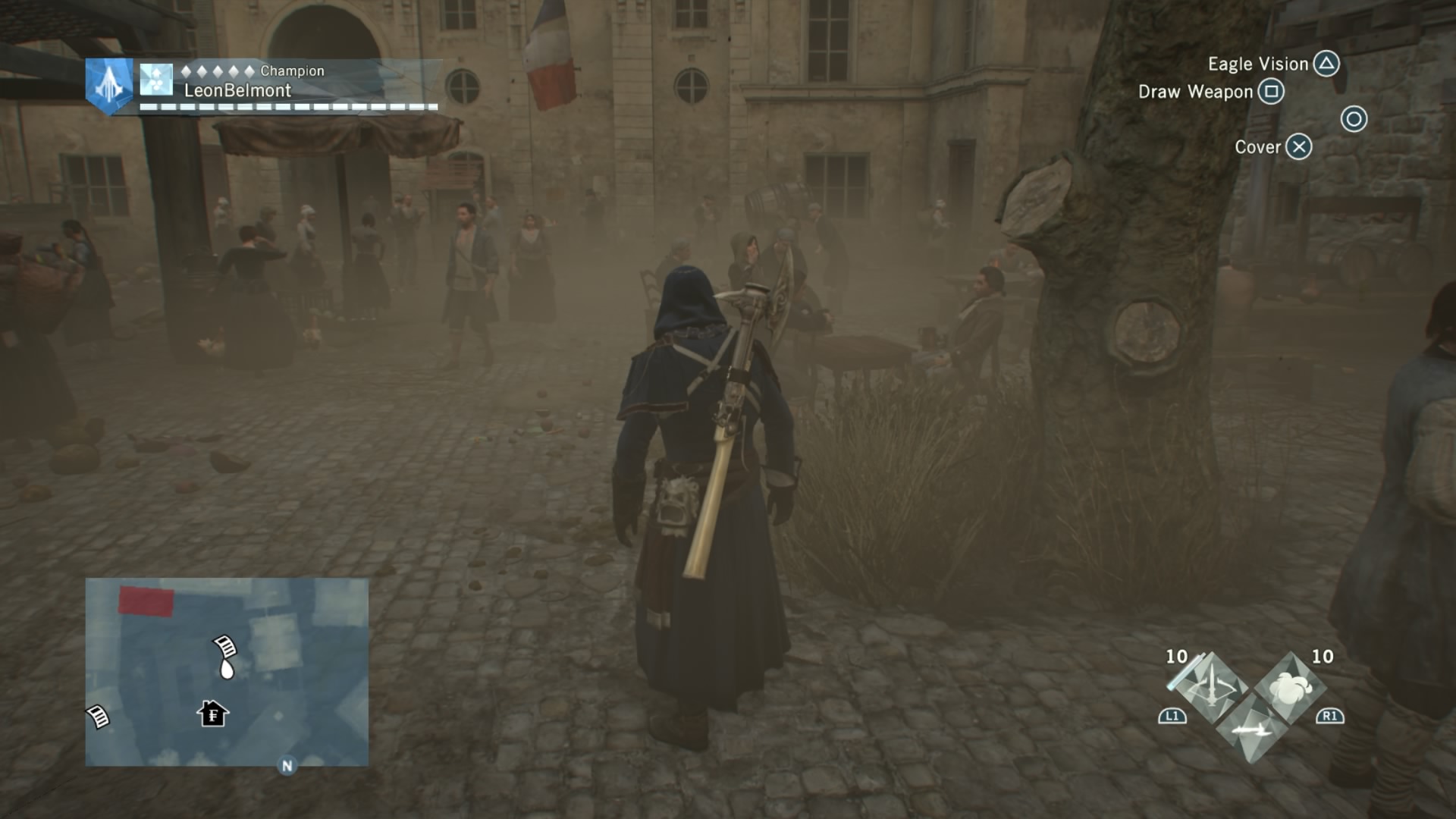 AC: Unity – Controls
Controls work very similar to past games, the control scheme on consoles hasn't changed much and is very straightforward and easy to get into. All controls are static and cannot be changed in options, even still the controls are very tight and work well for the franchise.
AC: Unity – Game Play
The game play is similar to previous games in the series and revolves a lot around parkour and stealth based game play. A few additions have been added to Arno's arsenal that aren't in previous games and one feature that was in previous games has been mysteriously taken out of this entry. The feature I am referring to is the human shield from previous games, all enemies use guns in this time period and will periodically open fire on you. In previous games you got a prompt if there was an enemy in melee range that you could grab and use as a human shield so you would not suffer the shot, this has been removed in Unity and can be incredibly frustrating at times. When 2 or 3 enemies are aiming their pistols at you and you cannot interrupt them in time as it will kill/desynchronize you. Outside of that enemies now have levels which are viewable by the star icons on their heads between 1-5 stars, 5 stars being stronger and smarter enemies that will dodge and parry almost every one of your attacks in combat this means you have to parry/block and counter them. The parry/block system is similar to previous Assassin's Creed games where the enemy will have a bar above them when they are about to attack you and you can block/parry this attack, though on higher skilled enemies unless you wait until the bar turns gold or you are unable to return an attack on the enemy without them parrying the attack. This forces you to do perfect parry's in order to get in a few counter hits after an enemies attacks so they will not parry/block all your attacks immediately after.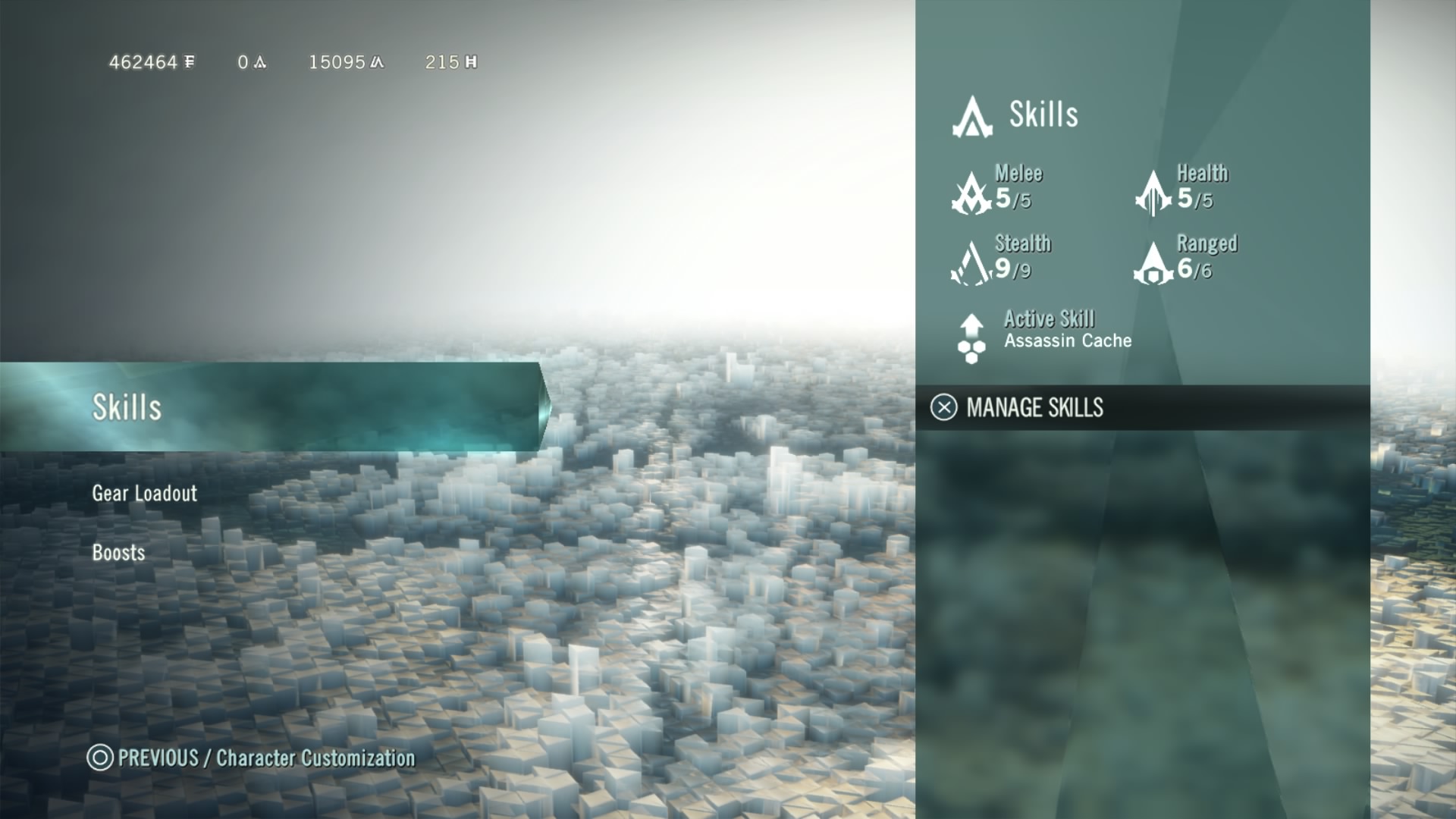 A few new items/weapons have been added that can be used in Assassin's Creed Unity. Cherry bombs can be used as a distraction and to lure enemies to certain areas, money pouch is much the same but for a civilian distraction, flash bombs stun enemies for a short time and lastly poison bombs can be used to poison a group of enemies. All these new consumables have different strategic uses but overall I found that poison bombs and smoke bombs are the most useful in Arno's arsenal of tricks. All of Arno's arsenal and abilities must be purchased before they can be used and cost Assassin/Sync Points, you get a number from completing story missions and from doing the co-op missions, some must be found in co-op missions but are very easy to spot if you use Eagle Vision often. As for weapons, same as before you can buy and upgrade your weapons as you progress through the game all have a different star rating for strength and gear level, if you download the free DLC that was given by Ubisoft titled Dead Kings a new weapon has been added to the game called the Guillotine Gun which is essentially a grenade launcher and something I found extremely out of place for the time period the game takes place.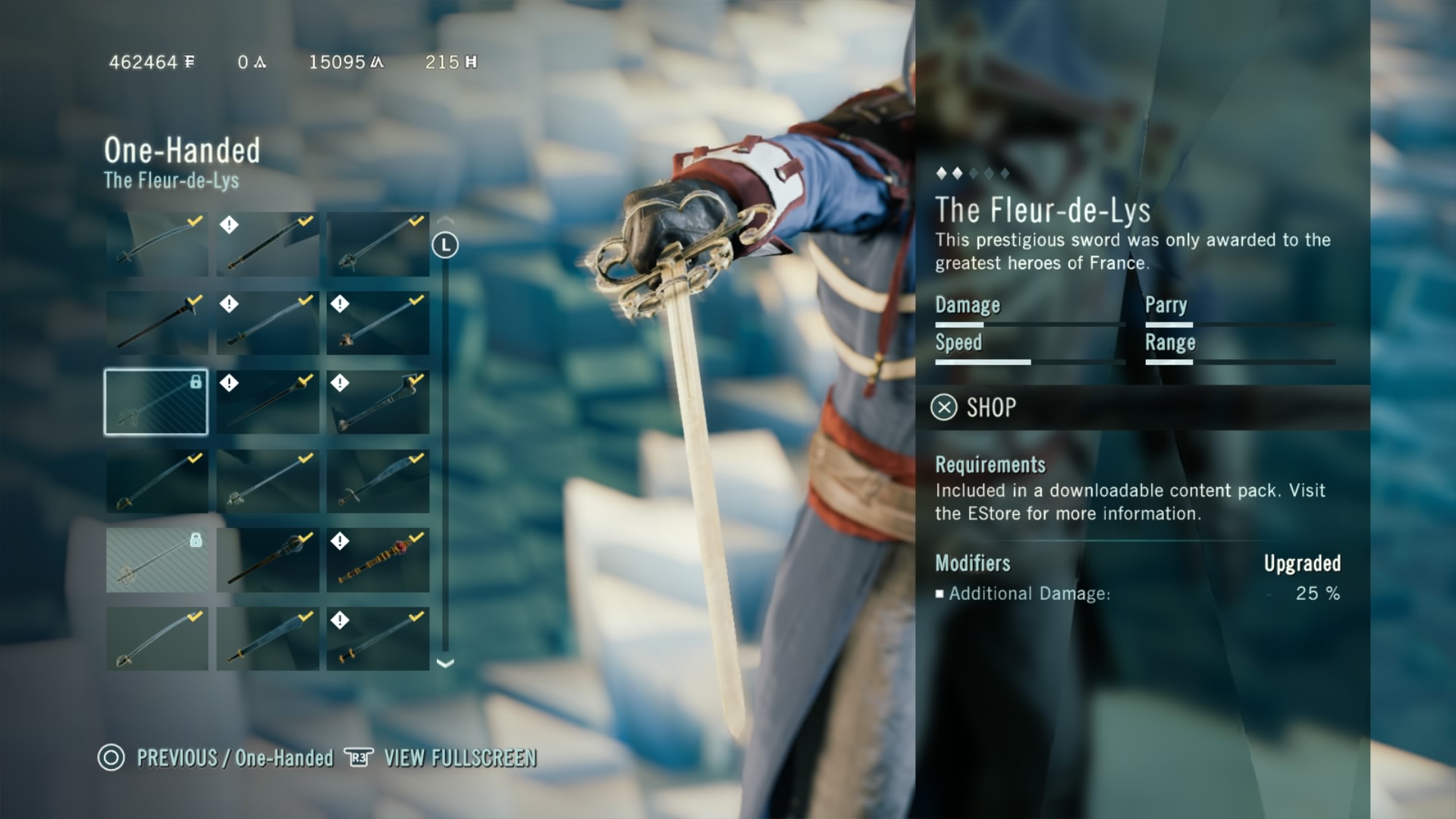 Parkour is a new addition to previous games, climbing buildings and traversing the streets. Some houses have open doors and windows that let you run through buildings or climb through windows to get to objectives and makes Paris seem more alive inside and out and is a nice addition. The only glaring issue seems to be that occasionally when trying to enter the window of some buildings the button used to enter a room doesn't always work. Your character may be dancing around a window/climbing a building a few times before Arno actually decides to enter it. Another issue I ran into a few times was when running down a street or chasing after an enemy in some missions if you climbed or jumped onto some crates/boxes your character could get stuck for a good minute. You can't do anything other than move around on the box, completely stuck in position, this could become incredibly frustrating in some sections of the game though it didn't happen that often the few times it did were always at the most inopportune times. There are a ton of collectibles and side missions in Assassin's Creed: Unity,the side missions give more insight to certain characters and the most interesting ones are the murder mysteries which has Arno track down a murderer during the French Revolution. You use your Eagle Vision to find clues and you interrogate witnesses and suspects, this is a nice break at times compared to other fetch/kill quests.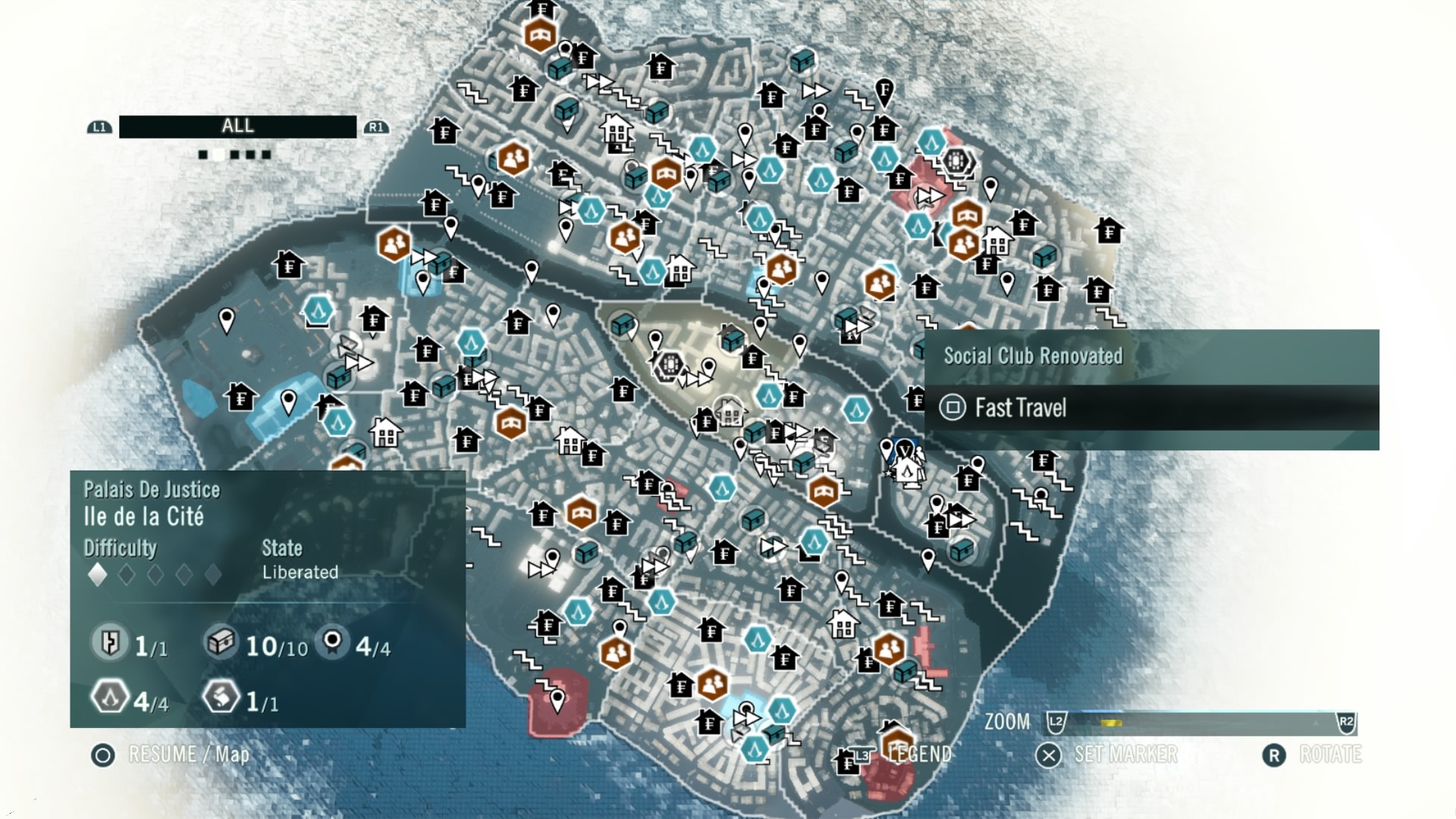 There are 4 different kinds of collectibles in Assassin's Creed: Unity – Chests, Artifacts, Sync Points and Cockades. which will likely have you burnt out for collectable hunting near the end as there is way too many to collect in this game to the point that it is incredibly boring.
Co-op missions and game play was probably the best part of the Assassin's Creed: Unity experience. The missions were all based on events during the French Revolution and required a decent amount of cooperation to do smoothly. Though some of the easier missions are possible to do alone they did have a much harder difficulty to choose. Some of the objectives are almost impossible to do solo due to time limits and protecting certain NPC's. The heists though mostly fell flat in the co-op section as they could all be done solo and due to having to find the treasure or artifact among multiple objective targets in a building meant splitting up to find which is real among the fakes faster which requires little actual teamwork and can be done alone.
AC: Unity – Graphics/Music
Assasin's Creed Unity is one of the best looking games on PS4, frame rate was smooth the entire time other than a few graphical glitches in and out of cut scenes, that were very rare the game played and looked amazing on the new engine. A shame though was the storyline, and the game play had to suffer a little as well as being incredibly buggy on launch. The background music for all the missions in and out was very well done and fit the atmosphere well but overall wasn't anything special.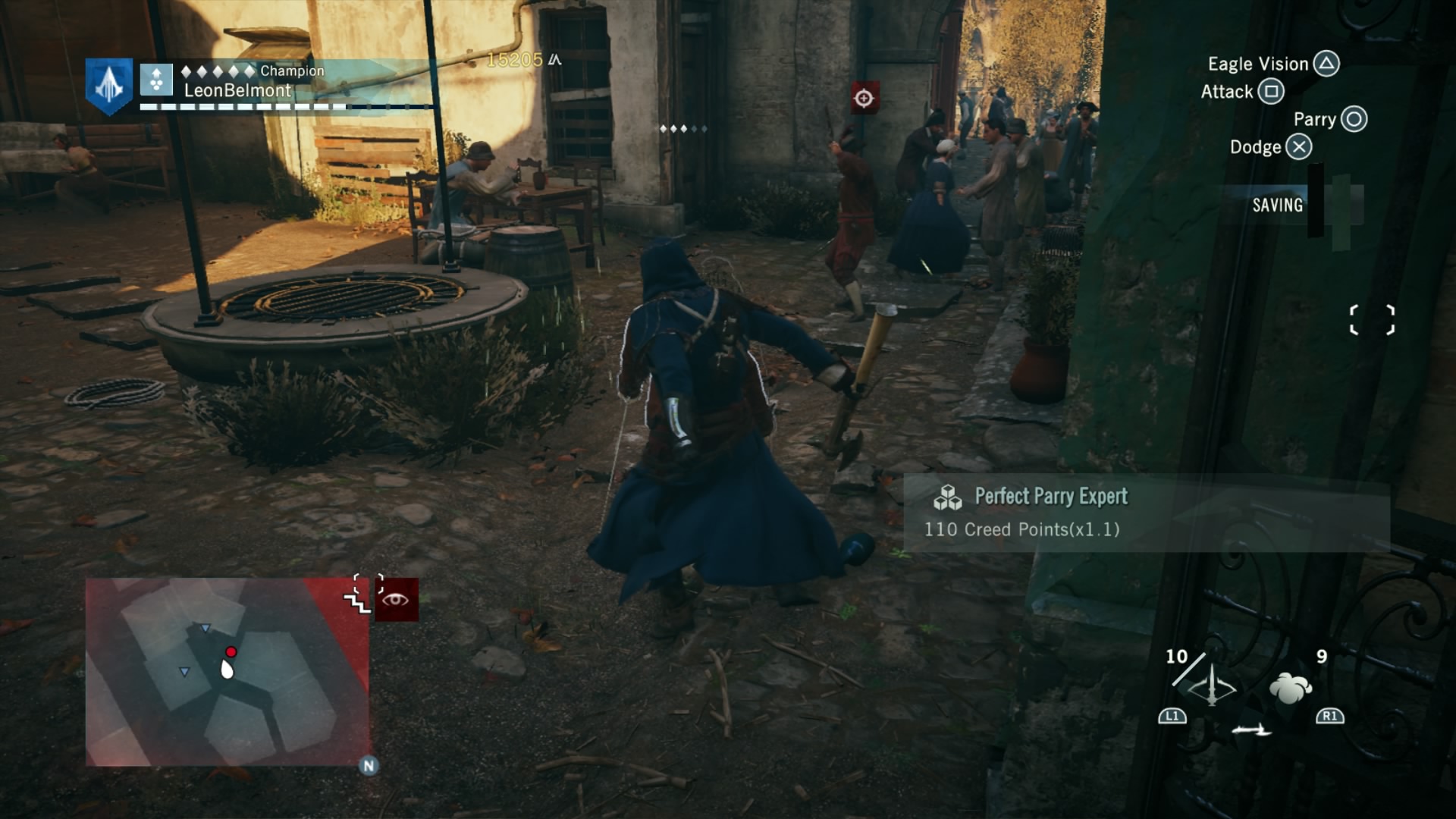 AC: Unity – Recommendation & Conclusion
Even if you are a long running Assassin's Creed fan it is hard to recommend Unity at full price, the game came out extremely buggy for the first month of release and also has the least interesting story line of any of the previous Assassins Creeds. Game play feels like its taken a few steps backwards from the previous 2 installments most likely due to a rush to market approach. My suggestion is to replay Black Flag until this game shows up in a bargain bin or steam summer sale.
In conclusion, Assassin's Creed: Unity feels like a rushed game it may of been the first new entry on the all new Unity Engine but still released with plenty of bugs and a boring main story. Even though this is the most beautiful entry in the series its flaws are highly noticeable this may be a learning experience and perhaps the next entry in the series will learn from the mistakes of this game, we will just have to wait and see.