$9.99
in stock
as of December 7, 2023 3:32 pm
$58.99
$89.99
in stock
24 new from $58.99
19 used from $53.99
as of December 7, 2023 3:32 pm
$9.86
$12.99
in stock
62 new from $4.99
as of December 7, 2023 3:32 pm
Last updated on December 7, 2023 3:32 pm
The Witcher – Prologue
In honor of the Witcher 3, which is due out in a few months provided they don't push the release date back again, we have decided to revisit the game that started it all.  Play it as one continuous trilogy, which it most certainly is being marketed as.  If you did not read our last review, we did the same thing for The Dragon Age 'trilogy', however we only reviewed the latest iteration of the game that released in 2014. This time we are going to review each game, played one after the other to see how the characters have developed, the gameplay evolved along with the graphics and environment, and the studio itself. Bear in mind that some of these items will not be reviewed until the second or third installment as the Witcher is the starting point of our journey.
Even though our review contains no nudity, the game itself contains a small amount of it. One of the reasons it is a rated mature title, the others being violence, themes, and language.
The Witcher – Graphics
As per the previous review, the system and configuration used to review this game was an Intel i7 4930k processor, an Intel 180GB 540 Series SSD, a MSI GTX 770 graphics card, and a 2560 x 1440 display. We'll continue to list the system specifications of what we used with each game as over time we may end up upgrading a piece here or there and we'd rather not keep you in the dark when it comes to what you should expect with similar systems.
We can safely say we were able to play the game with all of the settings cranked to their maximum due to the age of the game. For those of you not aware, the Witcher was released in 2007, with the enhanced edition coming out a year after that. Another thing we quite appreciated was that the game was running properly at our native resolution.  We had found that the first two Dragon Ages, especially the first one, had issues running properly at 2560 x 1440, namely the User Interface (UI) did not seem to scale correctly. It made it so that we found it unplayable. The Witcher thankfully does not have this issue.
Since this game is no spring chicken, it does not look as great or amazing as a title released in the last three or four years, though it does not look horrible either. Comparing it to other 2007 titles such as BioShock and Call of Duty 4 it looks fairly par for the course graphically. We would put Mass Effect as one of the better looing games from that year, edging out the Witcher in that department. One thing it seems to do pretty well in our mind is facial expressions, funny how a company back then does a better job than Bioware in Dragon Age: Inqusition. It is quite enjoyable that the in game cut scenes seem to have extra little touches added to it, and the pre-rendered movies look fantastic.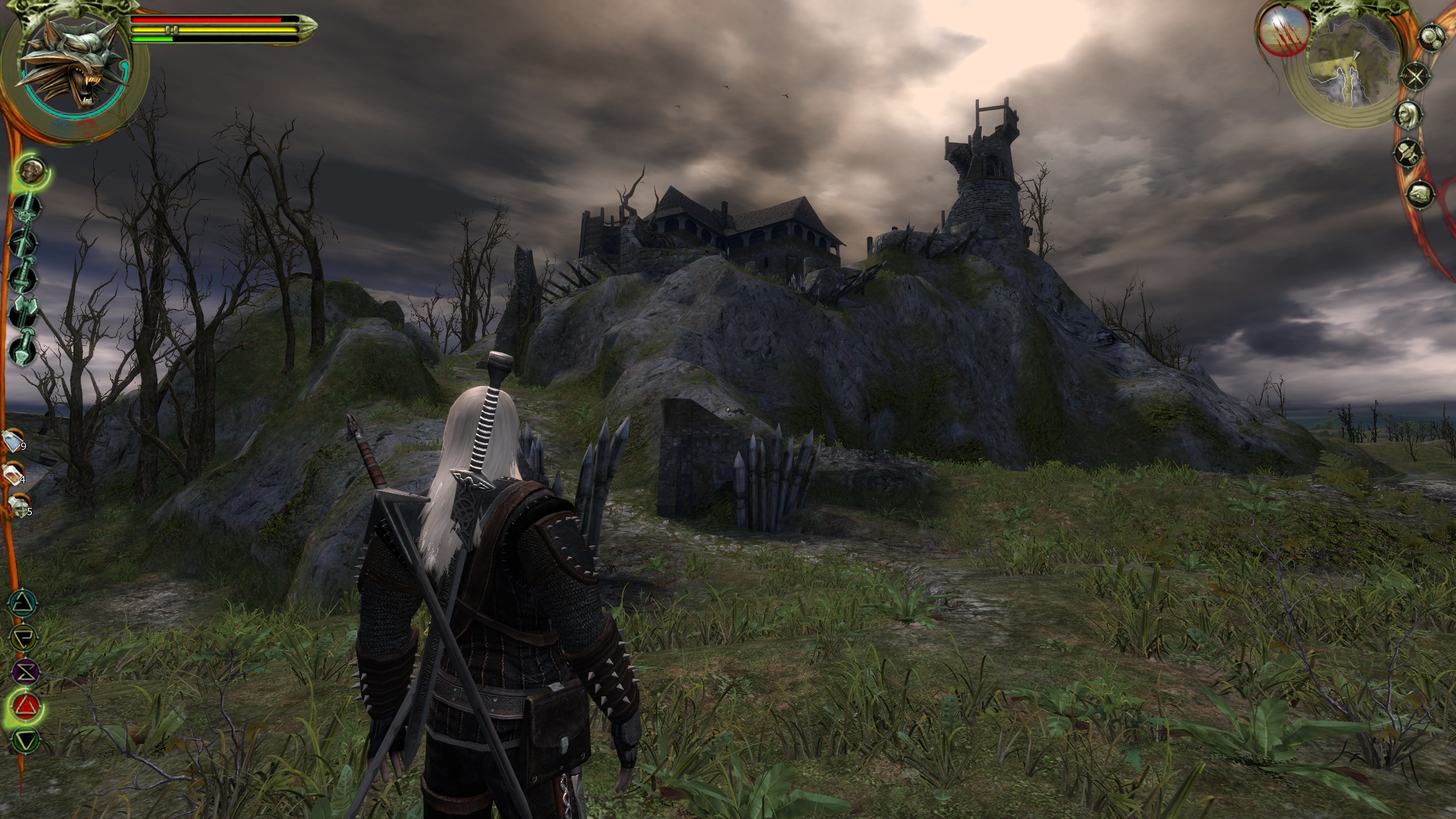 The Witcher – Gameplay
There are a few things that set the Witcher apart from others like it. One of the most glaring ones is the use of two different swords. A lot of games will have the player using one weapon for melee, and one for range (unless dual wielding but that's still considered one weapon 'set' to us). The Witcher goes with two separate weapons, two swords, one made of steel and the other from silver. The steel sword is meant for the player to use against non-monsters, that is humans, elves, dwarves and standard wildlife such as wolves. It is the most effective this way, using the other sword will result in it doing less damage and thus taking longer to dispatch one or many enemies. The sword made of silver is used against monsters, the reason Witchers was first created for. Monsters consist of anything not previously mentioned, such as Drowners (reanimated dead that are slightly amphibian like), Bruxa (this world's name for a vampire), and Wyverns (flying lizards, some games consider them descendants of dragons the Witcher does not). Based on the variety of enemies one can encounter looking for books that have details outlining them tend to be quite useful. Normally they add a codex type entry allowing you to pick up crafting items from the slain monsters and animals, as well as outline what they are weak against such as; immunity or vulnerability to sword type, what combat style is most effective against them, and what sort of oil to coat the blade to allow the sword to do even more damage to it.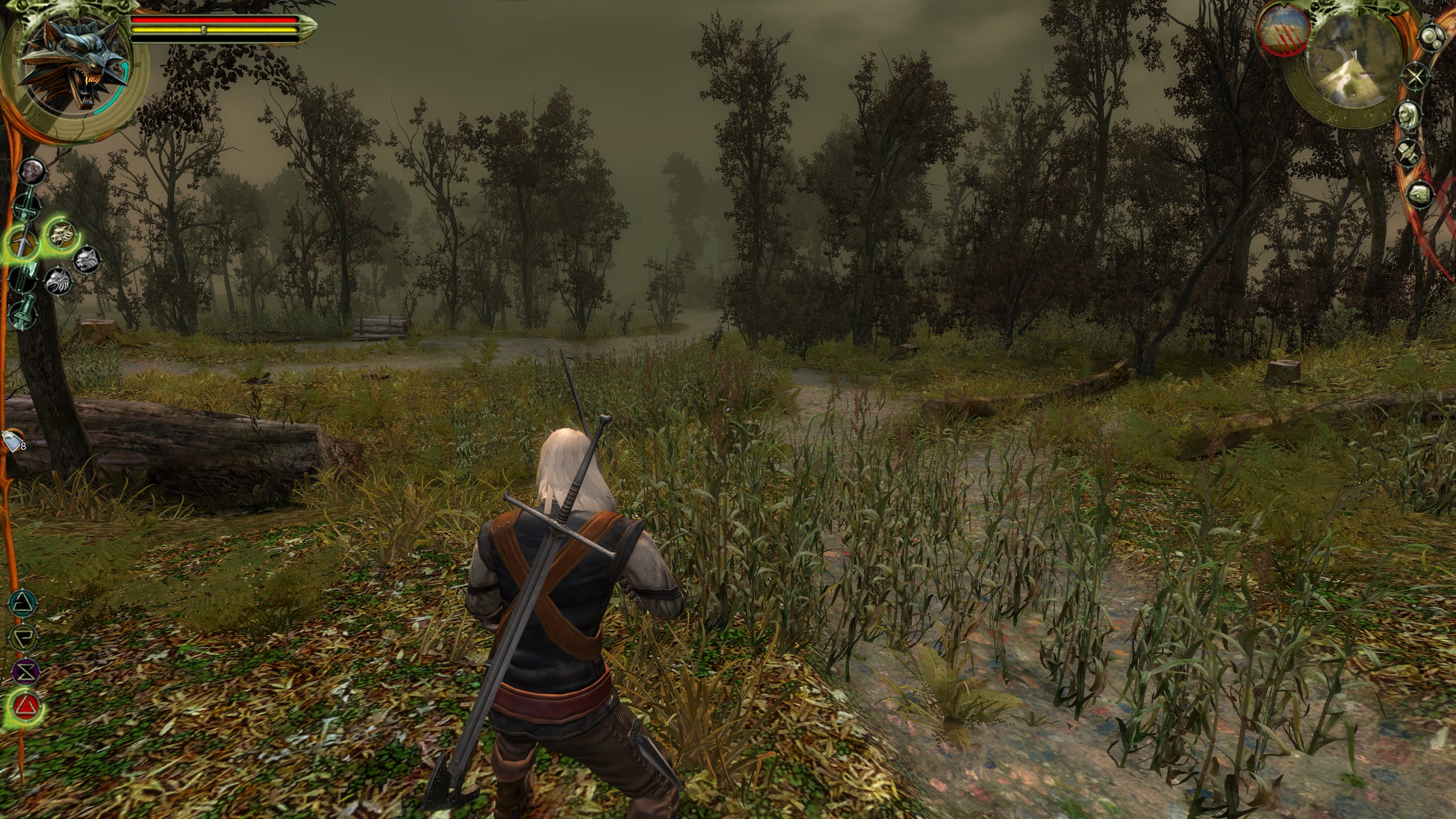 With the mention of oils, we figured this would be a great time to bring up the crafting system. The crafting system in the Witcher is broken up into two parts. The first part is what you can craft, whereas the second part is what you cannot, requiring a blacksmith with the right materials to craft it. The items you can craft are the various potions as well as oils and bombs using crafting material collected from felled enemies, from plants, or both, depending on what type of crafting material it is. All crafting material goes into a separate inventory, which can be organized, or highlighted based on its base type. This helps to not clutter up the rather small inventory you do have.
Now that we have crafting materials, what else do we need? Well we need alcohol, very strong alcohol. In the Witcher, the Witchers are able to use very strong alcohols as a base for their potions through means of alchemy that is slightly touched on but seeing as we aren't scientists we won't get too indepth into it.  The final thing needed is somewhere to rest, either at a camp fire, an inn, as realistically you wouldn't want to be mixing slightly toxic potions out in the street or in a middle of a fight. As 'annoying' as this may seem, we enjoyed the more realism that this added. Also it required one to be prepared rather than some games that let you eat two apples to regain your health fully every second you pause.  The potions that we are able to craft range in different benefits, such as Swallow increase health regeneration, Cat gives the ability to see in very low light (since not every damn cave is light with torches which is another typical gaming sin), and Wolf increases chance of a critical hit. As we mentioned potions are not the only things that can be crafted. Oils and bombs can also be made, as well as one time craftable potions from challenging encounter enemies or 'boss' enemies. Those one off crafting materials usually allow a special potion to be made once, rewarding in additional talent points to be used to upgrade Geralt's abilities. Oils as previously mentioned can be applied to swords to increase their effectiveness against enemies, such as necrophages (anything that is undead). Unfortunately we never got much into the bombs, though they themselves have the ability to spray cloud of poison at enemies, blind or stun them temporarily. They may even take more damage when in these states based on talent upgrades.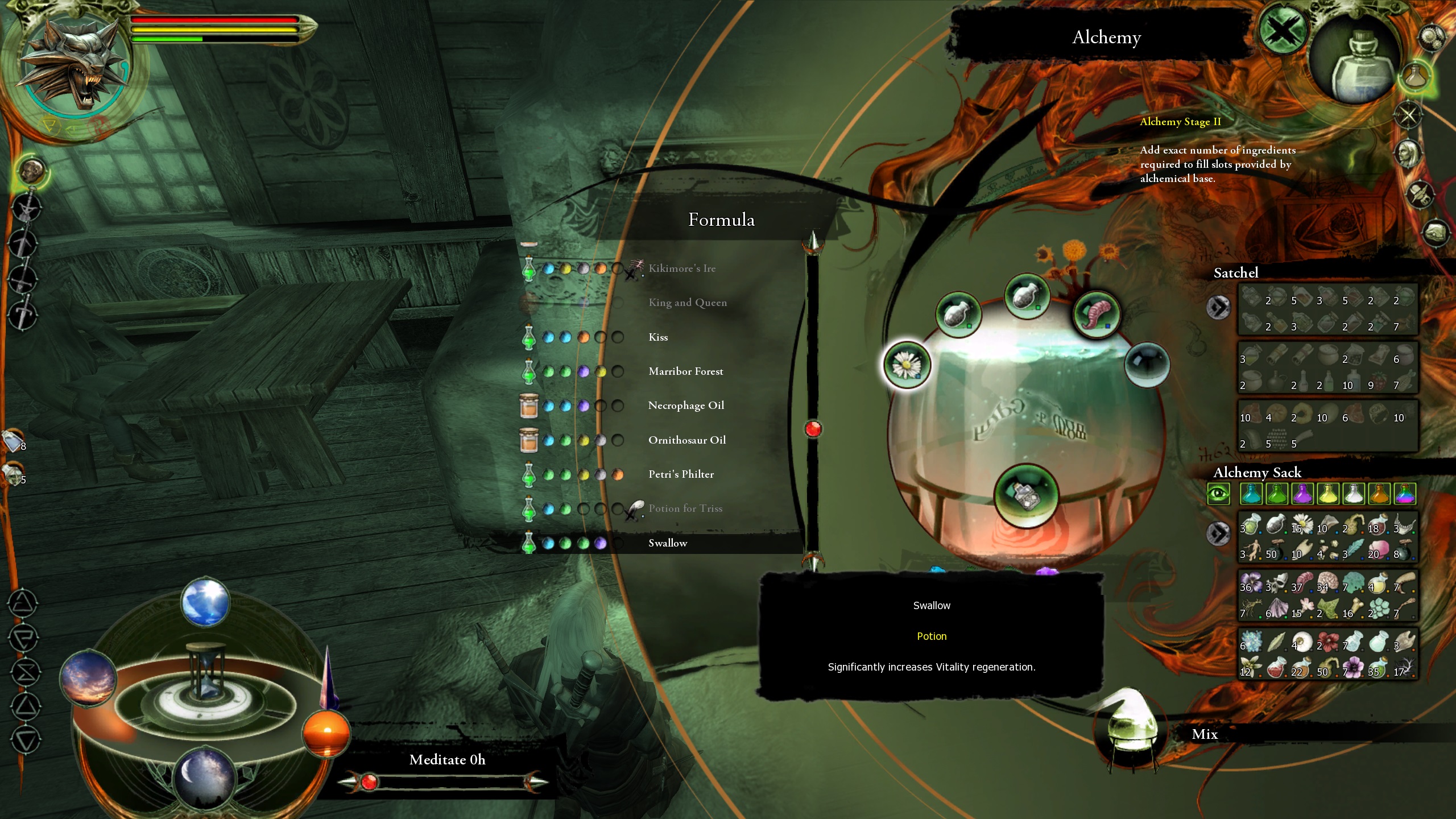 The second aforementioned crafting system is that requiring a blacksmith. Periodically throughout the game there are meteorite ores and runes that can be purchased from a vendor, found on corpses, in chests or from a major encounter enemy, such as an act minor or major boss (not everyone will have a rune or an ore though). Taking three of either of these to a skilled blacksmith will allow you to choose from different variation of swords, steel and silver based on the properties of the ore or runes. To upgrade a steel sword, meteorite ore is required, the more variants the better as it opens different options. A silver sword can thus be upgraded using three runes, though again having different variations and quantities will allow for the greatest number of options to choose from.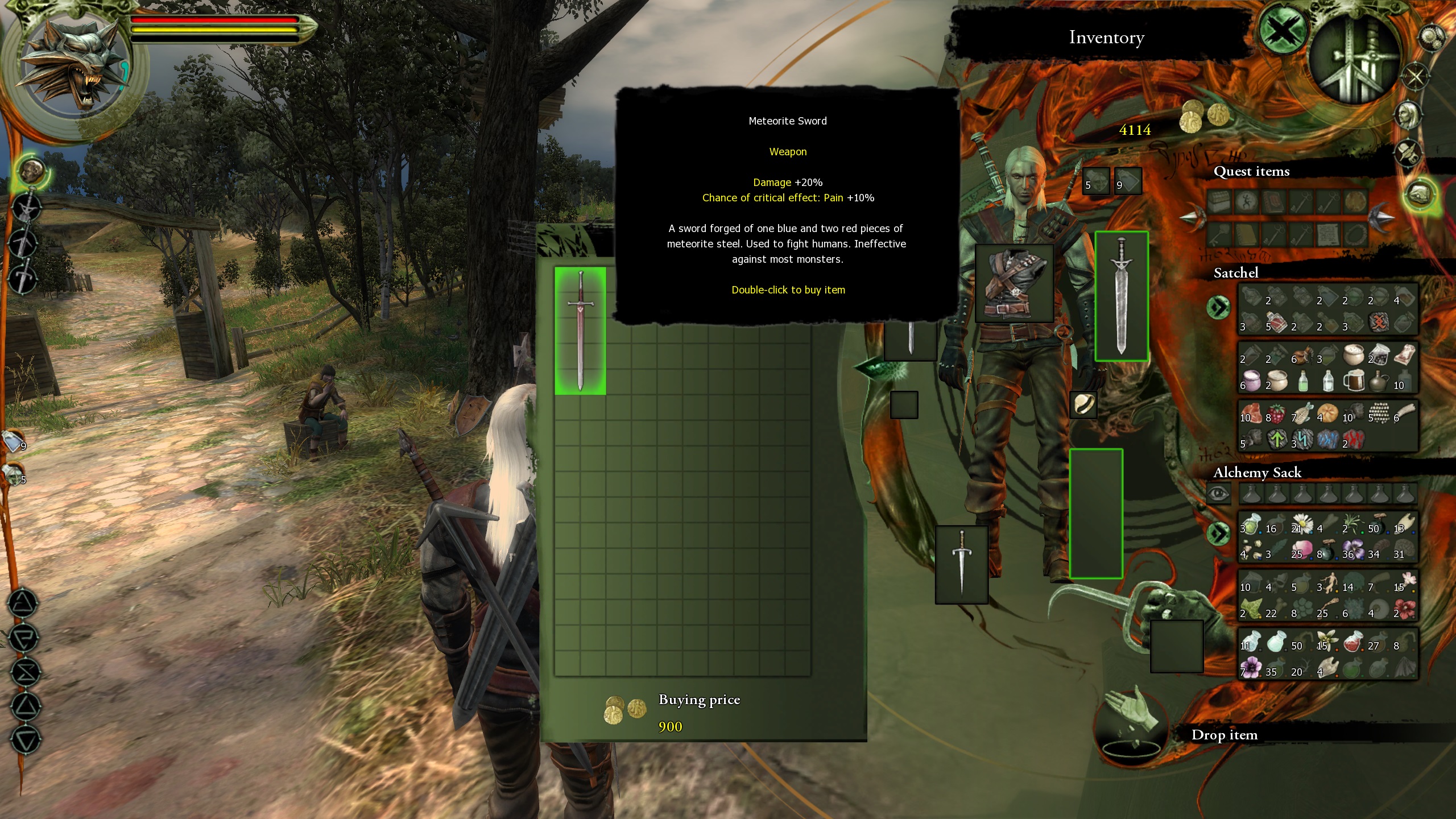 In the game, the Witcher does not give a formal name, at least on the tab description anyway of what most of us would consider or call the talent tree. The Hero page allows you to upgrade Geralt every time you have leveled, or with one of those previously mentioned one off potions. The abilities or talents are broken down into four major groups, Attributes, Signs, Steel, and Silver. As well, the talents are broken down into three tiers or levels. The first tier is Bronze, the second tier is Silver, and the last tier is Gold. In order to move up in a talent group, the previous level has to be purchased, however the branching off talents do not. Depending on the level of the character it determines what sort of talent is awarded. In the beginning only Bronze talents are awarded per level, though further on silver is rewarded along with bronze then finally it's gold, silver and bronze. We found that near the end of the game we had so many bronze talents that we could max out basically everything, even if we did not use it. As with potions, you can only upgrade your talents when you are resting, never when you are out and about or in combat. As annoying as this may seem, it's nice in the same regard. It goes back to being prepared for a fight, usually they do not come as surprises especially for main story line quests.
Attributes are then broken down into Strength, Dexterity, Stamina and Intelligence. Strength tends to deal with increasing the damage Geralt can do with all of his melee attacks. Dexterity focuses on speed and more importantly dodging or parrying attacks. Boosting this up will make him harder to be hit and take less damage during combo attacks. Stamina deals with Endurance, how quickly it regenerates, as well as resistances to poisons. Lastly, Intelligence controls the intensity of the Signs, which means the more you have put into it, the stronger or more effective the Signs are. We will talk about Signs and Endurance a little later as it is more related to combat than game mechanics.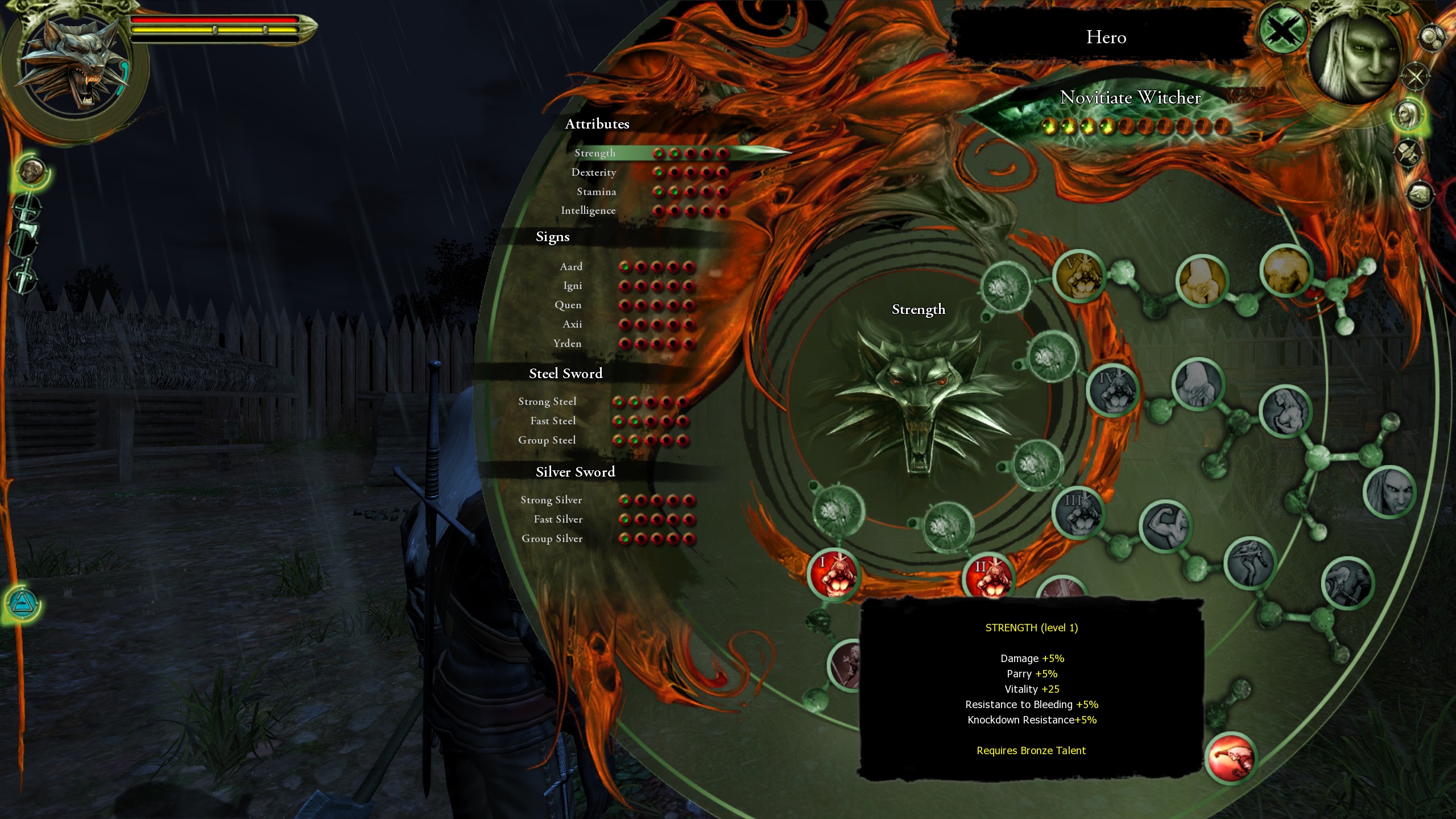 The next set of talents are related to the Signs. This allows the opportunity to enhance whatever Signs you prefer to use. Personally we maxed out the Igni and partially the Aard, leaving the rest to just soak up remainder bronze talents. Igni is the fire Sign, allowing us to take down groups of enemies by setting them on fire, whereas the Aard is similar to say being called the wind Sign. This is due to the fact it just knocks enemies back, over, or even stuns them. A stunned or downed enemy can usually be killed in one attack, attacking a downed enemy leaves Geralt vulnerable for a second or two as the 'process' is not instant.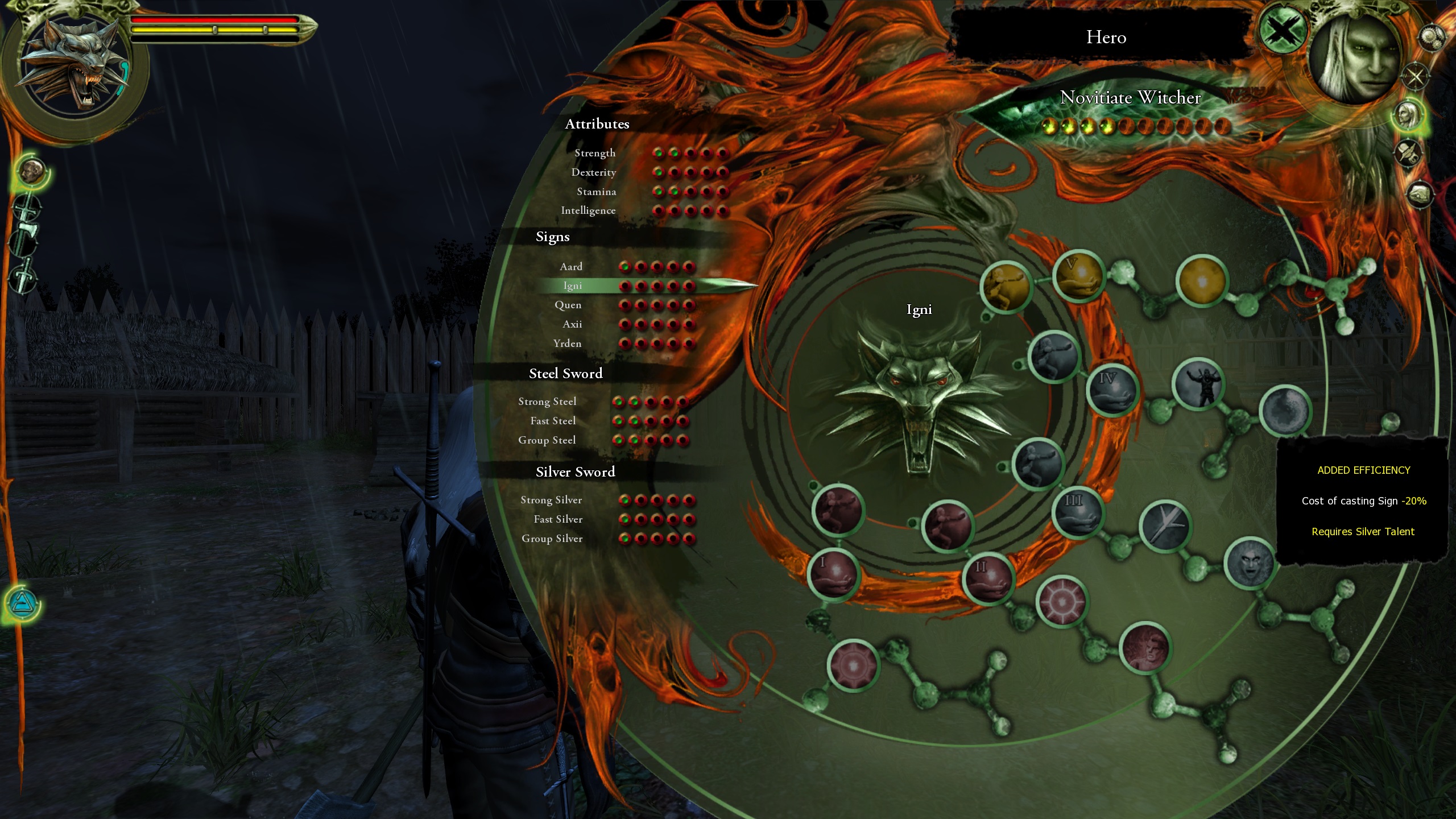 The last two are Steel and Silver, which each addressing the three different fighting styles, strong, fast, and group. Purchasing talents here allows each type of fighting style to do more damage, based on which part of the combo it is in, as well having it do more damage against an enemy with a specific status effect. To explain this further, Strong when upgraded can have the Witcher do more damage against enemies who are burned (incinerated), though the increased damage is based on which round in the combo you are in and which in the talent tree you purchased.
There are also several 'mini-games' that can be played to occupy your time, gain some money, or finish off a specific side quest. The first of the two is dice poker, where cards are replaced with dice and you can see what each other has. You randomly find a set of dice and are taught how to play. This starts a quest line to try to be the best dice player there is. Finding and challenging everyone, when you have enough notoriety, will allow you to face off against quite the royal opponent allowing you to wager quite a bit of money (oren) by then. What is very helpful early on in the game is to play all the opponents you can betting as much as you can, essentially until you run out of money. People consider this risky as you can easily lose rather than win, quick saving before a match and reloading if you lost can solve that little problem. Seeing as there is a lot of items that need to be bought early on, a lot of the side or main missions will not pay enough if you want to have the latest and greatest of everything. The downside to this though is if you do this, you end up with quite the fortune near the end of the game and nothing really to spend it on.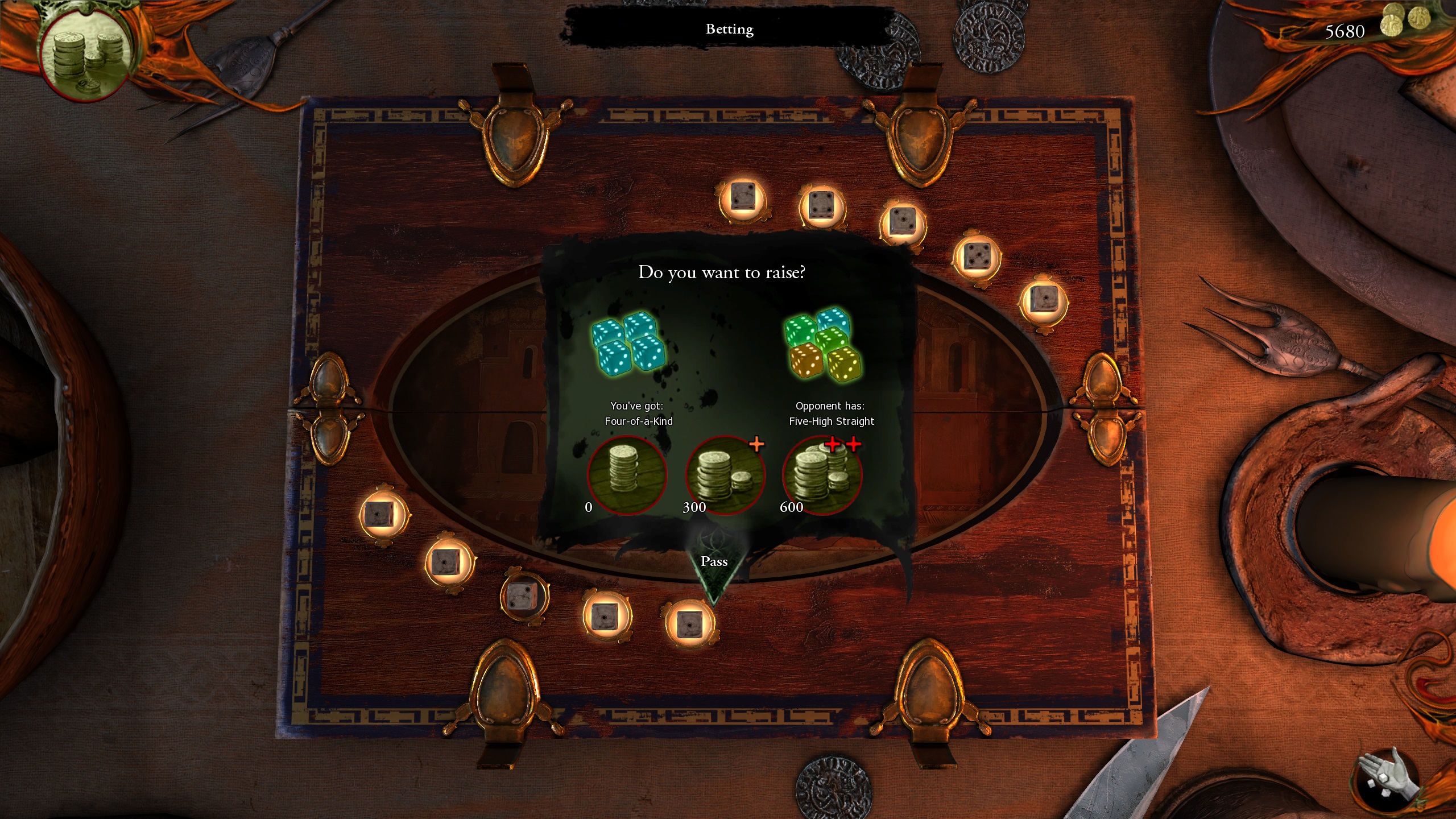 Another mini-game is fist fighting. This is fairly straight forward, you time when you need to dodge an enemy attack, then punch them when their guard is down. Certain talents will allow you to do unlock more options, or stronger attacks, which can make fist fighting easier. Also if you drink anything that increases your stamina, which is what depletes when you dodge (aka duck) you can duck for longer too. It is an easier way to make money then Dice poker (we never lost a fight the first time with an enemy) though we found they were fairly even in the money making schemes.
Drinking contests aren't mini-games you can do with just anyone, sometimes drinking with someone you are talking to can get them to open up and tell you more on a subject they otherwise wouldn't. We did a several ourselves, though unless you use the cheap alcohol, which isn't as strong, there is a chance you will lose the drinking contest, black out, and have to do it again if possible.
The last mini-game is the Romance cards. We'll put it blunt, Geralt gets around, a lot. It's probably a good thing he is immune to all diseases…as he'd probably have some after doing everything that is involved in this mini-game. Essentially it is collecting playing cards of women who some of the time are partially to fully nude after having sexual relations with them. There is nothing graphic about the sex scenes themselves, as it's out of focus with the romance card showing. For those who want to complete everything, the romance cards are definitely something else to put their time into. There is no reward in gathering all of them that we could find, but we did not go out of our way for Geralt to sleep with everyone he could.
There is a gameplay mechanic though that annoyed us to no end. This was the limited inventory space. Not only were there no separate inventory for potions aside from the quick use ones based on what armour you have, but there is no way to actually upgrade how much you can carry, ever. So if you were like us, who kept quite a few different types of potions in your inventory, along with some crafting bases (the alcohols), food, non-alcoholic beverages, there would be very little extra space to deal with. Not to mention certain side quest items that were normal items would also eat up valuable inventory space. Why they never addressed this issue in the enhanced edition release we're not sure, just something that annoyed us fairly often. That and certain vendors will only buy certain times from you. This could add to the realism that the guy selling bread has no use in buying swords, later on in the game though the one NPC that bought everything disappeared and we were stuck with a mostly full inventory for the rest of the game.
The Witcher – Combat
The Witcher decided to go a different route when it game to RPG combat. Rather than the traditional hack and slash, or attacking with abilities that have preset or determined cooldowns, they went with timing attack combos. With this, attacking an enemy would be the first attack in the combo, when the sword flashed redish/orange near the end of the attack, clicking would combo into its second attack and so on. Depending how much of the talent tree is unlocked for a specific combat style, it can go up to 5 times before the combo finishes. The benefits of combo attacks is that each attack does progressively more damage so that getting the timing right on the attack would be beneficial. This seemed to turn off quite a few players, as it required that you pay attention not only to the enemies you are fighting, but to also how you are attacking too. It took us a little time getting used to it again, it was never really that much of an issue to us as to turn us away from the game. There are mods out there for the game that change the combat. We never tried it, based on the reviews of quite a few people who were not fans of the original combat system found they could enjoy it with the modded one.
As mentioned before there are three different styles of fighting based, Strong, fast, and group. Strong inflicts the most damage, it is also the slowest attack. It is best used against enemies who are large, armoured, or have slow attacks. Strong attacks will usually miss against faster more agile opponents, there is an increased chance they'll hit provided they have a status effect against them, just as being burned. Fast attacks do not do as much damage as Strong attacks, but they can be used against enemies where Strong attacks will miss. As enemies susceptible to fast attacks are more nimble, they tend to have less armor and will be taken down at the same 'speed' as enemies who are susceptible to strong attacks.  The last combat style is group. This allows you to attack multiple enemies who are grouped up around you. There are quite a few times in the game where group style is needed unless you can crowd control your enemies extremely well, which normally isn't the case. This is why you need to upgrade all three combat styles evenly (per weapon, steel or sword), so that you are ready for all situations.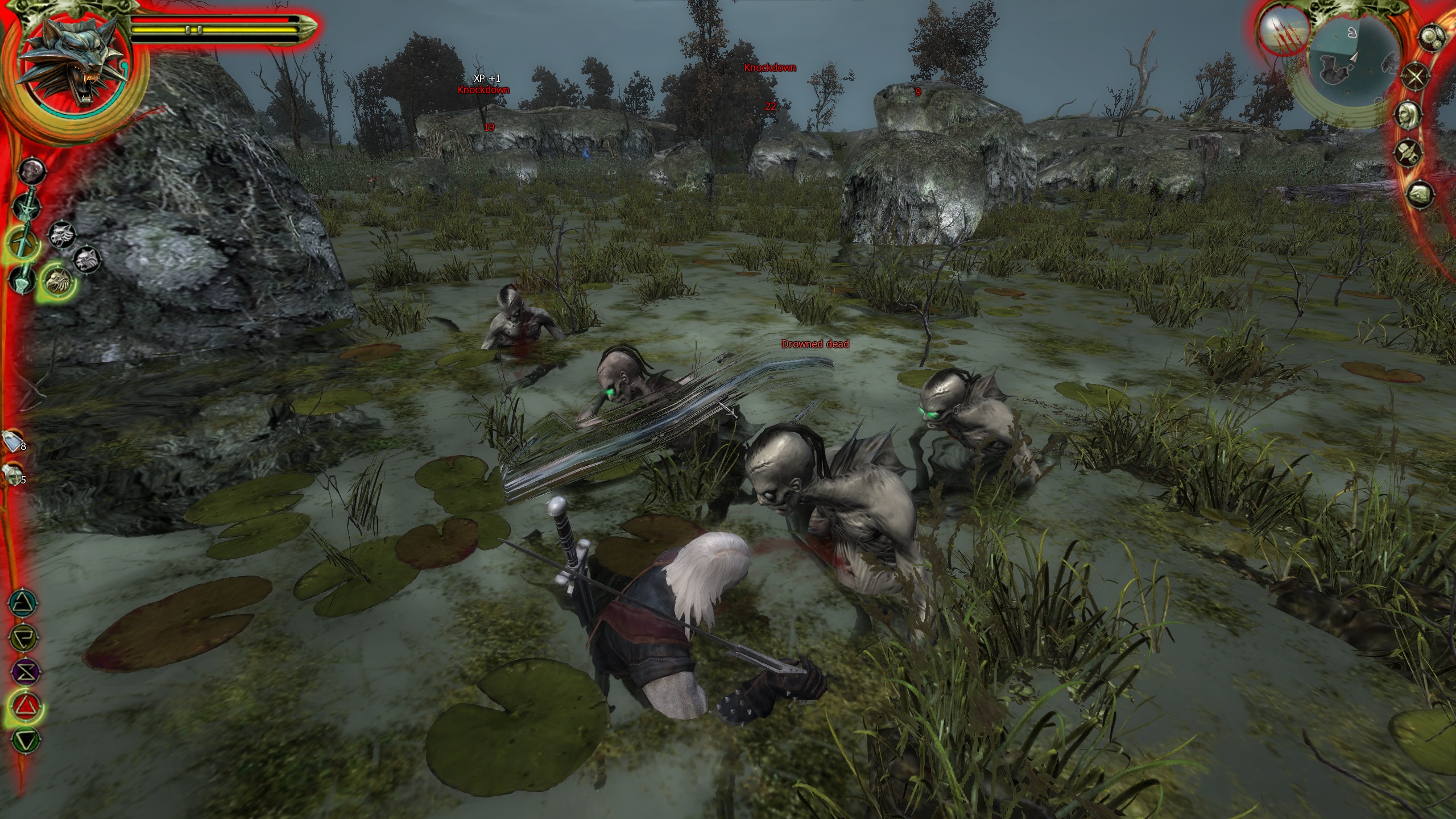 Augmenting the Witcher's melee expertise are his limited knowledge/control over magic. This is not normal magic that mages or sorceresses in the game can wield, instead it is more basic, but just as effective against enemies. These are known as Signs, totaling five in all, including the two we briefly mentioned above. The first sign is that of the Aard. Again we'd like to consider it controlling the element of the air or wind as it can be used to knock down enemies, throw them back, stun them, or even clear debris that may be blocking a path. The second sign is Igni. Igni would again be like the fire type element as you can cast it to burn enemies, light camp fires, or even ignite certain flammable gases that some bombs can give off. We upgraded this one fully and it was able to do some serious damage to enemies before we had to fight them with our swords. Yrden is the third sign, it allows you to set magical traps that damage enemies when they walk over it. This can be quite handy in small corridors where you set up one after another so you get to fight a weakened enemy when they get to you. The fourth sign is Quen. Quen is a protective shield that absorbs damage dealt, however Geralt cannot regenerate his health, vigor, with it on. The last of the signs is the Axii. This allow you to 'charm' an enemy, having them fight for you as an ally rather than against you. Very effective when fighting multiple enemies and you want them to fight each other rather than just you.
Some of the Signs also can be used against one or multiple enemies, such as the Aard and Igni actually have a partial to fully circular blasts allowing you to give yourself some breathing room by knocking enemies back or by setting all of them on fire.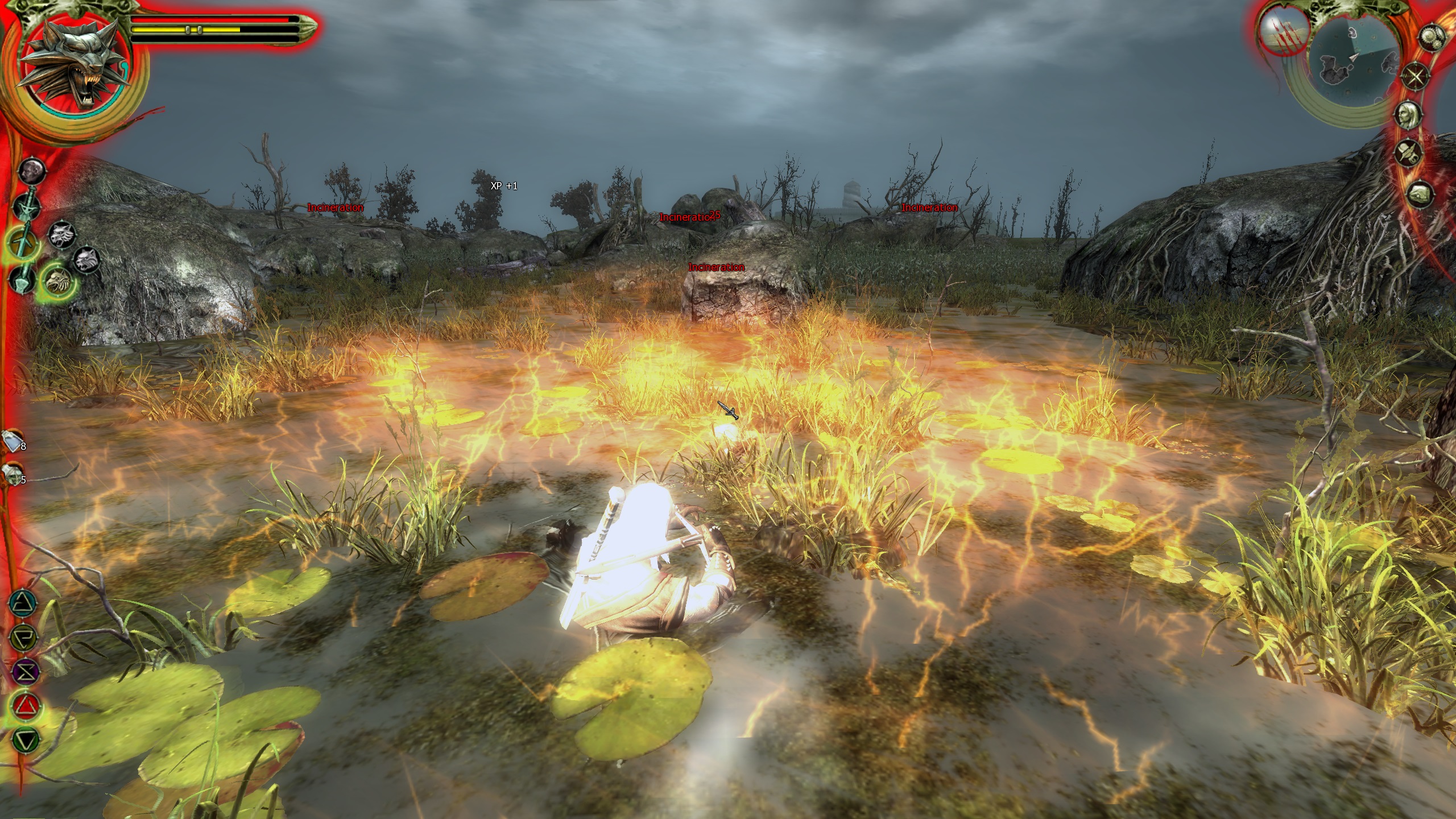 Now you can't be just spaming any of the signs, it doesn't work that way. Rather than have a cooldown, you have a bar called endurance. Think of it sort of like a mana pool, every time you cast a Sign, the endurance is depleted by a certain amount. Getting certain talents will increase the total amount of endurance, lower the cost of using that Sign and/or increase the speed at which it will regenerate. Health is called something slightly different too, instead it is called Vigor. When you run out of vigor you die and have to go back to your last save point. Items such as food, certain beverages, or potions will allow you to increase the rate at which your vigor or endurance regenerates for fixed durations. Food and beverages will last only a few minutes whereas potions will last hours. What is also nice, or balanced, is you cannot just eat 5 different items and stack your health regeneration or go from no health to full health. By our looks of it, eating say fruit and meat will stack, but eating two different kinds of fruits only will have only one of them providing the health regeneration.
The downside to potions is that they are also toxic to you. The third bar, the green one, tracks this. Have it go too high and Geralt will pass out or no longer be as effective in combat. Unlike crafting potions, you can drink potions whenever you want. Starting a fight you weren't expecting to? Well pop a few potions to help turn the tide of the battle, but not too many as that can also be bad! At all times we were always prepared by having a variety of potions ready to drink. Our two go to potions were Swallow so our health would generate, and Cat so that we would not need a torch to see where we were going in the dark as to not have to fiddle between the torch and the weapon when a combat situation arouse too.
We found this is a nice way to balance that you cannot drink all the potions you have at once making Geralt extremely over powered, as well as requiring you to rest every so often too. Resting allows you to negate all of the toxic properties of the potions, clearing that third bar. As potions have different durations they may still be active or around after resting for short periods of time. One such potion that has a twenty four hour during is Cat.
The Witcher – Side Quests
There are quite a few different side quests available to help occupy your time, boost your level, and give more depth and understanding to the story. What we've found for some games, a lot of side quests are fillers, quests for quests sake and add very little to the story or the universe.  Luckily the Witcher did not fall into that category. It was quite nice to see that whenever in a new area, town/city, there are always Witcher style contracts. What those are, are quests where you must go slay a monster or monsters, gathering something unique they drop (sometimes it was their head for all to see dangling at your waist on a hook), then returning with it as proof for its demise. There is no grinding involved when it comes to these Witcher side quests. The odd monsters was sometimes hard to find, especially if you did not read the codex, though that was normally due to us using the crafting material to make a potion, then having to go out to kill more of those monsters in order to have the correct quantity of the item to turn in the quest. We're not sure if we're asking too much from a game from 2007, but what we would have liked is that the quest no longer show up as complete if you accidentally sold or used up the items while making potions. There were times that a Witcher quest would show up as complete, we'd go to the quest giver only to find out that we no longer had the quantity they wanted. Another option could have been just to make the Witcher quest items more unique rather than being craftable and sellable items, but again it was partially our own fault for not paying attention to the quantities in our inventory as you can choose what materials are used when crafting, otherwise it will randomly choose for you.
The next sort of side quests tend to be that which deals with humans, either it's looking for a lost boy, trying to help cure lycanthropy, or catching up with old friends, there is quite a variety to choose from too. As a Witcher, Geralt is supposed to defend mankind from monsters, though in some side quests he gets a choice between two 'evils' in a sense. An example of this was investigating someone's partner who had been turned into a werewolf, with the option of helping them, not helping them, or dispatching of the werewolf. Further into the quest you find out that this particular werewolf is only using their abilities to hunt criminals with their enhanced abilities, aside from that they never go after any innocence. In our case we let them live, actually helping cure them, rather than killing them like the monster they were. Another case has to do with helping a knight find his sister, only to find out she is working in a brothel. Delving deeper into the details of the quest you find out she is a vampire, the entire brothel is run by vampires. Surprisingly though, these vampires do not hunt and kill, they merely take some blood from their patrons to survive and that's it. We even find out the vampire who is in charge was the partner to that of a vampire who stood by you before you died (before the game started) and in turn was killed themselves. As these vampires were not hurting man, they proved to us that not all monsters need to lose their heads. S decisions we got we made during these side quests, which in our eyes followed more what Geralt from the novels would be like, as the game is a continuation of that (minus the incorrect year stated in the beginning of the game).
Most side quests can be completed in the act that they are given in, with the exception of one or two. It helps give a measure of the difficulty of enemies if you do them all, not to mention the reward items, including money to allow you to purchase crafting materials, better armor, better weapons (crafting), and don't forget experience (or leveling up).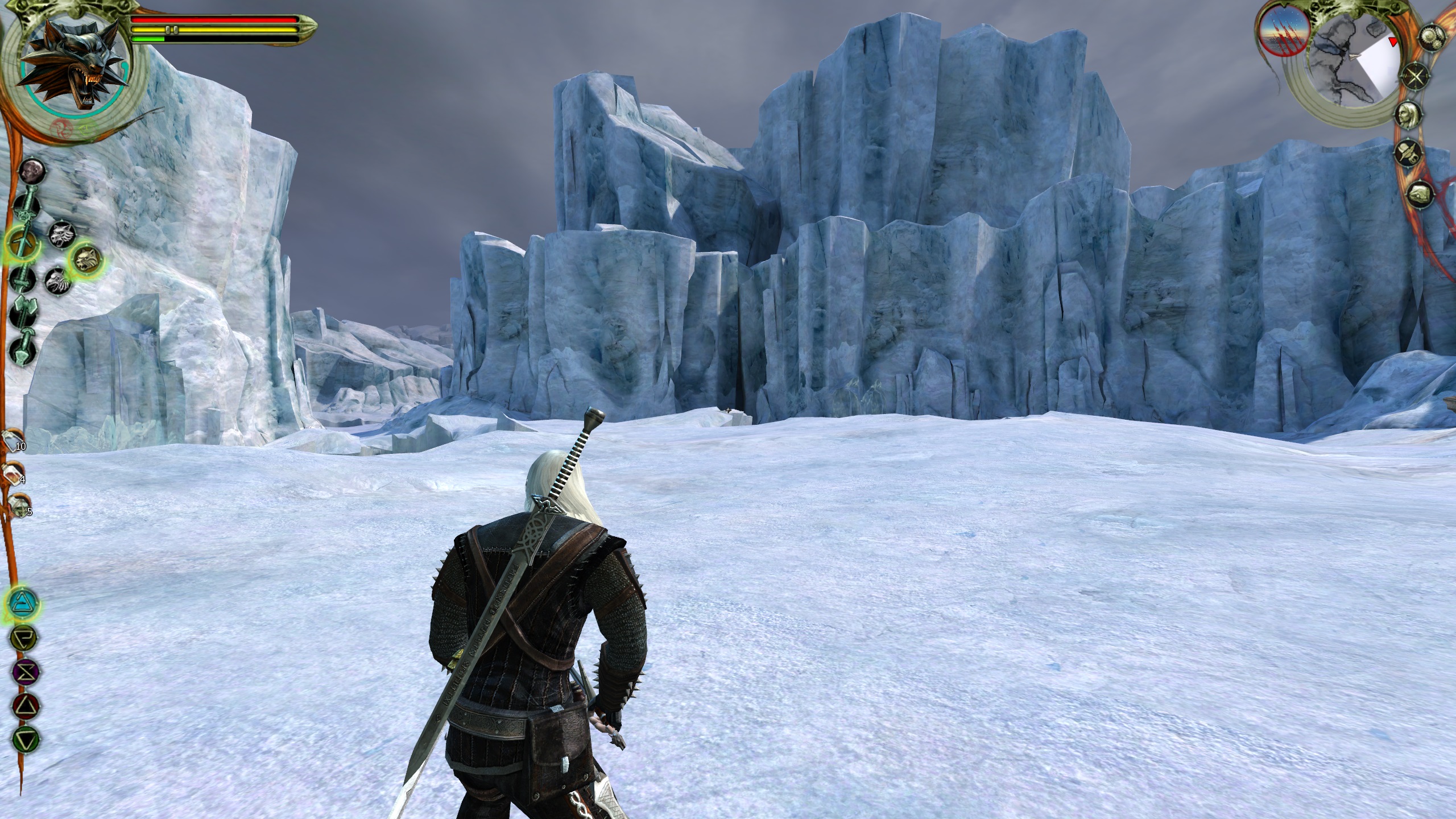 The Witcher – Story
The main character you play as is Geralt of Rivia. He is a Witcher, a monster hunter, whose age is unknown as the mutagenic process that creates a Witcher extends their lifespan. It also leaves distinct marks on them such as the eyes of cats rather than those of normal humans.
The introduction cinematic, which plays when the game is loaded, shows Geralt removing a curse off of a princess. She has been cursed to be a Striga, a woman who is transformed into a monster, making her extremely dangerous. Strigas tend to leave bodies of men, women, and children in their wake, which is bad for a kingdom, especially for the daughter of a king.  The story itself though starts sometime past this, after Geralt has been found, after having survived being killed. We have been told it is detailed more in the novels which the game continues from, though seeing as not all of them have been officially translated yet, we will have to wait and see. Or just read the fantranslation of it. Either way a lot of his past is a mystery, to himself anyway, with bits and pieces of it coming back to him thanks to friends and acquaintances, but never how he defied death and returned from the grave.
Either way, Geralt wakes up in the company of fellow Witchers as he is taken to Kaer Morhen, the castle where Witchers were created from, at least this school of Witchers. There is more than one school of Witchers, which is not explained in the game itself, but we do see one near the end and in the next game. Unfortunately for Geralt, and us, he has lost his memory of the events prior to his death. The only thing he has not forgotten is how to be a Witcher, including his use of a sword. Not having much time to recover, the castle is attack by bandits, including the Professor and an unknown mage whom have come to steal all of the Witcher mutation secrets. Even with the aid of their own visiting sorceress, Triss, they are no match to stop their invaders. After making a potion to bring his former lover Triss back from the brink of death he goes out on a crusade to get back what was stolen and to put an end to the bandit group, Salamandra, who were responsible for the attack.
The game and story is broken up into five acts, however the prologue and epilogue could be considered acts themselves though are outlined separately by the game. Along the way he will meet up with other people from his past, Zoltan Chivay, a dwarf who helps introduce (probably reintroduce) Geralt to poker, though has stories about their time together from the past. Dandelion, the travelling bard who happens to be quite the womanizer, though is always there for Geralt whenever he needs him, and a couple times when he seems to be just interferring. Triss Merigold, a sorceress and former lover of Geralt who seems to have an agenda of her own, though can usually be counted on to help him out when he needs it.
We will cut this part short though, as there are countless more people Geralt runs into from his past, all with some information about him, that he, and we, do not know. It helps give a larger picture of the man he was and what the man we the player are making him into. Throughout the game Geralt gets to remember some more of his past, which is aided by having to choose between sides in certain engagements. One such example is siding between a witch who is mostly innocent, and townsfolk who want to kill her because they are using the excuse she made them do things, such as one person killing their brother, rather than owning up to their own selfishness and internal evil. Another is choosing between the Order of the Flaming Rose, a pro human knight group which is tasked to protect the city (with a slight bias to helping humans more than non-humans) and a group of dwarves and elves known as Scoia'tael (or Squirrels) who consider themselves 'freedom fighters'. The thing about the Squirrels though is that they tend to use guerrilla type warfare against all humans rather than just against the humans who are subject gating non-humans. There is more than one time they take innocent prisons in a way to get what they want. There is more we could go on about either choices, especially the ones dealing with the Order and the Squirrels, though we'd rather not skew your decision one way or another based on our own views and interpretation of Geralt's values.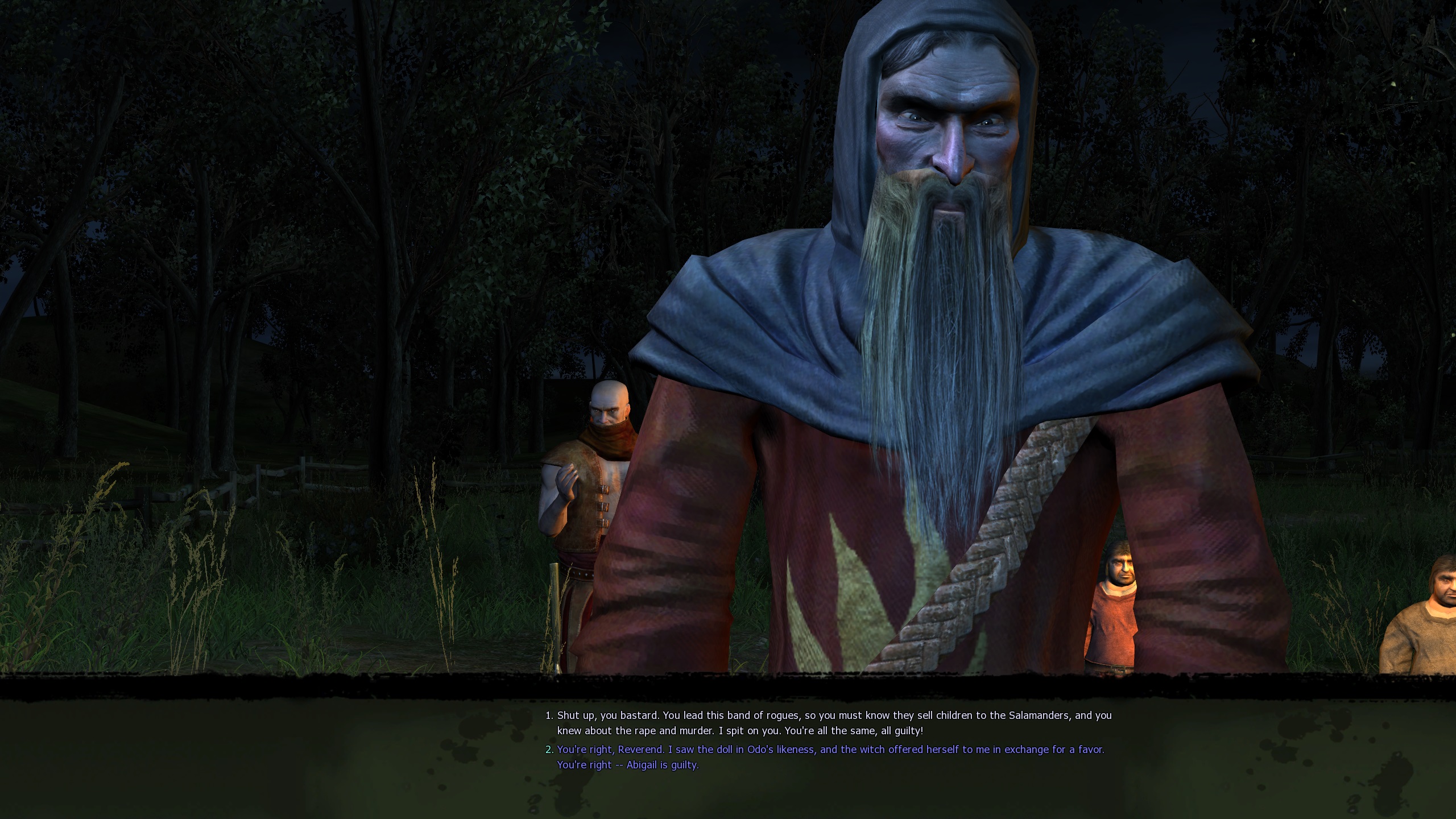 As a whole we quite enjoyed the story and the pace at which it is told. It make sense for you to be able to level out everything you want in the talent tree, as well as not having everything (as in say signs) in the beginning too due to the fact he has retrograde amnesia and need to relearn some of the more finer parts from the basics he retained.
The Witcher – Misc Items
Unlike the previous games reviewed, there was no additional item that was required to play the game, or import saves as it is the first game in its series as well as the studio's view on the matter. What we really enjoy and can't give enough praise is about CD Projekt RED itself. Namely it does not believe in paid DLC. They believe that all content provided, including their enhanced edition which saw texture improvements as well as other items only a year later, while including more story and quests to the game should be free. They do not believe in people paying for small added content, even beyond that they do not believe in DRM at all, as in their eyes it is not an effective measure in stopping piracy. Good games sell, bad games usually don't, but there have been some exceptions these days.
There was something that did annoy us that slightly ruined our gaming experience. That would have to be the fact they would sometimes chain conversations so that you really don't know at times if you are just going to interact and talk with one person, or is it going to be two or three people. Also, there would be conversations at random times that would catch us off guard. This can be done at times to add to the story, which it did, however we were finding it more frequent later in the game the chained together conversations with people.
There is still a large amount replayability for the Witcher. One can choose different talent choices, such as putting more into different signs than others, or focusing heavily on combat or attributes.  The decision to side with the Order or the Squirrel also leads to slightly different stories being told, as to understand both sides more, playing through the game a second time would help deliver more lore to the universe. For us, we would definitely replay this game, with different choices, maybe not a third time in a row, though it has enough replayability for us to go back, replay this game, and review it.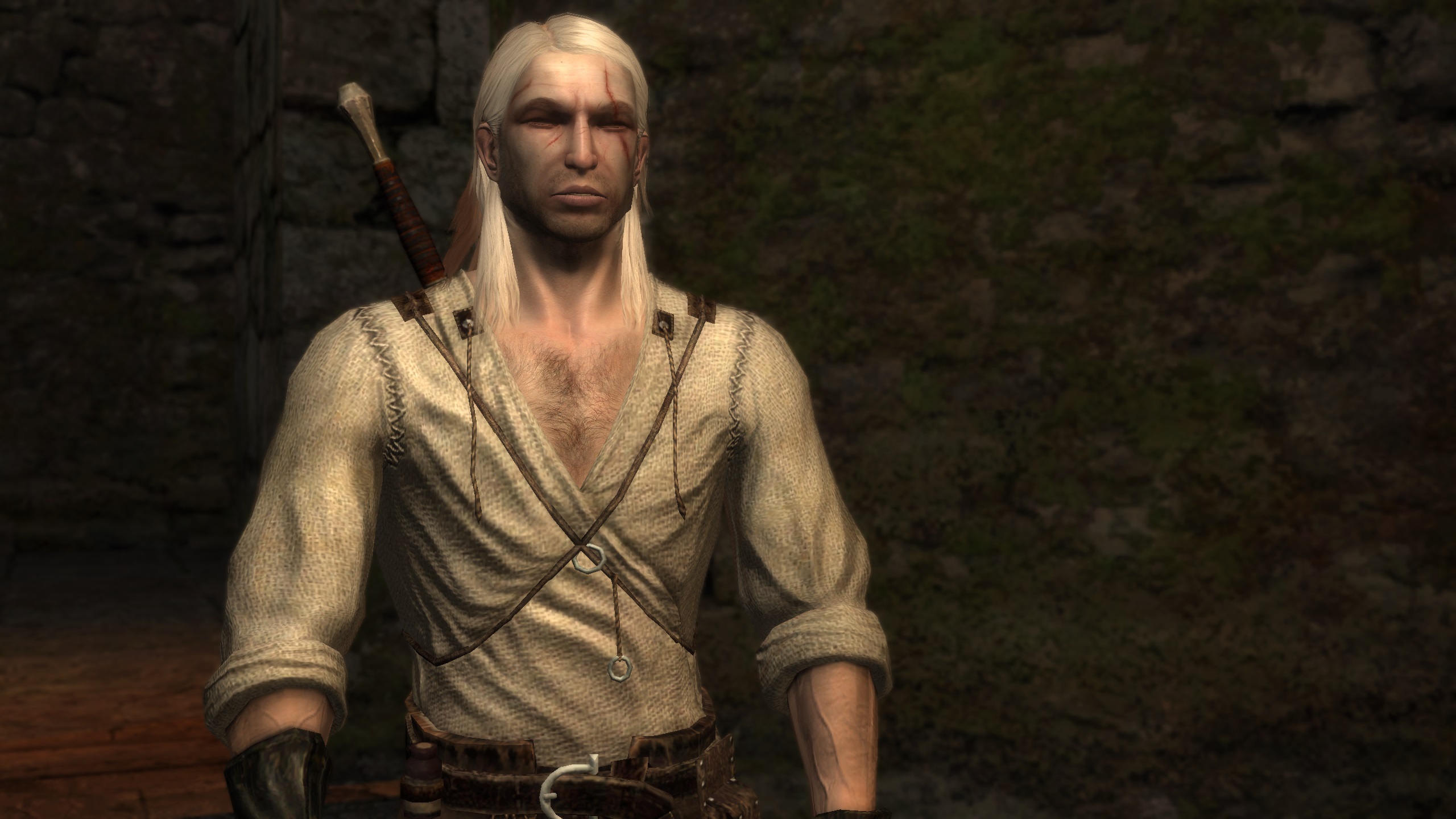 The Witcher – TL;DR
The Witcher 1 was quite the fun travel back in time to an age where video games did not have an average of 10 to 20 hours to beat the game, with 30 to 50 hours being the norm for roleplaying games. For us we spent about 45 hours on Hard (hardest difficulty). It may very well take you less time if you play it on an easier difficulty, do not explore everywhere, or do not do most of the side quests, this is just what we got for our own unique style of playing. As the game can be had on GOG.com or Steam for under $10, there is no reason not to pick up this classic to see where CD Projekt Red started if only to compare it to their later products to see if they have grown as a developer.

Graphics: Fairly middle of the pack graphics when compared to the big name titles of that year. It looks similar in 'quality' to BioShock or Call of Duty 4, yet is beaten out by fellow RPG competitor Mass Effect for stunning visuals.
Gameplay: The use of two swords (silver and steel) that are effective against certain combatants, along with the use of enhancing potions and oils, allow this game to branch off into a realm that most RPGs are quite content with having one set of weapons useful against everything.
Controls/Combat: Timing attacks can leave you either enjoying this unique take for combat within an RPG or leave you frustrated and wanting to give up on it. Personally we quite enjoyed it, but sadly it did detour a lot of people trying or beating it.
Side Quests: Side quests help add to the world of that is the Witcher, filling in some lore information we would never otherwise of gotten to know. They are a great gauge to see if you are at the right level for the eventual story quests, with rewards helping you along in order to craft better gear. There feels to be very little 'filler' to bloat the gameplay.
Story: We are introduced to Geralt of Rivia, a Witcher who has lost his memory due to some sort of large traumatic event. You play as him as you go along trying to piece together your past, while trying to stop the Salamandra from executing whatever plans that promoted them to attack the castle of the Witcher and steal their mutagens.
Misc/Replay Value: If you purchase this game through GOG.com, you will have a completely DRM free game, not to mention the free enhanced edition that will offer more to the game then when it came out. This is entirely free, something most studios to this date rarely want to do. There is a fair amount of replayability for the game, though how 'linear' it is with limited amount of ways to spec you may not find yourself replaying this game a week or two after beating it.
The Witcher was quite the fun travel back in time to when games were actually longer than 10 to 20 hours, where a 30 to 50 hour roleplaying game was considered the norm.  For us we spent about 45 hours playing the game on Hard. The expansive universe, the exceptional story telling (aside from our previously mentioned gripe), and unique combat system makes this a game that stands on its own when it comes to RPGs. It may have been an underperforming game when it comes to sales, and the fact that CD Projekt RED has never tried to port the game to any of the last generation or current generation is a little disheartening. We see it as preventing from getting the true first taste of the Witcher trilogy, we'll just have to settle with it being a PC exclusive instead.
As this game can be had usually either on GOG.com or steam for under $10, we think it is worth the money and time you'll get out of it, especially if you want to know Geralt's gaming story, understand some of the references that will undoubtedly be made in the next two games, and just to let CD Projekt RED you enjoyed where they came from and see how they have hopefully evolved as a company.