$25.99
in stock
as of May 28, 2023 9:30 am
$192.99
$319.00
in stock
57 new from $192.99
3 used from $182.99
as of May 28, 2023 9:30 am
$43.99
$49.94
in stock
9 new from $43.99
6 used from $15.99
as of May 28, 2023 9:30 am
Last updated on May 28, 2023 9:30 am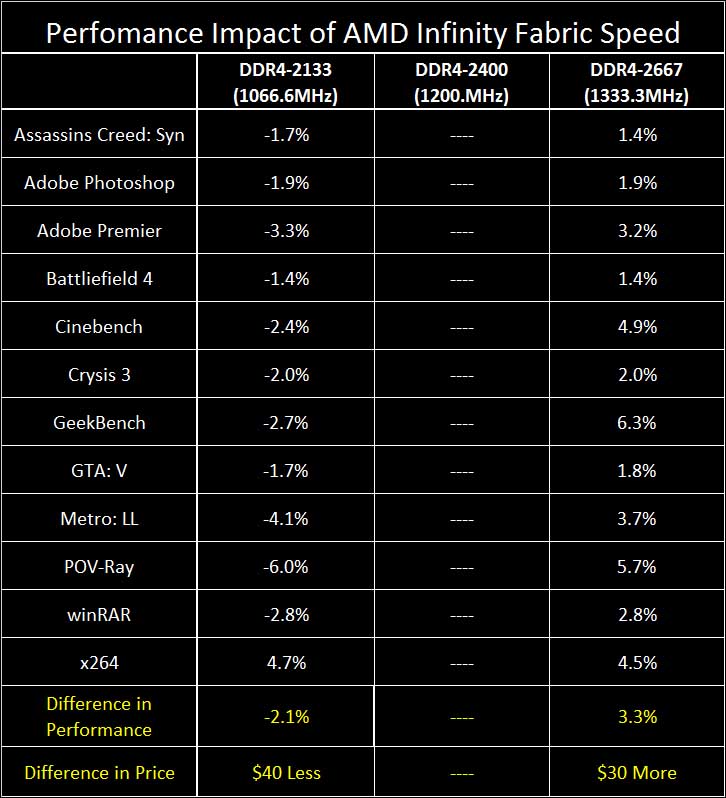 As you can see that there is indeed a difference but it is not all due to Infinity Fabric speed. The performance increase is not linear. Some of the difference is due to different RAM frequency speed being used. RAM speed does impart a small percentage difference to overall CPU performance in real world scenarios and RAM timings (CAS Latency 14 vs 15) also imparts a small performance gain/loss.
This to us means there is two possibilities, but the end result is identical. The first option is that Infinity Fabric speed is not that big a deal when dealing with sub-DDR4-3000 32GB kits of RAM – Ryzen 7 is still fast enough to compete against the best Intel has to offer. The alternative is that Infinity Fabric is still being starved for bandwidth (and thus the two CCXs) regardless of the speed the IMC is running at, and only when dealing with uber-high kits of RAM will it possibly matter to the average consumer. Considering using DDR4-3000 (and higher) 32GB kits are hit or miss with Ryzen (at this time) the answer once again does not matter. It is a moot point as the Infinity Fabric is tied to the IMC.
Until AMD obtains more experience with DDR4 Integrated Memory Controller architecture design, or decouples these two critical CPU components, this is an interesting issue but should not be overly concerning to the average buyer. As such we would take a practical approach to this issue… and use the fastest RAM your budget can justify and will not cause issues.