Last updated on October 1, 2023 11:52 am
When it comes to North American mobile phones the big names have had the market share for far too long. Samsung, Apple, LG and so on have forever been the brands that we must have and the devices in our pockets. Now this is changing, Chinese and Asian manufacturers have shown the world they can produce great products at nearly unheard of prices. Enter in Xiaomi with the Redmi 4 a phone I had never heard of till I started watching the worldwide phone trends.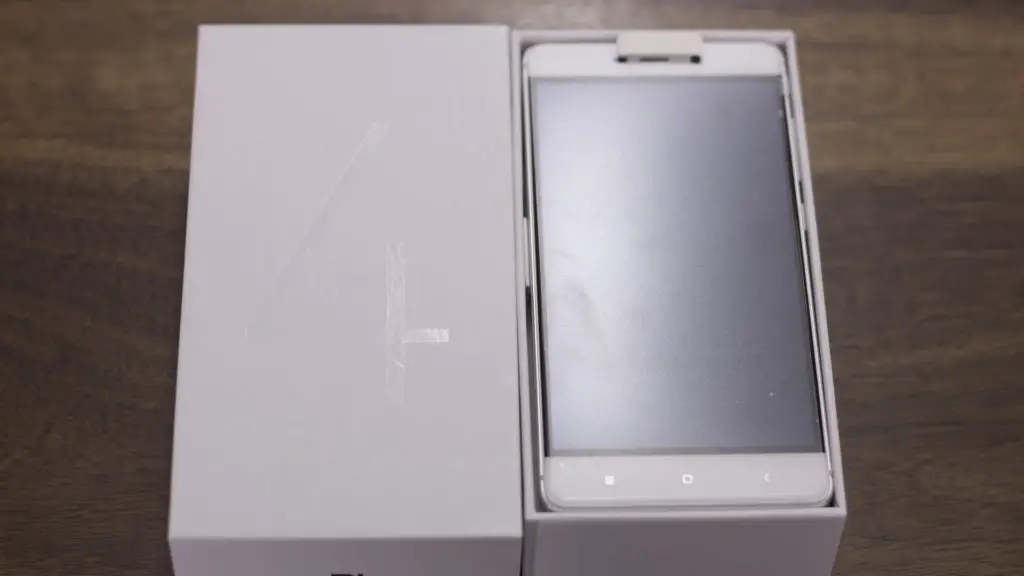 Xiaomi is a hugely popular company that makes thousands of products and phones ranging from the $30 market all the way into the thousands. With the Redmi 4 they built a winner for many with its low cost, great screen, amazing battery and sleek design but is it perfect? No and I will tell you why.
The Xiaomi Redmi 4 comes in multiple models but for todays review we are looking at the Redmi 4 Prime/International compared to other Redmi 4's, the differences are extremely small such as camera placement. The Redmi 4 comes in around $120-$165 USD and for the price you get some impressive specs that we will cover in our specs page.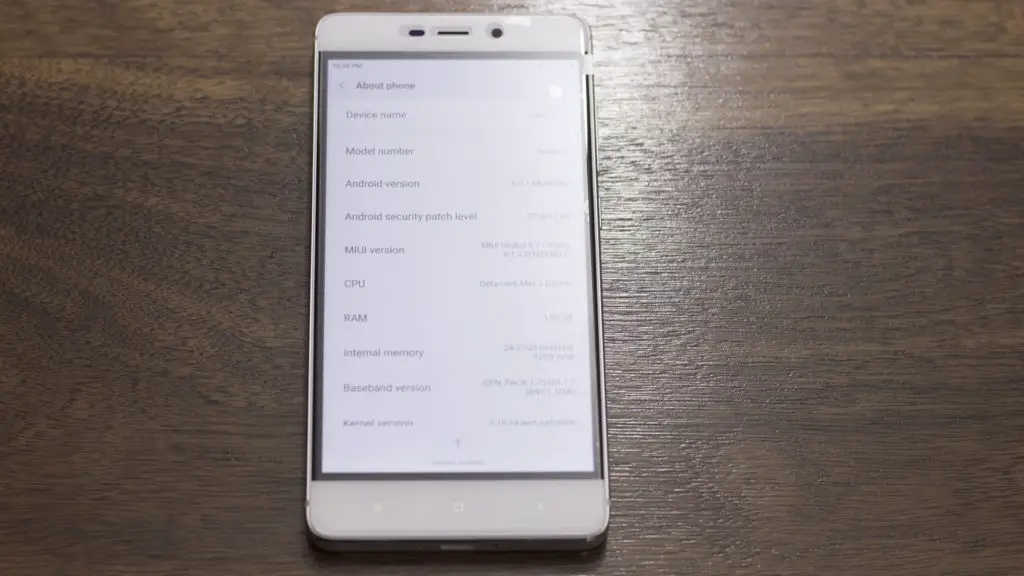 To save some the time of reading through pages and pages on what is good, great, bad or horrible about the Redmi 4 we will break things down here to hopefully help you see if it's worth reading further. Also if you want to skip the read just click play on the video here and we quickly cover the details on the Redmi 4.
Build Quality
The Xiaomi Redmi 4 has a great unibody design where it feels a lot like many HTC phones on the market. The chrome finish can scratch rather easy if left in your pocket with keys as well as the screen does not hold up to scratches as well as some higher end phones.
Performance
2Ghz Octa core, 3GB Ram, 32GB ROM and expandable storage make the Redmi 4 snappy and feel like a powerhouse for the price. Is it as fast as say a Galaxy s 7? No it is not but when doing day to day surfing, streaming and gaming the Redmi 4 holds its own and did make us very happy in our month of use.
Battery
If we could rate a batteryy 6 out of 5 we would give the Redmi 4 a 7. The batteryy is the best mobile phone batteryy we have tested yet, on average we would get 3-4 days of moderate use out of the batteryy ( couple hours of video and endless texting and calls all day) with heavy use that dropped to 2-3 days with gaming constantly and leaving benchmarks running for hours. With minimum use and brightness down the best we got was almost 6 days but that is nothing to gawk about considering with our Galaxy s7 it is dead with minimum usage after 16 hours.
Screen
If there was one thing random people commented on most when using the Redmi 4 was how vivid the 5 inch 1080P Capacitive display is. The screen is stunning and really does put some of the higher end 1080p screens to shame.
Audio and Camera
On the audio side you only get a mono speaker on the Redmi 4, though it is a loud speaker for sure and clear the mono sound just does not sound as nice as a good stereo dual speaker setup. Call quality is great both on the mic and speaker, people did comment on how clear we sounded on calls and we could clearly hear the caller as well.
The Camera is okay… that is sadly as nice as we will get on that part. Video and photos are just okay quality with major grain on any non natural light or in a dark setting. Sometimes you will get a great shot but when comparing it to Samsung or Apple you feel like you're using a cheap point and shoot camera where everyone else has a DSLR.
Added features.
Miui 8 is remarkably easy to use and in the month we used it MIUI updated at least 3 times fixing any complaints we had about it. Also the built in universal remote works perfectly and extremely easy with a Samsung TV.
The Redmi 4 also has an amazing finger print scanner on the back for unlocking the phone that puts the Samsung and Apple phones to shame. In our test unit this feature worked flawlessly and extremely fast for unlocking our Redmi 4.
Warranty and Accessories
The warranty is pretty standard being a full 12 month replacement warranty and 1 month on accessories, no different than many of the big brands. Accessories are nothing special, sim popper, usb cable and wall charger. No earbuds are included which is sad to see as Xiaomi makes some amazing earbuds.
Closer Look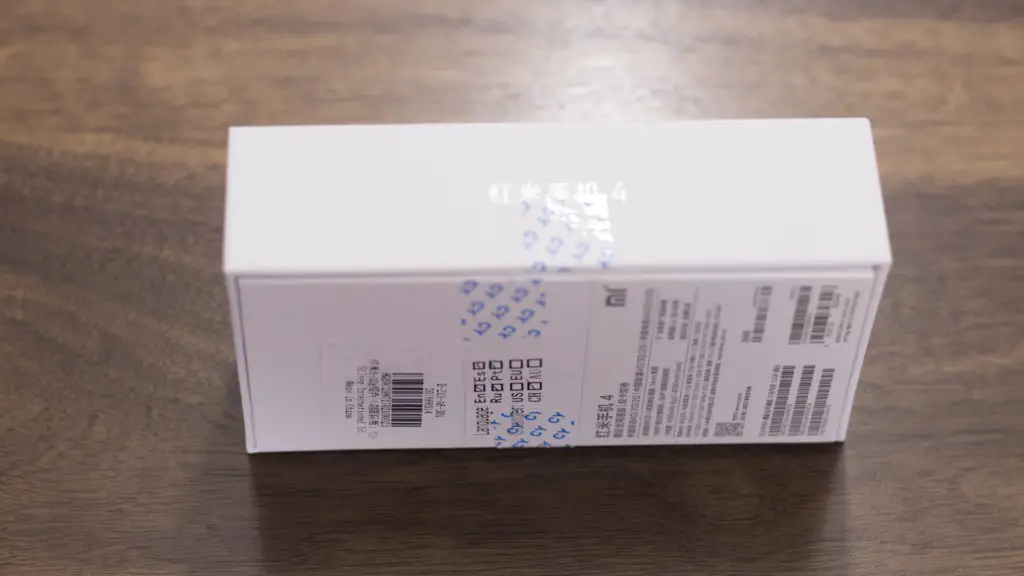 The retail box is simple enough, it is just a plain white box with a 4 on the front and the standard info in multiple languages all over the rest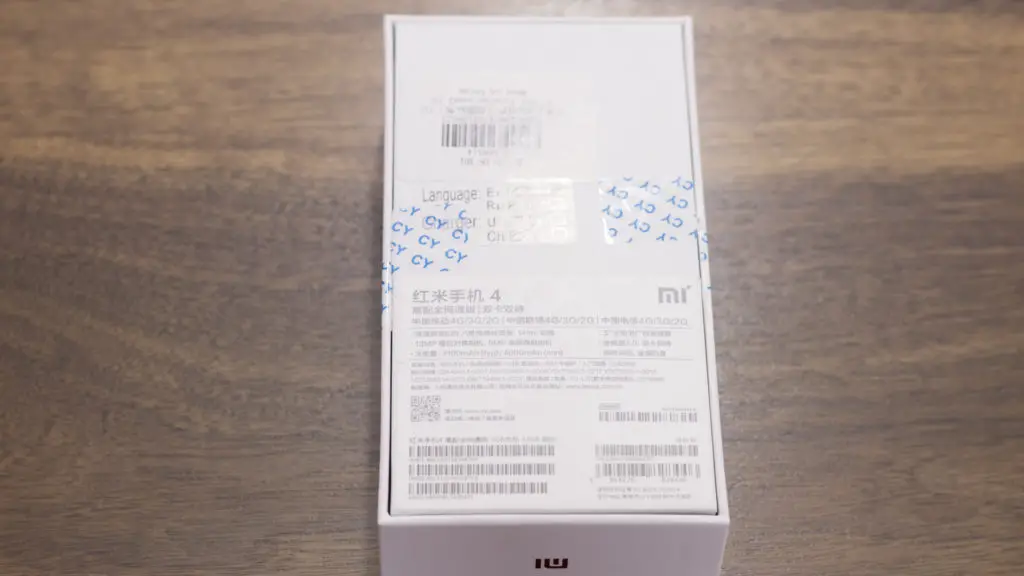 The back gives you all the phones info as well as basic specs and tamper tape as well as what languages are pre-installed.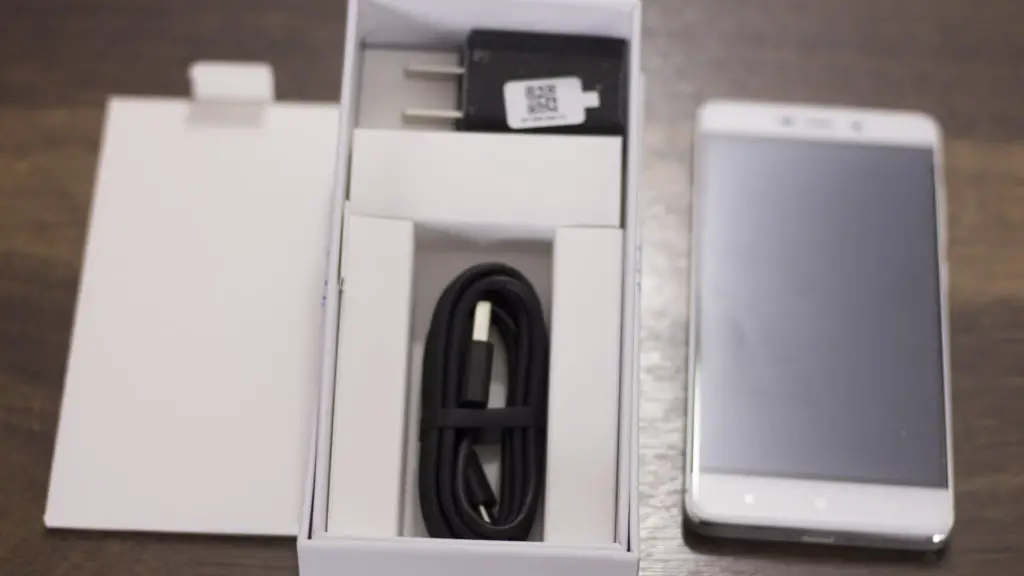 Inside the box we have basic packaging but enough to keep the Redmi safe.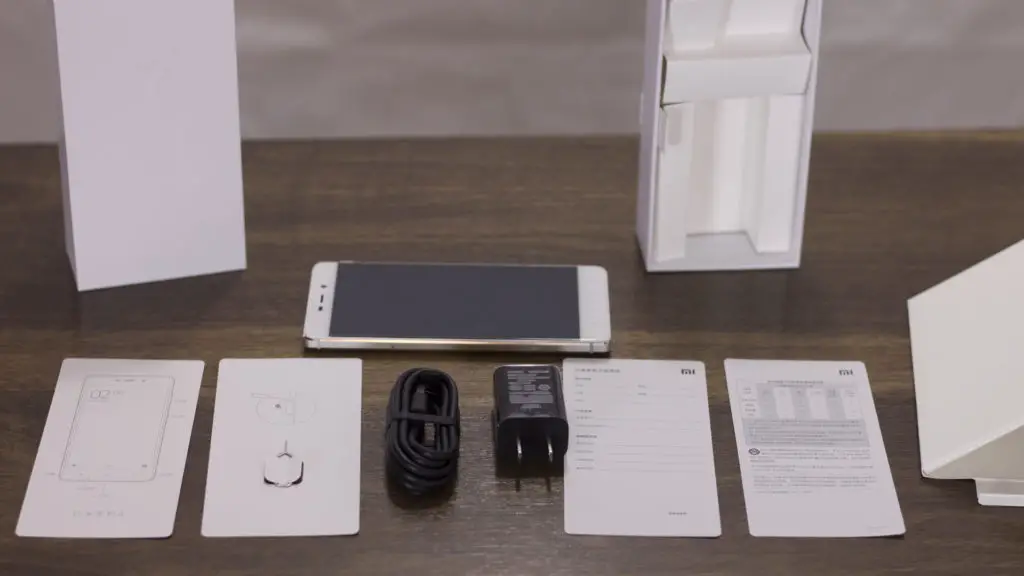 All contents of the box include, instructions, sim pop guide, sim popper, usb charger, micro USB cable and the Redmi 4 Phone.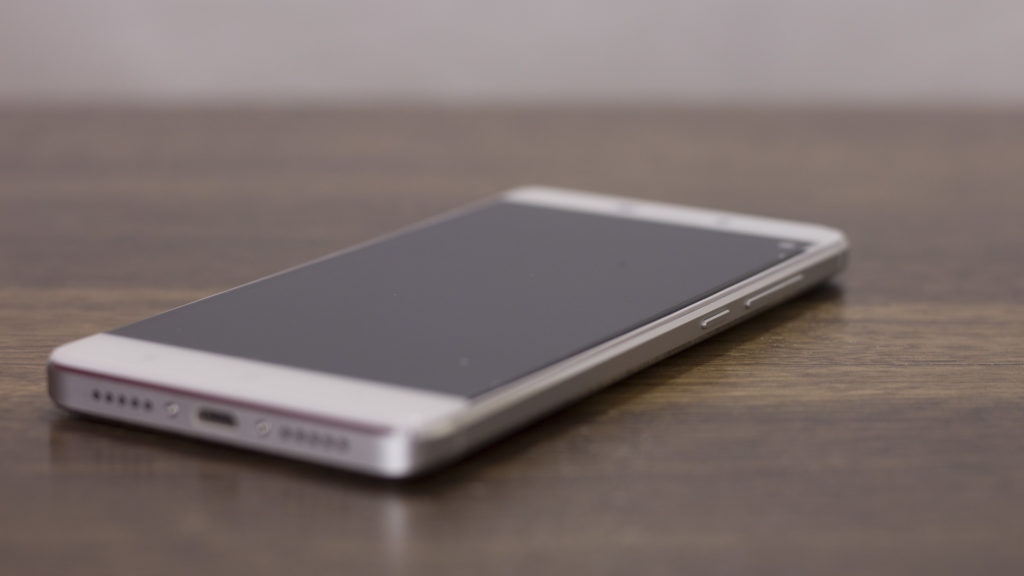 The Redmi 4 Prime/International looks sleek and on a nice wood background looks a lot more expensive than you would assume.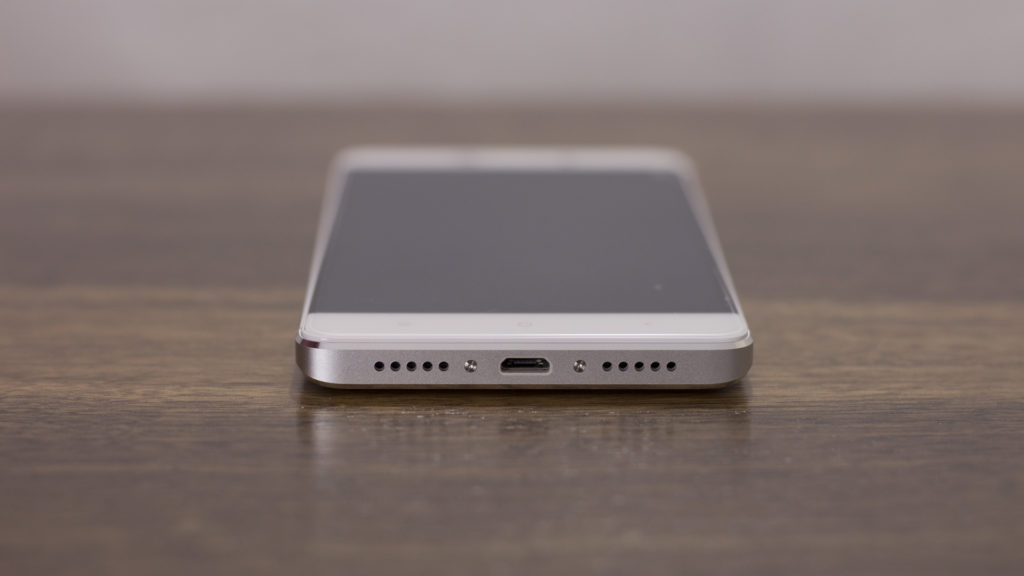 The bottom has the micro USB charge port and it is machined very well. The dual speaker ports are a total fake as only one is a actual speaker giving you decent but not good mono sound when on speaker mode or watching videos.
On the right hand side the power and volume buttons are kept and are actually great quality with a very nice feel to them.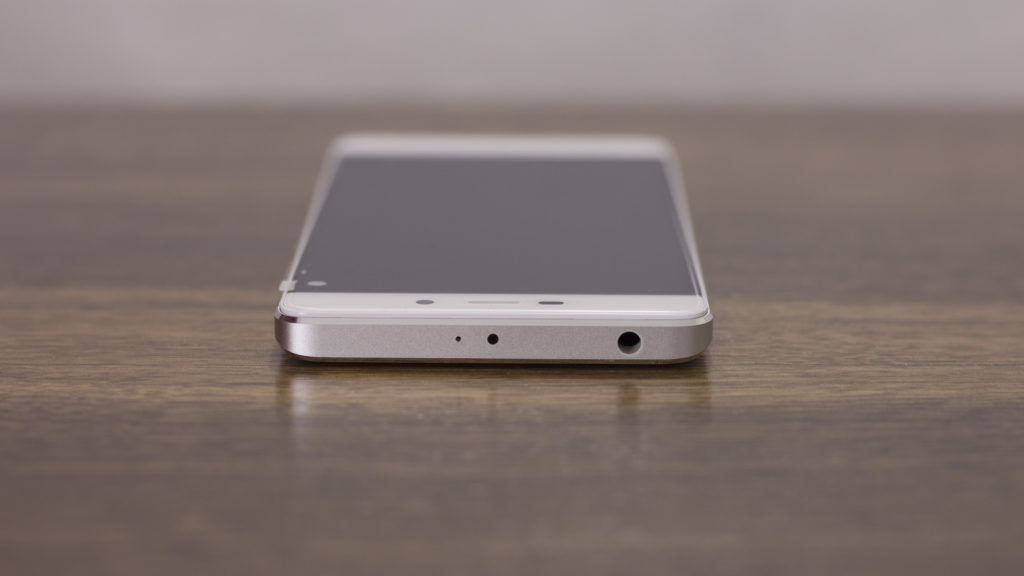 The top has a 3.5mm jack that works flawlessly with no signs of static like some cheaper phones we have tested in the past. The IR sensor is also on the top that works amazing with the built in MIUI universal remote application.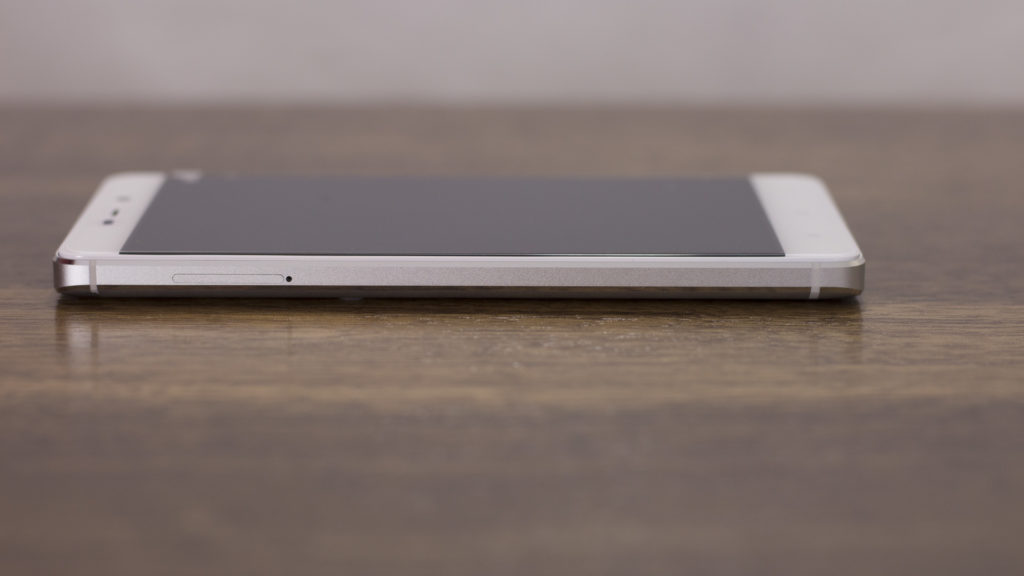 On the left hand side there is the dual sim/ sim and micro SD port.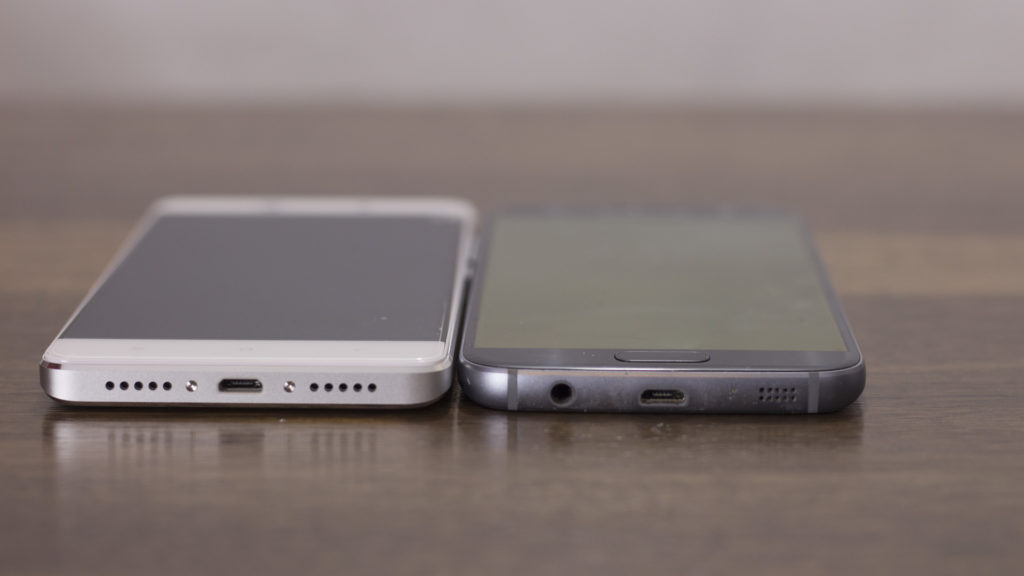 Compared to the S7 the Redmi 4 is a little larger on all fronts, top to bottom, side to side and height but when using it this size difference is minimal at a very best.
The Camera
Time to test the Camera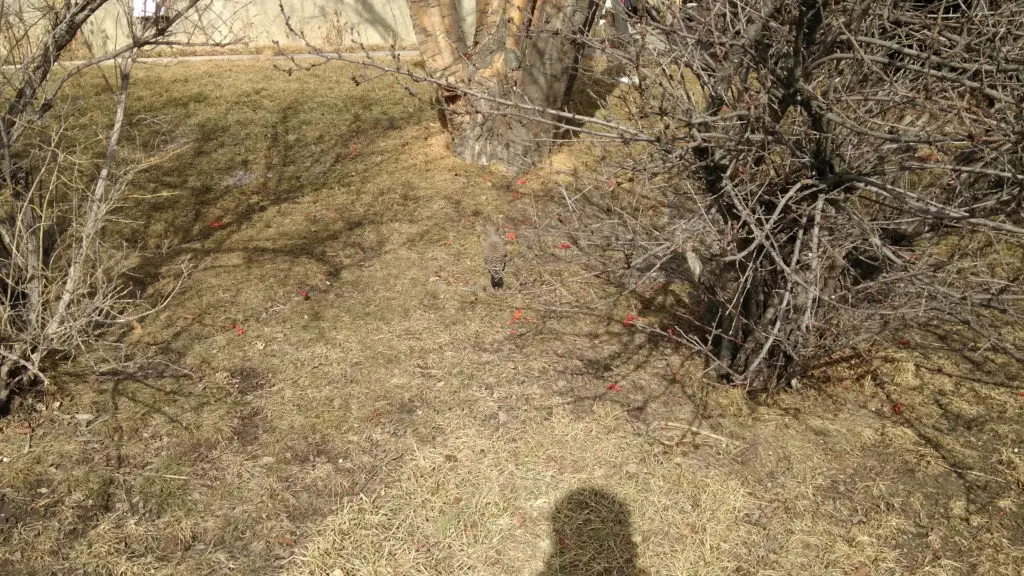 High Light outdoors trying to get a good photo of a bird about 6 feet away.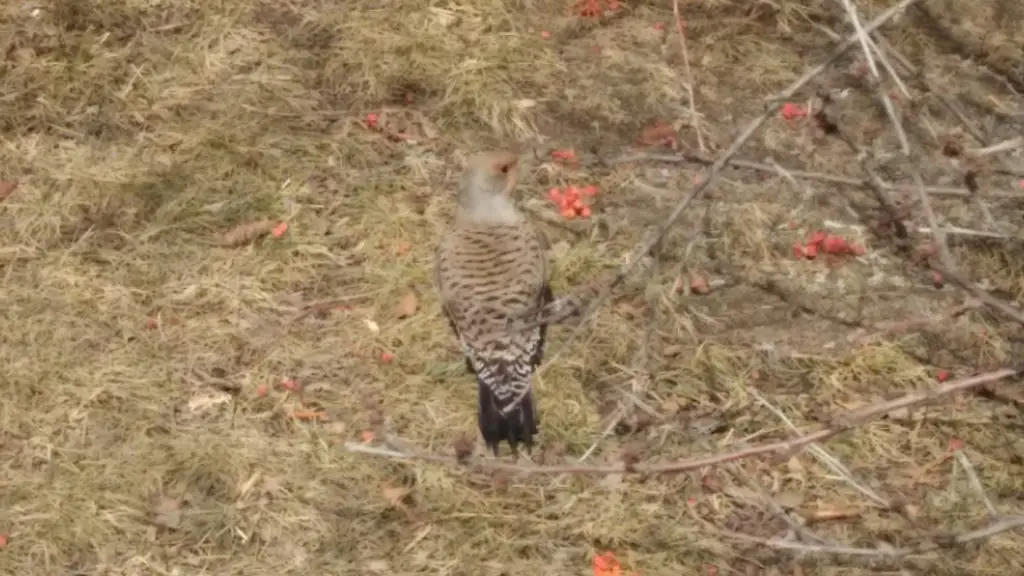 Zooming is not recommended as grain will ruin any photo you take.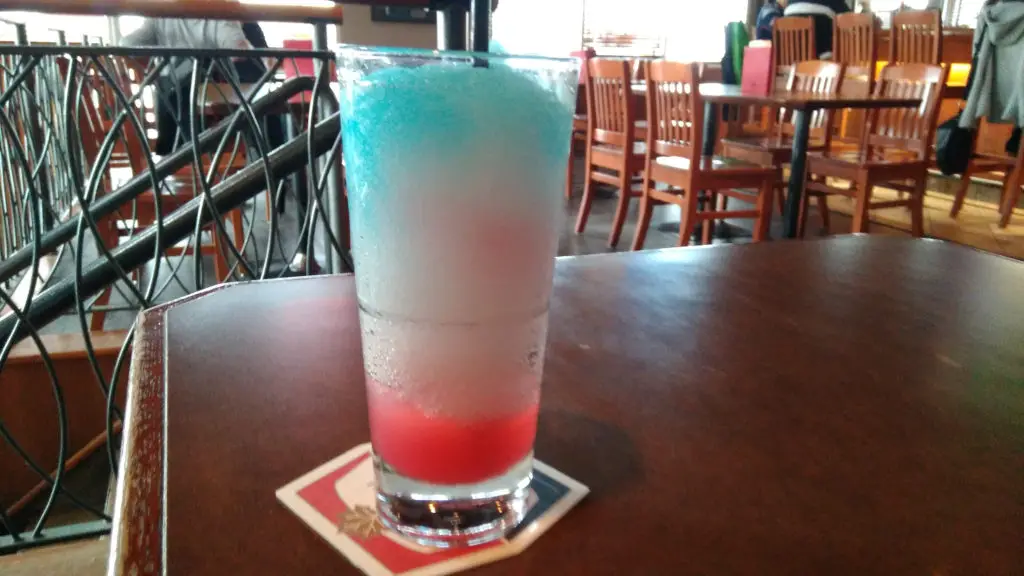 Indoor photo with lots of light still could not get a great photo all seemed grainy.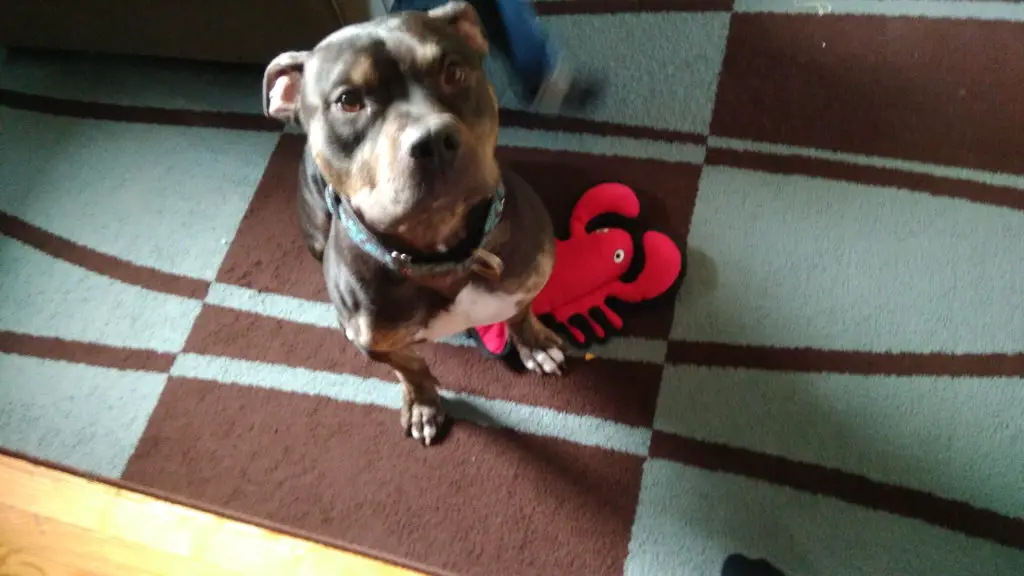 Cino wanted a photo with his buddy Larry the Lobster sadly they both were very blurred.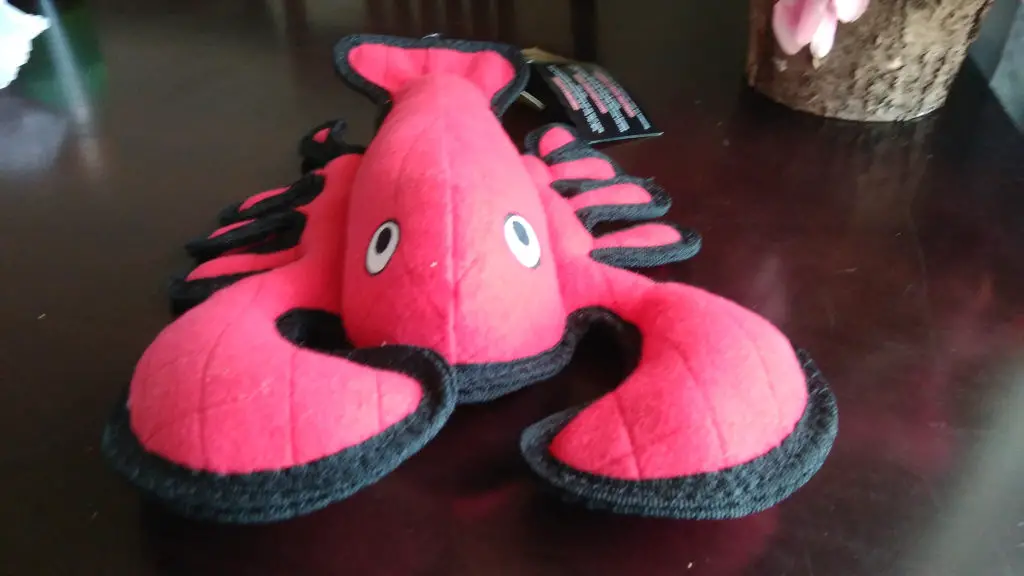 Larry 1 foot away with a good amount of light, still very blurred.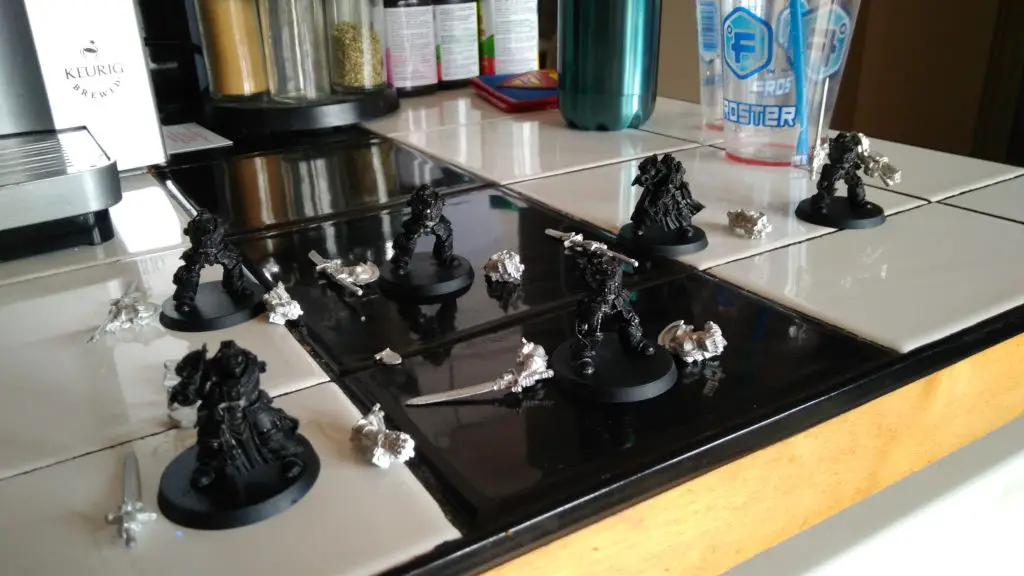 This was one of the few photos I really liked from the Redmi 4, using a tripod I was able to get rid of a lot of blur meaning any hand shake will ruin your photos quickly.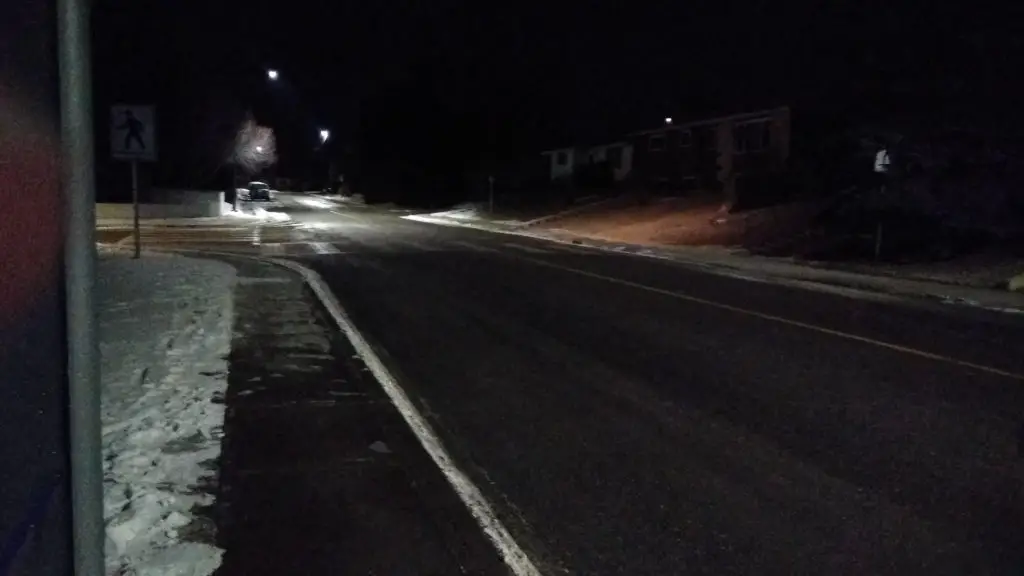 Outside at 4 am the quality reminds me of all those bigfoot photos online aka grainy and horrible.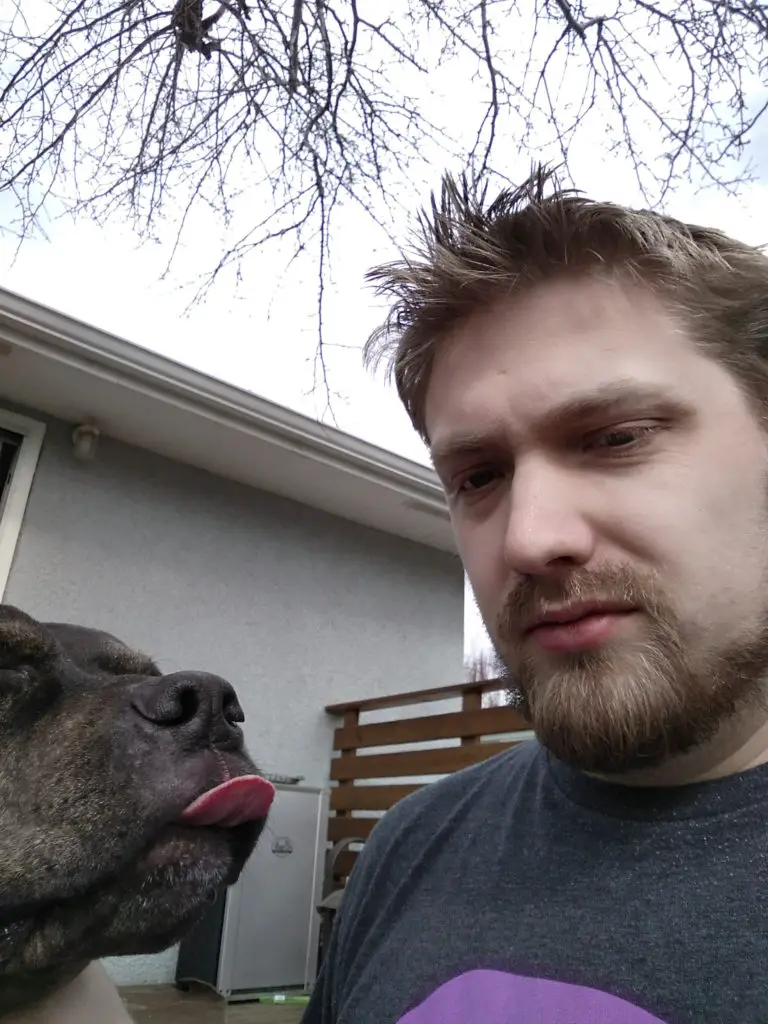 The front facing camera was not as horrible as I thought it would be making for an okay vlog experience, Cino was not impressed with the camera.
Specifications
Xiaomi Redmi 4 Prime/International
MIUI 8 5.0 inch 4G Smartphone
Snapdragon 625 Octa Core 2.0GHz
3GB RAM 32GB ROM
Fingerprint Scanner
13MP Rear Camera
4100mAh batteryy
Bluetooth HID WiFi Direct
Metal Body
Main Features:
Display: 5.0 inch, FHD screen, 441PPI
CPU: Snapdragon 625 Octa Core Max 2.0GHz
System: MIUI 8
RAM + ROM: 3GB RAM + 32GB ROM
Camera: 13.0MP rear camera + 5.0MP front camera
Sensor: Gravity Sensor, Gyroscope, Infrared sensors
SIM Card: dual SIM dual standby, Nano SIM / Micro SIM / Micro SD card
Feature: GPS, A-GPS, GLONASS, Beidou
Bluetooth: 4.2, Bluetooth HID
Network:
GSM B2/B3/B5/B8
WCDMA B1/B2/B5/B8
TD-SCDMA B34/B39
CDMA2000/1X BC0
FDD-LTE B1/B3/B7
TD-LTE B38/B39/B40/B41(2555-2655MHz)
Closing Statement
The Xiaomi Redmi 4 Prime is now one of my favorite phones I have had the pleasure of reviewing. If you don't have a ton of money but want an awesome phone make sure to check out the Xiaomi Redmi 4 Prime. The Xiaomi lineup is an impressive one being one of the best in class which are sold over seas and now in North America. We plan to pick up a few other Xiaomi phones soon and review them as well.
The Xiaomi Redmi 4 Series of phones easily earns two great awards from Real Hardware Reviews, these being the Real Deal and the Excellence Awards
The Real Deal is awarded due to the fact the Xiaomi Redmi 4 comes in at a price from $100-$200 for a 32gb 3GB model and has a batteryy that is not normally found on such low cost phones.
The Excellence is awarded when a product showcases and excels compared to the competition within its price range. The Redmi 4 only fails on 2 fronts, camera which is just okay but is not at all the worse we have seen and on the speaker front. A mono speaker just seems so 2010 and at this point should be a thing of the past. Where it amazes is on the finger print reader, the great 1080p screen and amazing batteryy.
If you're considering a new phone do not hesitate to check out the Xiaomi line of phones and if you want to buy one right away please hit up our affiliate link as these really help us keep the site going as well as we can push some great giveaways sooner than later.
Follow us:
Facebook :https://www.facebook.com/realhardware...
Twitter: https://twitter.com/real_hardware
Check out our channel at: https://www.youtube.com/user/RealHardwareReviews/
Be a Patron on our Patreon where we run Patron only giveaways and more: https://www.patreon.com/Realhardwarereviews