$19.99
$34.99
in stock
2 new from $19.99
1 used from $19.19
as of September 29, 2023 11:24 am
$13.70
in stock
7 new from $13.70
as of September 29, 2023 11:24 am
$17.99
in stock
as of September 29, 2023 11:24 am
Last updated on September 29, 2023 11:24 am
Recently we took a long hard look at the very affordable E12 RGB cooler by Reeven and walked away very impressed with the value that little cooler has to offer. With that said there were a few issues with it. As we stated in that review the E12 is a great alternative the like of CoolerMaster's 212 series, but for higher demanding overclocking scenarios a bigger solution would be more optimal. Today we are going to put the Reeven Justice CPU cooling solution under the microscope as it promises to be more capable at higher loads.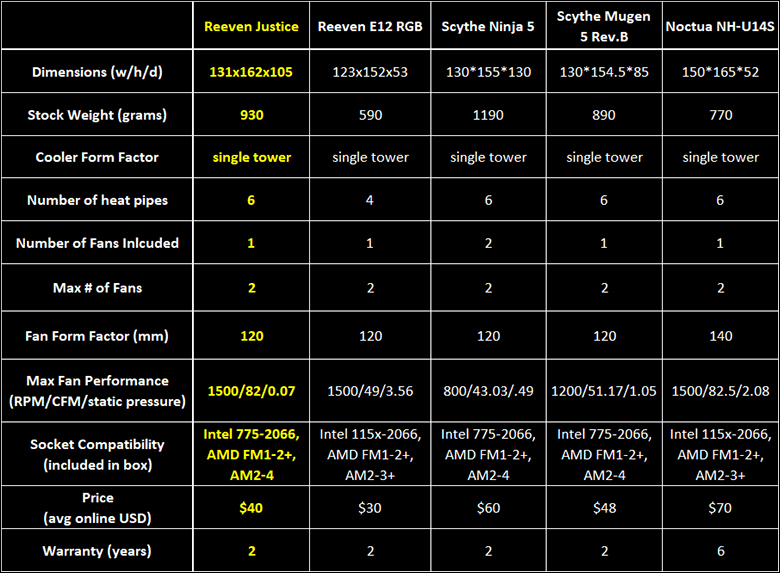 The reason for this assumption is three-fold. Firstly, it makes use of six 6mm heatpipes instead of four, it has a solid base that allows all 6-heatpipes to share the load (even if not in direct contact with the CPU's IHS), and lastly it is noticeably bigger and heavier than the E12. To be precise this bad boy may still be a 120mm form-factor 'tower' style CPU cooling solution, but it is 105 mm thick (instead of 78mm like the E12) and tips the scales at 930 grams. Mix in a 120mm fan that can rotate from 300rpm all the way to a moderate 1500rpm, and on the surface it does seem to tick a lot of the right boxes.Put another way, at only $40 (and can be found for less than this if you look) it is Reeven's answer to those who need even more performance than what their E12 series can offer.
Going against all these seemingly good features is one that is very, very easy to miss. That is the static pressure specifications for the included fan. While we know Reeven can indeed make a good fan (the fan that comes equipped with their cheaper E12 RGB series is a great example)… Reeven Justice's 'Coldwing 12' fan is included does not appear to be one of them. With static pressure abilities (0.067mm of H20) that are more in line with case fans than cooling fans it does indeed appear that the Reeven Justice comes with a rather noticeable handicap.
So will the Reeven Justice remind us more of Metallica's classic album "Justice for All"… or will it be more a Five Finger Death Punch kind of cooler and be 'And Justice For None" type deal? That in a nutshell is what we are going to find out.