Last updated on December 2, 2023 6:52 pm
Recently we took a long hard look at the 10th generation Intel Core i9-10900K and walked away with a better opinion of it than what we went in with. The combination of ten cores and blazing fast, 'out of the box' 5.3Ghz frequencies makes it a rather good performer at a surprisingly good price… for an i9. With that said, it still was and is an i9, and lower asking price or not, still comes in at over 5 bills (USD). For some, that is simply beyond what their budget allows for the CPU. Intel is well aware of this, and why the i9's are never their biggest sellers. So, for those less interested in double digit core count numbers and more interested in overall value Intel has a pair of processors that may just be more to your liking. Specifically, the perennial favorite 'i7' and 'i5'. To be precise we will be reviewing the Intel Core i7-10700K and the Core i5-10600K.
Both of these lower tiered cores are based on the same 10th generation monolithic core architecture with same 125 watt TDP rating as the i9. Both are also Hyper-Threaded enabled just like the Core i9-10900K. What has changed is the number of cores and cache (as there are fewer cores), lowered base/boost frequency ratings, and the removal of a varying amount of integrated Boost technology. For example, the Core i7-10700K 'only' has 8 cores and lacks the Thermal Velocity Boost rating Intel gives the Core i9 series. Instead, its Boost tech tops out at Turbo Boost 3.0. This means a single core TB3 boost rating of 'only' 5.1Ghz, an all core TB2 rating of 4.7Ghz, and a base clock (that is actually 100Mhz higher than the i9-10900K) of 3.8Ghz.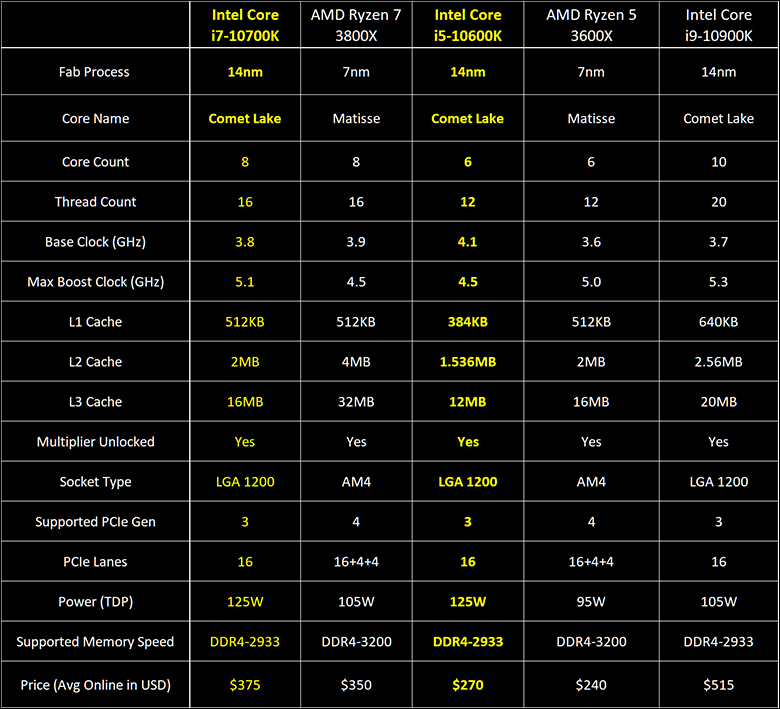 Basically, in return for only $375, buyers are getting a 10th generation processor that should slightly outperform the last generations i9. All for much less than what the i9-9900K costs. Put another way, in return for dropping two cores and the i9's Thermal Velocity Boost abilities, buyers can save themselves a nice chunk of money. On paper that certainly sounds like a good deal as eight cores and sixteen threads is a veritable ton of processing power for the average buyer with less than 4-bills to spend on their CPU.
Speaking of potential great deals, that brings us to the fan favorite (and typically one of the best sellers) Core i5 series: the $270 (USD) Core i5-10600K. Do not let the lower '5' nomenclature fool you. Yes, Intel shaves another two cores off the i7's eight cores (and the accompanying reduction in overall cache), drops Turbo Boost 3 tech, and further lowers the all-core Boost to 4.8GHz and the single core Boost rating to 4.5Ghz… but that is still is a lot of performance for only 270 dollars. It is also noticeably faster than the last gen Core i5's 4.3Ghz (all core) / 4.6GHz (single core) / 4.5GHz (dual core) ratings… plus it comes with a higher TDP of 125, an actual PL2 rating (182 watts for 56 seconds), and is Hyper-Threaded enabled which the last gen i5 and i7's were not. On paper that sounds like a great bargain for typical home users who do not use heavily threaded, processor intensive applications; PC gaming enthusiasts (as games do not typically need more than 6 cores); and over-clocking enthusiasts who will love the higher headroom.
In the coming pages we will go into further detail on what makes each of these 10th generation CPUs tick, and hopefully by the end of the review you will know which of the three processors may just be 'perfect' for your needs and budget. So without further ado… let's dive in.