$182.65
in stock
4 used from $182.65
as of October 1, 2023 8:32 am
$80.81
$87.99
in stock
2 new from $57.99
3 used from $57.41
as of October 1, 2023 8:32 am
out of stock
as of October 1, 2023 8:32 am
Last updated on October 1, 2023 8:32 am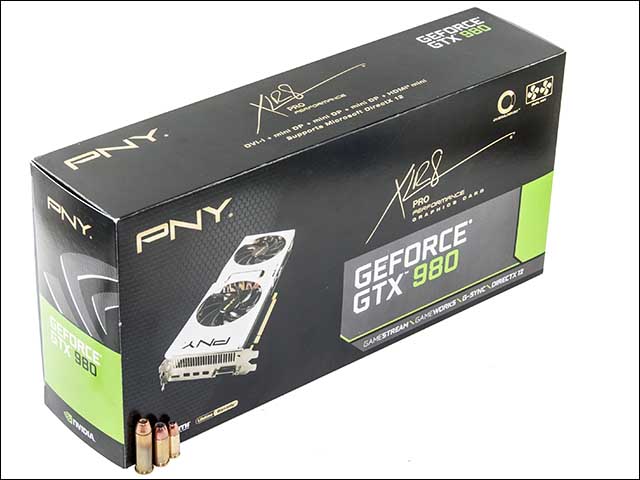 As with darn near any PNY retail shipping box, you will have to pay close attention to the actual model listed on it as the 980 Pro box looks pretty much like every other model PNY offers. The only real difference is the size – it is a touch larger, and the actual model number that's listed on the front. In the grand scheme of things this is only a minor issue as it still is a very attractive box filled with all the details you would need to make an informed purchase decision.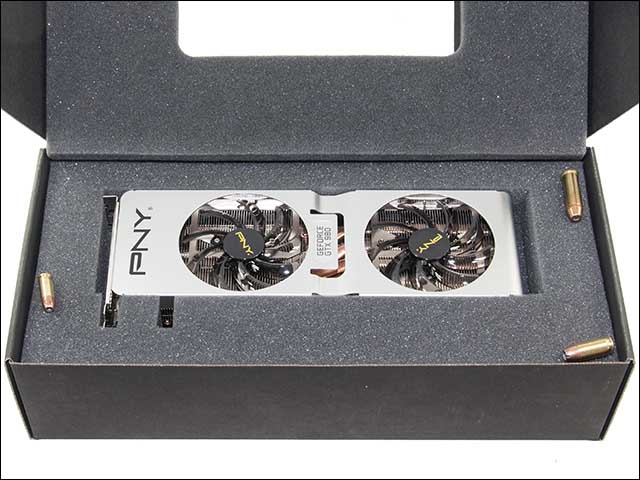 Unlike the external box the internal packaging is not the same as the reference 980. Instead of the PNY typical clear top and white bottomed plastic enclosure PNY has opted to nestle the Pro in the middle of a cocoon of foam. This level of protection reduces the chances of damage to the card while in transit to basically zero.
The included accessories may be a touch lacking compared to what XFX or ASUS include but they are still comprehensive enough to satisfy most consumers. In grand total PNY gives you a single 6pin PCI-e adapter, a single digital to analog port adapter, a quick start guide, a CD with the necessary drivers, and as a nice little bonus you get a mini-HDMI to full size HDMI adapter. This however is the exact same accessory list that the reference PNY 980 comes with. To be honest we do wish they had included a mini-DisplayPort to full size DisplayPort adapter, but given the fact that PNY only charges $30 extra for this model a certain amount of cost cutting is to be expected.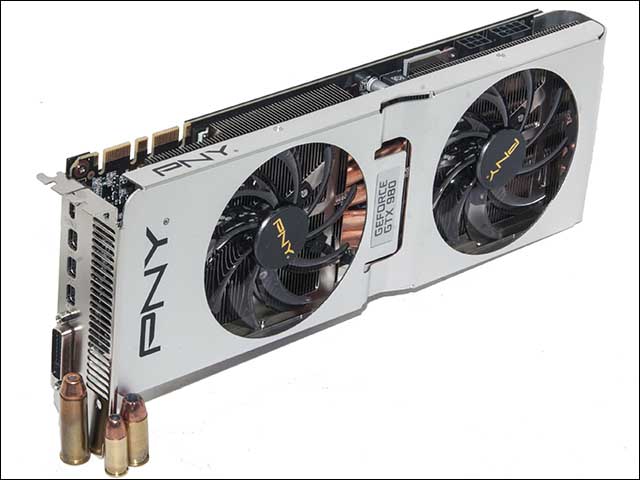 Thankfully the PNY GeForce 980 GTX Pro looks nothing like the reference PNY GeForce 980 GTX. In fact terms like 'night and day' spring to mind when looking at this sexy beast and then thinking about the reference PNY 980. That is not to say that the reference 980 is an ugly duckling, it is a solid and fairly impressive card in its own right, rather it is simply a case of the 980 Pro being so much better than the reference model. To be blunt, for thirty bucks we would pick this Pro over the reference model just for the improved aesthetics – and simply consider the other benefits of the 980 Pro to simply be a bonus.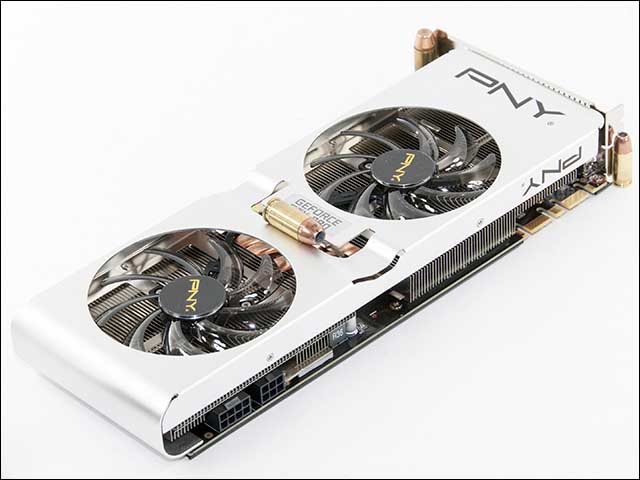 Please do not get us wrong, this card is not some Apple device where form is more important than function. Instead this cards function demanded a powerful custom cooling solution and PNY engineers obviously felt that such an impressive piece of engineering deserved an equally impressive 'dress'. The end result is a card that is not only one of the most powerful cards we have ever seen but one that can easily hold its own against the XFX Double D's and ASUS Top's of the marketplace in the looks department.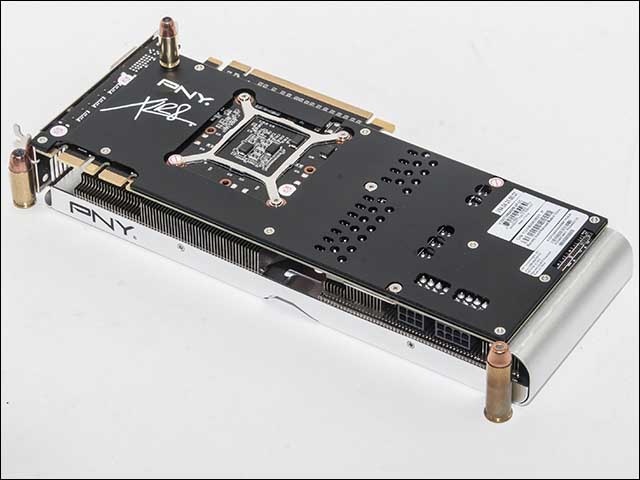 In fact PNY's use of extruded aluminum instead of plastic gives this card an even more refined and elegant look when compared to XFX plastic clad Double D. Specifically by opting for aluminum and not cheaper plastic for the fascia, they were able to create smooth clean lines that lack the seams of the XFX Double D or even Asus Top lines. Even more impressive is PNY took the time to get the little things right. In past generations PNY may have used aluminum for their fascia but they didn't take the time to roll the edge and tuck it up to the PCB. Instead they used aluminum stampings and paint. This time they have taken the time to go the extra mile and the end result is one fluid and graceful card that blends the two parts into one seamless and cohesive whole – even the back of the PCB is covered in a nice full length aluminum backplate.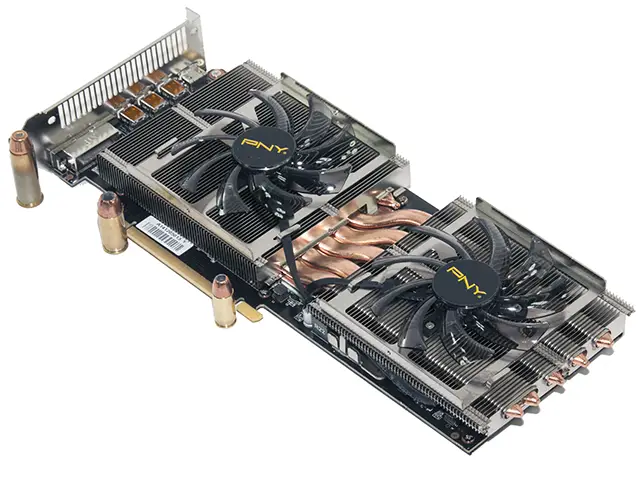 With the beautiful fascia removed we can see that PNY has reused the same custom cooling solution that graced some of their custom PNY XLR8 700 series (https://realhardwarereviews.com/pny-geforce-gtx-770-xlr8-oc2/). This certainly is not a bad thing as this cooling solution is not only capable of keeping 250 watt video cards cool, but able to keep heavily overclocked 250 watt TDP video cards cool. Since the 980 Pro only has a 180 watt TDP that is a full seventy watts of 'free' additional cooling power that can be put towards keeping the 980 Pro's overclocked components temperatures in check.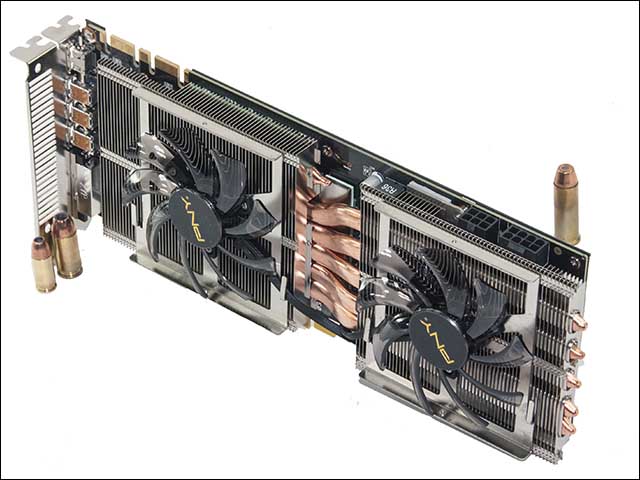 On the specifications side of the equation, what PNY has been able to create is sure to please even the most demanding of consumers. Specifically a reference (or 'stock') GeForce 980 GTX has 2048 CUDA cores that run at a base speed of 1126 which can be boosted to 1216Mhz. As we saw in previous reviews 2048 CUDA cores in conjunction with 128 texture units, and 64 Raster Operation Pipelines 'ROP' is a very potent combination. However, PNY has taken full advantage of the custom cooler and bestowed a factory overclock that has boosted base speed all the way to 1329MHz. This may not be the highest factory overclock we know of, but it still is a very impressive nine percent factory overclock on the Maxwell processor!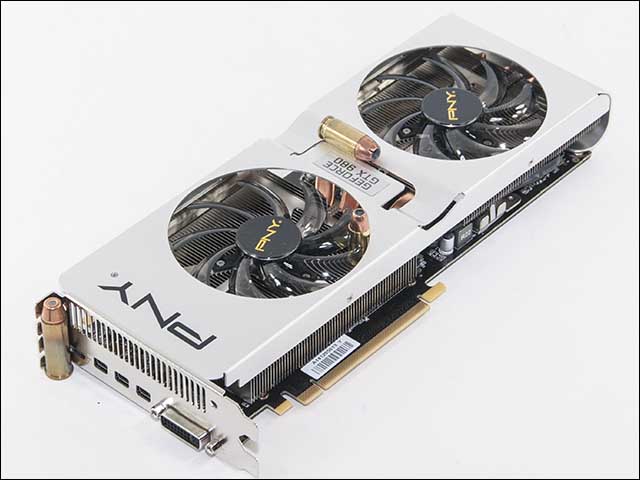 Equally important is that they have factory overclocked the RAM to 7200MHz from 7010MHz. This may only seem like a minor – 2.7% – improvement, but it should help in memory bandwidth intensive tasks. As bonus it also leaves room for consumers to play with their 980 Pro and overclock the overclock. To help you do precisely that PNY has used an improved power delivery subsystem that consists of an all-digital 6 phase design with another two phases dedicated to the memory.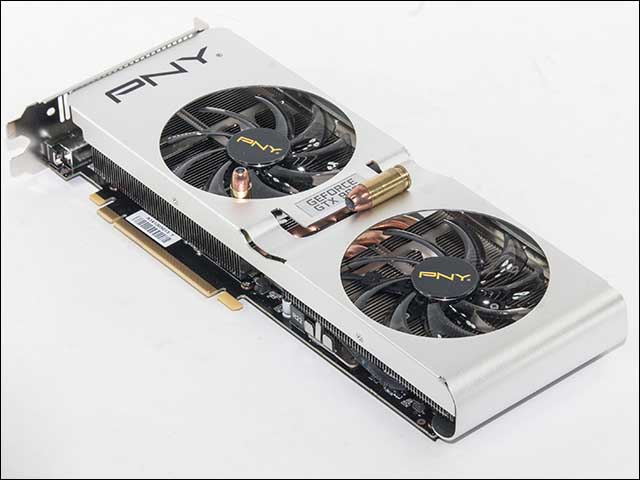 On paper this may not sound as impressive as what some ASUS or XFX cards use, but the components PNY uses are greatly improved over their already very good 7 series counterparts. In fact PNY promises a 30% boost in current capacity over what their 7 series used. Considering most 980 cores run into NVIDIA's self-imposed maximum current 'wall' long before the power delivery subsystem fails to delivery stable power we have no doubts about the abilities of the 980 Pro to deliver clean stable power.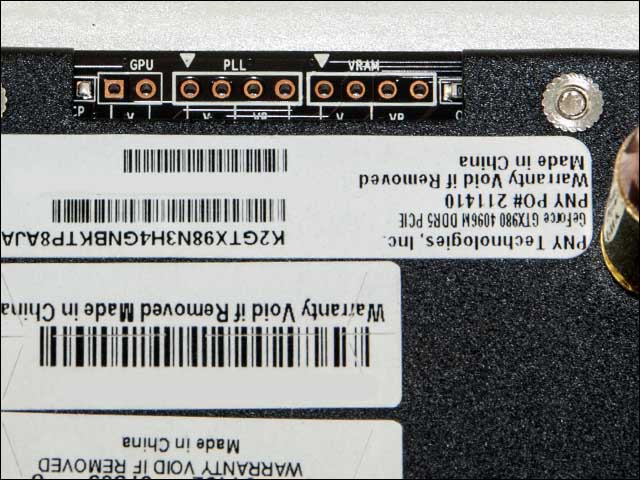 If at any time you doubt the cards abilities to deliver stable power PNY has included voltage read contact on the corner of the PCB. Simply touch the proper contacts with a voltmeter and presto instant real-time feedback on what is exactly being fed to the various parts of the 980 Pro.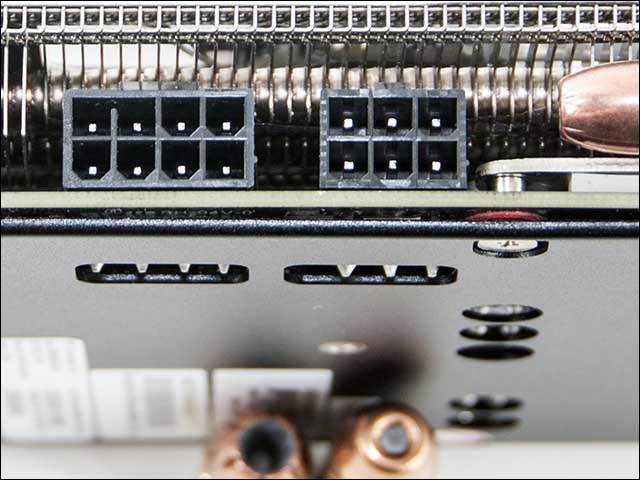 To further help ensure that enough power is on tap, PNY has opted for a single 6-pin and a single 8-pin power inputs rather than just two 6-pin ports like reference models use. Considering this model only has a 15 watt TDP increase this is overkill – and points towards PNY knowing that most 980 Pro customers will simply use the factory overclock as their starting point.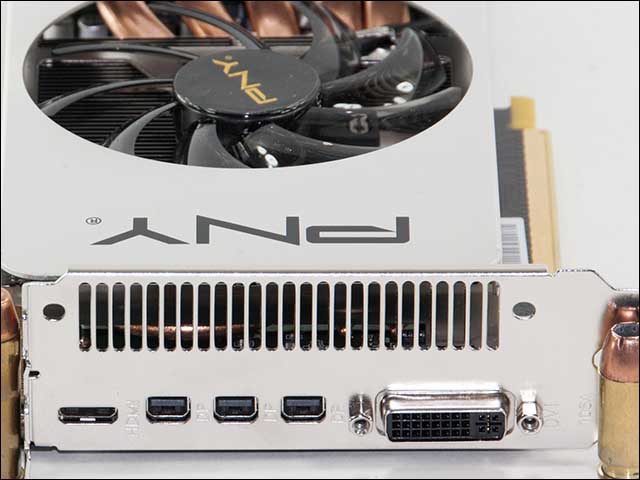 Where this card is a fully custom GeForce 980 it comes as no surprise to see that the input selection is also different than its reference counterparts. With a reference design, consumers get one full sized HDMI port, one DVI port, and three DisplayPort ports; however in order to offer full sized ports that meant the second rows cooling slits were nearly halved in number. Instead of compromising the cooling potential, PNY has instead opted for mini versions for ever port they could on their 980 Pro models. This compromise allows all the connectors to fit on one row, leaving the entire top row available for exhaust cutouts. In other words you get a mini-HDMI port, a full sized DVI port, but you will need to purchase adapters to use the three DisplayPort. However in return for this compromise you get lot more of the heat exhausted out the back of the case.