$214.99
$369.99
in stock
4 new from $214.99
4 used from $182.65
as of December 5, 2023 2:52 pm
$65.99
$87.99
in stock
3 new from $65.99
1 used from $60.71
as of December 5, 2023 2:52 pm
out of stock
as of December 5, 2023 2:52 pm
Last updated on December 5, 2023 2:52 pm
In an effort to make sorting through all the results as easy as possible we have combined the results all of all the game results into an easy to digest summary format. By comparing the PNY GeForce GTX 980 Pro to similar products in all the games you will be able to easily find the game(s) you are interested in, see the improvement and decide if the PNY GeForce GTX 980 Pro is the worth the investment.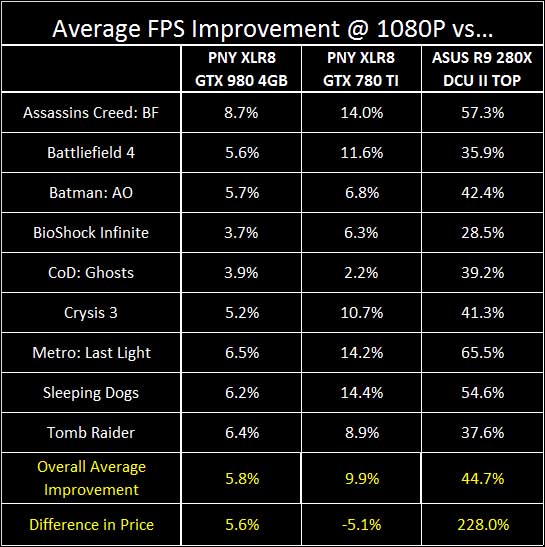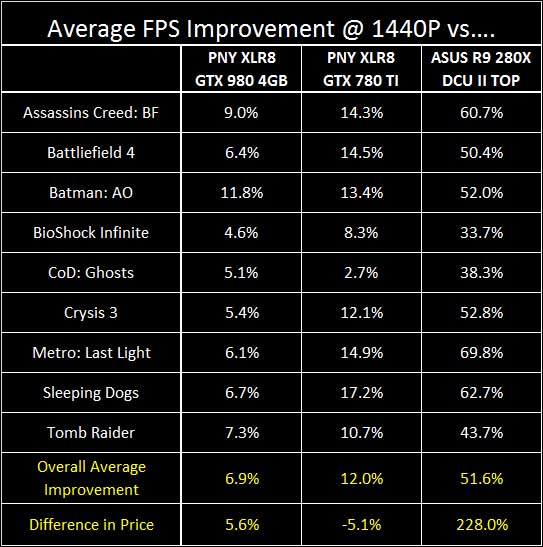 The PNY 980 Pro is the very epitome of what a high end custom card should be. In fact it is what every reference GeForce GTX 980 hopes to be when it grows up. It simply is a stunning performer that is also an amazing value*.
*for its class
PNY XLR8 GTX 980 Pro – Score Card and Summary
Packaging & Accessories:7 out of 10
The shipping container and accessories are classic PNY XLR8'er. That is to say it is decent bordering on above average. The same can be said of the included accessories – decent if not stellar. However the lifetime warranty and foam internal protection does push the PNY 980 Pro up a level and we have very few things to nitpick on this front.
Functionality & Aesthetics: 19 out of 20
Thanks to its excellent custom heatsink this card is not only a beautiful performer, it is also a beautiful card. In fact we prefer its good looks over the Double D and TOP designs.
Build Quality & Warranty: 18 out of 20
This card looks gorgeous, performs very well and is built like a custom hot rod. When you mix in a lifetime warranty there is not much to complain about on this front.
Performance: 28 out of 30
A stock GeForce GTX 980 is a very powerful card, yet a highly overclocked GeForce GTX 980 is phenomenal. Without a doubt this level of performance is what all 980's should have come with when NVIDIA released the 980 series.
Value: 18 out of 20
Yes this card is expensive and yet the amount of value it offers consumers is simply astounding. For $30 more consumers get better acoustics, a great factory overclocking, a drop dead gorgeous design, and yes still even get a lifetime warranty. What more could you ask for from a $30 investment?!
Final Score: 90 out of 100
This card really is the full package, and while it may require you selling a lot of blood, and maybe even a kidney, it easily justifies its asking price – and then some. In one quick, decisive move PNY has signaled the death knell of 'reference' 980 cards – as there is simply no good reason to save the minor amount of cash. Beauty, brains, and value, what more could you want from you next high end performance video card?!