$129.00
in stock
8 used from $107.00
as of December 7, 2023 4:12 pm
$249.99
in stock
3 new from $249.99
9 used from $121.00
as of December 7, 2023 4:12 pm
$199.66
in stock
2 new from $199.66
as of December 7, 2023 4:12 pm
Last updated on December 7, 2023 4:12 pm
 Recently we had the opportunity to use the MSI 960 Gaming 2 to help test the MSI 970 Krait edition motherboard, and walked away very interested in what MSI had done to the GTX 960 platform. While there is no denying that 960 Gaming 2 is no MSI 980Ti Gaming 6 video card it did prove to be very potent and worthy of its own separate review.
Some of our keen interest in seeing what it can do is because MSI has not only factory overclocked the GM-206 core, but they have also used a very powerful version of the Twin Frozr V heatsink. As the 980Ti Gaming 6 is proof, such a combination is extremely powerful and yet extremely mild mannered. Some is because the MSI 960 Gaming 2 only costs $215, and can fit within nearly anyone's budget; but mostly it is just because it was just so good on a rather low powered system that we had to see how it stacked up against the likes of the PNY 960 Elite OC on our usual testbed.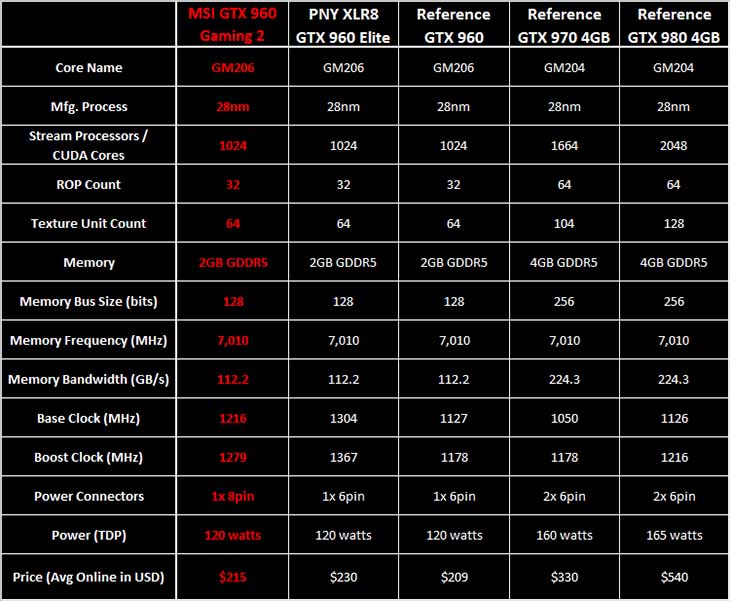 As we stated in that review, a stock NVIDIA GeForce GTX 960 is a rather mediocre card, however with a healthy dose of overclocking magic really does happen. Of course, one question we could not answer in the 960 Elite OC review is how much overclocking is needed to really get good performance out of the GM-206 core. Thanks to MSI and their 960 Gaming 2 we can answer precisely that as we also answer the main question on what consists a good value.
We will be able to do both because technically the MSI 960 Gaming 2 is clocked lower than the PNY Elite OC 2G. Instead of a factory overclock of 1304/1367, it is 'only' clocked to 1216/1279 – or nearly %7 lower. Of course compared to stock GTX 960 settings of 1127/1178 a 8.6% factory overclock is still rather impressive. It will however show us what levels of factory overclocking are needed to turn a 960 into real competition for AMD. Mix in a lower asking price of $215 vs the PNY 960 Elite OC's $230- or only six dollars more than a reference 960's $209, and you can see how the MSI Gaming 2 has the most potential for being the best value we have ever seen. So without further ado lets see how this bad boy can live up to its potential.