Last updated on September 29, 2023 9:13 am
Wouldn't it be great if we all could afford a GAMING 9 ACK X99 motherboard, loaded with 64GB of DDR4-3000 RAM, and two monster MSI GeForce GTX 980Ti Gaming 6G cards in SLI. That's the kind of gaming system that dreams are made of. Too bad most of us will never afford such a hardcore system filled with those wonderful pieces of engineering.
For the rest of us budget plays a big part in our decisions and these days everyone is looking for the best use they can find for their hard earned money – regardless of budget. Sometimes this means determining the best value option that you can afford; rather than the best option you want.
The holy trinity for most budget PC gaming enthusiasts is a system that is not only reasonably priced, but is as potent out of gaming scenarios as it is in. This is because such consumers do not have the luxury of just building a system for gaming, and rather it has to be able to do double duty as a daily use system. To accomplish this, the systems motherboard must offer a good selection of gaming and non-gaming abilities, features, and do all this without breaking a tight budget.
[youtube
https://www.youtube.com/watch?v=jojAeMms27k[/youtube
Today we will be looking at one of the key components to creating such a system: the motherboard. Specifically we will be looking at the MSI 970A SLI Krait to see if it is indeed capable of being the foundation upon which an excellent, but not overly expensive, gaming system can be built.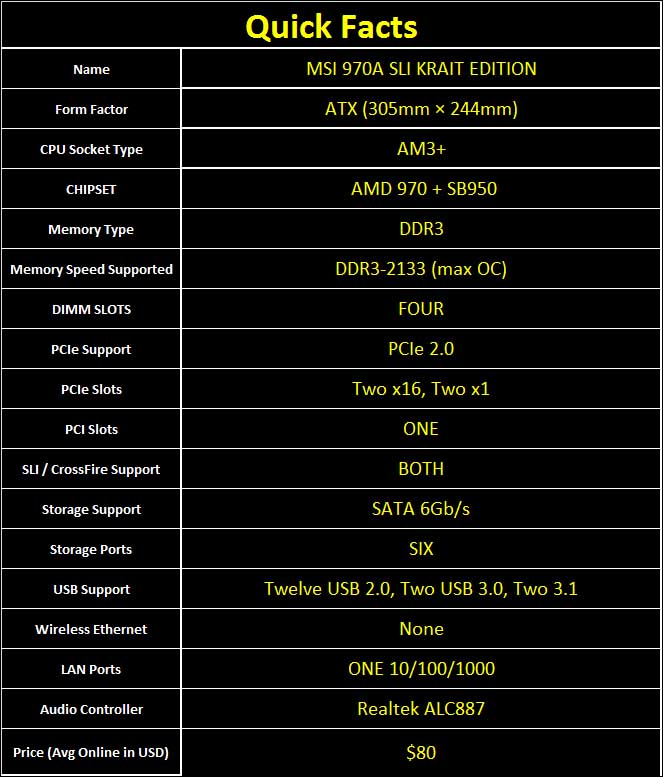 With an online asking price of only $80 even the most budget constrained consumer should be able to find room in their budget for the MSI 970A SLI Krait motherboard. With a few other judicious cost saving choices in theory consumers can not only afford a very decent daily use system, but a down right kick ass gaming system.
To see if this indeed possible we will be creating two similarly priced systems. System one would be the typical 'budget' gaming system that we have built many, many times: an AMD FX-8350 CPU, a MSI 970 Gaming motherboard, and a NVIDIA GeForce GTX 970 video card. Such a combination will set you back about $650 – depending on which GeForce GTX 970 you opt for (we used a factory overclocked EVGA SSC ACX 2.0). System B will be the MSI 970 KRAIT motherboard, AMD FX8320e CPU, and two factory overclocked GeForce GTX 960 video cards. This too will set you back about $650 – depending on which 960s you opt for. In our case we opted for a MSI Gaming 960 2G and a PNY 960 Elite OC 2G – however we clocked both the same.
Since most truly budget system reuse as many parts as possible – and to reduce the variables- the power supply, DDR3 RAM modules, storage and all other parts will be the exact same for each system. That is to say we will be reusing our Corsair PSU, G.Skill Trident 2133 8GB RAM, and Intel 720 240GB SSD. These parts are indeed overkill but will not impact one system's performance more than the other.
We know from experience that 'System A' is an excellent all round system that may not excel in any one area, but will provide customers with years of enjoyment. 'System B' on the other hand appears to be even more potent as consumers still get a fast '8-core' processor, but also get a motherboard that offers advanced features such as USB 3.1, an electronically separated onboard sound solution, and even a color scheme that belies the impressively anemic asking price. However is the MSI 970 SLI Krait really a good choice, or is it case of theory not matching reality. That is what we intend to find out today. So sit back, relax and watch us find out what about $650 really can buy you these days.