$279.99
$299.99
in stock
8 new from $279.99
as of December 7, 2023 7:42 pm
$189.99
in stock
as of December 7, 2023 7:42 pm
$279.99
in stock
11 new from $235.00
as of December 7, 2023 7:42 pm
Last updated on December 7, 2023 7:42 pm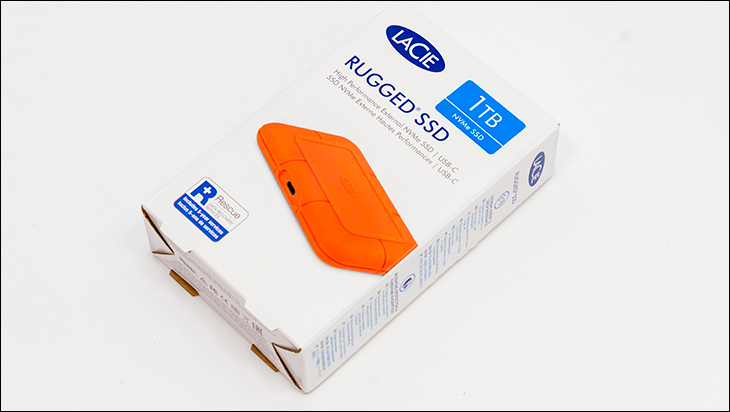 Since LaCie became part of the Seagate family one could accuse LaCie becoming a bit more conservative in the shipping container department. This is not necessarily a bad thing, as people could accuse Seagate of becoming less conservative due to the LaCie influence, but if you were to place this box right next a Seagate Touch series box (for example) it would be rather easy to confuse the two of them. That is not a good thing. On the positive side it is attractive and does provide both a good list of details and a nice picture of the LaCie Rugged SSD drive housed inside.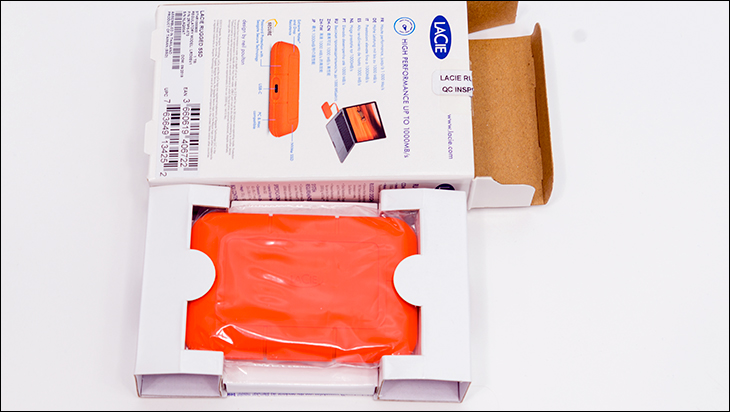 In either case, no one can accuse LaCie of skimping on the protection its shipping containers offer. Much like the recently reviewed Seagate One Touch SSD, the LaCie Rugged SSD floats in the middle of a cardboard inner box that allows the Rugged SSD to literally float free from worry or care… which is a bit ironic considering this is a LaCie Rugged series device.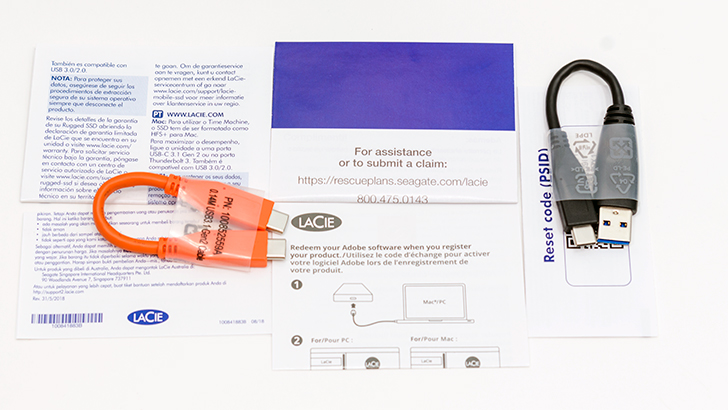 Which makes for a good segue… but first the included accessories. The accessories underscore LaCie's unique point of view and thinking. Of course, the typical accessory bases are nicely covered (installation pamphlet and USB cables) but instead of just including one Type-C cable and calling it a day, or even including an adapter, LaCie includes two different USB cables. The orange is a Type-C to Type-C and the black is a Type-C to Type-A. We must admit we do like this compared to the typical (but nifty) Type-C to Type-A adapter sometimes included… as there is less chance of transmission errors. With most USB devices an adapter is more than good enough but this device will saturate a USB 3.1 gen 2 bus all on its own… and even small errors could cost real-world performance. The only nit pick is these cables are short. So short you will not be able to wrap them around the Rugged SSD – even if the strategic latitudinal and longitudinal cuts in the Rugged SSD' rubber would lead you to believe that is what the design team intended.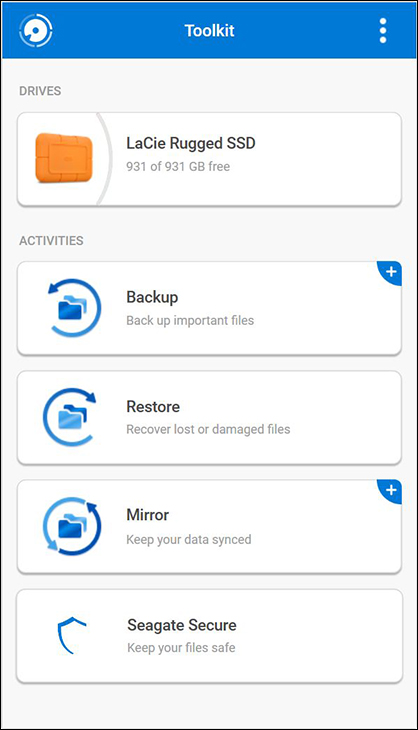 Not included in the box, but included with each sale of a LaCie Rugged SSD is Seagate's legendary Data Rescue Plan. Unlike some models, this bad boy not only boasts a full five-year warranty but also a full five years of Data Recovery included for free. The only fly in the ointment is that it is good for only one free in-lab recovery (after that you have to buy a new plan on your own dime). Mix in a free one-month complimentary membership to Adobe Creative Cloud All Apps Plan (MSRP of $53) and the Rugged SSD certainly comes with an excellent assortment of software accessories.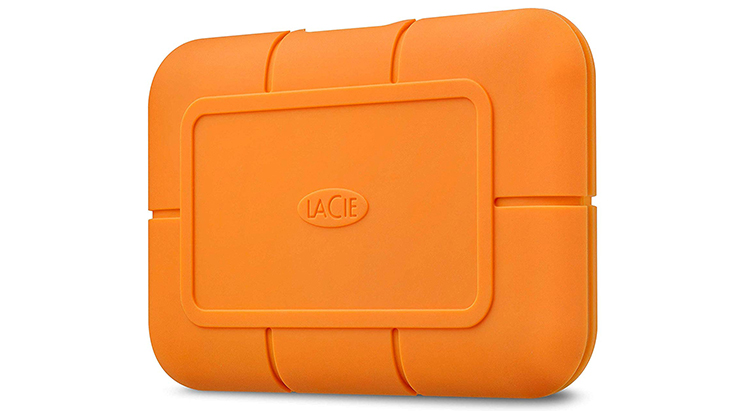 LaCie made its bones on its practical and uber robust designs. Even back during the hard disk drive era of portable devices LaCie figured out how to protect them well beyond what was thought practical or even possible. With the advent of Solid State Drives LaCie has not lost focus. They don't rely on the more rugged characteristics of SSDs to get the job done, instead they simply have upgraded their original formula for a new ear.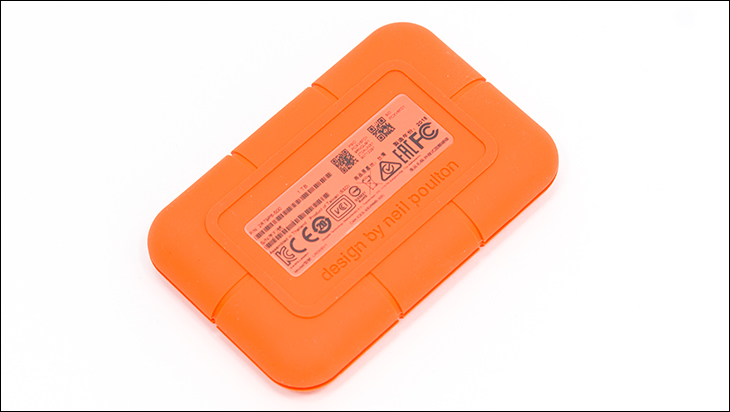 This refinement is why the rubber coating may not be as thick as the rubber (baby bumpers) that early gen LaCie external drives came clad in, but it does provide a high level of protection. In the LaCie SSD series instance, this coating (combined with a sealed chassis) allows it to boast IP67 certification. This means it is water resistant to X meters, and is basically dust proof. Now the reason it doesn't have a IP68 is because it does not come with a silicon cap for the recessed USB Type-C port (like some other LaCie models come with – e.g. LaCie BOSS)… and the itty-bitty Type-C port is what water will eventually use as a entrance to get into the internals. So don't go deep sea fishing with it.
Technically it can survive being run over a 1-ton car, but if you do this it will beat the ever-loving hell out of the rubber. So please do not try this just because you can. The same goes for the 3-meter drop protection. It will survive… but if it bounces (and based on previous experience with LaCie drives it will bounce) expect the rubber to be scrapped, dinged and look like it went through a war. Once again these are features that are nice to have, and will give you peace of mind… but do not test it. Wait for Mr. Murphy to crash your party as 'he' will do it for you.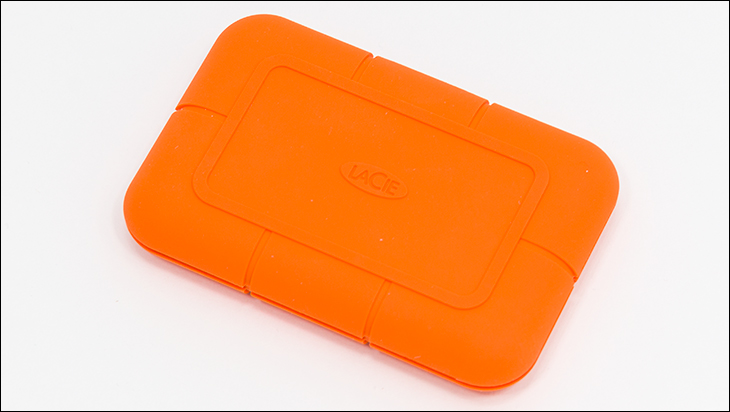 Beyond a 'missing' cap the only way to make this device even more robust would to have made it float or given it fire protection. Each of which are extremely niche requirements and would not have really done much real world good, but would have noticeably increased the asking price.
The downside to this rubberized coating is three-fold. Firstly is the color. Hunter orange is… "an acquired taste" if you are not a hunter. It however is very attention getting… so this rather compact device will not get lost on your desk. You will see if from across a room. It will get stares. People will ask you about it.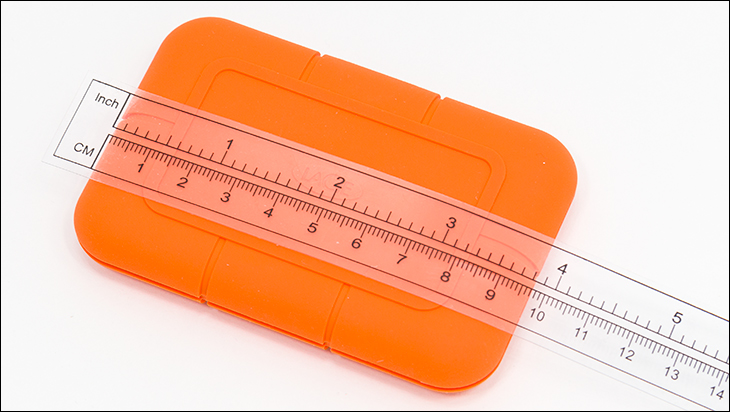 The second is the dimensions are increased due to the moderately thick coating. To be precise this model is nearly 9.8CM long by nearly 6.5CM wide by 1.7CM tall. This is technically smaller than Crucial X8 (~12.8CM by ~9.2CM by ~2.4 CM) and is narrower than a LaCie Mobile SSD (9.9CM by 7.8CM) but is taller than it needs be. Seventeen millimeters may not sound all that thick, but it is chunky compared to 10mm(ish) M.2 to USB adapters and some other LaCie non-IP certified models. The last issue with this coating… is it is a lint magnet. LaCie silicon rubber has always had a reputation for picking up every errant dust particle within a ten foot radius and the Rugged SSD is no exception. Of course, it is water resistant so it is very easy to clean.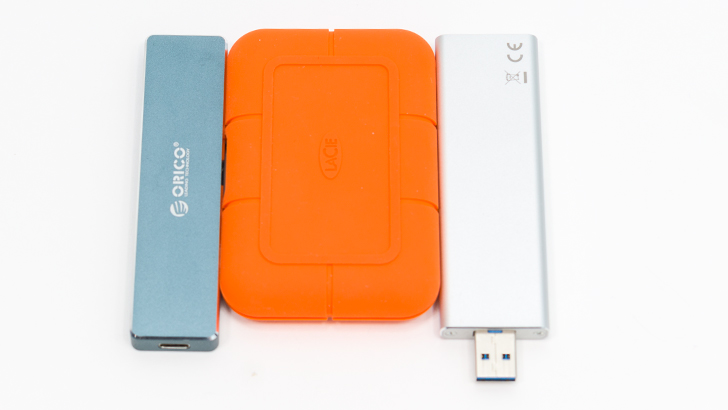 Also on the positive side, is even though this is an uber-robust design the Rugged SSD actually weighs less than most M.2 to USB models. For example, the Crucial X8 (no slouch in the ease of carry department) is a full 48grams heavier than the Rugged SSD (148 vs 100g). No matter how good the rubber coating is, no matter how much smaller it is… that is a large difference to say the least. On first blush one would think that this is because LaCie cut corners somewhere else. Namely, where people could not see it.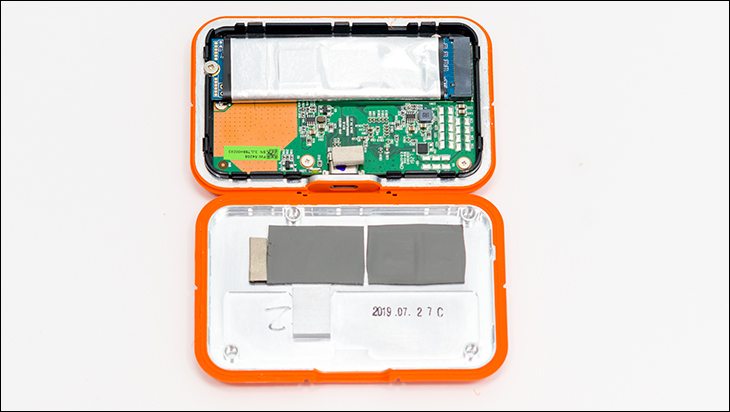 The reality is once you shuck open this oyster (if you are able to that is) you will see that the internals are even better thought-out than the exterior.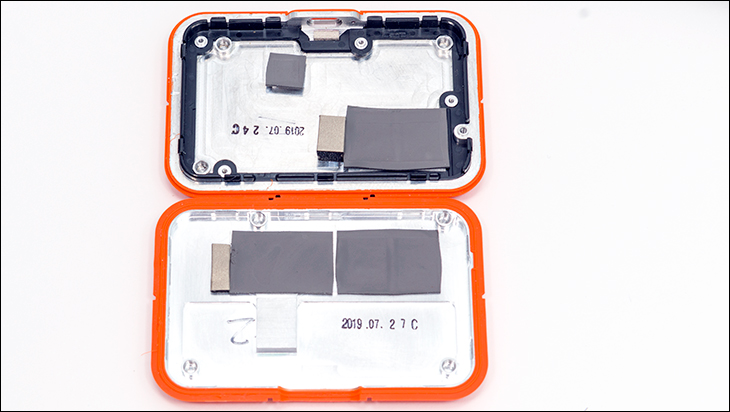 First is the CNC machining that allowed LaCie to integrate multiple contact points with the internals. These contact points (via heat pads) turns the entire aluminum chassis (hidden underneath the bonded rubber) in to a heat spreader. To be precise both sides of the Seagate FireCuda M.2 drive are connected directly to the metal, and so to is the JMicron JMS583 controller.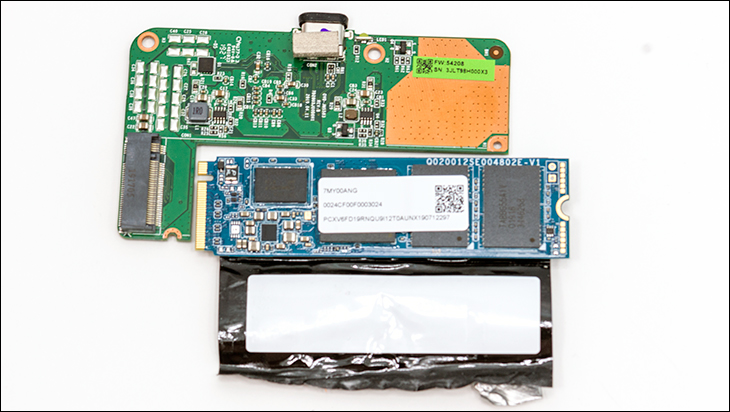 Unless you full remove the components from the chassis being able to actively connect both sides of the FireCuda double-sided M.2 drive seems like a cheat. For example, in M.2 to USB adapters this usually is 'accomplished' (and we use that term loosely) by infusing the M.2 port and PCIe to USB bridge controller's PCB with copper and using that has a transfer medium. LaCie has not done that. Instead they made this PCB an L shape with the M.2 Port hanging off into fresh air. This shaves quite a few grams of weight and allowed free and clear access to both sides of the M.2 drive. So much so this FireCuda will run cooler than many installed in a PC. Now this is how you properly design an adapter board.
Overall, the LaCie Rugged SSD does not appear to cut many corners. An excellent design with excellent execution backstopped by a very good USB 3.1 gen 2 bridge and a great TLC NAND based M.2 drive is a winner. So much so we could easily see ourselves getting over the hunter orange color.