Last updated on September 29, 2023 10:43 am
Recently we have taken a long, hard look at two different takes on 'all in one' docks. Both the LaCie 1Big Dock and Seagate FireCuda Gaming Dock both made very good cases for why mainstream and even (some) professionals should be taking a long hard look at them. One thing though is both were not really targeted with the true professional in mind. Professionals have radically different needs, wants, and desires from typical home users and they use their devices in radically different ways than most. This specific corner of the marketplace is what the LaCie 1Big Dock SSD Pro enters the equation.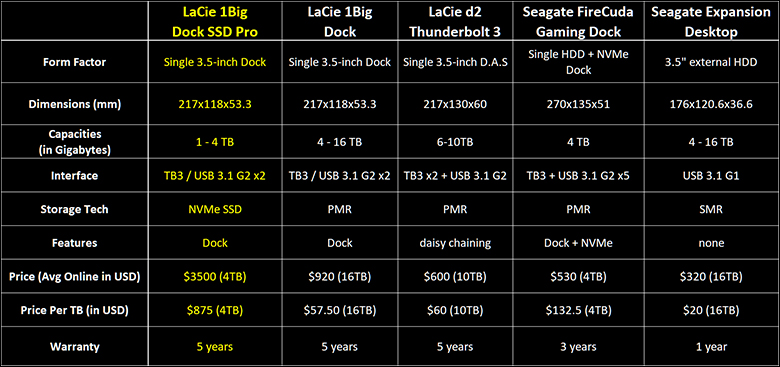 As the name suggests, the LaCie 1Big Dock SSD Pro is meant for professionals. Professionals who need storage solutions that can not only handle but thrive under the unique demands that pro's place on their hardware. This means durability is paramount. This mean performance has to be insanely high to handle 4K and even 8K media encoding and have the capacity to laugh at days' worth of recordings. It means combining as many parts into one as possible – as there is never enough room in a go bag for a passel of parts.
On paper the LaCie 1Big Dock SSD Pro seems to tick all the right boxes for professionals. Where it uses the LaCie 1Big Dock as its foundation there should be few (if any) concerns over durability as the 1Big Dock series is built like a main battle tank. For performance demands, the combination of a blazing fast FireCuda NVMe solid state drive with upwards of 4TB of capacity should cover both capacity and performance requirements. With an integrated card reader that offers CFast, CFexpress and SD-UHS II ports the consolidation part of the equation also appears to be covered much more optimally than the standard 1Big Dock series.
Of course, with an asking price of $1819 for the 2TB, and a hefty $3539 (USD) for the 4TB variant reviewed today it has to tick all the boxes. Professionals typically do not prioritize price over performance, but there are limits to what they will tolerate. So, can the LaCie 1Big Dock SSD Pro justify its asking price? Or is this more of a halo product that few will actually be interested in? Let's find out.