Last updated on December 6, 2023 7:12 pm
As we made passing mention in the recent LaCie 1Big Dock SSD Pro review LaCie has been making external storage solutions for the professional and/or prosumer market for quite some time now. These devices are not meant to be standalone 'all in one' solutions like the 'Dock' series. Instead they are meant to do one thing and one thing only: offer massive, easy to use, easier to upgrade, external storage for people who need both capacity and performance. These models go under the heading of 'xBig' and depending on the model you are interested in offer two (2Big), five (5Big), six (6Big) or even <twelve (12Big) hard disk drive bays in a RAID capable Direct Attach Storage solution. Today we will be looking at the smallest, and arguably most versatile, of the xBig series: the 2Big RAID. Specifically, the 2Big RAID 16TB capacity version.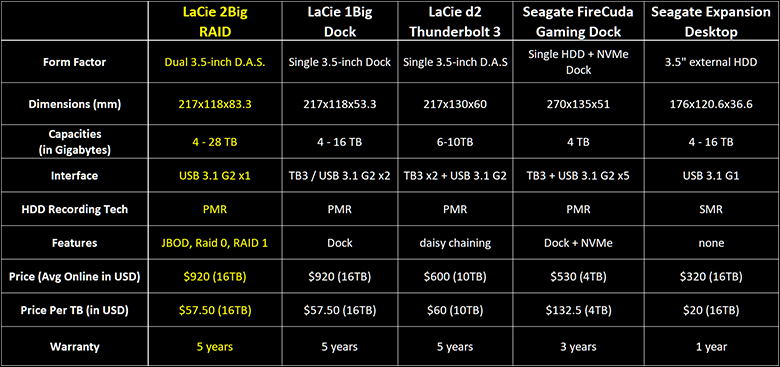 With an asking price of about $920 this particular variant is costly, and yet not so far outside of most budgets to be considered unreasonable – as it is the same as what a 1Big Dock 16TB costs. In fact, for what it has to offer it may just be a Siren Song for professionals looking to boost capacity to go along with their 1Big Dock SSD Pro (and why we made mention of such a combination in that review).
First and foremost is when you buy a 2Big RAID you will be getting two of the best Direct Attach Storage (DAS) drives you can buy: the Seagate IronWolf Pro series. In the 16TB capacity version this (obviously) means two 8TB IronWolf Pro's (which will hit over 240MB/s and stay above 110MB/s for the entirety of their capacity… regardless of RAID configuration). Better still, these drives are going to be actively cooled via a 60mm Noctua FLX fan – which is both reasonably quite and will keep the drives cool. Next, you get access to RAID 0 (for shear speed), RAID 1 (for redundancy), and even Just A Bunch Of Disks (aka JBOD for independent dual drive goodness). With a USB 3.1 gen 2 (aka SuperSpeed USB 10Gbps) the 2Big will 'just work' on nearly any PC. Most importantly of all, you get a device that may be taller than your 1Big Dock model… but compliments its aesthetics like no other 2bay DAS can do.
On the surface that certainly is a lot to like, but of course you can find 2 bay DAS enclosures just about anywhere these days. As such the main question any professional is going to have before spending a dime on a 2Big model is simple: what does it offer that other '3rd party' manufactures cannot? Let's find out.