Last updated on December 7, 2023 8:42 pm
Overall there really is not much bad to say about the Alloy FPS Pro. We used this keyboard for two solid weeks and in that time very few quirks came to light. The first quirk is it is a TKL keyboard so if you have never used one before you will find yourself reaching for the number pad… and trying to type on your desk. This is not the fault of the Alloy FPS Pro, nor any TKL keyboard for that matter, it just is what it is. It just will take a little getting used to.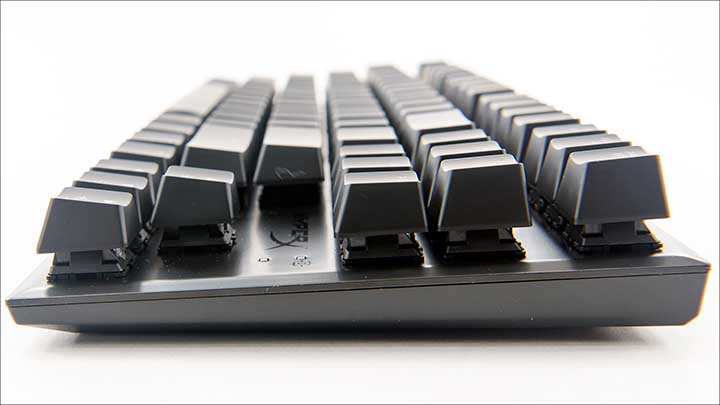 The next quirk that may or may not be noteworthy is due to the MX Red key switch used on our sample, or more precisely the lack of feedback when it is engaged. If you have never used a mechanical keyboard in the past you may want to think twice before choosing red over brown. Without any feedback you will bottom out the keys and this will create more noise. In this department the sound it makes is edging towards the hollow thud than the solid thud we have come to associate with out Cherry keyboards. This is because the back plate is a little thinner than on more expensive mech 'boards and this allows a certain amount of flexing. This flexing does change the noise profile of the Alloy FPS Pro and is a tad more annoying to our ears. It certainly is possible that we have simply gotten inured to the sound a 'proper' keyboard makes as we mash the buttons as hard and as fast as possible. If you are a more delicate typist you may in fact never hear this sound. For the typical buyer we do recommend doing what we do to every Cherry based Keyboard we have ever used for more than a day: spend 5 dollars on Amazon for a set of O-ring dampeners. This not only reduces the noise but actually makes typing for hours and hours a lot less fatiguing than it otherwise would be.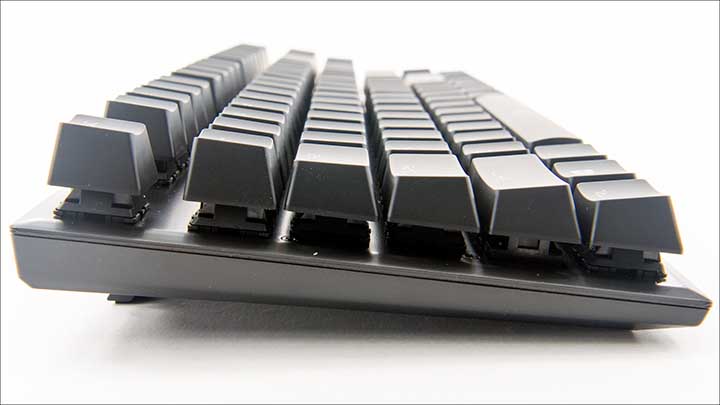 In this regards the gentle slope of the ABS plastic key caps backstopped by O-ring dampeners that are then packaged into an amazingly low profile keyboard is a winning one. The HyperX Alloy FPS Pro is a true joy to use. So much so that we actually prefer typing on this keyboard rather than our older Cherry MX-Board 3.0 (that also has O-rings installed). That is how good this HyperX board is… as we consider Chery to the standard upon which all other keyboards are judged (with some being better but most not).
The only other issue is the lack of dedicated multimedia keys. We can live without a number pad, as we have used TKL's in the past, but HyperX may wish to consider a slightly larger footprint so as to make room for even more value added features. Features such as a dedicated volume up/down wheel. Beyond that we did not find the single color backlight to be a handicap beyond the usual glow that always occurs with 'floating key' designs. Even then by simply lowering the light intensity made it more than acceptable and we double most will care about the extra light leakage. In this regards we think the HyperX is easily as good as the Ducky Shine series, but once again that is comparing RGB abilities to a single color. As such you may feel differently.
Overall we like this keyboard a lot and would have zero problems using it as our main keyboard.