Last updated on December 7, 2023 8:42 pm
While there are many, many free programs that allow you to test and record your typing speed the ARTypist Typing Test is one of the better ones. This is because it randomly grabs paragraphs from Wikipedia for its test. Every time you run it the test will be different and the test content will make sense – no one randomly types gibberish. In the past we have found it to be a very accurate benchmark that will give you a good idea of your speed.
Equally important, this online test not only records your speed in WPM but gives you your accuracy in a percentage format. To ensure that the randomness of this test did not negatively skew the results we have run the test ten times and average the results. This is what we found: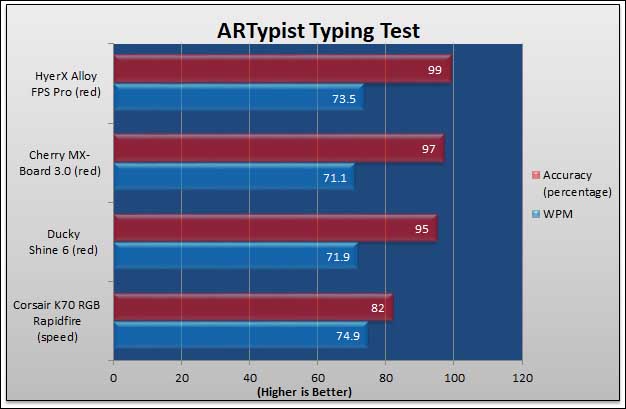 As you can see this is a rather fast keyboard, however it is not just fast, it is also accurate. This is the combination we always look for when thinking about adding a new mech-board to our collection. As speed without accuracy is useless, but so too is accuracy without speed. It is for this reason we consider the Alloy FPS Pro to be an excellent example of what can be obtained without spending a fortune. Color us impressed.