$41.28
$44.99
in stock
27 new from $41.28
2 used from $27.96
as of November 30, 2023 4:13 pm
$42.64
$52.38
in stock
4 new from $42.64
as of November 30, 2023 4:13 pm
Last updated on November 30, 2023 4:13 pm
It certainly has been a hot minute since we last looked at Cooler Master and their cult-classic Hyper 212 series. We say "cult classic" as there are only a handful of CPU coolers that have been offered for over a decade and are still being recommended to novices. Year. After. Year. After. Year. Make no mistake, the "Hyper 212" that we first reviewed back in ~2009 may share a similar name to later iterations, but this is a series that Cooler Master has regularly refined, refreshed, and even modernized. All to keep it fresh enough to compete in one of the most heavily contested corners of the market: the entry level / value orientated marketplace. In keeping with this commitment to the cooling community Cooler Master has, once again, recently refreshed their Hyper 212 blueprint and released the Hyper 212 Halo Black and the Halo White editions. As their name suggests one comes clad in black and the other in white, but beyond color they are the same CPU cooling solution. Today we will be looking at the black edition.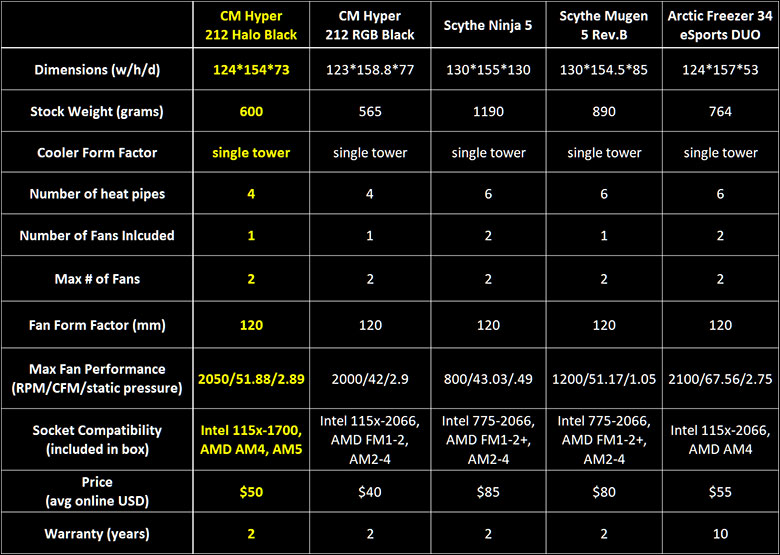 This new addition to the "212" family helps shore up a few of the shortcomings that more advanced system builders had with this value oriented series. Namely, its aesthetics. The OG 212+ was a thin hunk of nekkid aluminum that came with a fan that could be best described as 'adequate'. Yes, this combination was 'good enough' for a veritable ton of builds back in the ye olden days. It was actually used in so many that one could make a great argument that the Hyper 212 series is what brought Heatpipe Direct Touch technology to the masses… but it certainly never would win any beauty pageants. Especially by modern standards and tastes.
This shortcoming was eventually nullified via the release of a "RGB" and "Evo" editions and then a "Black Edition" (that coated the aluminum in a black coating of paint), and then via an RGB Black Edition. Sadly… the fan those models used were still best described as 'OK'. Not great. Not terrible. Just okay. With the release of the Cooler Master Hyper 212 Halo Black Edition Cooler Master may just have finally gotten the blueprint perfected… as the new fan not only offers RGB LEDs, and is also pitch black, but promises to perform better than any previous 212 to date.
On paper all that sounds great. We all love seeing a series that was many an enthusiasts first introduction to 'aftermarket' cooling solutions get some much needed love. Sadly, over the years the 212's feature creep has come at the cost of price creep. Back in '09 a Hyper 212+ could be picked up for about twenty-five bucks (USD) when on sale and about $30 (USD) when one did not plan a build ahead of time and had to pay full retail. Fast forward to the 2019 Black Edition and the price had creeped up to $40-45 (USD)… and today and one can expect to spend about $50 USD for this Halo Black variant. That price creep unfortunately means it has to perform better than any 212 predecessor lest it lose the one key feature that made this series special in the first place: the overall value. After all, newer and hungrier companies like DeepCool and their "AK" series, offer a… well… clone of the 212 for less than Cooler Master version. For example, DeepCool's premium single fan edition (aka "AK400 Zero Dark") goes for $40-45. That may not sound like much of a savings, but on a value build every penny matters. So let's see if this new breed of '212 can not only hold off the competition but continue the legacy of value that the Hyper 212 series is famous for.