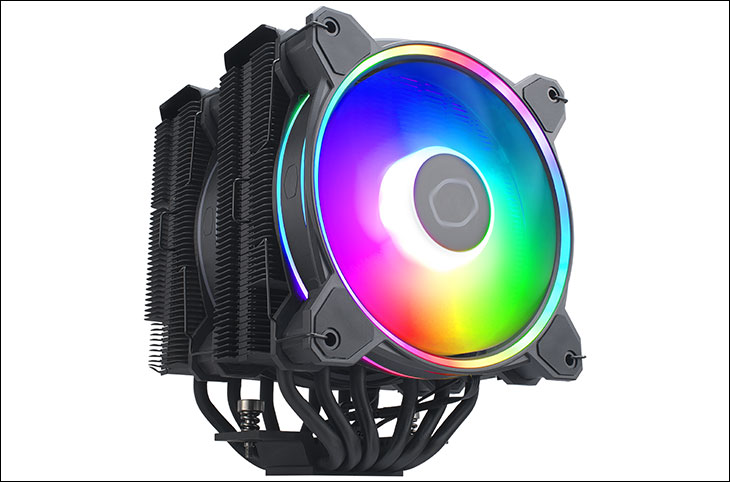 One the main reasons dual 120mm air-based cooling solution exist is because the even larger dual 140mm dual tower options (NH-D15, DarkRock Pro, etc.) will simply not fit inside many of the smaller mid-sized PC cases available today. Usually due to just a few millimeters of 'extra' height in the cooler versus what the case can accommodate. Which is frustrating to say the least. While it is technically possible to make a slightly smaller 140mm dual tower solution, the easiest is solution is to swap out the 140mm cooling array(s) for 120mm(ish) versions. Thus, allowing a dual tower solution that can offer most of what a 140 can, but at the same time skirt right up to that magic 160mm no-go line… and stay on the right side of it. Typically. Usually. Not always. For example, at 165mm height the Cooler Master MA620 is as tall as a Noctua D15 (and costs nearly as much) yet does not perform nearly as well. This is why the new breed of 120s are usually in the ~157mm range. Aka an 'extra' couple millimeters of 'wiggle room' below the magic line to ensure wider compatibility. In this regard, and much like the efficiency of the fin array faces, there really is no clear 'winner'… beyond all being better than the MA620 when it comes to case compatibility.
To be a bit more precise, the Hyper 622 is a reasonable 157mm tall… or the same as the "original" variant of the Thermalright Peerless Assassin 120. The Thermalright PA 120 SE drops a couple fins off its stack to bring the official height down to 155mm. Whereas the DeepCool AK620 Zero Dark sticks to a more old-school 160mm of height. Once again, a fin or two in the array one way or the other don't make no nevermind when it comes to overall performance, but 157mm is pretty much in the butter zone of height vs. compatibility… with few cases in which said PC case will accommodate a 155mm z-height cooler but will not a 157mm one.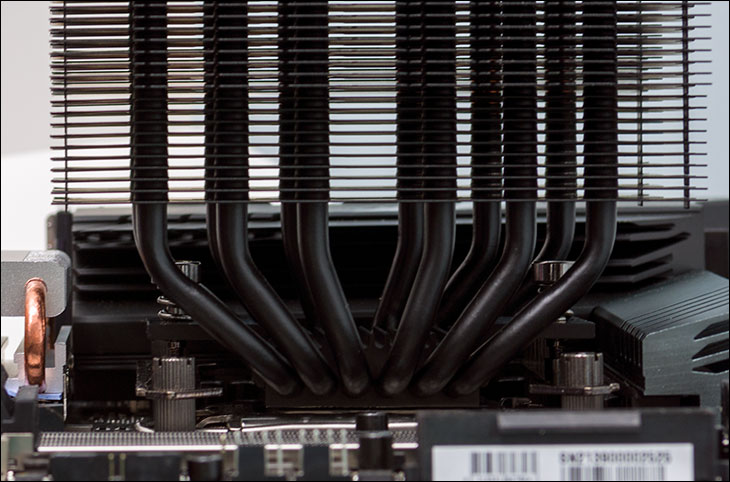 Instead of a couple millimeters difference in height being the determining factor in a cooler overall performance, what probably will matter more is the height the fin arrays start off the motherboard. Too tall and while you need no worry about RAM/heatsink compatibility… you are needlessly giving up cooling performance. Conversely, too low and you are going to have a bad day if you do not pay careful attention to your motherboard VRM heatsink height and/or RAM height. How the various dual 120s go about solving this age-old problem does differ somewhat from manufacturer to manufacturer.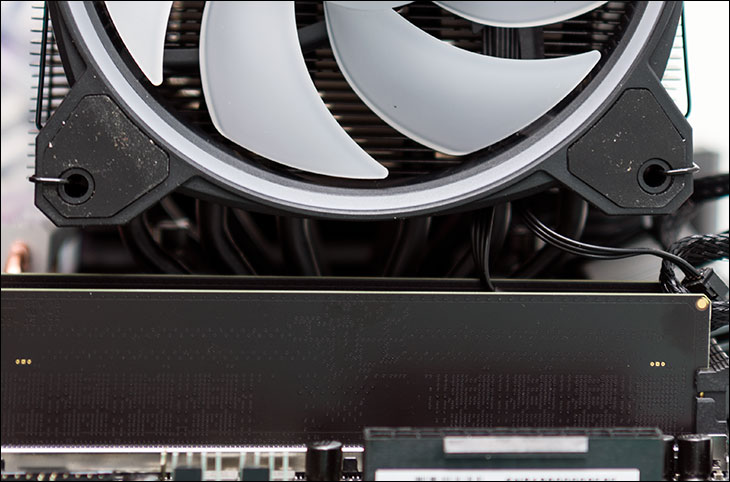 Cooler Master's MA620 goes full ham and starts the array a good 50mm (aka nearly two inches in hamburger units) off the deck… and then further reduces its fin array surface area by then cutting out a goodly chunk of the bottom fins up the 69mm mark. Thus, all but ensuring it will work with 99.9999 percent of motherboard and RAM options… but at the obvious expense of performance. As a newer take on the same dual 120 idea, DeepCool's AK620 also starts at about 50mm off the deck but then scales the insanity back to only cutting in on the bottom five fins. Thermalright in their infinite wisdom starts a mere 35mm off the deck (1 and 3/8th of a hamburger unit) and then tries to fix this via a tall 16mm cutout.
This brings us the to the Hyper 622 Halo. Much like with overall height, Cooler Master's design team took the middle path approach and scorned both "extremes". Starting the fin arrays a decent ~40mm (1.575-inch) up and then further improving the already excellent compatibility via a 21.61mm (~0.85 of an inch) cut out strikes a nice balance in the performance vs. user-friendless debate.
With all that said, the overall performance of the various dual 120mm options comes down more on the fans included than a bit more (or less) surface area in their cooling towers. After all, the MA620 is a beastly sized cooling solution with tons of surface area but the decision to only allow one fan means it quickly gets surpassed by newer designs when the TDP starts rising. In this area Cooler Master's latest and greatest Hyper wins some, and loses some… depending on the comparison being made.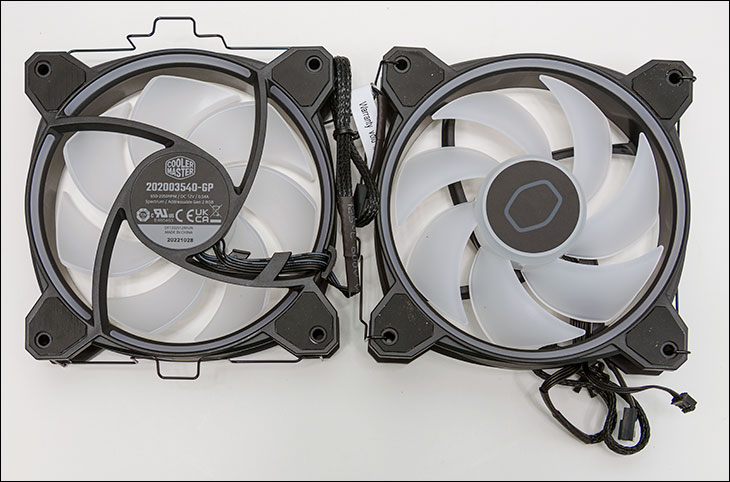 There is no comparison worth making to the MA620's lone SF120R fan. The new MF120 "Halo2" fans are superior in (nearly) every way (beyond the bearing type and rotational speed). Buyers not only get two 2050RPM 120mm fans versus one 120mm… they get fans that not only offer glowing fan blades (and hub) but has two ring light diffusers baked right into the fan's chassis. Mix in the RGB abilities are auto-sensing (to be motherboard manufacture agnostic) and these are a darn good fan. So much so the overall lightshow/lighting abilities of the Hyper 622 out and out smoke the more expensive MasterAir MA620.
Sadly, things are not cut and dry when compared against the Chinese clones. DeepCool's Fluid Dynamic Bearing based fans are indeed quieter and (claim to) move much more air… but are noticeably worse in the static pressure department (~2.1mmH20 vs ~2.9mmH20) and longevity department (160K vs 50K hours). Thermalright's are the quest of the bunch… as they only rotate at about 1,600 RPM and yet still (claim to) move more air than Cooler Master's Halo2 fans (eyebrow raising 66CFM vs. a believable ~52CFM). Of course, as they are Thermalright freebie fans their lifespan is never talked about in polite company.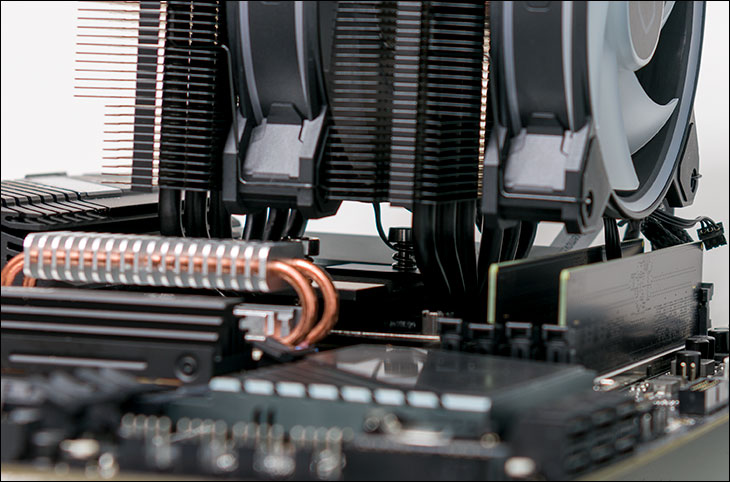 In other words, deciding which is 'best' comes down to noise vs. longevity… versus believability/trustworthiness. Cooler Master fans are indeed going to be a bit more noticeable at the same RPM as the FDB based fan options… but due to higher static pressure the Halo2's will rarely need to run as fast as the alternatives. Furthermore, the Halo2 fans probably will last a decade (we sincerely doubt any manufacturer claims of an 18 year lifespan on a consumer grade fan), whereas DeepCool fans probably will last 3 to 5 years (aka one system build generation), and the Thermalright's will last for infinity… as we chuck them the moment we take them out of the PA 120's box and replace with Arctic P12s (a fan whose ratings we fully trust). Your mileage may vary, but Cooler Master's middle path approach once again appears to be the most sensible. Sensible enough we would not be in any rush to replace them with Artic P12 (or Noctua) fans.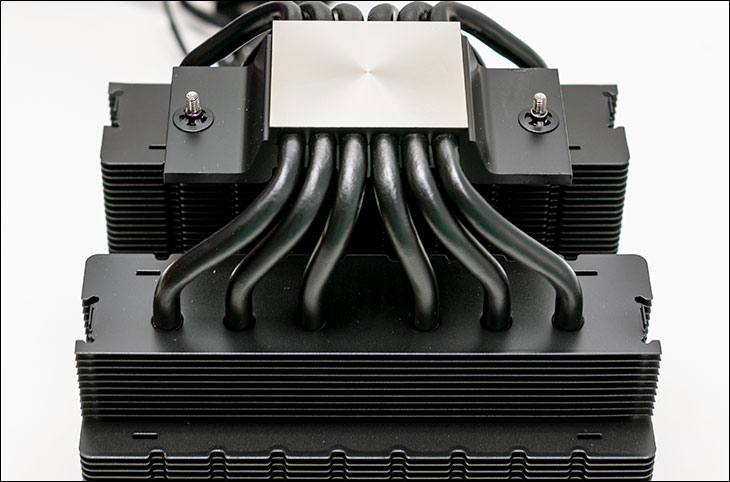 All the dual tower 120s we have worked with make use of a solid copper, nickel-plated base and six 6mm heatpipes. That is pretty much the de-facto standard these days for high'ish performance coolers. The devil however is in the details. Once again, the new breed models all are arguably better than the MasterAir… as Cooler Master did not nickel-plate the MA620s base. Instead, the exposed copper base had a tendency to tarnish with time, and was harder to finish to a mirror shine in the first place. Polishing and 'finishing' of a base can indeed have a noticeable impact on overall performance, and as such we like to pay careful attention to how much time and effort a company puts into this critical production stage.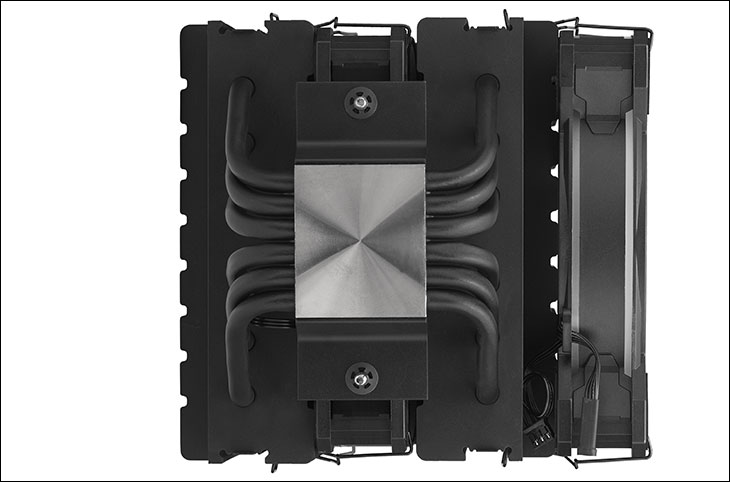 In this regards, Thermalright's original PA 120 was very decent bordering on excellent given their asking price. Still a bit too much variance for liking but, overall, rather decent. Sadly, the finishing on their PA 120 "Special Edition" are generally speaking a major step backwards. So much so the randomness is right up there with DeepCool. This is not a good thing. In our personal experience, DeepCool AK's live up to their "Avtomat Kalashnikova" namesake with finishing quality that varies so much it is almost as if they push them through a random frustration generator before final packaging. Some had bases so bad we felt the need to surface polish it ourselves before using, yet a couple were darn close to being worthy of being on a 60+ USD cooling solution. Cooler Master once again is out and out superior. This base is darn near perfectly finished and yet costs nearly the same as what DeepCool demands. Color us impressed.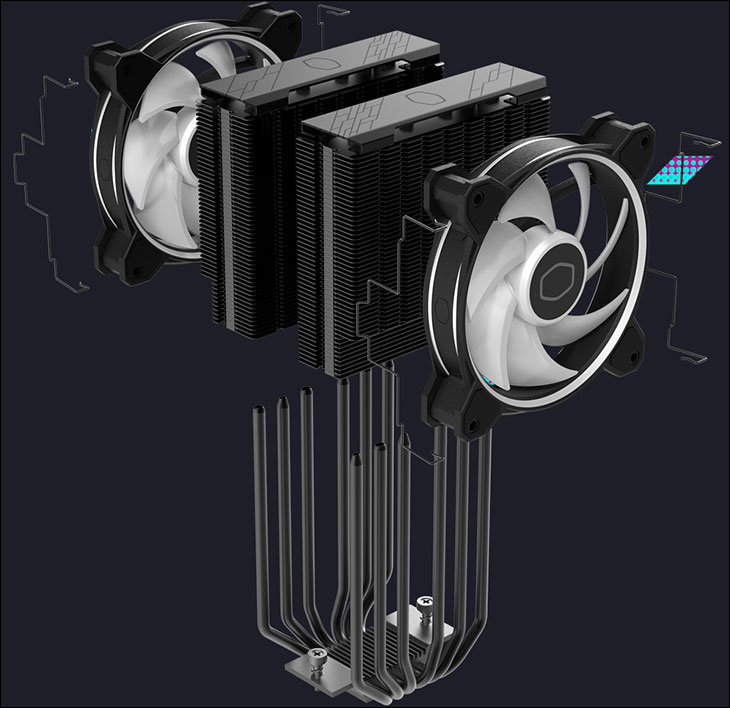 Overall, Cooler Master has outdone themselves… and breathed new life into their vaunted Hyper line.