Last updated on November 30, 2023 7:33 pm
No.1 Performance – BIOSTAR RACING Z270GT9 Officially Launched!
Lead the way with high-performance BIOSTAR RACING Series Motherboard bundled with Intel 600p SSD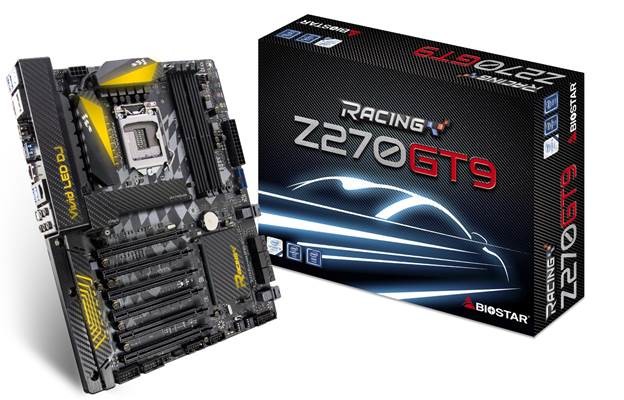 January 3rd, 2017, Taipei, Taiwan – BIOSTAR is proud to announce its latest motherboard supporting the 7th-generation of Intel Core series processors with the announcement of the BIOSTAR RACING Z270GT9. Featuring the latest Intel Z270 chipset, this motherboard supports LGA1151 processors for the latest in performance and power as well as the best features including support for DDR4-3600+ high-speed memory, six PCI-E x16 3.0 slots, and two USB 3.1 (TYPE A+C) ports amongst others.
Built upon reliability, the new BIOSTAR RACING Z270GT9 features enhanced endurance and stability under intense conditions which is a great advantage for gamers thanks to its improved power design named Digital Power+ which features IR digital PWM controller and PowIRstage IC which offer excellent stability and voltage delivery whilst operating cooler and more reliable under load than competing designs. The BIOSTAR RACING Z270GT9 features 14-phase power design complimented with all solid capacitors for a stable overclocking experience.
New Features to Enhance Gaming Performance
Break limits and enjoy uninhibited speed with BIOSTAR performance features that offer speed that gamers need to dominate their games. These new features will bring a new level of experience for gamers and enthusiasts.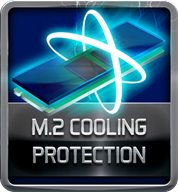 M.2 Cooling Protection
BIOSTAR RACING 2nd-generation motherboards will be the first to have an M.2 heatsink that features ultra-high cooling efficiency to protect M.2 devices connected to the onboard M.2 slot and chipset from thermal issues thus expanding M.2 device lifespan for long-term usage and overall stable operation even under high system load.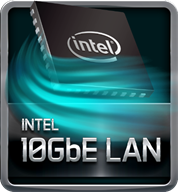 Intel 10GbE LAN
Intel's X550 chipset supports 10GbE LAN, delivering 10 times faster data transfer speed and bandwidth than traditional GbE LAN as well as bringing with it lower power consumption. Together with the latest Intel 7th-generation processors, this will be the fastest motherboards for online game.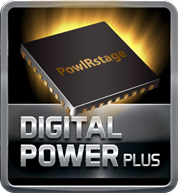 Digital Power+
Perfect for overclockers, Digital Power+ uses IR's digital power controller to bring your PC and processor exceptionally high-performance and ultra-stable operation. BIOSTAR RACING motherboards offer excellent stability and voltage delivery with exceptionally cool operating temperatures maintaining great reliability under load than competing designs.
Lightning Charger
The new 2nd-generation BIOSTAR RACING motherboards will be the first to have the new Lightning Charger which helps the battery of enabled devices, including smartphones or tablets, to achieve up to 75% charge in just 30 minutes. It supports QC2.0 (12V/1.5A output), Apple Mode (5V /2.4A) and BC1.2.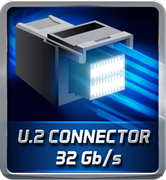 Dual High-Speed U.2 32Gb/s Connector
Two high-speed U.2 connectors that support the latest high-speed storage solutions allow this motherboard to utilize more storage giving you the option flexibility and scalability together with the speed that U.2 offers. This unique technology uses PCI Express 3.0 x4 for a maximum of 32Gb/s of bandwidth resulting in transfer rates as fast as 6.5x more than traditional SATA solid-state drives. Combine two for high-performance or high-integrity with RAID support. The motherboard supports RAID0/1/5 configurations for security or speed.
To compliment the performance of this motherboard, BIOSTAR is also proud to be the first its special bundle for upgraders, enthusiasts and system builders upgrading to the new Intel 200-series platform which brings support for Intel's new Optane technology. Buy BIOSTAR Z270GT8 or Z270GT9 get Intel 600p series SSD, the latest storage technology from Intel running on PCI-Express Gen3 x4 speeds for unrivaled speeds versus traditional mechanical hard drives. BIOSTAR is offering this introductory promotion for everyone to experience the power of the new Intel platform offering incredibly amazing performance and great value together with BIOSTAR motherboards. BIOSTAR is the first brand to bring together this bundle and offer it to gamers for the best experience on their new systems.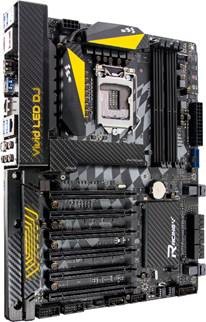 The BIOSTAR RACING Z270GT9 & Intel 600P 256GB M.2 SSD Bundle will have an MSRP of $399 while the BIOSTAR RACING Z270GT8 & Intel 600p 256GB M.2 SSD will have an MSRP of $329. BIOSTAR will also be releasing the following models under the RACING series: Z270GT8, Z270GT6, Z270GT4, B250GT5, B250GT3.
BIOSTAR introduces new features to further enhance the degree of performance and style that the BIOSTAR RACING series is known for. Some of these features include the new and improved VIVID LED Armor, 5050 LED Fun Zone as well new ones like Lightning Charger and Intel 10GbE LAN. From excellent power delivery for a more stable operating all the way to new ways of improve the visual appeal and style of your system to make it stand out and pop for your next theme. Combined, these new features will bring a new level of experience for gamers and enthusiasts.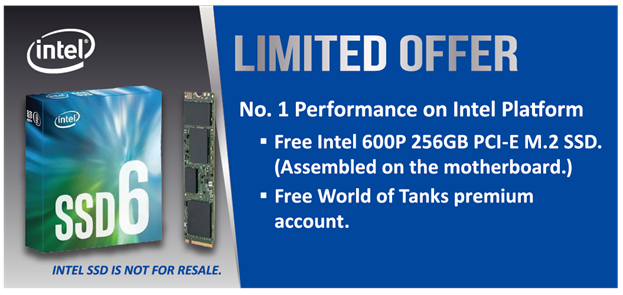 Intel 600p Series SSD: Optimized for a Better PC Experience
Experience new heights of performance on your PC with new Intel 600p series SSDs designed to accelerate both work and play. Experience and create 4K video content and watch it seamlessly while you work with your productivity software and enjoy gaming everyday with Intel SSD 600p series that provides improved power efficiency and performance than traditional hard drives. Utilizing fast PCIe Gen 3 x4 interface, the Intel 600p joins the Intel 3D NAND SSD product family.
BIOSTAR is also giving out to users free invite code content bonus packs which includes premium gifts for World of Tanks gamers in Asia server with all BIOSTAR RACING series motherboards with Intel 200-series chipset.
SPECIFICATIONS
Model
RACING Z270GT9
CPU
LGA 1151 Processor
Power
14 phase  (Digital Power+ )
Chipset
Intel Z270
Solid Cap
100% Solid
Memory
4xDIMM, Support DDR4-3600+
Expansion Slot
6 x PCI-E x16 3.0
Audio
7.1ch Blu-ray Audio w/ Double Hi-Fi
LAN
Intel X550AT (10GbE LAN) / Intel i219V
Storage
6 x SATA 6Gb/s
1 x M.2 32Gb/s (42/60/80mm)
2 x U.2 x4 32Gb/s
Video
mDP, 1 x HDMI 2.0, 1 x HDMI 1.4 b
USB 3.1 / 3.0 / 2.0
2 USB 3.1 (TYPE A+C )
6 USB 3.0  (2+4)
4 USB 2.0 (4+0)
Features
VIVID LED DJ / Lightning Charger / Smart Ear /
BIO-Remote2 / BIOS Online Update
For more information on the BIOSTAR RACING Z270GT9 go to:
http://www.biostar.com.tw/app/en/mb/introduction.php?S_ID=861
Read more about Intel 600p SSD here: http://www.intel.com/content/www/us/en/solid-state-drives/solid-state-drives-600p-series.html
Visit the new BIOSTAR website at: http://www.biostar.com.tw
Read more about BIOSTAR 30 Years anniversary: http://www.biostar.com.tw/app/en/event/30years/index.htm