out of stock
as of December 7, 2023 9:02 pm
$54.00
in stock
4 new from $54.00
2 used from $79.99
as of December 7, 2023 9:02 pm
$160.95
$179.00
in stock
4 new from $160.93
3 used from $125.95
as of December 7, 2023 9:02 pm
Last updated on December 7, 2023 9:02 pm
Closer Look TL;DR
While the Biostar Racing Z170GT7 is certainly not perfect, and could do with more USB ports, the overall layout and design of this motherboard gets more right than it does wrong. The racing motif backstopped by LEDs and LED controller certainly does look better than what is usually found in this price range, the power subsystem is darn decent. The extra features like dual BIOS – with a physical switch- is also darn nice. The only consumers who may feel differently are those looking for advanced RAM overclocking abilities (this board tops out at DDR4-3200 and uses as single phase power design for the DIMMS), those looking for a high end sound solution, or those interested in a motherboard covered in plastic fascia.
A Closer Look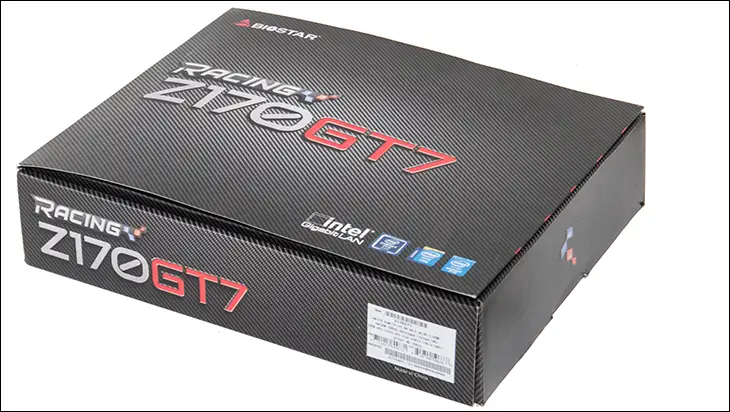 All things considered we have seen much worse shipping containers accompany motherboards costing twice as much as what the Biostar Racing Z170GT7 costs. That is to say it is attention getting, without being overly garish. More importantly while the front underscores the whole 'racing' theme of the motherboard the back is covered in details that cover off all the features and abilities this motherboard has to offer.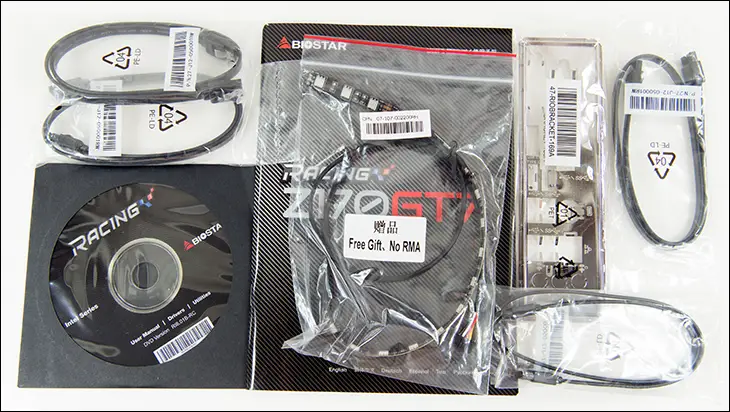 The included accessory list is a curious mixture of bare necessities and advanced features usually not seen in this end of the marketplace. On the one hand Biostar has not included any case badges, SATA labeling stickers, or even SLI ribbon cables; on the other all the bases are nicely covered as they include a software and driver's DVD, four SATA cables, a rear IO panel and a LED strip that connects directly into the motherboard to further enhance the look of your custom build. All in all, it is very decent given the price range, though we do wish the rear I/O panel was the padded insulated variety and not the old-fashioned stamped metal style. Over the years many a person – including ourselves – have gotten a nasty cut while installing those bare metal rear IO panels.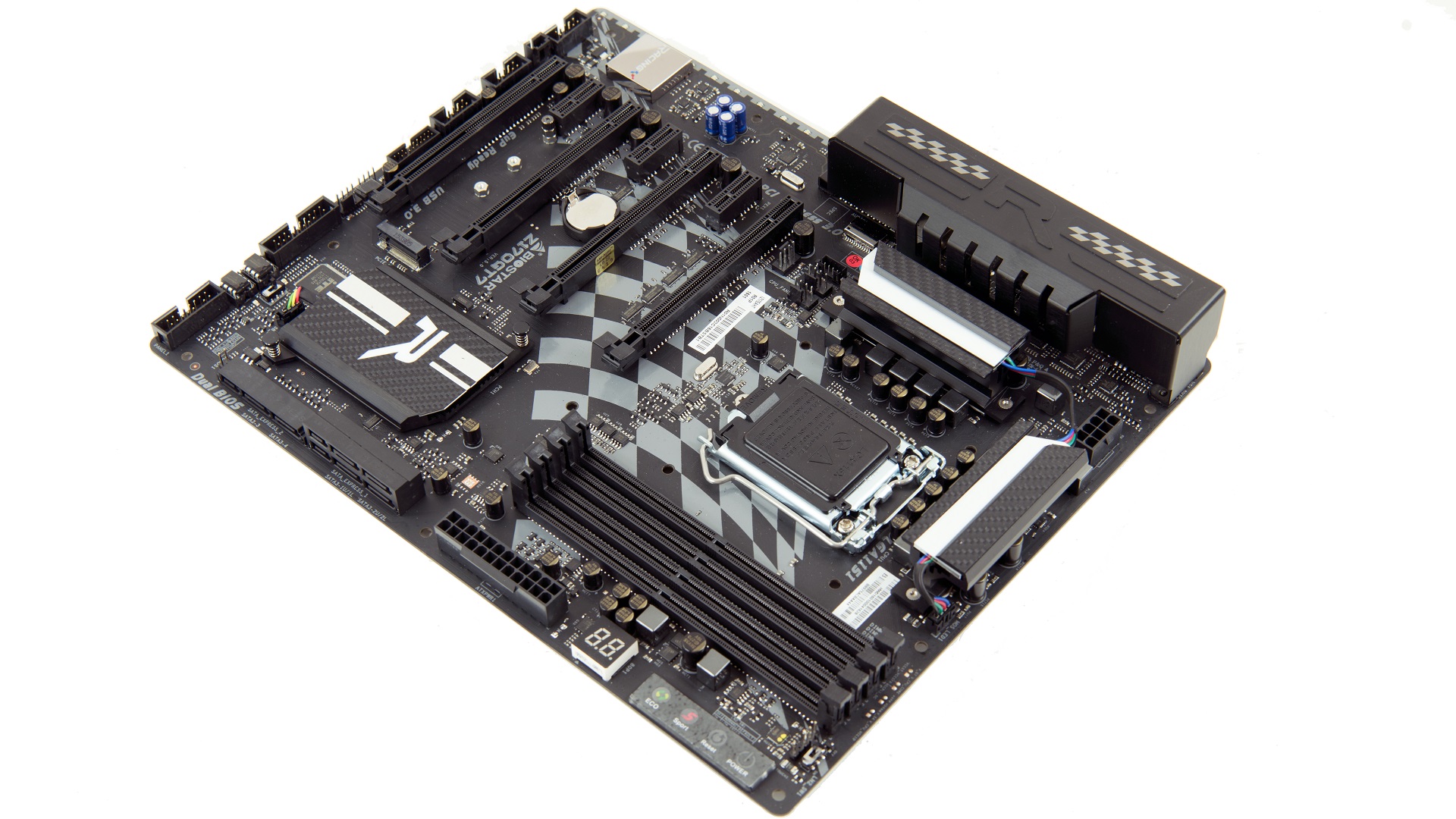 The Biostar Racing Z170GT7 boasts a very monochromatic look with a custom black PCB, black storage ports, black DIMMS, black PCIe slots, and black with white accents heatsinks. On the surface this would make for a rather low key looking motherboard; however, nothing could be further from the truth. First and foremost, the custom black PCB has a rather large checkered flag silk screened on to the PCB. This does give a nice dash of color for when the system is off.
Further helping to boost this board well beyond average is the fact that the VRM and PCH heatsinks – as well as the edge of the motherboard – have built in LEDs that are capable of millions of color combinations. While not as nice as say what comes built into the MSI X99A Gaming Pro Carbon it does give a nice splash of color. Though to be honest, what does push things into the above average end of the spectrum is the fact that there is onboard header for adding LED light strips to this board and it comes with them! For a sub $150 that came out long before the whole X99 refresh… that is simply amazing.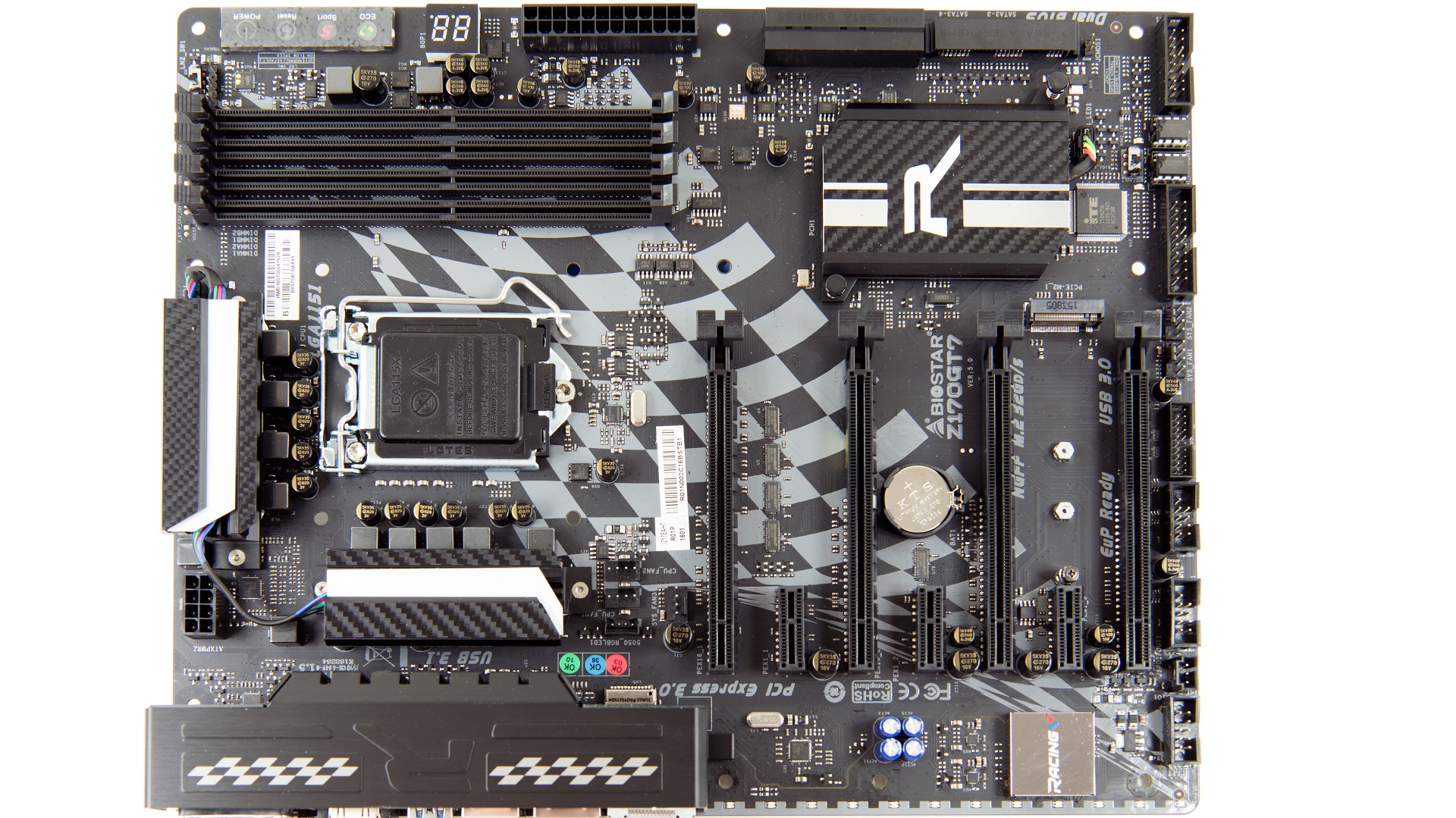 Beyond the overall looks and aesthetics of the Biostar Racing Z170GT7 this motherboard features a very nice and clean layout with all the various connectors and ports easily accessible, and free from possible obstruction. The heatsinks may lack connector heat pipes, or the robustness of some other higher end motherboards we have looked at but given the rather low asking price this is more than acceptable. Basically we doubt that overheating of the power delivery subsystem will be a bottleneck for 99.999% of customers interested in this model. Instead lack of expensive CPU cooling solutions that cost almost as much – and sometimes more – than this model will cause a heat-related bottleneck long before people have to be worried about the VRM components frying!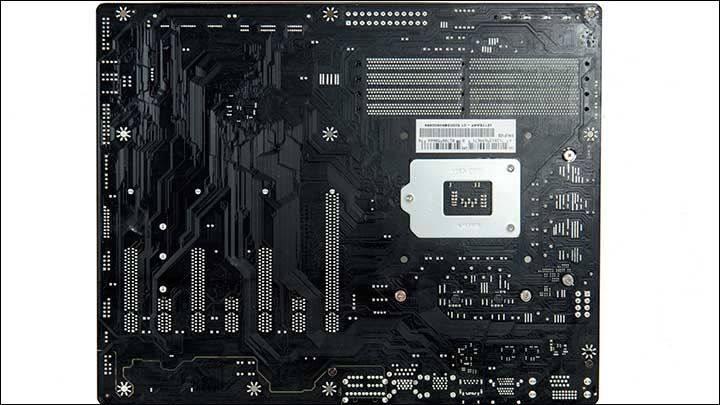 The back of the motherboard is equally well thought out with almost no major components located back here. Instead about the only thing you will find is the screws and springs used to secure the three heat sinks to the motherboard. Yes that is correct this inexpensive motherboard does not use push-pins and instead has a professional grade mounting system. Color us impressed as certainly not the majority do this in the Racing Z170GT7's price range.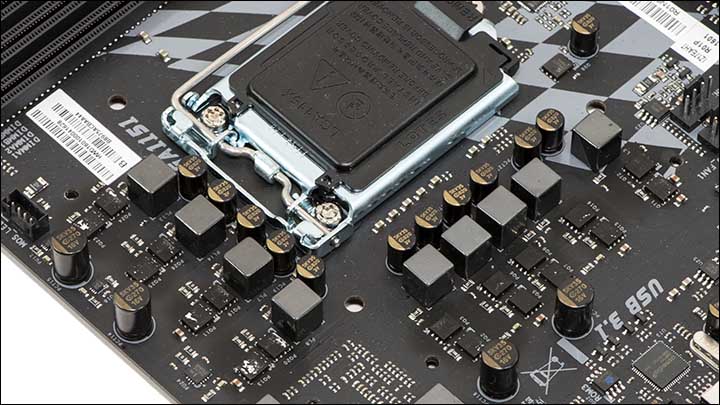 Hidden underneath these heatsinks is a very decent power delivery subsystem that consists of an Instersil ISL95855 controller, PowerPAK MOSFETs, Super Durable Ferrite Chokes, and 10K Solid Capacitors.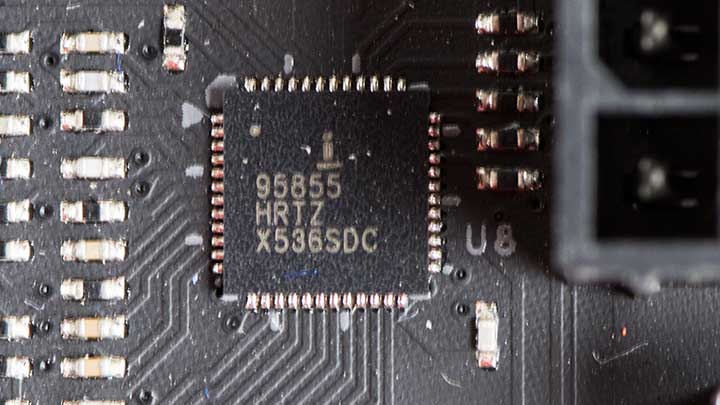 Now with that being said, this power delivery subsystem is not a 'true' 8-phase design and rather it is technically a 3-phase design with each phase being doubled up with an addition virtual phase (via Intersil ISL6611 phase doublers) to spread out the load. The other 'two' phases are for the iGPU. While 3 phases is low, by spreading the load out over six phases worth of components most owners will never run into problems. Also it is not an all-digital based design so voltage fluctuation is going to be a bit of concern – however in testing Biostart load-line calibration was darn decent and kept voltages fairly stable.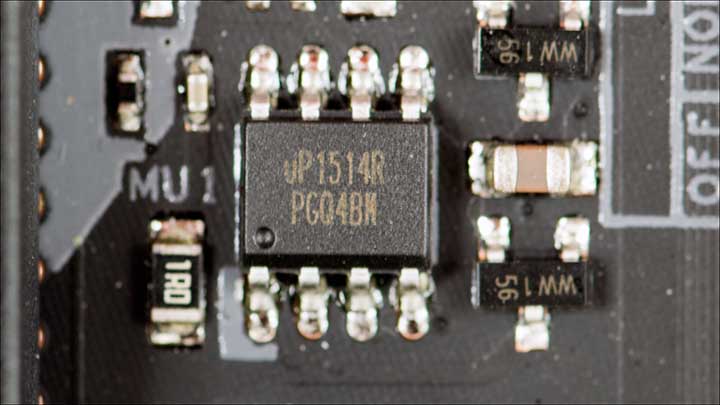 The four DIMMs of course also get their own power susbsytem, to be specific it is fed by a fairly typical single phase power design controlled by a UPI uP1514 controller.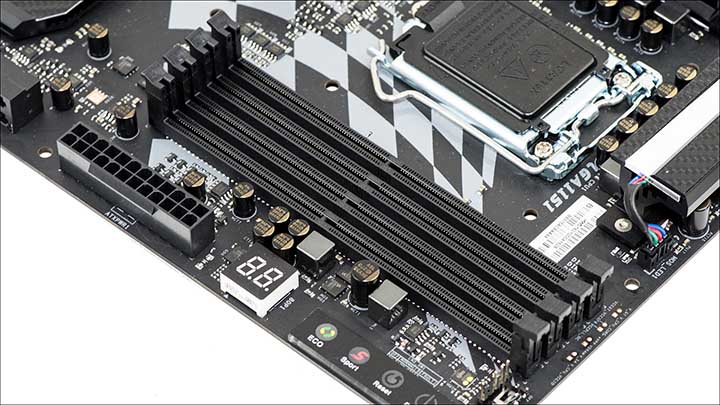 Though once again it also gets its own 'Super Durable' components. For most owners a single phase vs dual phase design will not matter all that much – especial considering this motherboard 'only' supports up to DDR4-3200 speeds.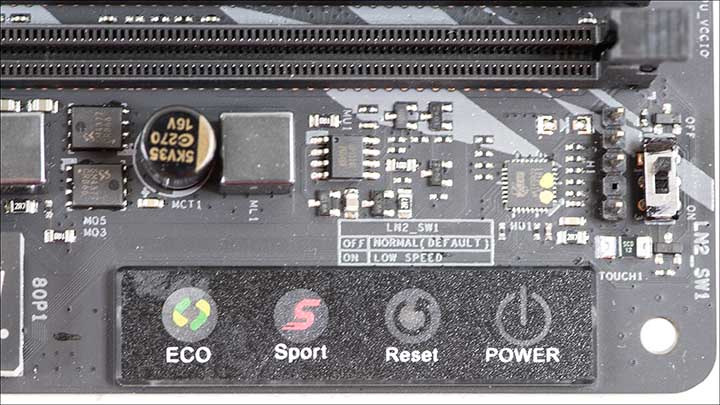 Of especial note is the eLAN 8-bit microcontroller. This microcontroller has been included because instead of using physical buttons Biostar has instead opted for a small panel which in addition to a Power and Reset options also includes an Eco mode (which reduces power consumption at the expense of shear performance – regardless of what Biostar claims) and "Sport" mode which basically is a very light factory preset overclocking option.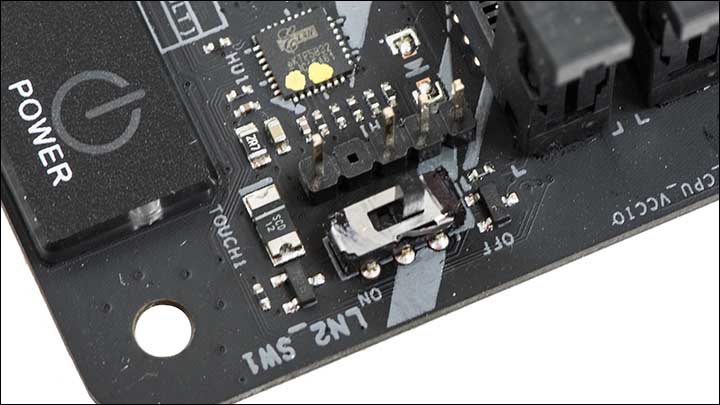 Strangely enough, just above the touch panel is an honest to god LN2 switch. This is an option that some companies call a 'slow switch' as it reduces the chances of the dreaded 'cold bug' from causing a crash when you take the CPU well below 0° when cooling with LN2. Basically it hard sets the CPU ratio to 8 and keeps it at that until the switch is turned off. You do not need to reboot for the changes to occur as they happen in real time. Needless to say, while other companies do include such a feature very, very few do so on their models which cost as little as this motherboard!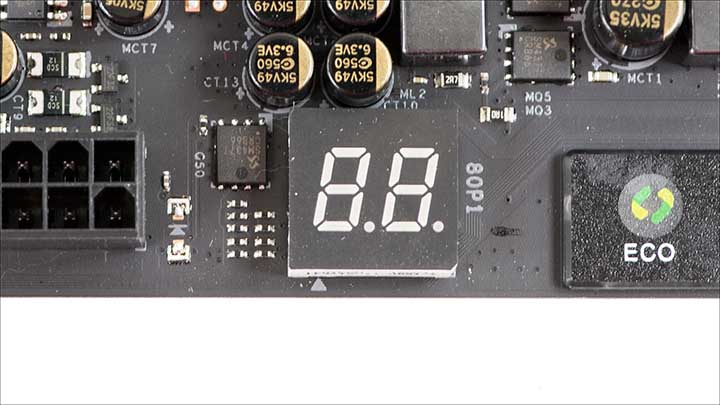 Next to this touch panel is an actual 2-digit LED debug diagnostics display. We always love seeing this feature included as it makes troubleshoot a lot easier. More to the point we must admit to being surprised at its inclusion. ASUS certainly does not feel the need to include it on their similarly priced models, and yet Biostar has been able to do it. Color us impressed.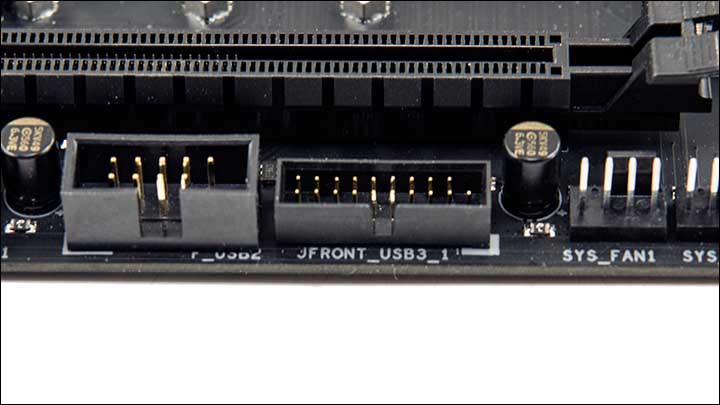 Due to the touch panel Biostar was unable to place the front USB 3.0 headers in their usual location – next to 24pin power connector. Instead Biostar has only include one header and it is located about half way in at the bottom of the motherboard. This may cause problems with some cases that come with shorter cables.
On the positive side this motherboard not only includes two BIOS chips, and a physical switch to choose which BIOS switch will be used by the system, but also has gone the extra mile and used sockets for the BIOS chips instead of soldering them directly to the motherboard. This means in worst case scenarios a corrupted BIOS chip can be removed and easily replaced. Color us impressed as this is one of the very few in this price range that do this – even though they all should!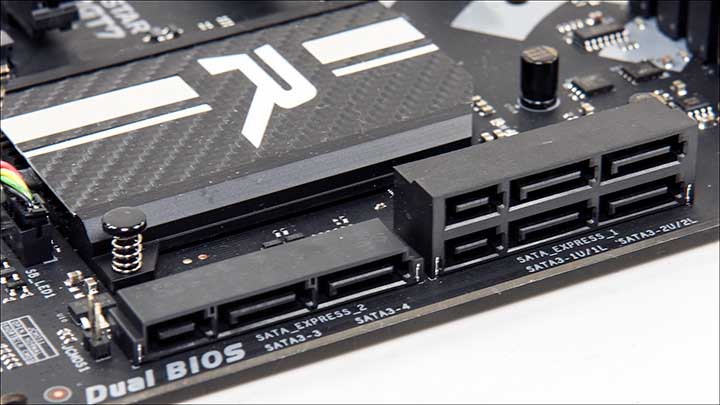 In between the 24-pin header and the BIOS sockets is the included storage ports and we must admit that Biostar has included a very nice selection. In grand total you can expect to find three SATA Express ports, and six SATA 6Gb/s ports. Of course as each of the ESATA ports requires two SATA 6Gb/s ports worth of bandwidth this does not mean consumers can use 6 SATA and 3 SE devices. Instead its 4 SATA + 1 SE, 2 SATA + 2SE, or 6 SATA and no SE devices. This is still very decent and should cover off the needs of the average consumer nicely.
Moving on, while the PCIe layout is also outstanding and does lend itself well to multi-GPU configurations, this motherboard is not SLI or CrossFire certified. Instead to get this feature enthusiast will have to step up to the Biostar Gaming Z170 models. In quick testing with a pair of PNY 960s, SLI did indeed work, but it may be hit or miss and is not guaranteed. Basically if you are interested in SLI or Crossfire you may want to look elsewhere. Given the asking price of this motherboard we doubt many owners will be interested in dual GPU configurations but this is a shame as the layout of x16 followed by an x1 slot means that four dual slot video cards could fit on this motherboard!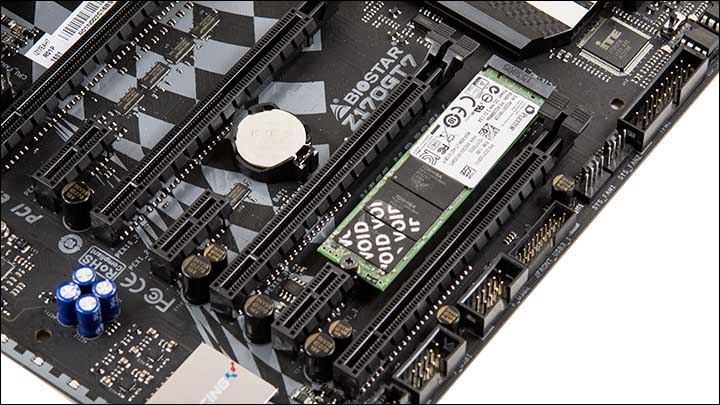 As this is a Z170 based motherboard it is not surprising to see that only the top two 'x16' ports are connected directly to the CPU and the other two are 'x16' slots are only x4 and go through the Z170 PCH. What this means is that if owners do use the third or fourth PCIe 'x16' slots that other storage components are going to be disabled. Basically these x16 slots and the M.2 and some of the SATA-Express ports all share the same lanes. Since no 'PLX' PCIe lane hub is included you will have to choose carefully between what features you want to use, and which ones you need to use. With that being said, ESATA devices are as rare as honest politicians, and if you so choose you can indeed use one of the bottom x16 slots for a x4 device and M.2 device… just as long as the M.2 solid state drive is a SATA and not NVMe or PCIe controller based model. Also nice to see the included M.2 port is not only a x4 enabled port but is compatible with up to M2280 devices. However, if you have an extra-long M22110 drive you will want to use a (not included) M.2 to PCIe daughtercard… and use one of the two bottom x16 slots!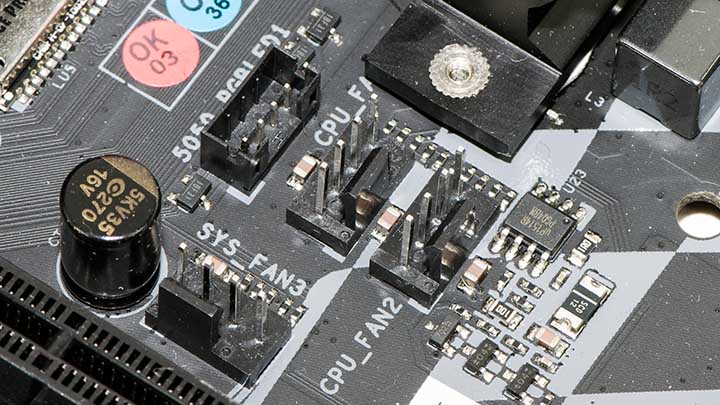 Nestled between the first x16 PCIe slot and the rearmost VRM heatsink is a pair of 4-pin fan headers which have been dedicated to CPU cooling solutions. While we would have preferred to have seen a third (for water pumps) two should be more than satisfactory for most owners of this motherboard.
Just below these two crucial headers (towards the rear IO panel) is the 5050 RGB LED header. We must admit that is a downright odd place to put this feature as it means you will have to drape any 5050 compatible led strips either over the VRM heatsinks or the PCIe slots.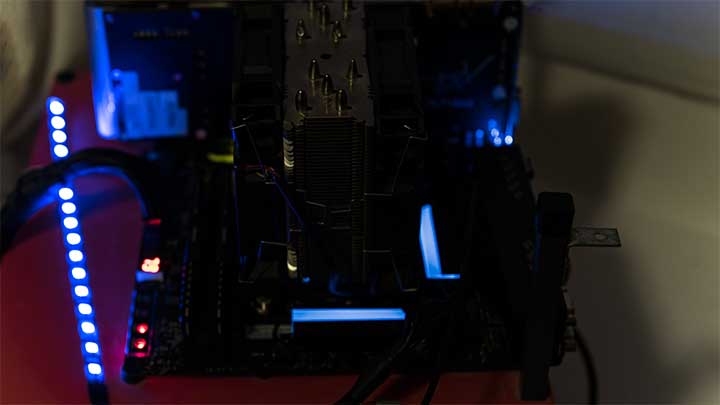 In either case its inclusion is still noteworthy and well above average.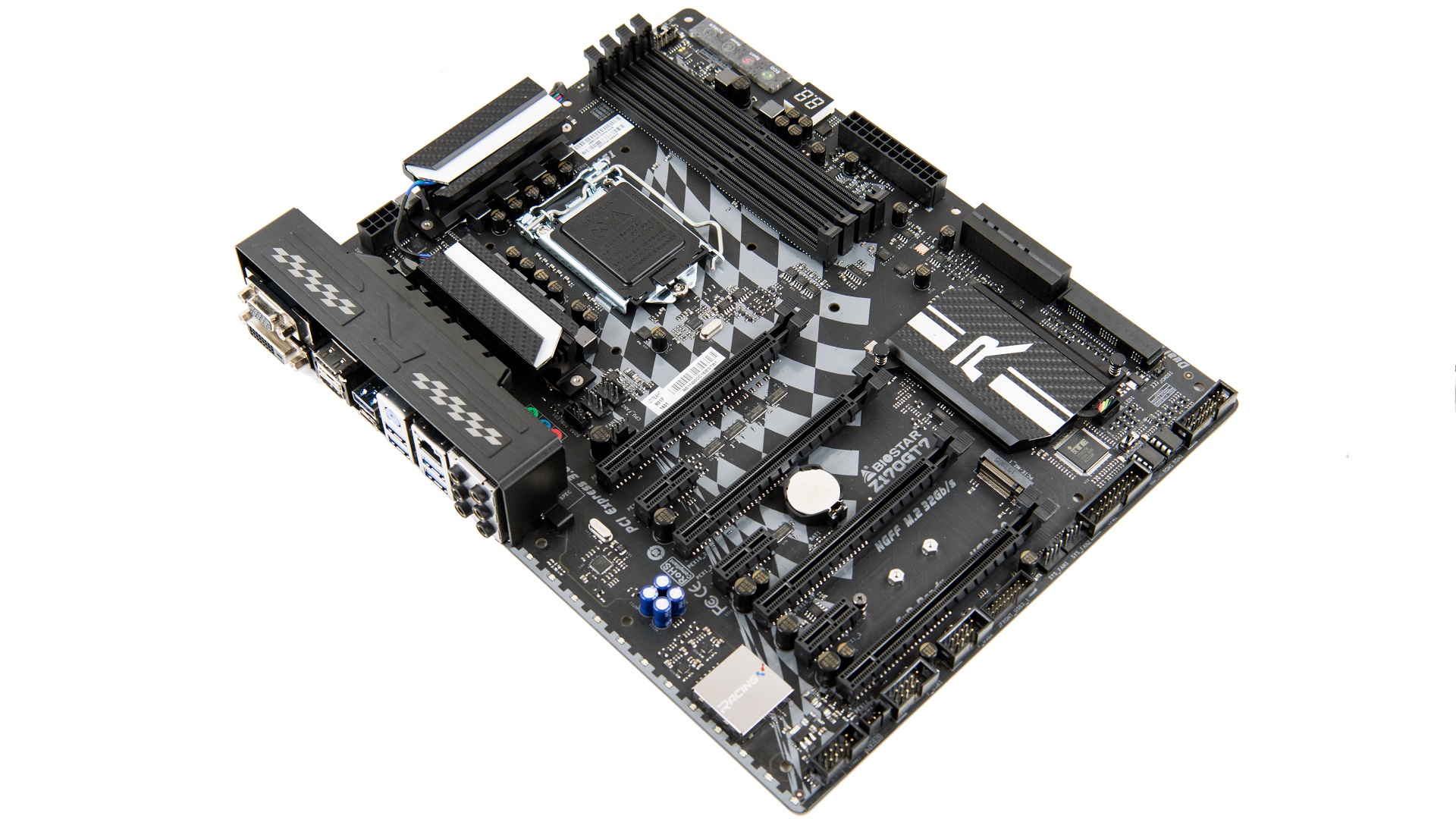 One of the very interesting additions to this motherboard is the onboard audio. These days even the most basic of motherboard has to include a decent onboard audio solution and while the Biostar Racing Z170GT7 will not win any awards it is still very decent. As expected the onboard solution has been electronically separated from the rest of the motherboard and this alone will make for a much, much better sound solution. In addition, Biostar has opted for the very respectable Realtek ALC887 codec.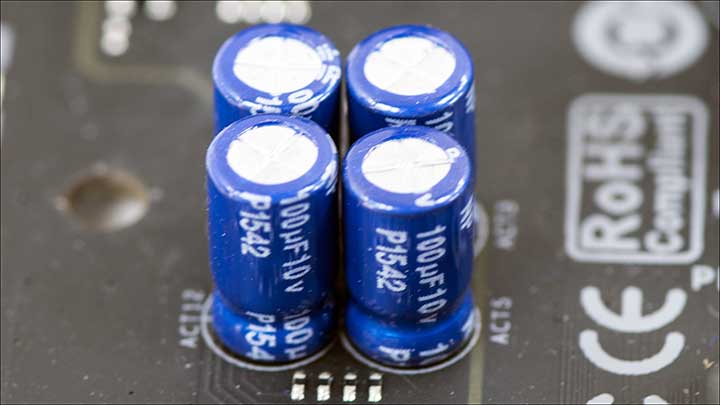 The Realtek ALC887 is an older audio 'controller' and certainly not as potent as the ALC1150, but it still is a very decent option. This is especially true since they have included an EMI shield for it (to further reduce 'noise), four 'Hi-Fi' audio capacitors, and two IDT 36135 op-amps (one dedicated to the headphone port and the other to surround sound duties).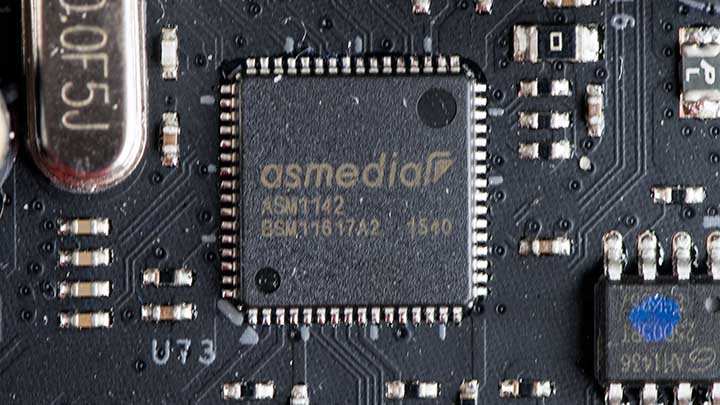 Another main selling feature of this motherboard is its USB 3.1 abilities. Since the Z170 chipset does not come standard with USB 3.1 (aka USB 3.1 gen 2, aka USB 3.1 10Gb/s) Biostar has opted for a ASMEDIA ASM1142 USB 3.1 dual port controller. This controller may not be as powerful as the Intel option that are now available, but it is still a very decent choice.

Also included on the rear IO is a single 10/100/1000 Ethernet 'LAN' port. This port is controlled via the extremely potent Intel i219v that many enthusiasts prefer over the various 'Killer' NIC options. Rounding out the rear I/O panel is a PS/2 keyboard & mouse port, four USB 3.0 ports, and six audio ports that allow for 7.1 surround sound. Biostar has also included a full size HDMI, DisplayPort, DVI-D, and even an analog VGA port. The latter of which is powered by a Realtek RTD2168 controller. The only disappointment is the lack of even more USB 3.0 port, zero USB 2.0 ports and no S/PDIF port for digital sound output. Other than that, this is a very good rear IO features list. Also on the positive side is the fascia covering for the rear I/O ports is made out of metal and not plastic like most.