out of stock
as of December 6, 2023 8:52 pm
$54.00
in stock
4 new from $54.00
3 used from $44.50
as of December 6, 2023 8:52 pm
$160.95
$179.00
in stock
4 new from $160.93
3 used from $125.95
as of December 6, 2023 8:52 pm
Last updated on December 6, 2023 8:52 pm
For the USB 3.1 device we have used an Asus USB 3.1 enclosure. This enclosure uses a pair of Samsung 840 EVO 250GB drives in a simple RAID 0 configuration, and is powered by an ASMedia ASM1352R chipset.
To help replicate worse case real world scenarios we have devised a real world test consisting of copying to and from the devices, using MS RichCopy and logging the performance of the drive. This test consists of copying to and from a folder containing hundreds of subfolders containing files varying in length for a grand total of 20 GB total.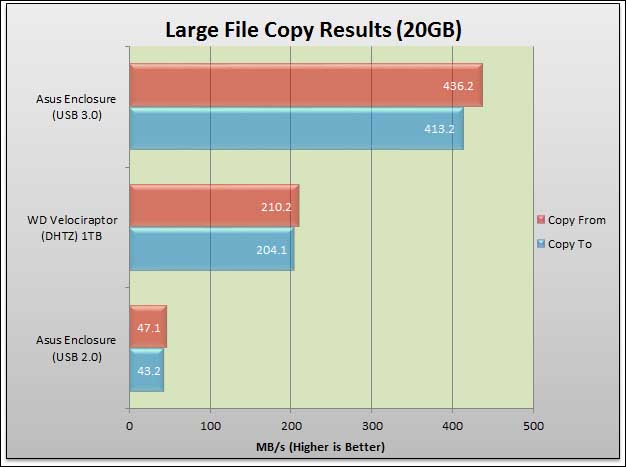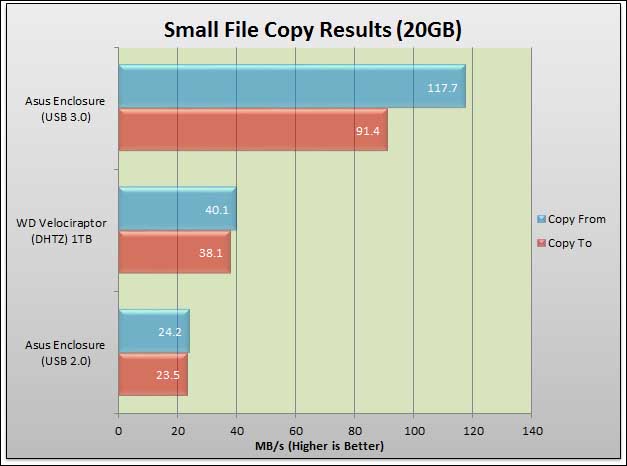 While these results are slightly inferior to what Intel USB 3.1 based motherboard have to offer they are still darn decent, and will more than enough to bottleneck the average consumer's external (and probably internal) storage device.
Z170GT7 – TL;DRs
We know that not everyone has time to sit down and read a 8 – 10 thousand word review on one item. So in order to make things as clear and concise as possible we have not only including included "Too Long; Didn't Read" synopsis for the main section. To really get a good idea of the pros and cons we recommend reading the entire review, but this page and the Score Card section will give you a good overview of the 'board.
A Closer Look
While the Biostar Racing Z170GT7 is certainly not perfect, and could do with more USB ports, the overall layout and design of this motherboard gets more right than it does wrong. The racing motif backstopped by LEDs and LED controller certainly does look better than what is usually found in this price range, the power subsystem is darn decent. The extra features like dual BIOS – with a physical switch- is also darn nice. The only consumers who may feel differently are those looking for advanced RAM overclocking abilities (this board tops out at DDR4-3200 and uses as single phase power design for the DIMMS), those looking for a high end sound solution, or those interested in a motherboard covered in plastic fascia.
BIOS
If there was one area that Biostar was not known for excelling in it was there BIOS. That is not to say previous generations had bad BIOS or a poor interface, but they were certainly behind the curve when compared to ASUS, GIGABYTE, or MSI. Thankfully, the ultra-conservative managers at Biostar have taken all the constructive criticism to heart and polished and refined the Biostar Racing Z170GT7 BIOS to a razor edge. Put simply this new BIOS layout and design is just as good as what can be found from the more well-known companies…. and in many cases it is better. Simply marvelous!
Software
While the included software package may be lacking in quantity it more than makes up for it with quality. To be blunt this is a software package that is extremely potent and does not feel like a last minute addition. The fact that it allows owners to easily control the built in LED lighting controller is just icing on the cake.
System Performance
The lack of real automatic overclocking abilities does hinder this motherboard somewhat, but overall it still makes a good foundation upon which to build a powerful system… without breaking the bank in the process.
Gaming Performance
This motherboard is a very good option for single GPU configurations as long as you are willing to manually overclock your system even more performance can be found from the typical 6700K.
Overclocking
Its combination of a decent (but not great) power subsystem combined with decent (but not great) RAM support should more than satisfy the average consumer; however, if you wish to push your CPU to the very limits this board may not be a great match.